Less than two weeks after BYU QB Zach Wilson's pro-day performance took the NFL by storm, 2018 No. 3 overall pick Sam Darnold is on the move to the Carolina Panthers, according to ESPN's Adam Schefter.
The Panthers acquired Darnold for a 2021 sixth-round pick and second- and fourth-round picks in 2022. The New York Jets now have two first-round picks and two second-round picks in 2022 after trading Jamal Adams to the Seattle Seahawks last offseason and now offloading their formerly embattled quarterback to Carolina.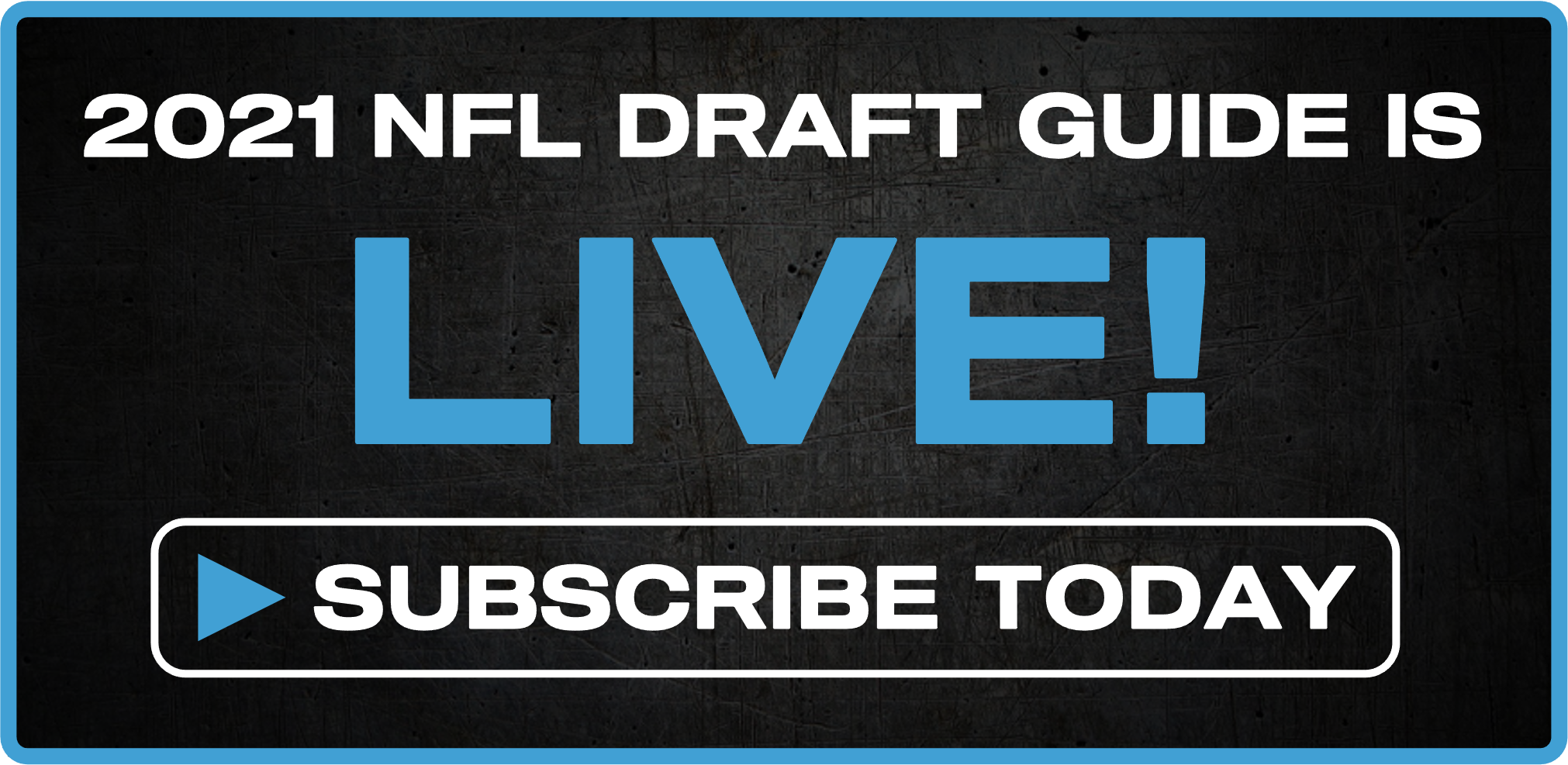 The Jets also have two first and two third-round picks in the 2021 NFL Draft that kicks off on April 29. Recently hired general manager Joe Douglas and new head coach Robert Saleh have accumulated an absolute war chest to completely revamp a roster lacking in talent at several spots. 
Of course, first-round draft picks aren't everything, considering the Jets added these picks by moving their 2017 and 2018 first-round selections to acquire them. Nevertheless, the prospect of BYU quarterback Zach Wilson making jaw-dropping throws like the one below is simply too good to pass up, and New York has finally moved on to their franchise quarterback of the future.
Zach Wilson ‼️@BYUFootball | @zachkapono1 pic.twitter.com/yJBzgDdPQy

— NFL (@NFL) March 26, 2021
Call him a one-year wonder if you must, but Zach Wilson's ascent isn't near the same as Joe Burrow's a season ago. Wilson was out here earning an 80.5 overall grade as a true freshman in 2018 while leading a team full of adults at BYU. A shoulder injury and hand injury limited him in 2019 before he lit college football on fire this past fall.
Blessed with a snappy right arm, Wilson has thrown passes as far as 65 yards through the air this season (against WKU, to be exact) with little more than a flick. He can not only make all the throws, but he can also make them accurately.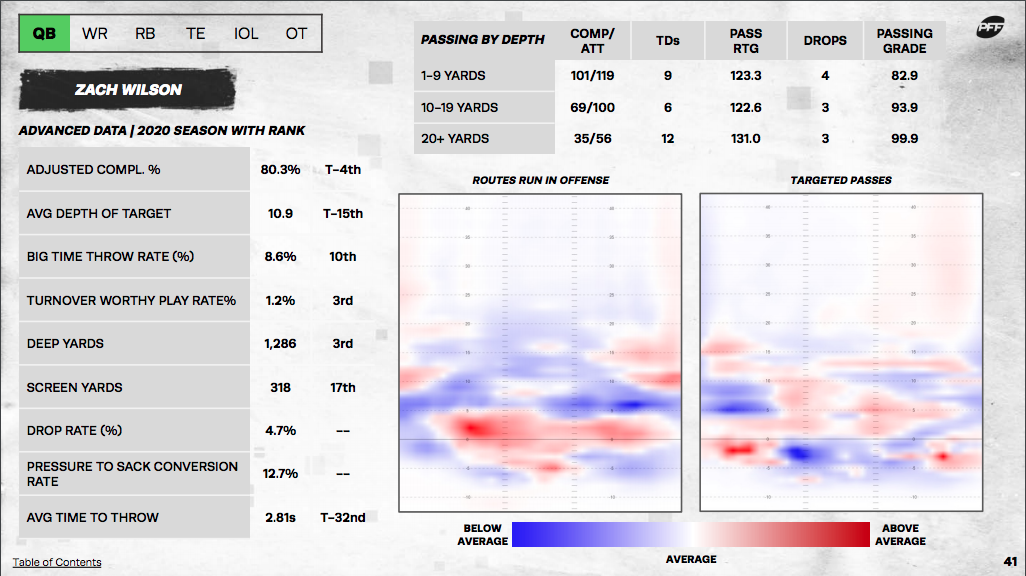 According to Jonathan Jones of CBS Sports, the Panthers will pick up Darnold's fifth-year option in 2022, which will be $18.858 million fully guaranteed as soon as the option is exercised.
Darnold qualifies for the Level 2 fifth-year option amount because he played 75% of his team's offensive snaps in two out of his first three seasons. A player may also qualify with a cumulative average of 75% over the three years or at least 50% of offensive snaps in all three years, which Darnold also accomplished. 
Darnold's first three seasons in New York went just about as poorly as one could imagine. He played 13 or fewer games in each of his first three years, missing time with both injury and mononucleosis.
The USC product and former face of the Jets franchise only started playing quarterback as a junior in high school, so he was always going to need time to develop into a signal-caller with competent pro-level footwork. That hasn't happened after two years in the league. He can produce wicked velocity from odd positions because of his ability to create torque through chest/hip dissociation, but there has been little in the way of top-notch accuracy to go with that power.
He sets his feet at odd angles relative to the receiver he's attempting to throw to. That forces his arm to often come down to sidearm levels, throwing off equilibrium and creating inaccurate throws. He's always going to have that rocket for an arm, but until the accuracy matches up — and it hasn't yet — Darnold's development will continue to be stunted.
Darnold was arguably the worst starting quarterback in the NFL when he was on the field. Since 2018, his 60.4 passing grade ranks dead last among qualifying quarterbacks across the league, and he recorded over 10 more turnover-worthy plays (40) than he did big-time throws (29). 
Of course, the caveat that comes with the above numbers is that Darnold had to navigate one of the NFL's worst offensive environments. Between questionable coaching, an offensive line that ranked toward the bottom of the league in team pass-blocking grade and a receiving corps that lacked high-end talent, New York certainly did not put the former No. 3 overall pick in a position to succeed. 
It has allowed him to remain a mystery box of sorts entering his fourth year in the league at just 24 years old. Teams — such as Carolina — see the high-end flashes on tape and believe they can coax that play out of Darnold on a more consistent basis in a more favorable offensive environment. 
Darnold will reunite with former teammate Robby Anderson on an offense that also features D.J. Moore, Christian McCaffrey and Joe Brady calling the shots at offensive coordinator. From that perspective, this is the most talented team supporting cast that Darnold has had at his disposal.
However, Carolina does have similar offensive line concerns to New York, with left tackle and both starting guard spots standing out as potential areas of need. For that reason, one would have to think that Penei Sewell and Rashawn Slater are toward the top of Carolina's draft board following this trade. 
Carolina has been in the mix for every available quarterback this offseason, and it appears, based on today's move, that perhaps the team feels as though there is no avenue to move up in this draft for one of the top prospects. After the San Francisco 49ers moved up to No. 3 with a blockbuster trade with the Miami Dolphins, the door may have closed on any further moves. 
After the surprise retirement of potential Hall of Fame linebacker Luke Kuechly and a handful of other large deals aging poorly, the Carolina Panthers had the most dead money in the NFL in 2020, with over $50 million in cap space allotted to players no longer on the roster. That was over a quarter of the total 2020 salary cap of $198.2 million. Yet, Carolina still decided to make a splash in free agency to acquire QB Teddy Bridgewater after he had five strong starts for the New Orleans Saints in 2019. The Saints earned the compensatory No. 98 overall pick in the upcoming draft due to Bridgewater's contract with the Panthers.
Carolina signed Bridgewater to a three-year, $63 million contract with $33 million fully guaranteed. He will likely end up starting for just one season on the deal, considering the Panthers' reported commitment to Darnold for 2022. Bridgewater has $10 million in guaranteed salary for 2021, but perhaps a trade could be explored with teams desperate for quarterback help. The Denver Broncos come to mind as a potential suitor for a veteran to compete with QB Drew Lock.
The NFC South had two guaranteed Hall of Fame quarterbacks in Drew Brees and Tom Brady in 2020, with the Saints earning the NFC's No. 2 seed while the Buccaneers went on to win the Super Bowl, making this stopgap investment at quarterback for a depleted roster with little cap space all the more puzzling. Carolina still holds the No. 8 overall pick in the draft and will presumably now look to improve their roster around new quarterback Sam Darnold.