March is here, and NFL draft season is in full swing. PFF.com is going to be stuffed to the gills with content on all of your favorite draft prospects, as our draft guru Mike Renner has been grinding tape throughout the college football season. His work has already produced the second version of PFF's Draft Guide, available to grab with any PFF Edge or Elite subscription.
Compared to Mike, I'm late to the party when it comes to draft evaluation, but I come armed with PFF's database to help me watch tape of these guys, and I thought we could go through that journey together in this article series.
The first player I looked at was the Heisman Trophy winner, Alabama WR Devonta Smith. Next up was LSU's Ja'Marr Chase, followed by Jaylen Waddle,  Kyle Pitts, Rashod Bateman, Rondale Moore and Kadarius Toney.
We then switched things up by moving to the defensive side of the ball, beginning with Virginia Tech cornerback Caleb Farley, Alabama cornerback Patrick Surtain II and South Carolina cornerback Jaycee Horn.
Up next, hot on the heels of FSU's pro day, is cornerback Asante Samuel Jr., who serves as yet another reminder that I'm getting old.
Samuel Sr. was an entertaining player to watch back in the day, and he still owns some of the best coverage numbers in the PFF database. He was a ballhawk who offset an occasional "business decision" with instincts few players could match when the ball was in the air. So, it will be interesting to see how his son compares. Let's fire up a reel of the targets thrown into his coverage.
Even more so than wide receiver, this is not a complete picture of his game, but it will give us a good idea of what happens with the ball in the air and how close his coverage is even when the quarterback thinks his man is worth targeting.
For a first impression, this method makes a lot of sense, and we can go back and fill in the blanks later.
Timeline
Here are my thoughts in chronological order as I sifted through Horn's tape. I have labeled each takeaway with +/- (or double plus or minus for significantly good or bad things) and a ~ for neutral.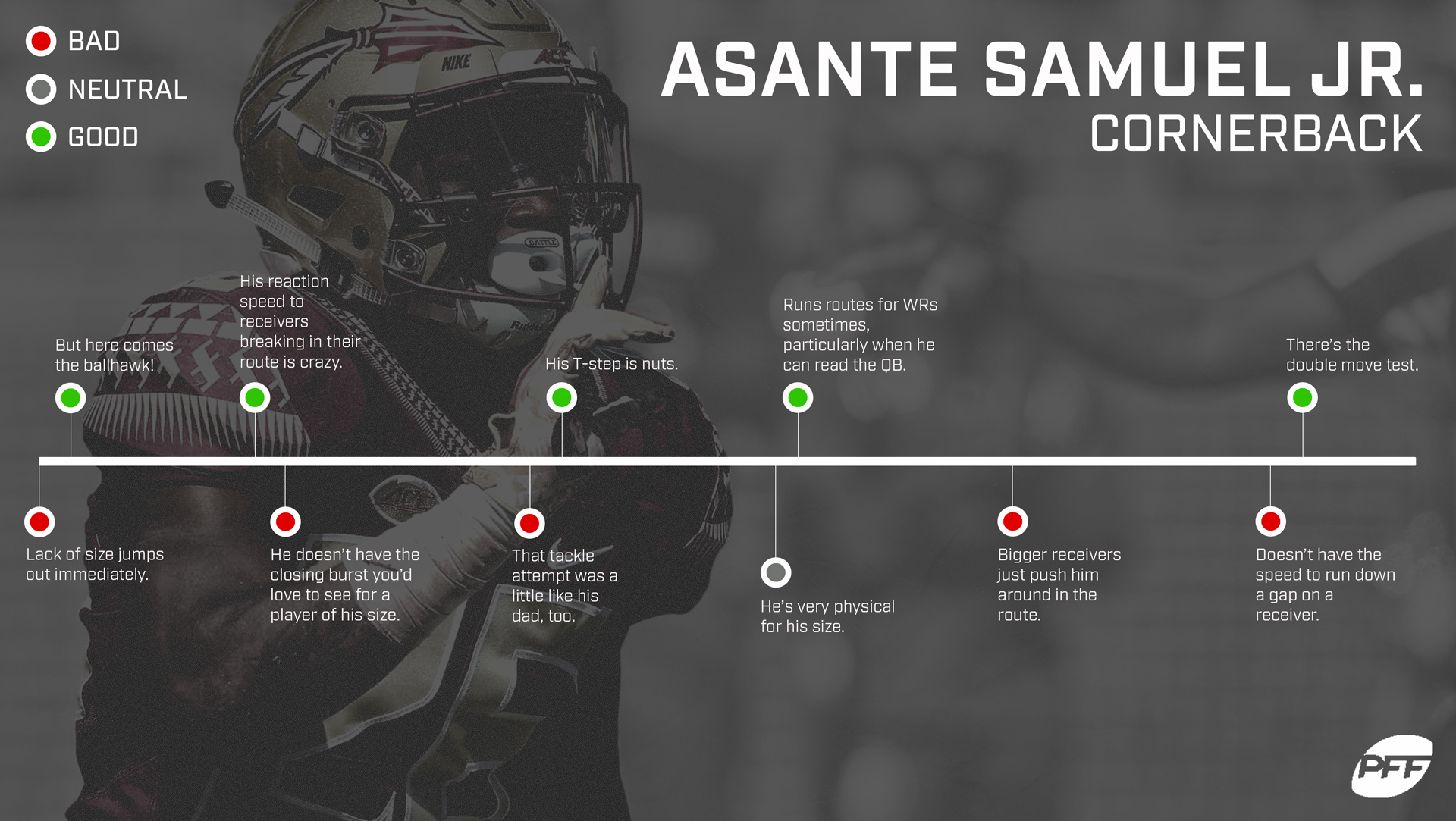 — Lack of size jumps out immediately
It's not necessarily a death knell, but Samuel's official measurements from FSU's pro day had him at almost exactly 5-foot-10 and 180 pounds. The height and length aren't ideal, but coupling it with a 180-pound frame makes him a very small player at the position. I'll be interested in watching how he deals with that disadvantage.
In the NFL, he's going to run up against players such as D.K. Metcalf who will have six inches in height and more than 50 pounds in weight over him. That's just a tough battle to wage with physics.
+ But here comes the ballhawk!
OK, this is the kind of play you need to offset that size with. Against Georgia Tech, Samuel reads a route combination so absurdly early in his zone that he's ready and waiting for the pass way before the quarterback ever knows he's attempting it. Samuel is moving to jump the route when the quarterback is still two reads away in his progression.
That's elite mental processing and instincts — the kind of play his father made a career out of in the NFL. This is one of the most impressive plays I've seen from a cornerback so far in this process, even if the end result looks like a pick gifted to him.
+ His reaction speed to receivers breaking in their route is crazy
While playing off-coverage with a receiver running a hitch, Samuel is moving toward the receiver to break on the football basically the same instant there is any indication from the receiver that he is breaking off that pattern.
His quickness to come downhill suggests that he's expecting the route and isn't just reacting to what he sees, which bodes well for the next level. It will be interesting to see if that quickness to attack causes him problems with double-moves anywhere in his tape.
— He doesn't have the closing burst you'd love to see for a player of his size
Comparing anybody's closing burst to Caleb Farley's is harsh — Farley has the best I can remember in recent years — but Samuel's working against size concerns here. His reactions and change of direction are elite, and that will buy him some wiggle room, but then you'd really like to see him show an elite closing burst, as well. So far, it hasn't been there.
— That tackle attempt was a little like his dad, too.
It's not that Asante Samuel Sr. shied away from contact the way some other corners who weren't great at tackling did; it's more that he was a fan of tackling without the use of arms. Samuel would often choose to throw himself at a player's knees to try and chop them down, and Samuel Jr. shows some of those same inclinations. It's not necessarily the wrong strategy at their size, but it is going to create some misses and big plays because of it.
+ His T-step is nuts.
If Farley has the fastest closing burst I can remember seeing, Samuel Jr. has the best and quickest T-step when he comes out of his backpedal to drive toward a receiver breaking in front of him.
There is just zero wasted motion to it, and he can completely reverse his entire momentum and drive in that one step. It's exactly how you are taught to do it, but I can't remember seeing such a perfect execution of the skill before.
~ He's very physical for his size
This is down as a neutral observation because it cuts both ways in his college tape. On some plays, it definitely offsets the fact that he's smaller than the receiver he's going up against. On other plays, it looks like a player trying to overcome a physical disadvantage, scrapping his way to the wrong side of the contact line and drawing penalty flags or potential flags. He was only penalized 11 times in his three-year college career, but there are a few plays here that suggest that number will go up against NFL athletes.
+ Runs routes for WRs sometimes, particularly when he can read the QB
This is a vital skill for Samuel. If he can see plays develop, he has the change-of-direction skills to actually beat receivers to the catch point with his break. If he doesn't steal a step on them with that reaction, he doesn't necessarily have the speed or burst to outrun them to a spot. The first step is often with his vision, and that is continually showing up on tape.
— Bigger receivers just push him around in the route
This is a problem. Multiple receivers in the Notre Dame game this season were just able to manhandle Samuel and take him from a good position when the ball was in the air to a bad position by the time it arrived at the catch point.
They didn't all result in completions, but the fact they found it so easy to move him around speaks to the issues he is going to have against physically imposing receivers in the NFL. Samuel needs to be stronger once he has contact with the receiver in-phase, and there's just no easy way of doing that against a guy 50 pounds heavier.
— Doesn't have the speed to run down a gap on a receiver
This might be his biggest area of concern to me so far. Size limitations are obvious but not necessarily a deal-breaker, particularly with the skills that Samuel brings to the table to see plays before other players and break faster.
His biggest issue might be that he doesn't have the speed to close a gap on a receiver once it's opened up and they are both running to a spot. If a receiver can generate separation at the break, Samuel isn't closing it without help from the pass.
+ There's the double-move test
…which Samuel passes with flying colors. OK, it wasn't the cleanest double-move I've ever seen, but despite being all over the first break, Samuel was able to change direction and adjust to the second move without ever breaking stride or getting out of control in the slightest. This part of his game is on point; it just remains to be seen if he can overcome the limitations that he has physically.
The Bottom Line
Asante Samuel Jr. really is a clone of his father, who was an elite cover guy at the NFL level despite being undersized and far from a blazing speedster.
Samuel Sr. proved that players can succeed at the NFL level despite physical limitations and might just be the best template for his son. Other corners have shown the same thing over the years — players such as Brent Grimes or, more recently, Troy Hill with the Los Angeles Rams.
But there is no escaping the fact that at some point in the NFL, he will have to cover a physical freak like D.K. Metcalf and come up with a way of offsetting six inches in height, five inches in arm length, 50 pounds in weight and a tenth of a second in the 40-yard dash. That's like fighting against gravity — it is just not a battle you're going to win.
Samuel has some elite traits that will go a long way toward making up for his lack of size. He has some of the slickest change-of-direction skills you will see at the position, and he can come out of his backpedal and drive on the football in an absolute instant. His tape is littered with plays where he steals yards on receivers by making their break before they do and puts himself in position to either contest at the catch point or pick the pass off entirely. These are the skills that made his father a ballhawk and will likely do the same for him.
He is also feisty and physically aggressive with receivers, and if he is in a good position when the ball arrives, he challenges for it well, even against bigger opponents. Samuel's lack of size and strength shows up when running with receivers and looking for the football. Too often he can allow receivers to just move him out of position as he tries to maintain control of the situation. 
Maybe my biggest concern with him is a lack of blazing speed and burst to close a gap if one opens up. Samuel will have to do his best to prevent those situations with that anticipation and tape study or rely on quarterbacks' inefficiencies because he just doesn't have the burst to close on a receiver running away from him once a gap has opened up. I would feel a lot better about drafting Samuel with a high pick if his 4.4-second 40 time was a 4.35 instead, but the positive parts to his game are special.
He will be a very intriguing player to watch at the next level to see where those very distinct pros and cons balance out.