There is no better time than the present to turn a blind eye toward productivity in the name of playing general manager with PFF's Mock Draft Simulator.
Using the data from past sim uses, I pulled several players who have seen their draft stock rise and fall over recent weeks and months. Most if not all of these risers and fallers reflect changes in PFF's 2021 NFL Draft Big Board. After all, the mock draft simulator takes a user-selected blend of public and PFF boards as an input. It's still a worthwhile exercise to see how our view — along with the public's view — has changed in the form of a graph over time.
We'll begin with perhaps the most hotly debated draft prospect in this year's class.
View PFF's 2021 NFL Draft position rankings:
QB | RB | WR | TE | T | iOL | DI | EDGE | LB | CB | S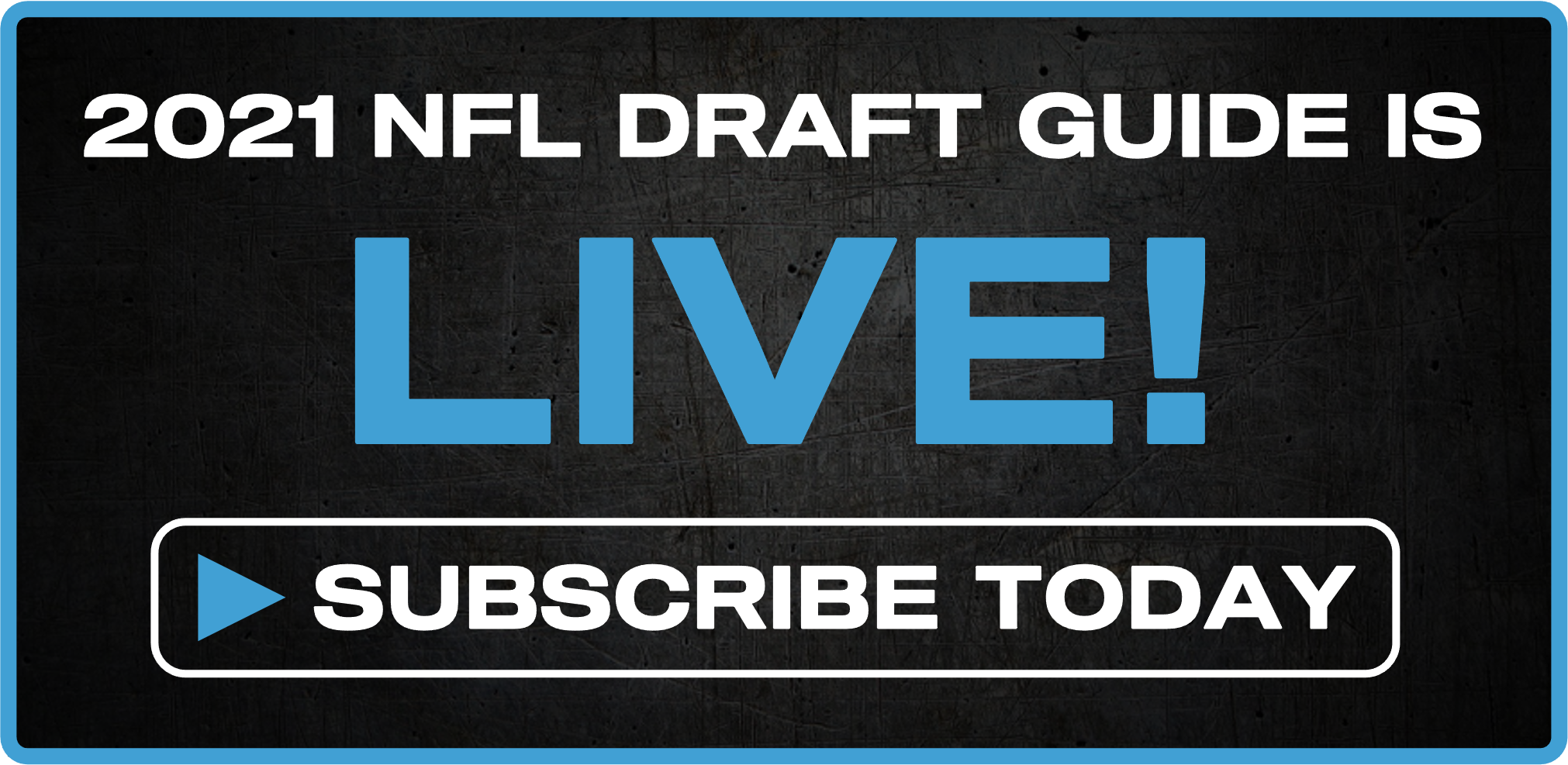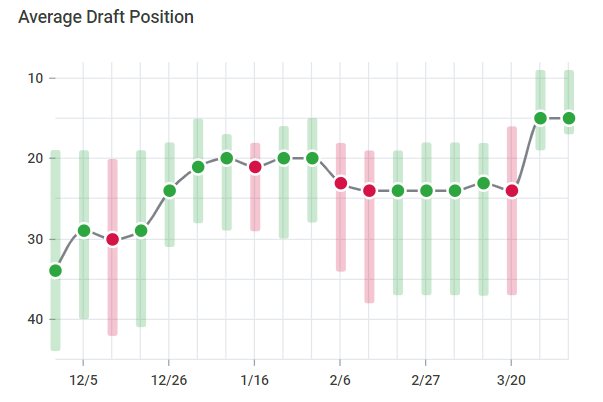 Jones stood out as a fringe first-round selection in PFF's Mock Draft Simulator through much of December. His median draft position jumped to the 20-to-25 range from January through early March, which is where teams such as the Washington Football Team, Chicago Bears, Indianapolis Colts and Pittsburgh Steelers slotted into the first-round draft order. It's only continued to rise since.
The last two weeks show Jones' median draft position sitting at 15 — the New England Patriots' selection — while climbing into the top 10 in over 25% of simulations.
As time goes by, it looks as if even that undersells where he will end up coming off the board. The prevailing line of thought from plugged-in NFL media members such as Daniel Jeremiah and Adam Schefter is that Jones will be the San Francisco 49ers' selection after trading up to the third overall pick.  It's been quite the rise for the QB5 on PFF's Big Board.
Bottom Line in PFF Draft Guide: Jones is a very difficult projection, but he's not purely a product of his offense. He has a bevy of translatable NFL skills.
---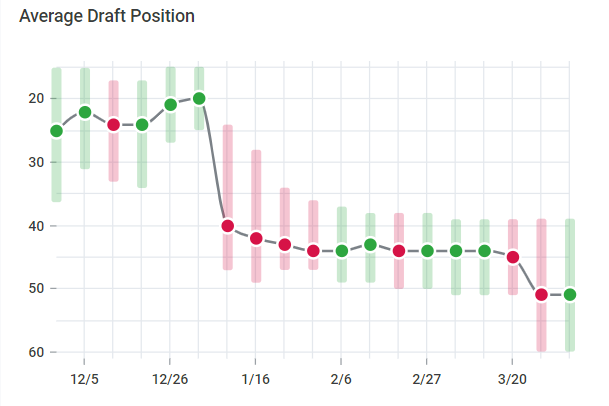 If you look closely at this graph, you can see the exact moment Trask threw for zero touchdowns and three interceptions against Oklahoma in the Cotton Bowl. That performance quickly took him from a first-round projection to having a median draft position toward the middle of Round 2. The Cotton Bowl was far from the high point in a tremendous 2020 season for Trask.
However, the correction it caused in his draft position could be categorized as an overreaction. His 70.9 PFF grade in the game against Oklahoma wasn't even his lowest mark of the season, as he stumbled to grades of 67.3 (against South Carolina) and 54.2 (against Texas A&M) earlier in the year.
Trask's poor showing against the Sooners could give a team picking in the back half of the second round an opportunity to get a quarterback who they would have otherwise had to target a day earlier.
Bottom Line in PFF Draft Guide: Trask lit up defenses, but he lacks real high-end traits. It's worrisome how that will look in a lesser situation.
---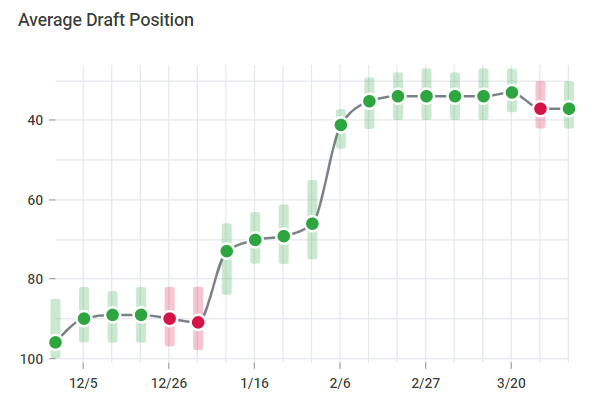 Moore's 2020 season with Ole Miss put him in the first-round conversation. He went from unranked on PFF's preseason Big Board to 20th in the final iteration. Prospects will generate interest getting through an eight-game season in the SEC while averaging 11 receptions, 149 receiving yards and a touchdown per game.
There is no absolute clarity on how the wide receiver position will shake out behind the presumed top three of Ja'Marr Chase, DeVonta Smith and Jaylen Waddle. Moore is part of a crowded group that includes Rashod Bateman, Terrace Marshall Jr., Kadarius Toney, Rondale Moore and potentially Dyami Brown expected to come off the board toward the back end of the first round or at some point in the second.
If Moore does end up going in Round 2, as his median draft position of 37th in PFF's Mock Draft Simulator suggests, that team will be getting substantial value on a player who can contribute early in his NFL career.
Bottom Line in PFF Draft Guide: Moore is a quintessential slot receiver, but I wouldn't put it past him to be productive on the outside.
---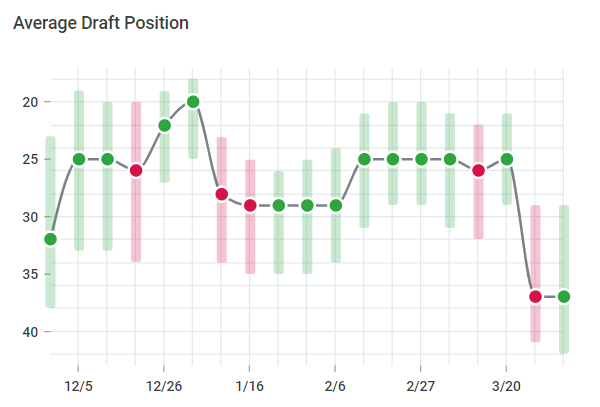 On the other end of the spectrum, we have another Moore who projects to work primarily out of the slot.
Rondale Moore's dip in expected draft position has been nowhere close to as steep as Elijah Moore's ascent, but we do see a noticeable drop in recent weeks. It's a swap that is also reflected in Benjamin Robinson's Grinding the Mocks project, where Elijah Moore now has a higher expected draft position (39) than Rondale (40).
The dip has nothing to do with Moore's athletic testing at his pro day, where he put up some truly ridiculous numbers. It speaks more to the limitations that come with measuring in at just 5-foot-7. Moore will likely be limited to the slot at that height, and there isn't a long list of names of players at that size having successful NFL careers.
Moore has the athleticism necessary to be an exception to that rule. It just remains to be seen which team will give him that opportunity.
Bottom Line in PFF Draft Guide: You can call him short, but don't call him small. Moore has the physicality to win in diverse ways in the NFL.
---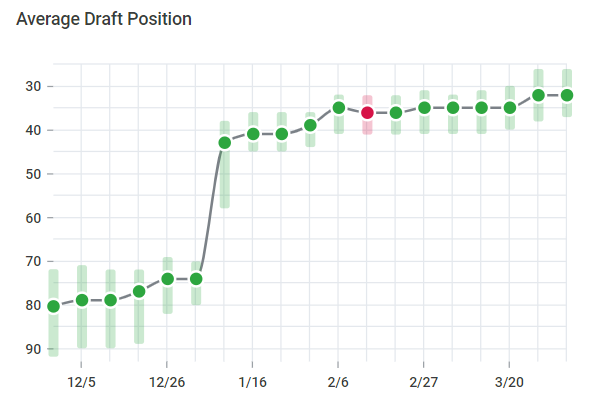 Phillips is another player who went from not appearing on PFF's preseason big board to becoming a likely first-round selection come April 29th. The No. 1 overall recruit in the 2017 recruiting class played just over 400 snaps with UCLA before a string of concussions forced him into medically retiring from football. His return with Miami this season after transferring showed why he was so highly regarded entering college.
Phillips ended the 2020 season with an 86.6 PFF grade and a pass-rush win rate above 20%. His recent pro-day results only strengthened that resume.
This edge defender class lacks a clear top name like we've seen in recent years with Myles Garrett, Nick Bosa and Chase Young. Phillips has the potential to claim that top spot — hence his rise on draft boards — but his injury history remains a concern. It will be interesting to see how the league views that risk compared to the upside he offers.
Bottom Line in PFF Draft Guide: Physically, it's all there to be a Tier 1 edge defender in the NFL. His injury history and late breakout will scare teams early, though.
---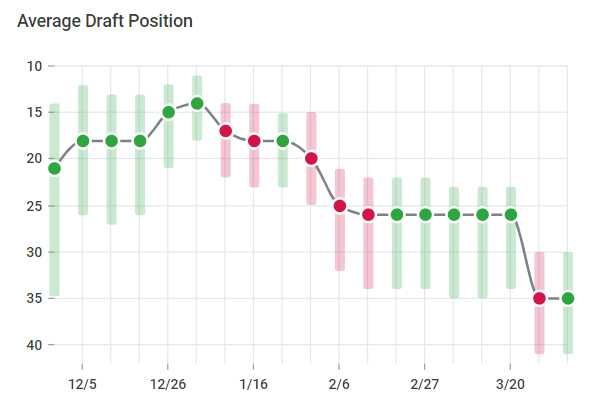 Rousseau has trended in the opposite direction. If the chart above extended to last offseason, Rousseau's expected draft position would sit even higher. He was 10th on PFF's preseason big board — the highest-ranked edge defender on the list. That was in line with most who expected Rousseau to be the first edge defender to come off the board following a 15.5-sack true sophomore season for the Hurricanes.
His decision to opt-out of the 2020 season — leaving just one year of tape to work from — and underwhelming athletic testing numbers at his pro day in a freakishly athletic edge defender class have contributed to his slide down boards. Any team taking Rousseau early in the 2020 NFL Draft is banking on him winning with his absurd length while improving technically once he reaches the NFL.
Bottom Line in PFF Draft Guide: Rousseau can be a moveable chess piece for a defense. As a true edge, though, his 2019 tape showed he has a lot of work to do.
---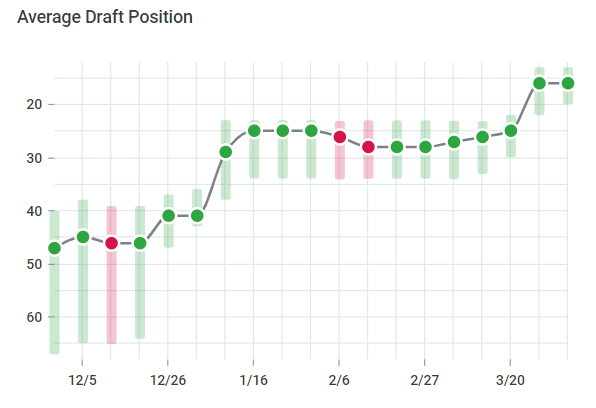 Horn's 2020 coverage numbers across seven games at South Carolina this past season were impressive, to say the least. He allowed just eight completions into his coverage on 24 targets in those seven games, intercepting two passes and breaking up another five. That kind of performance is going to create some buzz.
Horn followed that performance up by lighting his pro day on fire with vertical and broad jumps above the 95th percentile and a sub 4.4-second 40-yard dash. That all comes in a 6-foot-1, 205-pound frame with 33-inch arms. It's not difficult to see why that combination of production and physical traits has moved Horn into the top half of the first-round conversation.
Bottom Line in PFF Draft Guide: Horn has the physical skill set and, more importantly, the mindset to be a top press-man corner in the NFL.
---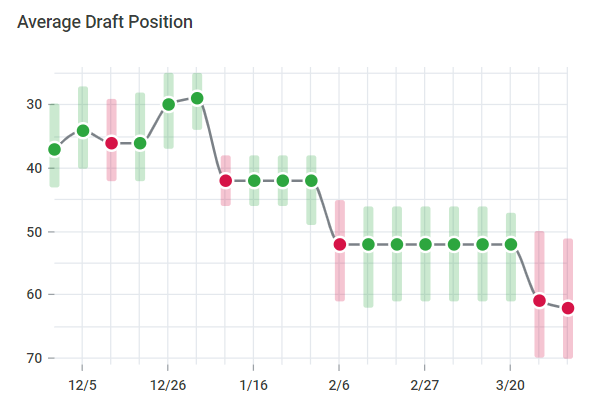 The graph above shows that Campbell has moved from being selected toward the back end of the first round on average to falling closer to the tail end of Round 2 in recent weeks in PFF's Mock Draft Simulator.
The easiest way to explain that dip may be that Campbell's biggest strength — his physical tools — don't appear to be all that rare in this cornerback class. Pro-day results have shown that other cornerbacks in this draft class are high-end athletes and were highly productive at the collegiate level.
Campbell only brings the first to the table with one interception and fewer than 10 pass breakups in his three-year career at Georgia. This past season, he allowed a passer rating of 114.4 on throws into his coverage.
Bottom Line in PFF Draft Guide: What Campbell is now and what he could become are two vastly different things. The question is, will he ever come close to getting there?