March is here, and NFL draft season is in full swing. PFF.com is going to be stuffed to the gills with content on all of your favorite draft prospects, as our draft guru Mike Renner has been grinding tape throughout the college football season. His work has already produced the second version of PFF's Draft Guide, available to grab with any PFF Edge or Elite subscription.
Compared to Mike, I'm late to the party when it comes to draft evaluation, but I come armed with PFF's database to help me watch tape of these guys, and I thought we could go through that journey together in this article.
The first player I looked at was the Heisman Trophy winner, Alabama WR Devonta Smith. Next up was LSU's Ja'Marr Chase, followed by Jaylen Waddle,  Kyle Pitts, Rashod Bateman, Rondale Moore and Kadarius Toney.
I'm now moving to the other side of the ball and looking at PFF's top-ranked cornerback, Virginia Tech's Caleb Farley. We can go in many different directions in terms of firing up his tape, but let's start with all of the targets thrown his way before we dive into some other facets and start looking deeper into his playstyle.
The same caveats as before still apply: This is not a complete picture of his game, but it will give us a good idea of what happens when the ball is in the air and Farley is in coverage against the targeted wide receiver.
For a first impression, this method makes a lot of sense, and we can go back and fill in the blanks later.
Timeline
Here are my thoughts in chronological order as I sifted through Farley's tape. I have labeled each takeaway with +/- (or double plus or minus for significantly good or bad things) and a ~ for neutral.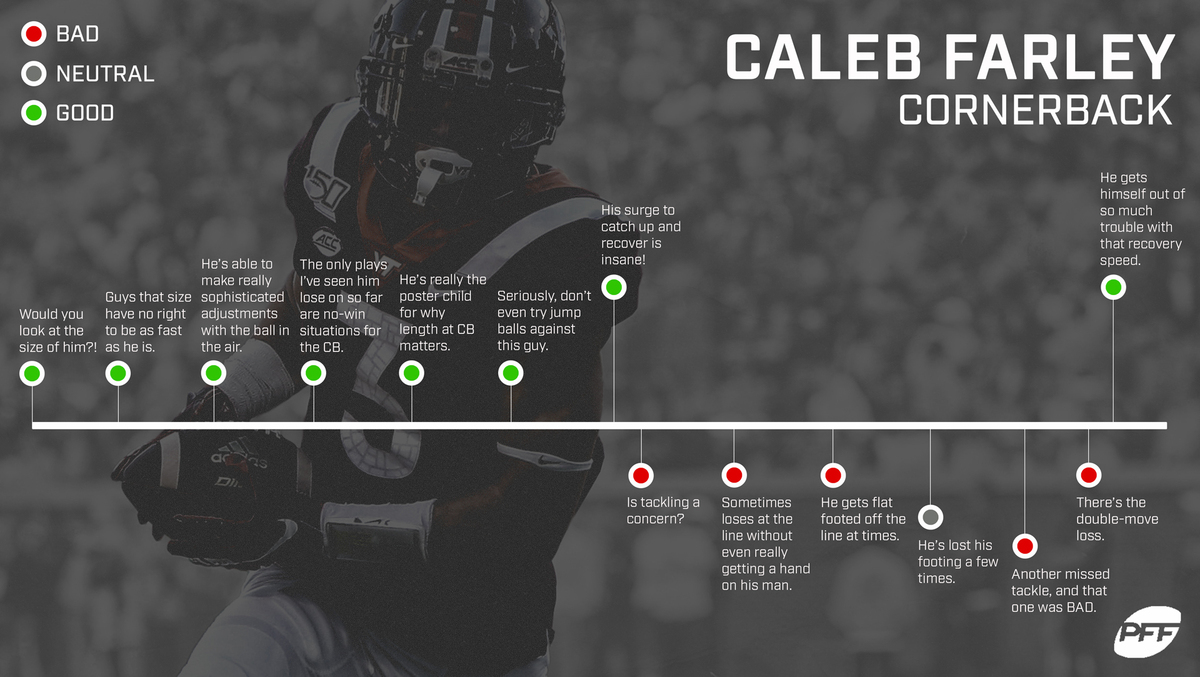 + Would you look at the size of him?
I'm one snap into his tape, and his sheer dimensions are the first thing you notice. Listed at 6-foot-2 and 207 pounds, he's so much bigger than the receiver lined up opposite him. Getting past his jam feels like an achievement in and of itself, but then he has the size to really impact the play at the catch point as well as the kind of recovery speed to ensure he's right there. This play shows all of that in one target.
+ Guys that size have no right to be as fast as he is
Big corners typically aren't speedsters, but somehow Farley seems to be both at the same time. Farley has appeared on Bruce Feldman's Freaks List twice and has reportedly posted a 40 time in the 4.3s, which is absurd for a player of his size. Just a couple of targets in, you see him chew up separation in an instant on a wide receiver. He has the kind of recovery speed that allows him to be aggressive on the first move he sees, knowing he can get back in phase if anything goes south.
+ He's able to make really sophisticated adjustments with the ball in the air
There's a target here against Boston College where the pass play floods his zone with two receivers. Farley initially chases the shorter route that breaks outside but is able to flip his hips and make a play on the ball in the end zone on the vertical route once he reads the play. What I like the best about it is that the ball is fired in on a frozen rope, but Farley played the receiver's hands and didn't go looking to break up the pass before it arrived. That's the difference between a touchdown and a pass breakup. It's a six-point play in coverage.
+ The only plays I've seen him lose on so far are no-win situations for the CB
Off coverage against a receiver with the time to set up multiple moves in space — those are plays I don't expect any corner to make, and they are the kind of no-win propositions you see all day in the Senior Bowl practices. Farley can be beaten in these situations, but only because they're near unstoppable. And they are not big parts of NFL offenses.
+ He's really the poster child for why length at CB matters
Even on passes that just sneak in to their intended receiver, he makes the window so tight because of his wingspan. There can be almost a yard of effective separation between him and the wide receiver, but he can still get a hand in to contest the target or at least require the quarterback to throw a perfectly placed pass. That's hugely valuable and the reason NFL teams covet that size.
+ Seriously, don't even try jump balls against this guy
Come on, now. What are you doing? He's bigger, longer and probably more athletic than your wide receiver. Jump balls are often called 50:50 targets, even though they are realistically more like 80:20 in favor of the coverage, but that figure must drop into the single digits for the offense in Farley's airspace. There are ways to attack him, but a desperation heave-and-hope isn't one of them.
++ His surge to catch up and recover is incredible!
There are multiple targets where it looks like an easy completion when the pass leaves the quarterback's hand, but then Farley closes ground to break it up by the time it arrives. It's blasphemous to compare anybody to Deion Sanders, but Primetime was the king of recovery speed and was often said to bait quarterbacks into targets with separation before closing the distance to make the play. I'm not sure Farley is doing it deliberately (nor am I sure Sanders was, for that matter), but the effect is the same. He breaks up passes most players wouldn't because of that closing burst of speed.
– Is tackling a concern?
I'm not in love with his tackling technique. He has 21 misses over his college career, 14 coming in 2018 before halving that figure in 2019, the last season he played before opting out to prepare for the draft. I don't think it's a huge issue, but it's a negative on his tape so far and something that should be cleaned up at the next level.
– Sometimes loses at the line without even really getting a hand on his man
All of that make-up speed means that it often doesn't matter, but for a player as big as Farley is, receivers can defeat his jam surprisingly easily. His PFF coverage grade when he presses at the line drops by almost six grading points versus his overall mark, and that's being propped up by the plays where he misses on his jam but recovers to make the play at the catch point anyway. I'd like to see that jam technique improve so that he doesn't allow receivers to get in phase with him before he's even landed a hand on them.
– He gets flat-footed off the line at times
This is part of his problem when in press coverage, but it also causes some issues reacting to screens or other plays with lots of quickly moving parts at the line of scrimmage. He rocks back into his stance and gets stuck with flat feet, rooted to the spot for a split second while receivers move into position to execute a bubble screen or something else and leaving Farley just a hair too late to impact it the way he should. It's not a fatal flaw, but again it's a technique issue he needs to clean up.
~ He's lost his footing a few times
I'm never quite sure what to do with this, but Farley's fallen over trying to change direction a couple of times in this tape. I tend to assume that slipping and losing your footing just happens sometimes. On the other hand, there are players for whom it never seems to happen, so maybe it is a negative we should recognize. At least I'm raising it as something we can see, even if I haven't decided if we should care or not.
— Another missed tackle — and that one was BAD.
He gave up a catch on a dig route against North Carolina and just fell right off the tackle. That should have been a routine stop a cornerback makes 10 times out of 10, but a 7-yard gain turned into one upwards of 20 yards because of that miss.
– There's the double-move loss
Every cornerback prospect coming into the NFL has one bad loss to a double move somewhere in their college tape. It's part of the process and inevitable. Here, Farley loses on an out-and-up against Notre Dame. These are nearly cheat-code plays in college, and there's not a whole lot you can do about them when they're timed up well.
++ He gets himself out of so much trouble with that recovery speed
I really wanted to end this section with the overriding takeaway from his tape — that recovery speed. He can do a lot of things wrong early in the play, or fall for a lot of moves from the receiver, and often it doesn't matter because he can chew up a couple of yards of separation with the ball in the air. That's just a special trait that most cornerbacks don't have and can't match. It buys him so much extra room for mistakes, an inevitability for cornerbacks in the NFL.
The Bottom Line
Caleb Farley is a physical freak, and while the NFL is a league stuffed full of those playing wide receiver, not nearly as many cornerbacks are able to match up.
Farley isn't perfect, but his issues all seem coachable and stem from minor technique issues that can be cleaned up with some time and attention. He isn't even punished for much of what he does wrong because of the athletic traits and size he brings to the table.
A cornerback as big and as fast as he is can obstruct so much space within a throwing lane and a passing window, essentially decreasing the size of every target a quarterback is throwing to. That doesn't happen with just any cornerback — it is a special card to bring to the table.
Looking at the timeline of his tape, it seems like there is a lot of negative in there relative to how good a player I think he can be, but it's because all of those negatives are offset with just one or two special traits, and most of them are minor quibbles. Yes, they show up, but the size and speed show up on every single play, and I just didn't note it down each time.
His most special trait is the closing speed and burst to the catch point that he can bring, often rescuing plays where he looks beaten and making a play despite giving up separation early. At the NFL level, receivers are big, fast and able to separate regularly. Expecting a corner never to allow a gap to open up is just unrealistic, so Farley's ability to close that gap just as quickly as it opens is hugely valuable.
I think he has the traits to be a special player. He allowed just 48% of targets thrown his way to be caught over his college career, a figure that dropped all the way to 36% in 2019. Farley should be a top-10 pick and will be a better player in the NFL than he was in college if his technique can get cleaned up in a few different areas.