As a part of our partnership with ESPN, this is a part of a story that was originally published on ESPN+ and can be viewed in its entirety here with your ESPN+ subscription – How does BYU's Zach Wilson's 2020 season compare to Joe Burrow's 2019 at LSU? An incredible rise toward the 2021 NFL draft
BYU quarterback Zach Wilson has made a Joe Burrow-like leap from little-known returning starter heading into the 2020 season to surefire first-round pick in the 2021 NFL draft.
Believe it or not, going into the postseason, Wilson sits at a 94.9 Pro Football Focus grade, the same grade Burrow had during his 2019 Heisman campaign at LSU. Burrow ended up being the No. 1 overall pick by the Cincinnati Bengals.
The rise to a 90-plus grade was sudden for both quarterbacks. Burrow posted an 80.5 grade in 2018, and Wilson posted a 76.2 in 2019, their first seasons as starters. The jump for both quarterbacks to their superstar seasons was immediate. Burrow didn't post a grade below 80 until Week 8 of 2019; Wilson didn't dip below that number until Week 7 of 2020.
That is where the comparisons end. Their styles of play to get to those gaudy stats couldn't be more different. With former LSU offensive line coach Jeff Grimes calling the plays at BYU, the 2020 version of the Cougars morphed themselves into an outside zone, boot-style offense. In 2019, the outside-zone run accounted for 26% of their running offense. In 2020, they ran it 52% of the time. They also did it often from under center. (BYU plays UCF in the RoofClaim.com Boca Raton Bowl at 7 p.m. ET on ESPN on Tuesday.)
Teams love running outside zone from under center because it helps not only the path for the running back but also the team's ability to use play-action off it. The quarterback who turns his back and stretches to hand the ball to the running back outside will inevitably gain more wide-eyed linebackers following the flow of the offense than one who does so from shotgun.
BYU put Wilson under center for 18% of his total snaps this season. Burrow spent only 2.2% of snaps in 2019 under center. This bodes well for Wilson as the NFL slowly morphs into an under-center, outside-zone league. No NFL team comes close to running outside zone on 52% of its run plays, as BYU does, but 12 teams run it more than 30% of the time. That number could grow in the next few years, as the offensive NFL coaches from those trees seem to be in hot demand.
Coming into the league having already played in a system such as that, in which the play-action game demands you turn your back to the defense and then boot around, could give Wilson a leg up on the quarterbacks who live in the gun and perform only flash fakes to their running backs. Wilson had the fourth-most under-center play-action dropbacks in the country in 2020 and gained a 90.6 passing grade from them, which ranked fourth.
We don't often see high first-round picks fit so nicely in the NFL's offensive meta. Burrow's 2019 season showed his incredible accuracy and decision-making over the middle of the field. Time and time again, he had to drop back and read the defense. Only 27% of Burrow's dropbacks used play-action that season. For Wilson, it was 38%. Both performed at elite levels without the benefit of play-action, Wilson at 92.9 and Burrow at 92.3 in terms of passing grade.
Their differences in arm strength forced Burrow to throw shorter into areas with more defenders. Wilson's average depth of target on such throws was a yard and a half longer than Burrow's. Burrow did thrive in this environment, with a minuscule turnover-worthy play rate of 1.5%. The lack of arm strength relative to that of his peers forced Burrow to become an elite processor to compensate.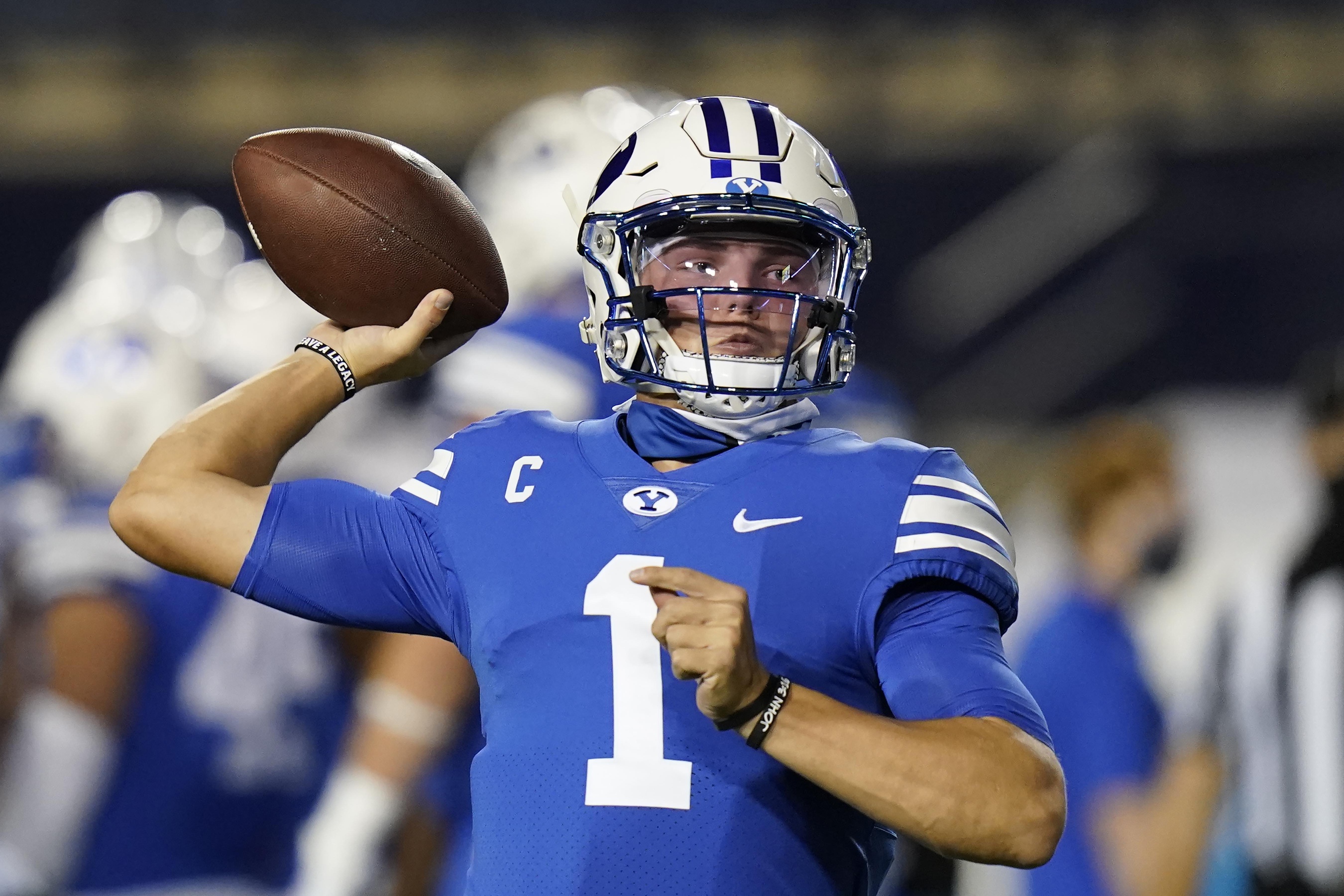 Wilson's arm strength affords him different amenities. Not that Wilson cannot process quickly enough at an NFL level, but he can throw to places that most defenses don't think worthy of stationing a defender on patrol. When the ball was set on the right hash, Wilson threw 29 times to within 10 yards of the left sideline from the pocket, with a passing grade of 90.5. Burrow in 15 games did that only 14 times in 2019, with a 71.8 grade. From the left hash to the right sideline, he threw 38 times with a 96.4 grade, compared to Burrow's 21 attempts and 63.7 grade.
This becomes the crux for all general managers when comparing quarterback talents. Do you take the incredible arm who threw outside the numbers to open receivers or the guy who showed that he can make NFL reads between the numbers but might not have an elite arm?
Wilson will need to get better in the intermediate part of the field, the 10-to-19-yard range. Only 43.5% of his throws to that level of the field were charted as accurate this season. Burrow was at 62.8% last season and has carried his accuracy to the NFL, as he ranked fifth in the league before his injury. But while Burrow threw the ball deep at an exceptional level in college, his deep-ball accuracy in the NFL was lacking. Among quarterbacks with at least 10 passes beyond 20 yards, he was 40th in the percentage of throws charted as accurate.
With Wilson, that's not going to happen. He showed off a great ability to throw deep down the sideline into zone windows. A throw on BYU's last drive against Coastal Carolina showed this off.
Inside his own 10-yard line and facing a second-and-20, Wilson connected with Gunner Romney down the sideline. Coastal showed a two-high safety look pre-snap but rotated into Cover 3 on the snap, with the two-high safeties sitting at the sticks. BYU was running a 3-verts concept on which the two outside receivers run vertical routes outside and a slot receiver finds a hole deep between the safeties. Against two-high safeties, Wilson will look to his first vertical receiver in the hole created by the low corner and the half-field safety and move to the slot receiver if the safety has widened too far to the sideline. Because of the rotation to Cover 3, Coastal covered his first two reads in the progression. Without hesitating, Wilson moved his eyes all the way to his backside vertical receiver, climbed the pocket and made a throw in the hole created between the deep cornerback who had drifted infield a bit and the low flat defender who had started to get depth.
This is the arm strength NFL teams covet. Wilson has it. Now we'll see if he can transition as smoothly to the league as Burrow seemingly did before his injury cut short his rookie season.