Super Bowl LIV brought a close to the 2019 season, and before we move on to the excitement of free agency and the draft, it's time to reflect for a moment on some of the best individual performances of the season.
The PFF Top 101 represents the top 101 individual performances this season regardless of position and credits the best players of the season that was.
At its heart, PFF remains a player evaluation site, and the 101 is our chance to acknowledge and praise the best players from the 2019 season one last time before we all look ahead to assembling rosters for the upcoming year.
Here is a quick reminder of our basic criteria
This list is based solely on 2019 play. Nothing that happened in previous years or may happen in the future is accounted for. This isn't about class or talent; it's about performance throughout the 2019 NFL season.

This list is created with an "all positions are created equal" mantra. So, you won't see 32 quarterbacks heading the list — even though that is the game's most valuable position. Instead, we take a look at how guys played relative to what is expected from their position.

Unlike PFF's awards, the 101 factors in the postseason, so some players who won PFF awards may find themselves jumped in the 101 by rivals who had a playoff run worthy of a change in ranking.

Disagree with the players we've included here? Let us know on

Twitter (@PFF

).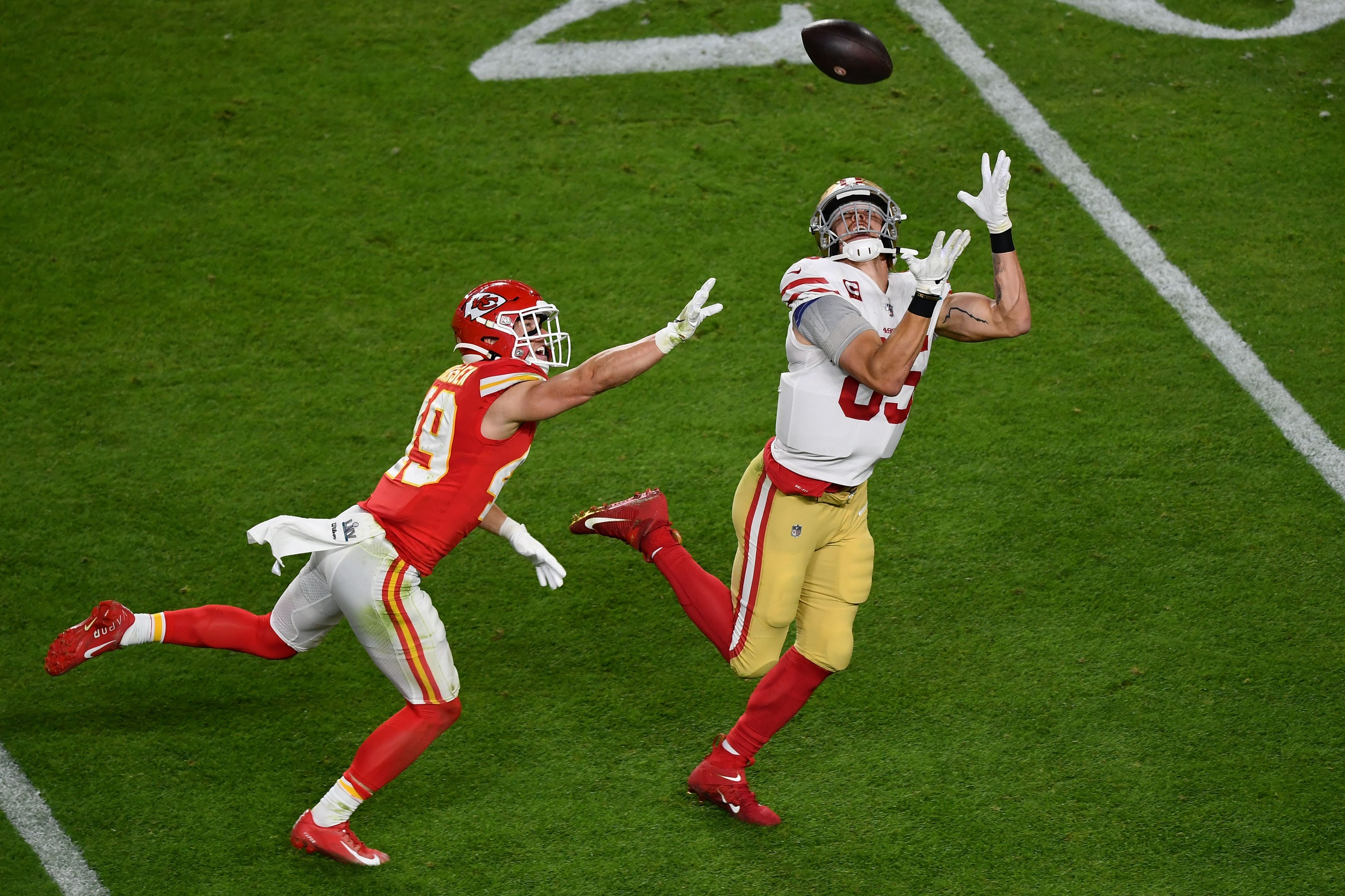 George Kittle was the best player in football in 2019. That doesn't mean he was the most impactful or the most valuable, but on a snap-by-snap basis compared to other players, nobody was as good as the 49ers' tight end. Kittle topped 1,000 receiving yards for the second season in a row and was one of the league's most effective players after the catch. He averaged 7.3 yards per catch after the ball arrived in his hands, the most among players with 50 or more receptions, and he broke 20 tackles, which led all tight ends and wideouts. He was also a run-blocking monster, caving defenders from safeties to defensive linemen to the floor and opening up holes for the San Francisco ground attack. His overall PFF grade was 95.0, which is the best grade PFF has ever given to a tight end — including Rob Gronkowski — and the best grade of any player, at any position, in football this year.
Aaron Donald's 2019 season is being overlooked because, compared to his season a year ago, it just doesn't stack up. His 2018 season, though, was one of the greatest defensive single-season performances in NFL history, and it's unfair to hold him to that exceptionally high standard a year later. Including the playoffs (which Donald didn't play in), he still led all interior defenders in total pressures in 2019, with 80, which were 11 clear of anybody else. He had the second-best pass rush win rate of any player regardless of position, and he did so while being double-teamed on more snaps than most pass-rushers. Donald's 2019 wasn't as good as a year ago, but it was still better than any other defender's.
Russell Wilson narrowly held off a charging Patrick Mahomes for the best PFF grade among quarterbacks. It's difficult to overstate just how impressive Wilson was this season with comparatively little help around him. Including the playoffs, he tallied 46 big-time throws — PFF's highest-graded passes — five more than any other passer. He also had just 10 turnover-worthy plays, which were two fewer than Ryan Tannehill, the next closest quarterback, and Tannehill didn't even start until Week 7. When kept clean, Wilson had a passer rating of 115.0, and he completed the second-most deep passes in the league, trailing only Jameis Winston, who had 14 more attempts.
Patrick Mahomes was the reigning league MVP this season, but we really didn't see that player until the postseason due to a list of injuries he suffered. A dislocated kneecap looked like it could torpedo his year, but he missed just two games and then started to find his best play late in the campaign. Heading into the Super Bowl, his postseason grade was the best we had ever seen from a quarterback, and while he struggled more in the big game, he still made several critical huge plays and was rightfully named the game's MVP. Mahomes had 32 big-time throws over the season and finished with a PFF grade north of 90.0 for the second straight season.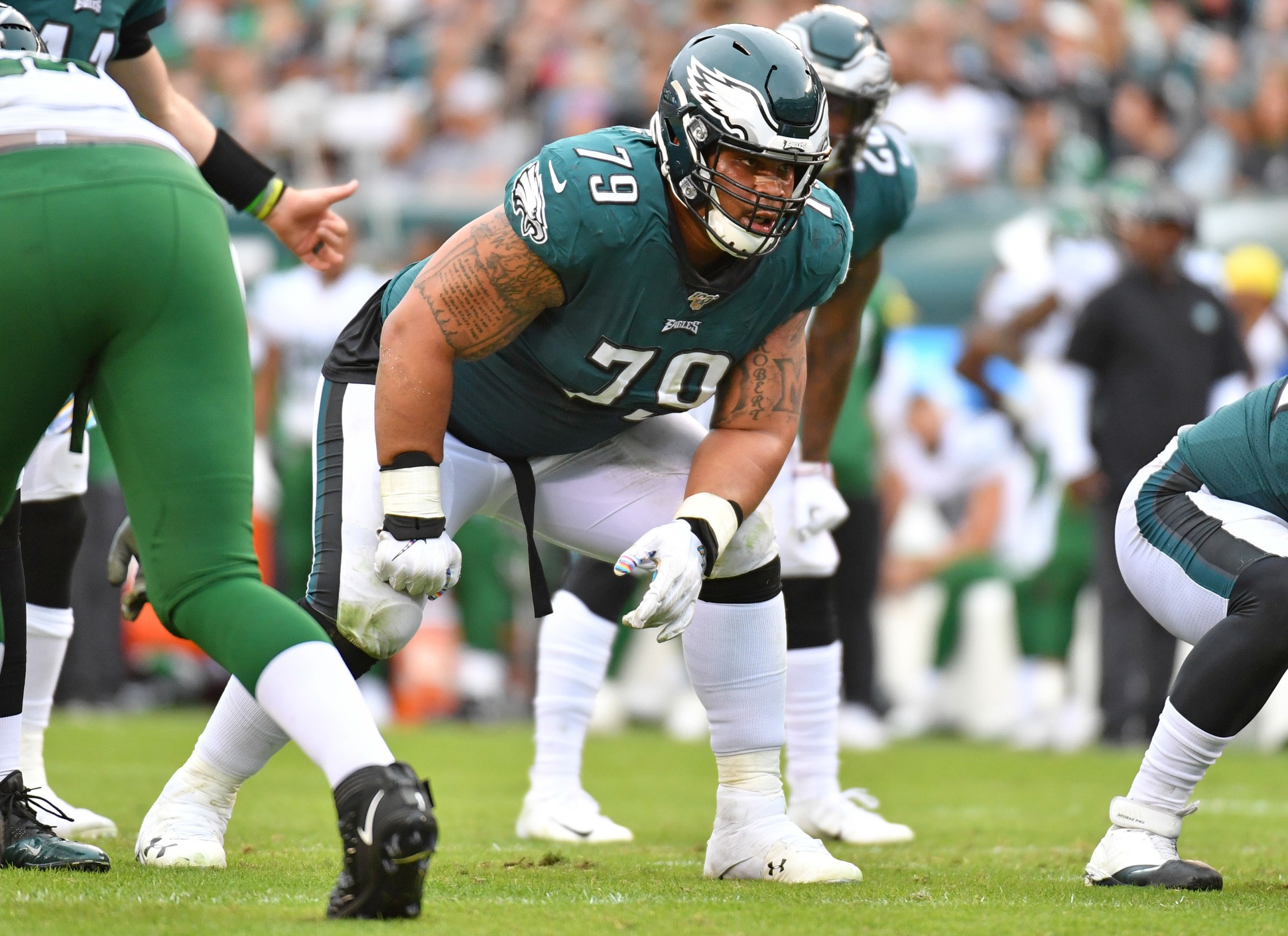 Brandon Brooks tore his Achilles at the tail end of the 2018 season — in January 2019, to be exact — so playing to even a respectable level this year would have been an achievement. Instead, Brooks went ahead and had the best season of his career and was the best offensive lineman in football fresh off the back of an injury that almost invariably affects performance in the first year a player returns from it. Brooks surrendered just one sack and 19 total pressures all season, and he earned the best run-blocking grade in the NFL among guards. He won PFF's Bruce Matthews Award as the league's best lineman and continued to get even better, despite being one the most underrated players in the league.
T.J. Watt had been an impressive pass-rusher for a while, but this was the year he took that step towards being an elite, game-changing force, and he firmly stepped outside the shadow cast by his brother. The younger Watt finished the season with 81 total pressures, a massive eight forced fumbles and even two interceptions, as he elevated his game from simply generating pressure to finishing impact plays and changing the game with turnovers. His 91.3 overall PFF grade was the highest among all edge rushers, and his pass-rushing grade of 91.7 also led the league at his position.
It's hard to overstate just how impressive Lamar Jackson was in 2019, even when you include the disappointment of his team's playoff loss against Tennessee. He transformed his game this season, moving from arguably the league's most inaccurate passer to one well capable of excelling while throwing the football, a fact backed up by him leading the league in passing touchdowns. Jackson's passer rating when kept clean was 118.5 and it was an impressive 97.7 when pressured, as teams struggled to contain the playmaking ability he so obviously possesses. As a ball-carrier, Jackson averaged a monstrous 3.7 yards before contact per carry, making 42 players miss on his way to breaking the all-time single-season rushing record for quarterbacks.
Michael Thomas smashed the all-time single-season receptions record in 2019, breaking Marvin Harrison's mark with a week to spare and ending the year with 149 catches from just 180 targets (82.8%). On the season, quarterbacks passing to Michael Thomas had a passer rating of 123.3, and he did this despite Drew Brees missing five starts with an injured thumb. Thomas was one of the most dominant players in football because even though teams knew exactly what the Saints wanted to do, few could even put a dent in his production.
This was a vintage season for right tackle play, and the best of them all was Ryan Ramczyk, who won PFF's Best Run Blocking award over the regular season. Ramczyk's run-blocking grade of 91.8 was the best among players who didn't miss significant time, and as a pass blocker, he didn't surrender a single sack all season. In total, Ramczyk allowed just 20 total pressures from 659 pass-blocking snaps, and he shut down some of the best pass rushers in the NFL, including blanking Houston's J.J. Watt (albeit with a holding penalty) in the first week of the season.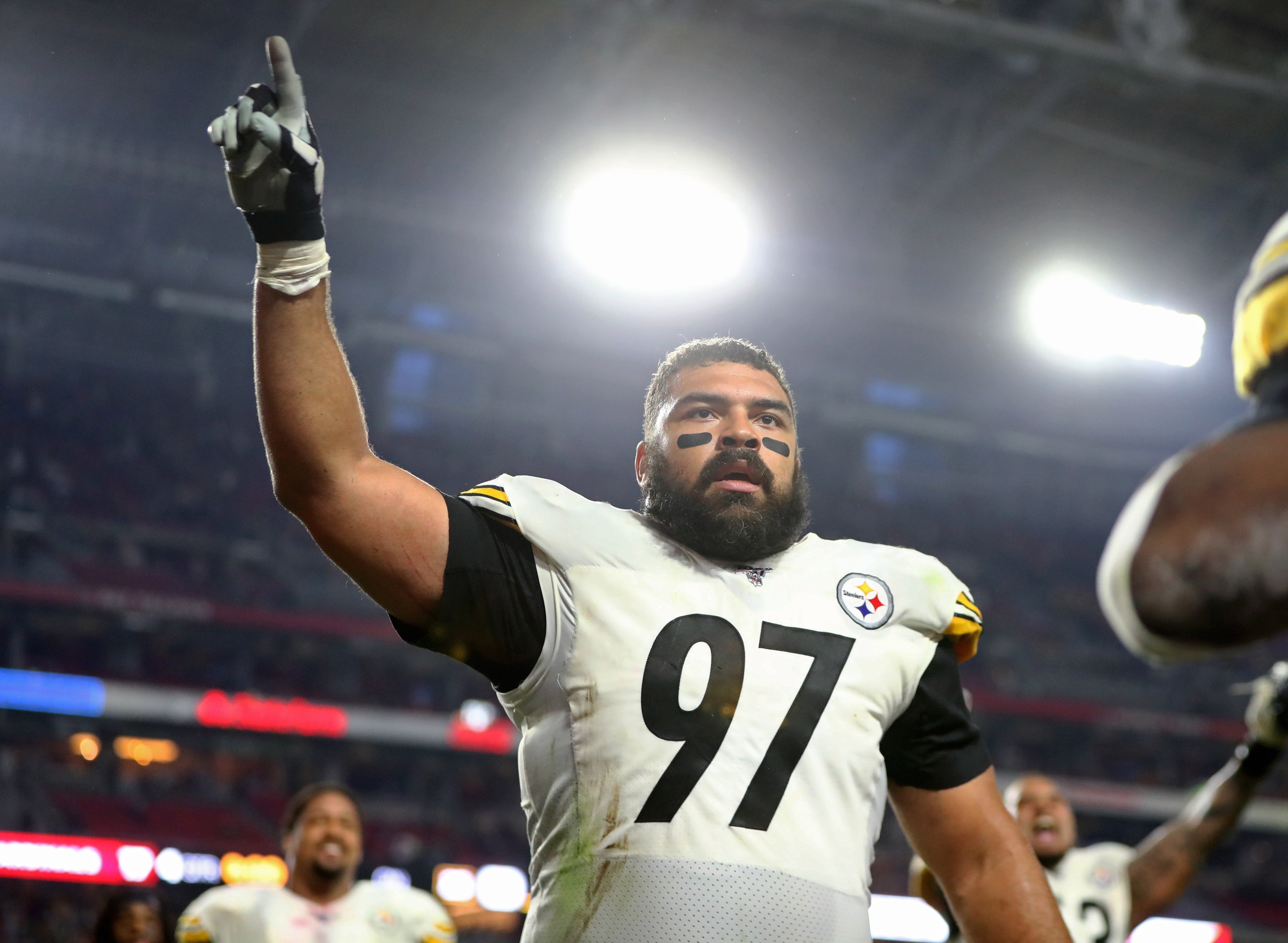 Every season there is a battle to earn the position of the best interior defender in the league not named Aaron Donald. This season, Cameron Heyward raised his hand, and his game, to take that honor. With teammate Stephon Tuitt getting injured, Heyward needed to up his game and did exactly that, registering 59 total pressures and 44 defensive stops. The latter figure was a career-best, seven more than his previous high, while his 59 pressures were good enough to earn a PFF pass-rushing grade of 84.0. His overall PFF grade of 91.5 was the best mark of his career and the second-best mark among interior defenders in 2019.
The one offensive lineman who brings everybody together, Quenton Nelson is a force in all areas of the game and a real tone-setter for the Colts' offensive line, as intangible as that is. On a more tangible level, he didn't surrender a sack all season despite blocking for a quarterback who makes that tougher than others do, and he was the second-best run-blocking guard in the NFL, one of just two to surpass a PFF grade of 90.0 in that area. Overall, Nelson ran Brandon Brooks close for the best-grade among guards, ending the year at 91.2 overall from over 1,000 snaps of action.
Anthony Harris is a player who has always performed well when on the field, but this was his first opportunity to prove he could still do it with a full workload as a starter alongside Harrison Smith. Harris ended the year with an overall PFF grade of 91.1, the best mark of any safety this season. He led the league in interceptions, added five more pass breakups and ultimately improved his overall grade for the second consecutive season. He was one of the best players in football this year and now looks to free agency in the hope that he can be rewarded for it.
The Super Bowl wasn't the best game of his season, but Richard Sherman was phenomenal overall this season, and he was back to his best in coverage after working his way back from an Achilles injury a couple of seasons back. Sherman won our Best Coverage Defender Award this season, allowing a passer rating of just 45.3 over the entire season, including that Super Bowl performance. He surrendered just 227 receiving yards in the regular season, a figure some corners managed to allow in just a couple of games.
If you were looking at interceptions alone, you might not appreciate just how good Vikings linebacker Eric Kendricks was in coverage this season. He didn't have an interception all year until the playoffs, but he did notch 12 pass breakups, the most of any linebacker this season and the most we have ever seen over a season from that position. Kendricks finally added a pick and another pass breakup in the playoff loss to San Francisco in what was one of his best games of the year even though his team fell short.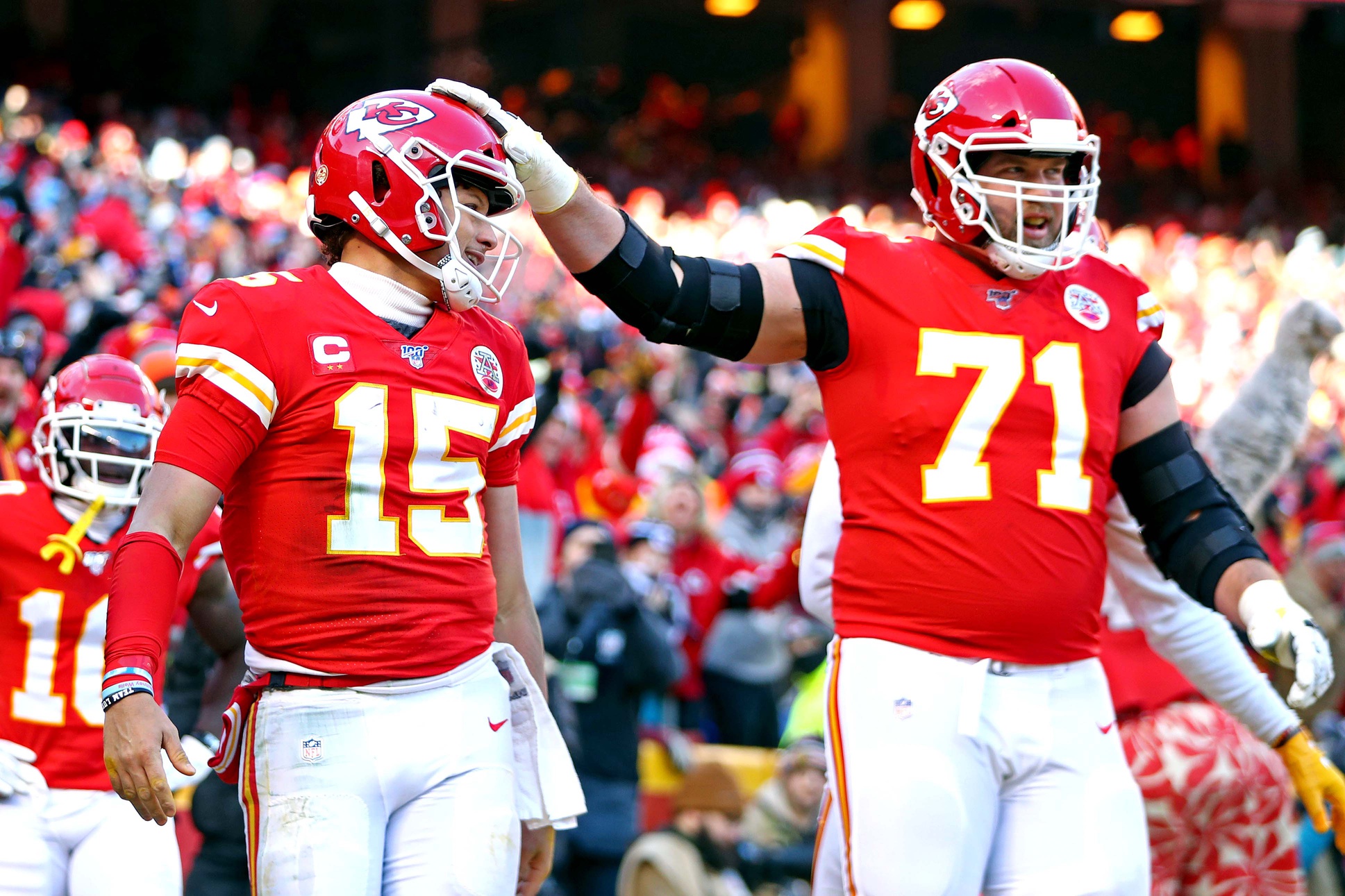 Mitchell Schwartz had one of the greatest postseason runs in NFL history at any position, but few will have truly appreciated it because he played right tackle, where the position's best play manifests itself by going unnoticed. In 140 snaps of pass blocking — most of them in disadvantageous, hurry-up situations against top pass-rushers — Schwartz allowed just one hurry and nothing else. In the Super Bowl, he was able to lock down his side of the line while Nick Bosa laid waste to the other side. Schwartz was one of a number of right tackles to excel this season, but none of the others did what he did in the postseason.
Ronnie Stanley had one of the greatest statistical pass-blocking seasons we have ever seen at PFF, surrendering just six total pressures and no sacks in the regular season before surrendering four more in the playoffs as the Ravens chased the game for 73 passing snaps. Any way you slice the numbers, Stanley's pass protection was incredible, but there is no way of quantifying the effect that Lamar Jackson's unique skill set, threat and the offense that it allowed the Ravens to run, on his numbers. Stanley has been an excellent pass blocker dating back to college and now looks like the gold standard at the position.
Justin Simmons was one of the best performers of the entire 2019 NFL season for the Denver Broncos' defense. He was particularly impactful in coverage, where he had four interceptions and 11 pass breakups, the most combined forced incompletions of any safety this season. Simmons was also unusually active against the run for a player who excelled in coverage, and he recorded 28 defensive stops, the 11th-best mark at the position despite spending just a third of his snaps as a box safety close to the line of scrimmage.
Having come second a season ago, Travis Kelce led the league in receiving yardage at the tight end position this season. He topped 1,000 yards for the fourth consecutive season and was once again one of the most important parts of the best offense in the league. Kelce broke 15 tackles, the second-most in the league at the position, and he was a particularly key factor in the team's playoff comeback against the Texans where he caught 10 of 12 targets for 134 yards and three scores. In total this season, he caught 76.3% of the passes thrown his way.
New free-agent acquisition Za'Darius Smith hit the ground running for the Green Bay Packers, rejuvenating the team's pass-rush alongside Preston Smith and Kenny Clark. Za'Darius led the NFL in total pressures with 93 over the regular season, and he added another 11 over the course of the two playoff performances. Few players rushed the passer with as much versatility as Smith did, as he lined up all across the defensive front to find favorable matchups.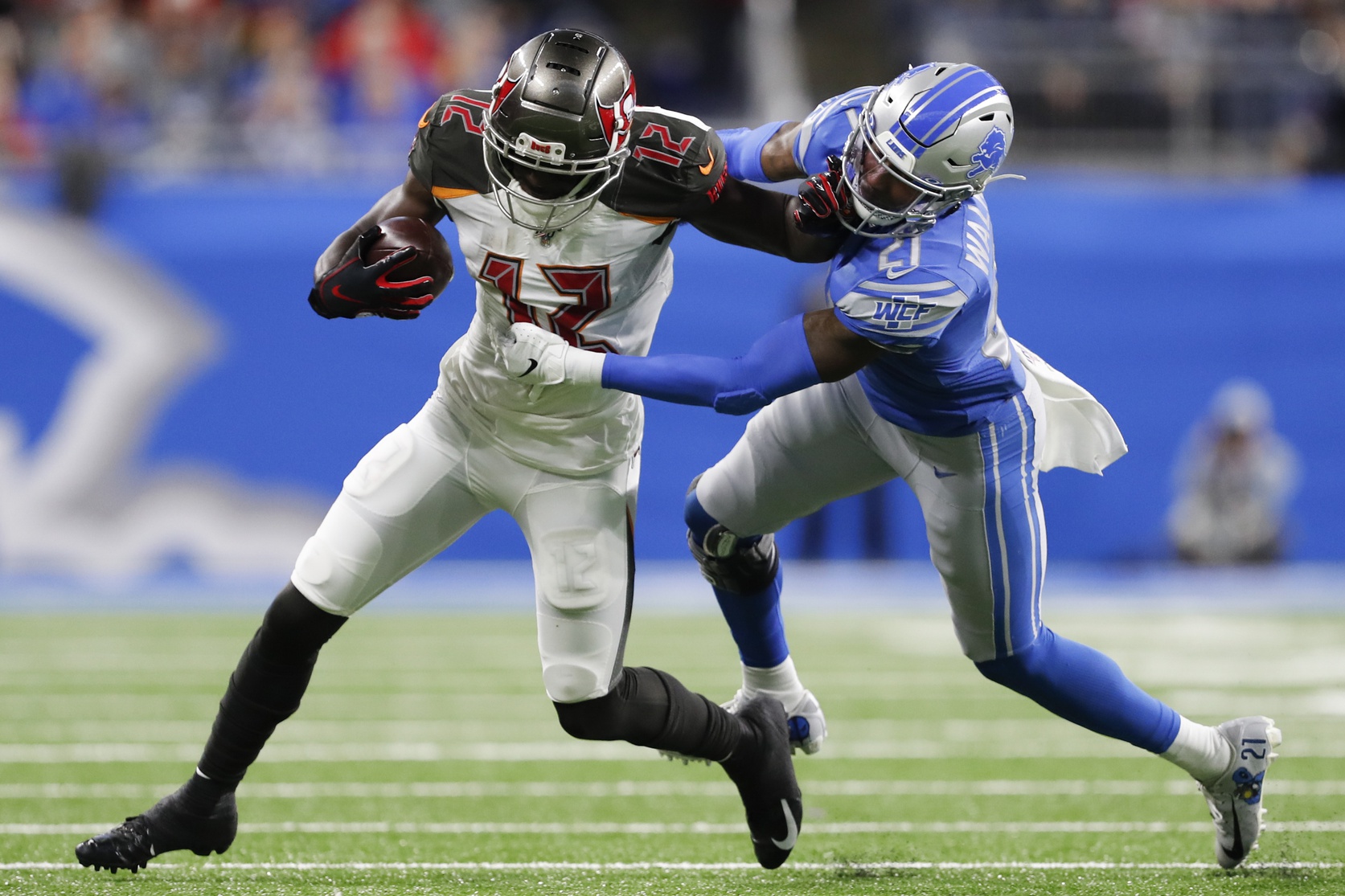 This season, Chris Godwin emerged as one of the best receivers in all of football, and he was a human highlight reel in Tampa Bay where Jameis Winston was intent on airing the ball out and only vaguely concerned with whether the ball went close to its intended receiver. Godwin caught 75.4% of his targets (while Jameis completed just 60.7% of all his passes) and had just one drop all season despite making several circus catches. Overall, when targeting Godwin, Winston had a passer rating of 121.7.
Few players had the kind of career year that Saints linebacker Demario Davis did in 2019. His overall PFF grade of 90.4 represents an almost 15-point jump from his previous career-best grade, which itself had represented a jump from the first five years of his career. He was phenomenal this season, notching 59 defensive stops, an interception and nine pass breakups. Coverage was his biggest strength this season, and he allowed a passer rating of just 87.4 when targeted, almost 20 points lower than the average linebacker.
For the majority of the season, Patriots cornerback Stephon Gilmore was a true shutdown cornerback for their defense. He won the AP's Defensive Player of the Year, and while PFF went in a different direction for that award, there is little doubt he had an excellent season. Gilmore allowed a passer rating of just 48.0 when targeted and a completion percentage under 50%. The only real negative on his season was struggling to contain DeVante Parker against Miami in Week 17, where he gave up the only 100-yard receiving performance of his season.
Despite not being given the same weight of opportunity as some other backs, Nick Chubb still remains the most efficient runner in the game over his young career. This season, he finished second in the league in rushing, with 1,122 of his yards coming after contact. He averaged more than a full yard after contact than Christian McCaffrey and was second in the NFL in broken tackles (66). Chubb also had 13 broken tackles on his 36 catches out of the backfield, but he saw a fraction of the targets that the most productive receivers did at the position.
Christian McCaffrey was the Panthers offense for most of the season. Shorn of their star quarterback, Cam Newton, the Panthers struggled through the Kyle Allen era for much of the season with McCaffrey carrying the load on offense. He was third in the league in rushing yardage but topped 1,000 receiving yards on 116 catches. As a receiving back, only Austin Ekeler had a higher PFF grade, but McCaffrey's rushing grade couldn't quite match up to the best backs in the league this year.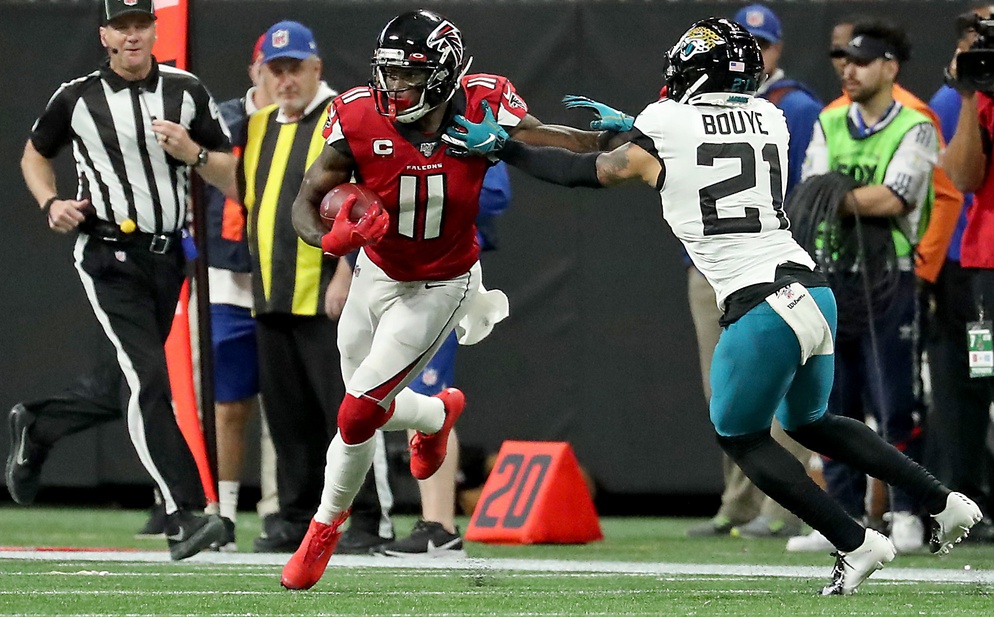 Julio Jones had something of a down year in 2019, yet he still ended the season with 1,394 yards and 99 receptions from 149 targets. Jones had the third-best PFF receiving grade among wide receivers (90.3) and gained 2.44 yards per route run, the fifth-best mark in the league. This represents the first season in the last five in which Jones didn't lead the NFL in that yards per route run category. Though this season wasn't quite his best, Jones was still among the very best players in football at any position — that's how good his very best play is.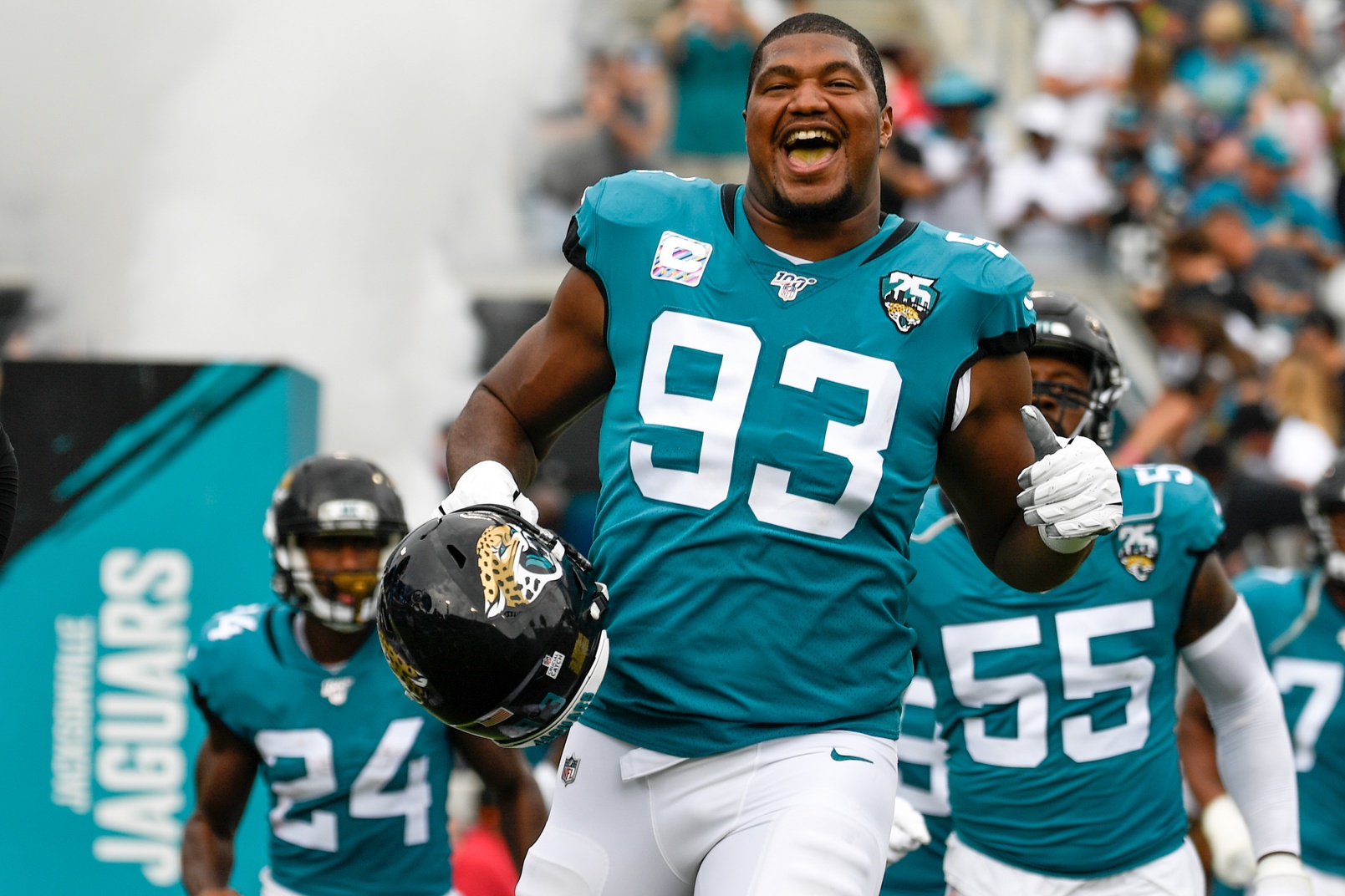 The winner of PFF's Best Run Defender Award for 2019, Calais Campbell continues to play the best football of his career over the age of 30. Campbell had the best run-defense grade of any edge rusher (90.6) and also added 71 total pressures as a pass-rushing force for the Jaguars. Campbell isn't always deployed as a true edge rusher for the Jags, as he moves around the defensive line and uses his size and versatility to make impact plays from a more interior alignment, as well. Regardless of where he lines up, he is a problem for offensive lines and blocking schemes to handle.
All was not well in Atlanta this season, but Grady Jarrett's performance on the interior of the defensive line was as good as ever. He backed up last season's career-best PFF grade of 90.4 with one of 90.1 this season. He tallied 46 total pressures and 40 defensive stops, and he once again earned impressive grades in both the pass-rush and against the run. Jarrett has been one of the best defenders in the NFL over the past two seasons and was one of the few players in Atlanta to come out of the 2019 season with significant credit.
One of the most impressive rookies PFF has seen over the past decade-plus of grading, Bosa ended the season with the most total pressures ever recorded by a first-year pass-rusher during the PFF era (2006 – present). He only added to that total in the playoffs, with a ridiculous 22 extra pressures across three games. In the biggest game of them all — the Super Bowl — Bosa recorded an absurd 12 total pressures and a pass-rush win rate over 30% in a losing effort, and he could easily have been seen as the best player on the field in that game. Nick Bosa was a true pass-rushing force as a rookie — 2020 and beyond could be scary for the rest of the NFL.
The elder Bosa brother makes it a tandem of Bosas inside the top 30 of the PFF Top 101, a feat I'm sure the Watts will have a good chance to emulate going forward. The elder Bosa was back to his best play this season after injury affected his 2018. He notched 71 total pressures and had an overall PFF grade of 89.6, the best mark of his career, while the 49 defensive stops he tallied also set a career-high and were eight clear of the figure he recorded in 2017. Nick Bosa may have taken the league by storm as a rookie, but he's hasn't left his brother in the dust just yet.
The potential red flags of this big jump in performance in a contract year is a problem for others come free agency, but for the purposes of this list, we need to just celebrate how good Arik Armstead was this season in the 49ers' reinvigorated defensive front. Armstead ended the year with the fourth-best overall PFF grade (89.8), and while the Super Bowl wasn't his best game, he added 11 total pressures across three playoff outings to end with 73 across all games, one short of exactly doubling his previous career-high. Armstead also produced 42 defensive stops, 19 more than his previous best.
Maintaining consistently elite play at safety is an incredibly hard thing to achieve at the NFL level. Even all-time greats saw dips in play in certain seasons because of the nature of the position and the degree to which they are often at the mercy of offensive playmakers. Harrison Smith is the closest thing to an elite baseline we have seen in the past decade, and this season he finished with an overall PFF grade of 88.4.  His coverage grade (91.0), was the second-best mark in the league, trailing only the breakout season from his teammate in the Vikings' secondary. The performance of those two safeties went a long way towards making up for Minnesota's lackluster cornerback play.
Jamal Adams has become one of the game's most versatile weapons on defense. In a league that is trending ever more towards matchup problems on offense, Adams is one of a new breed of defender that can solve those problems on defense. This season, Adams spent significant snaps at free safety (297), in the box (401), in the slot (131), lined up out wide as a boundary corner (34) and even on the defensive line as a legitimate edge rusher (96), and he was one of the most effective defenders in the game. As a pass-rusher, he racked up 25 total pressures from 101 rushing snaps, by far the most pressure and the second-most rushing snaps of any safety.
Few receivers are more important to their team's passing success than Green Bay's Davante Adams, who remains the only receiver that Aaron Rodgers truly trusts on a regular basis. The trust isn't misplaced, as Adams is one of the best route runners in the game and arguably possesses the best release off the line of anybody. In the team's two playoff appearances, Adams averaged 8.5 catches for 149 yards and a touchdown, and over the entire season, he caught 68.5% of the targets that were sent his way.
At his best, and when healthy, Lane Johnson is one of a few right tackles who can make a case to be seen as the best in the league. When he went out of the lineup, there was a noticeable drop in play despite his backup, Halapoulivaati Vaitai, actually performing reasonably well. Johnson had the best run-blocking grade (92.6) of any tackle in football this season, and he allowed only one sack across 454 pass-blocking snaps. Injury limited him to just 12 games, however, and that's what keeps him from being among the very best players on this list, because in pure grading terms, this was the best season of his career.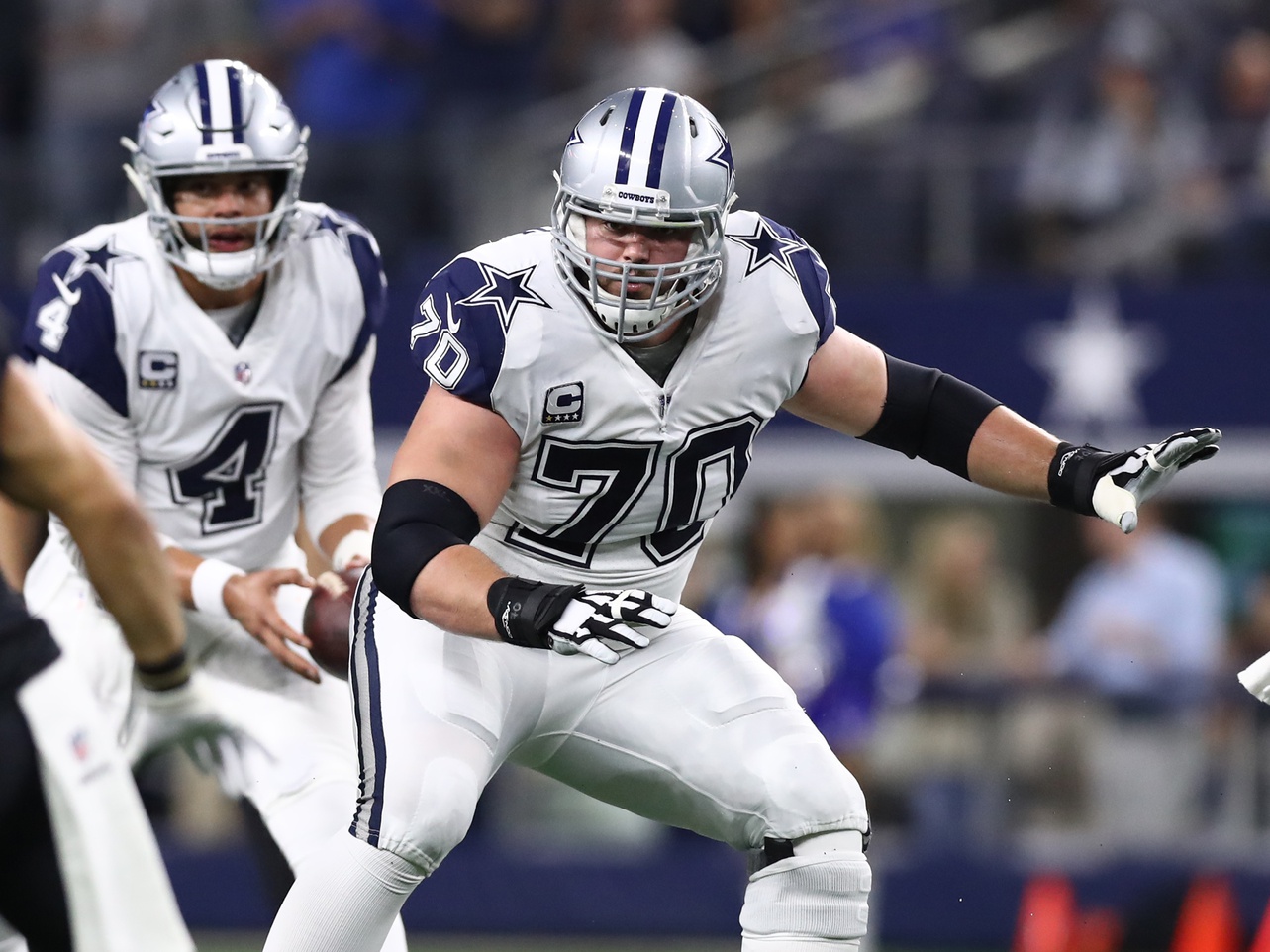 Zack Martin was back to his best in 2019, playing over 1,100 snaps and not surrendering a single sack all year. Martin is also among the least penalized players in football, drawing just two flags this season, which makes only five over the past four seasons of play. Martin had the best pass-blocking grade (90.8) of any guard by a considerable distance and was far from a slouch when it came to his run blocking. The return of Travis Frederick at center seemed to galvanize Martin and help him get back to his best play for the Cowboys.
The Tampa Bay defense has undergone plenty of changes in scheme and personnel, but the play of Lavonte David, who has been one of the best linebackers in the league since he entered the NFL, remains a constant. David posted one of the best overall PFF grades of his career (89.2), and he recorded 54 defensive stops over the season, the third-best mark among all linebackers. David was also deployed more on the blitz this season and registered 18 pressures from 98 pass-rushing snaps while finishing the season as the highest-graded linebacker in coverage.
It seemed like Danielle Hunter would spend his NFL career being a good-but-not-great edge defender, albeit one who was slightly overrated because of his age and sack totals, but this season he finally became the player that his potential said he should become. He posted the best overall PFF grade of his career by almost 10 grading points and had 30 more total pressures (including the playoffs) than his previous career-high. For much of the season, he led the league in total pressures and was denied a chance to end the season on top when the Vikings rested him for the final game of the season after just one snap. Hunter truly showed how special he could be this season.
This season saw Marcus Williams return to the level of play that we saw from him as a rookie, and he ended the season with an overall PFF grade of 88.9. Williams was once again excellent in coverage and against the run, notching four interceptions and six pass breakups over the year. He also recorded 12 defensive stops, which is more than his previous two seasons in the league combined. He makes the PFF Top 101 for the first time in his career this season.
The best players in the NFL show up for the biggest occasions, and that typifies what DeAndre Hopkins did this season. In the first half of their playoff game against the Buffalo Bills, the team was moving him around to avoid the attention of Bills corner Tre' Davious White, but in the second half they just decided to take him on, and Hopkins got the better of the battle for more than just one key play. In their second playoff game, Hopkins caught nine passes for 118 yards in a losing effort against the eventual Super Bowl champion Chiefs. Hopkins is one of the best in the game, and he's at his best in the biggest moments.
Luke Kuechly heads into retirement, having made the PFF Top 101 in seven of his eight seasons in the NFL. The only year that he didn't make the list was his rookie season, but from that moment on, he has been one of the best linebackers the game has seen. This season marked the first year since 2013 that his overall PFF grade dipped below 90.0 for the season, and yet it was still good enough to rank inside the top five among all linebackers, with more playing time than three of the four players ahead of him.
In what was an excellent year for right tackle play, La'El Collins had the best season of his career to date for the Cowboys. This marked the third consecutive season that Collins has improved his overall PFF grade and the second straight year in which he has cut the number of pressures he surrendered. This season, he allowed just 26 pressures across 601 pass-blocking snaps; he was beaten for only two sacks all year long and posted the third-best run-blocking grade (88.6) of any tackle in the game.
The Bengals as a whole had a dismal season on their way to the No. 1 overall pick, but they weren't without individual standout performances, one of which came from Carlos Dunlap. He ended the season with the highest overall PFF grade of his career at 89.7, racking up 50 total pressures, forcing a pair of fumbles and batting down four passes at the line of scrimmage to go with registering the best run-defense grade of his career. This marked by far the best season of Dunlap's impressive career since 2012, and it came with less help than he has had previously.
Austin Ekeler saw a rare opportunity to carry a load when Melvin Gordon held out to start the year, and while he performed well as a ball-carrier with an expanded load, he excelled all year as a receiver. Only George Kittle ended the year with a higher PFF receiving grade than Ekeler across all positions, and the Charger caught 92 passes, coming up just seven yards short of 1,000 receiving yards while scoring eight times. Ekeler was one of the league's leaders in yards per reception after the catch, as he gained more than 10 yards after the catch every time the ball arrived in his hands.
Much like Aaron Donald, Fletcher Cox wasn't quite able to live up to his performance from a season ago. However, even after taking a step backward this year, he was still one of the most dominant interior forces in the league. He finished the year with 56 total pressures, adding four more in the team's wild-card defeat in the postseason. Cox also tallied 23 defensive stops and an overall PFF grade of 89.5, having posted the best game of his season when it mattered most — the playoffs — albeit in a losing effort.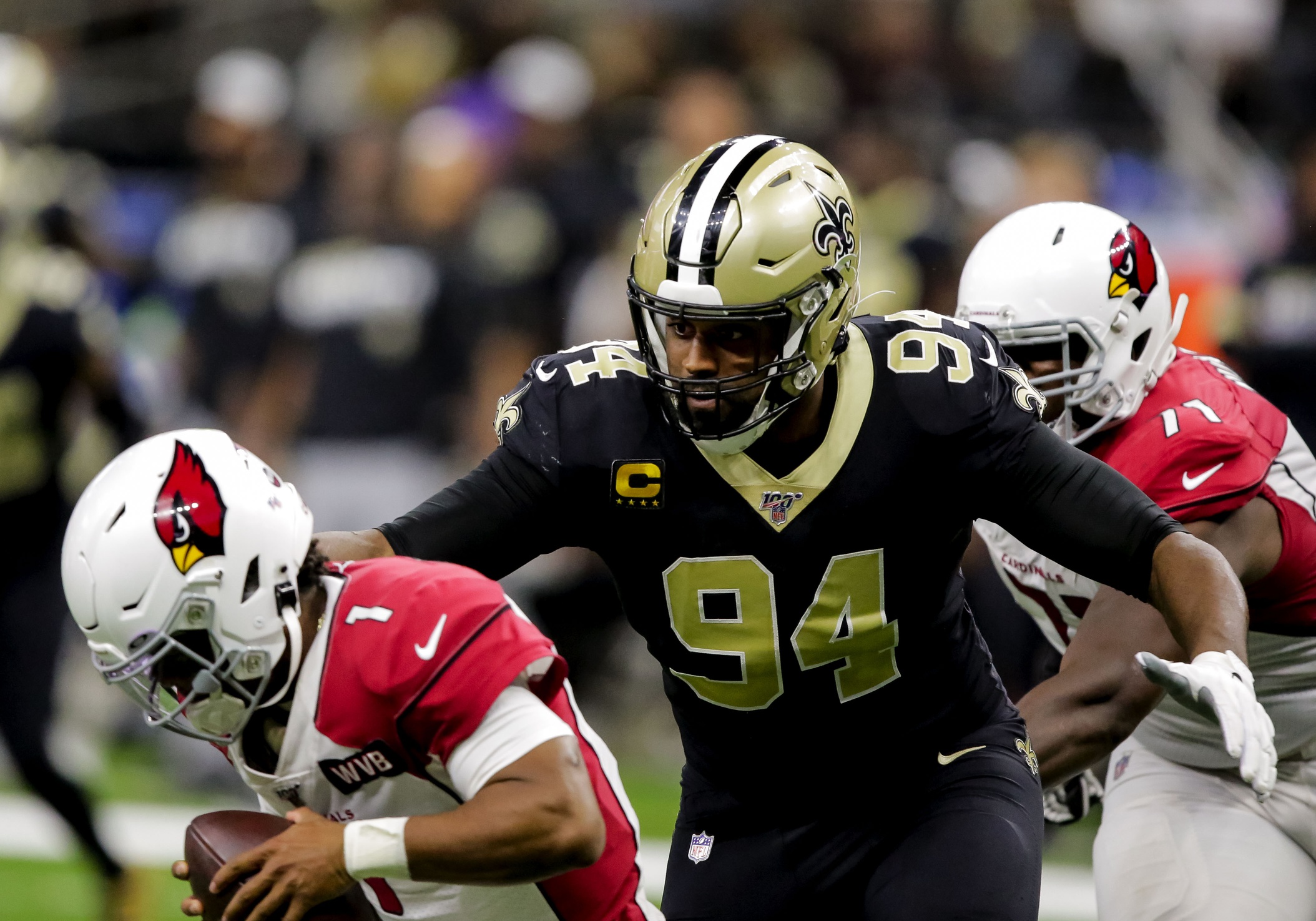 It was another excellent season for one of the best defensive players in New Orleans. Cameron Jordan once again racked up the pressures in 2019, tallying 84 of them over the season, including the playoffs, with 33 defensive stops and an overall PFF grade of 86.9 to go with them. Though this was a slight step down from his previous best, it was still more than enough to see him make this list for the sixth time, putting him in some pretty exclusive company among the best players in the NFL over the past decade. Jordan also deals with one of the higher workloads of any defensive lineman — he played 950 snaps in what was a light year for him.
A former undrafted free agent with a complicated backstory, Alexander Johnson made the most of his first opportunity for playing time this season with the Broncos, earning one of the best grades in the NFL among linebackers. He didn't start until Week 5, but from that point onward, his grade ranked among the All-Pro players at his position, and he was the best-graded linebacker of them all against the run. For a first season starting, this was spectacular play from the young linebacker, and only playing time held him back from a spot much higher on the list.
Many people will see Chandler Jones' sack total and expect him to be higher on this list, but while he was second in the league in sacks, he was only eighth in total pressures over the regular season and didn't get a chance to add to that with a postseason run like some others. Jones' pass-rushing was excellent overall, and it was certainly the strength of his season for the Cardinals. He earned a PFF pass-rushing grade of 90.0, fifth-best among edge defenders, but his run-defense grade of 71.0 ranked just 34th. However, there is little doubt that Jones was an impact playmaker for Arizona's defense, which is a fact that can also be highlighted by his eight forced fumbles on the year.
It says something about the quality of Khalil Mack that a relative "down year" for him still sees him end the season with an overall PFF grade of 86.2 and 70 total pressures. This marks the first time since his rookie year that his overall grade slipped below 90.0, and his 70 pressures are also the fewest he has tallied since his first year in the league. Mack may not have been at his very best this season, but even 80% of that player is a dominant force most weeks in the league.
Due to injury, Mike Evans played as many as 200 fewer snaps than some of the other wideouts on this list, and yet, he still finished the year with 1,157 yards and eight touchdowns. Evans gained 2.3 yards per route run this season and formed the league's most explosive receiver tandem with Chris Godwin in Bruce Arians' high-octane passing offense in Tampa. Evans made some of the biggest catches of the year for the Bucs and makes the PFF Top 101 for the fourth time in his career.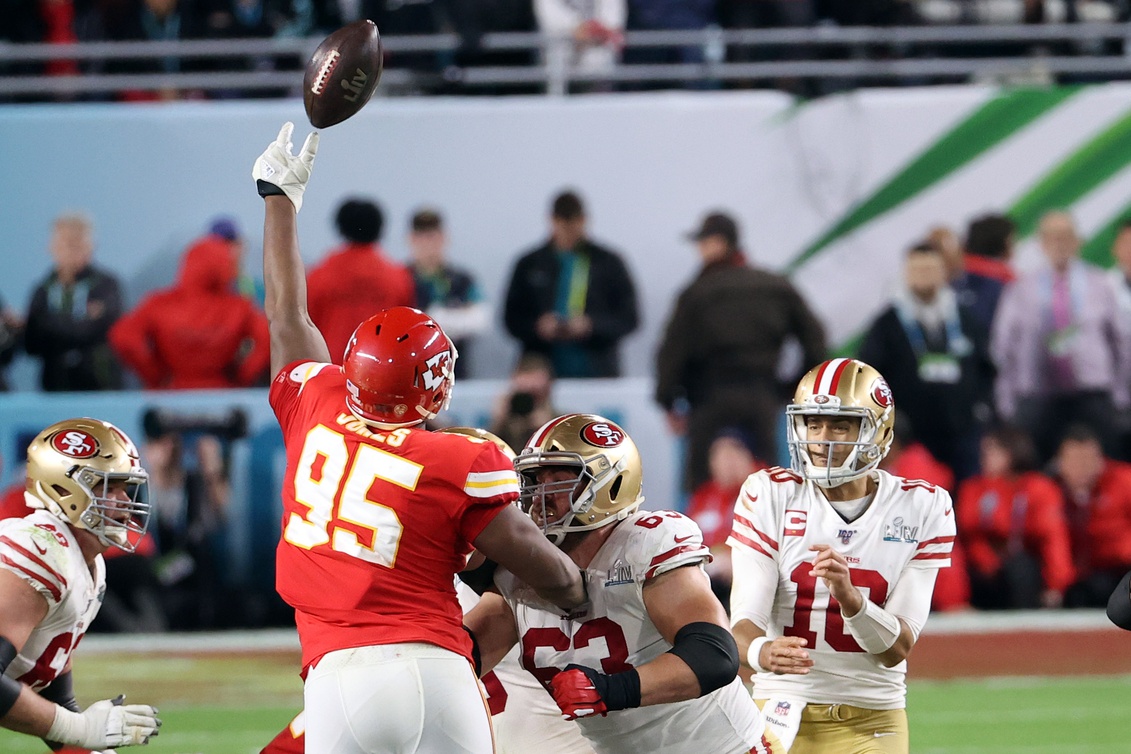 A dominant Super Bowl performance that could justifiably have earned MVP honors saw Chris Jones climb up this list despite missing time earlier in the season through injury. Jones tallied 64 total pressures over the season, including the playoffs, and he added five batted passes, two of which came in the Super Bowl and helped to swing the game in Kansas City's direction. At his best, Jones is a game-changing force inside, and while he wasn't that every game this season, he had six games of 80.0-plus PFF grades.
The performance of rookie receiver Terry McLaurin was one of the most impressive of the season from a young player. McLaurin immediately became the No. 1 receiver in Washington, averaged a top-15 yards per route run figure (2.05), generated a quarterback a passer rating of 118.3 when targeted, and he did it all without any kind of quality quarterback play over the season. Only a few too many drops saw McLaurin slip from being ranked among the very best receivers in the game, but his 85.7 overall PFF grade was still good enough to rank sixth over the season.
At 347 pounds, you would be forgiven for thinking that D.J. Reader was little more than a run-stuffing anachronism to the modern NFL, but he has shown the ability to affect the passing game, as well. This season, in particular, saw his playing time on passing downs scaled up with injuries to the Texans defensive front. Reader rushed the passer 409 times, 51 more than his previous career-high figure, and he responded by posting career-high marks in total pressures (36) and pass-rushing grade (72.5). Reader ended the season with the fifth-best overall PFF grade and fifth-best run-defense grade among all interior defenders.
Jason Kelce played every snap of the Eagles' season — all 1,163 of them — the most of any center in the NFL this season, before adding 64 more in the wild-card loss. Kelce's run blocking is one of the most important elements in the Eagles' ground game, and his ability to make tough blocks on the move separates him from other centers. He ended the year as the top-graded player at his position once again, even if his pass blocking slipped a little this year to a PFF grade of 67.6.
A player who has played a variety of positions in his NFL career, Jimmie Ward had a career year this season for the 49ers as part of a vastly improved roster overall. Ward topped 80.0 in overall PFF grade for the first time in his career, spending the majority of his time as a free safety but also lining up at times in the slot and in the box as a strong safety. Ward had eight pass breakups on the season, despite not getting on the field until Week 5, and he showed a real knack for playmaking once the 49ers improved their pass-rush to consistently put pressure on opposing quarterbacks.
Demarcus Lawrence saw his sack total dry up this year and ultimately failed to get into double digits after recording 15 and then 13 over the past two seasons. Sacks don't come close to telling the whole story among pass-rushers, however, and he still registered 56 total pressures. His pass-rush was a notch down on a year ago, and another notch still from his phenomenal 2017 season, but his run defense was the best of his career, and his 83.3 PFF grade in that facet of play was a top-10 figure among all edge rushers.
While the Packers' offense generally failed to find consistency, running back Aaron Jones was always keeping pace with the best players in the league in terms of PFF grades despite never getting the kind of workload other backs did. Jones ranked just 15th in terms of carries but had the fifth-best PFF grade of any back. He averaged over three yards per carry after contact, racking up 750 of his 1,078 yards after being hit by defenders. He broke 43 tackles along the way and added another eight through the air on 50 receptions.
Marshal Yanda is one of the best offensive linemen of his generation, and he has a very real Hall of Fame case when he finally decides to hang up his cleats. The development of Lamar Jackson and the transformation of the Ravens' offense allowed him to have a renaissance in 2019 at 35 years of age. Yanda allowed just 10 total pressures all season long and was a solid run blocker over the course of the season. At his best, Yanda was the top guard in football, and while he is no longer quite at that level, he is still good enough to make the PFF Top 101 for the eighth time.
Cornerback is one of the most volatile positions in football in terms of being able to maintain consistently elite play year to year, and it speaks to Hayward's quality that he has yet to earn a coverage grade lower than 73.0. This season, his 84.4 mark represents just 329 receiving yards surrendered all season and 11 games in which he allowed 25 or fewer yards. Hayward is one of the game's best corners, and he has been since he first entered the league.
Kyle Van Noy put together a career year for the New England Patriots on the edge this season. His overall PFF grade of 84.2 was the highest of his career by almost 15 grading points, and the 60 total pressures he recorded over the entire season was 13 more than his previous career-high. Van Noy became a true impact pass-rusher and had 122 more pass-rush attempts than any other season of his career, making the most of those opportunities and proving he can be a high-level pass-rusher as he closes in on his 30th birthday.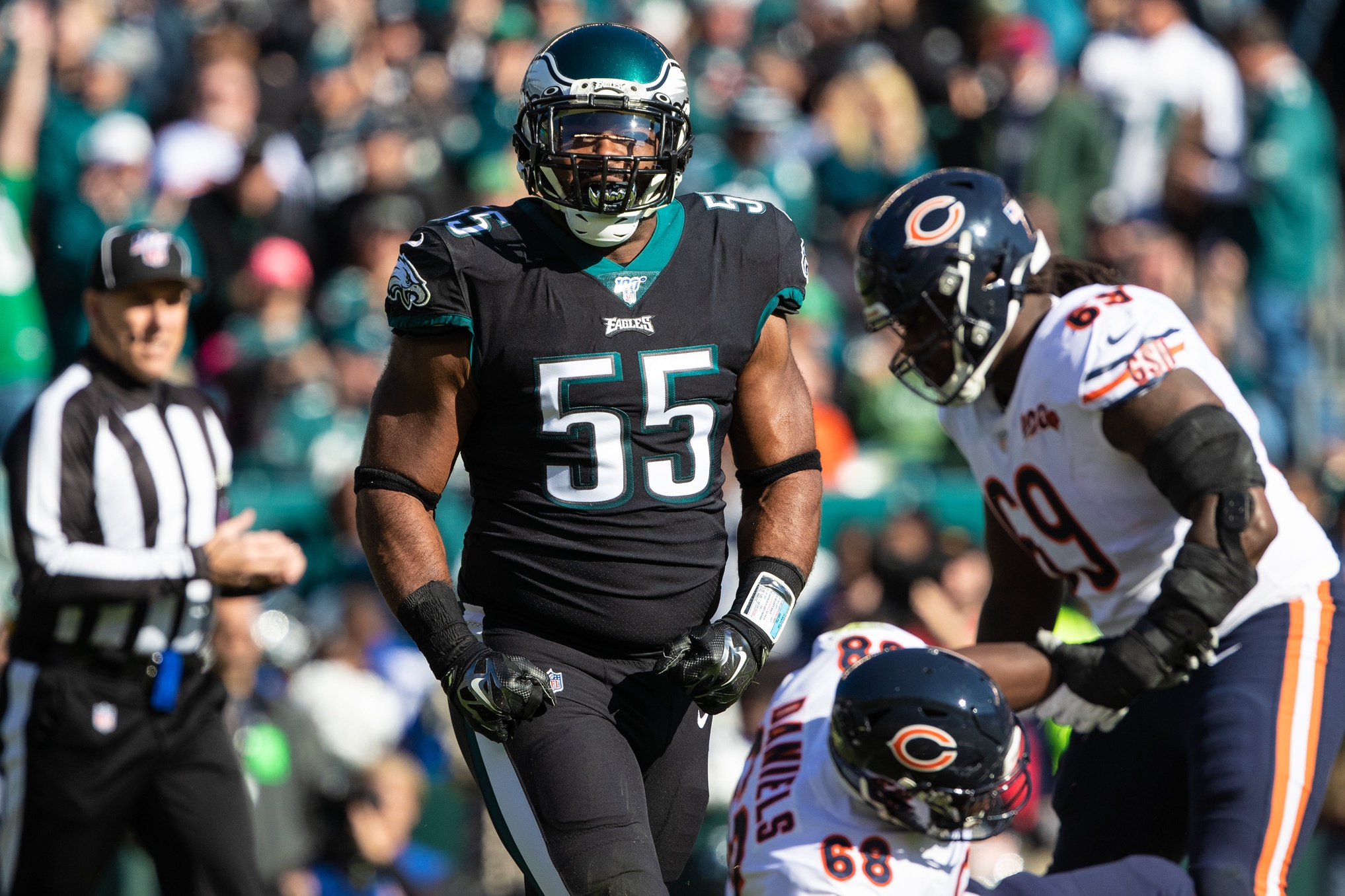 Brandon Graham will forever be one of the league's most underrated players because he is the poster child for pass-rush production in the form of pressure over sacks. Graham again finished with fewer than 10 sacks, but he had 67 total pressures over the course of the year. Graham ended the season with an overall PFF grade of 84.2 and makes the PFF Top 101 list for the sixth time in his career. He also registered 38 defensive stops and was once again solid against the run in most games.
Ryan Tannehill had one of the most improbable seasons of any player in the NFL in 2019. Brought in as little more than a cheap insurance policy, he ended up rescuing the team's season after he reversed the 2-4 start Marcus Mariota had guided them to and ultimately took them to the playoffs. Tannehill ended the regular season with the No. 1 overall PFF grade among quarterbacks and had 23 big-time throws to just 12 turnover-worthy plays. Only a lackluster playoff campaign kept him from being higher on the list even though he didn't start until Week 7.
Drew Brees can still play this game at a high level, and his position on this list has more to do with him missing five starts with an injured thumb than it does with any slip in his play. There were occasional signs that his arm has declined from what it used to be, but his overall PFF grade still finished at over 90.0, and he now becomes the only player to make the PFF Top 101 for 10 consecutive seasons, breaking a tie this year with Tom Brady, who stays on nine. Brees also remains the most accurate quarterback in the game, with an adjusted completion rate of 82.9% this season once you account for drops, throwaways, spikes, etc.
Marcus Peters was traded midway through the season, but produced some strong play both before and after that trade, first for the Rams and then later for the Ravens as they pushed into the playoffs. Peters is the perfect ballhawk for a Ravens' secondary that is loaded with coverage talent because he can freelance a little and make plays while others remain disciplined and lock down their assignment. Peters had five interceptions and eight pass breakups over the season, but he did surrender five touchdowns.
One of the top available free agents, Amari Cooper was at the center of the improved Dallas passing offense early in the season, but like the rest of the offense, he seemed to tail off a little as the year wore on. He caught 15 deep (20 or more air yards) passes over the season and remains one of the best route-runners in all of football. Cooper has all the skills of the very best receivers in the game and only consistency keeps him from being ranked alongside them at the top of this list.
Few players propelled themselves up in estimation more than Derrick Henry this season. He ended the year as the league's rushing champion and was the workhorse of the team's offense in their playoff victories against top opposition. Henry rushed for 1,268 yards after contact this season, breaking 58 tackles in the regular season and averaging more than four yards after contact per carry. He benefited in a big way from both an offensive line that improved hugely over the season and one of the most efficient quarterbacks in the game once Ryan Tannehill took over as the starter, but Henry was extremely impressive in his own right this season nonetheless.
Mark Andrews saw 104 targets this season, including the team's lone playoff appearance, catching 65.4% of them (68) and scoring 10 touchdowns. He was Lamar Jackson's go-to receiver and ended the regular season ranked fifth in targets, but with the heavy tight end formations they Ravens run, he ranked just 39th in snaps. Andrews was one of the best receiving weapons in the league and did it while being reserved specifically for that role from a deployment point of view. His grade suffered a little from a strange case of the drops, three of which came in one game in the rain against Seattle, but overall, he was a real force this season.
One of the most explosive and dangerous players in the game, and arguably the fastest player in all of football, Tyreek Hill poses a threat to the opposing defense every time he lines up. He had a mixed day in the Super Bowl, but even then he came up with a huge play to spark the comeback when he got behind the defense. Despite missing time through injury, Hill was still extremely effective when he was on the field, and including the playoffs, he generated a passer rating of 109.7 when targeted by either Mahomes or Matt Moore.
An injury to Stephon Tuitt opened the door for nose tackle Javon Hargrave to prove he could be more than just a run-stuffing body on the defensive line in a contract year, and he did exactly that over the season. Hargrave played 225 snaps more than his previous career-high, and he responded by notching more total pressures (49) than his previous two seasons combined (41). He maintained his impressive work against the run but showed that he can be a legitimate force as a pass-rusher and more than just a rotational body, earning the best overall PFF grade of his career in the process (83.4).
Few positions have to rely on others to make them look good — or at least give them the opportunity to make themselves look good — like wide receiver. Courtland Sutton was dealing with sub-standard quarterback play all season long, and that's something that only slightly improved with the move to rookie Drew Lock. Sutton caught 72 passes, broke 16 tackles after the catch and did significant work to bail his quarterback out of some ugly passes over the year. Few players did more with less.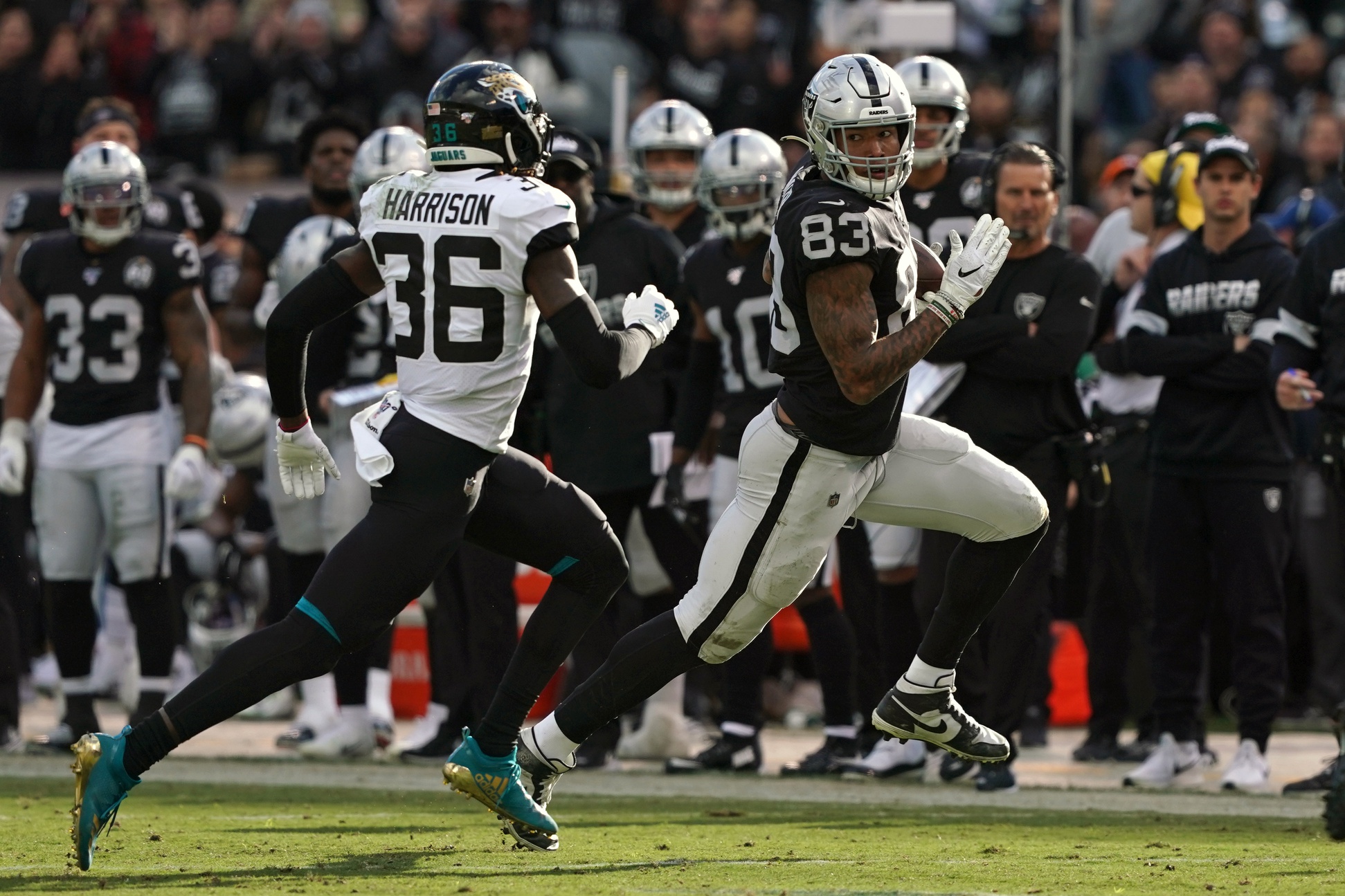 One of the biggest surprises of the season, Darren Waller completed his transformation from triple-option wide receiver in college to one of the NFL's most dynamic receiving tight ends this season. Waller trailed only Travis Kelce in receiving yards at the position and actually caught a higher percentage of targets than the new Super Bowl winner (78.3% to 74.6%). Waller also averaged 6.6 yards after the catch and broke 11 tackles, proving to be a very effective weapon with the ball in his hands.
There have been few players as consistent as Anthony Castonzo over the majority of his career. Every one of the past eight seasons has seen him end the year with an overall PFF grade somewhere between 76.0 and 85.0, and this season he ended with a grade of 81.3. He allowed three sacks and 34 total pressures but was pass blocking for a quarterback who holds the ball longer than he should at times and stresses his pass protection.
As impressive as it is for quarterbacks to be playing late into their 30s and into their 40s, imagine the same thing happening at tackle, where 250-pound plus players are coming at you every snap. Somehow, Jason Peters is still playing at a very high level late into his 30s. Peters surrendered just 25 total pressures over the season and had good grades as both a run blocker and pass protector. As has been a trend with him lately, he did miss some time through injury, but he still racked up 936 total snaps over the entire season (including playoffs).
For a period of the season, Quinton Dunbar was the best-graded cornerback in the NFL, and the injury that caused him to miss the end of the season is the only reason why he slips this far down the list. No matter what way you look at his coverage numbers, Dunbar was fantastic this year. He allowed a passer rating of just 56.9 when targeted, and he had six games in which he surrendered 25 or fewer receiving yards.
The Rams took a significant step back this season overall, but one member of the team who went in the other direction was their tight end, Tyler Higbee. Higbee more than doubled his previous career-high figures for receptions and receiving yards while receiving more than twice the targets he did a season ago. He broke seven tackles after the catch and hauled in 80.2% of the passes thrown his way over the season.
At times this season, Dallas Goedert was the last man standing in the Philadelphia Eagles receiving corps, as everybody else was struck down with injury at one time or another. Goedert wasn't as productive as some other tight ends on this list, but he earned impressive PFF grades in every facet of play we grade, topping at least 70.0 in every category. As a run blocker, he was a significant boost to a powerful offensive line, and he also made several impressive highlight-reel catches over the season.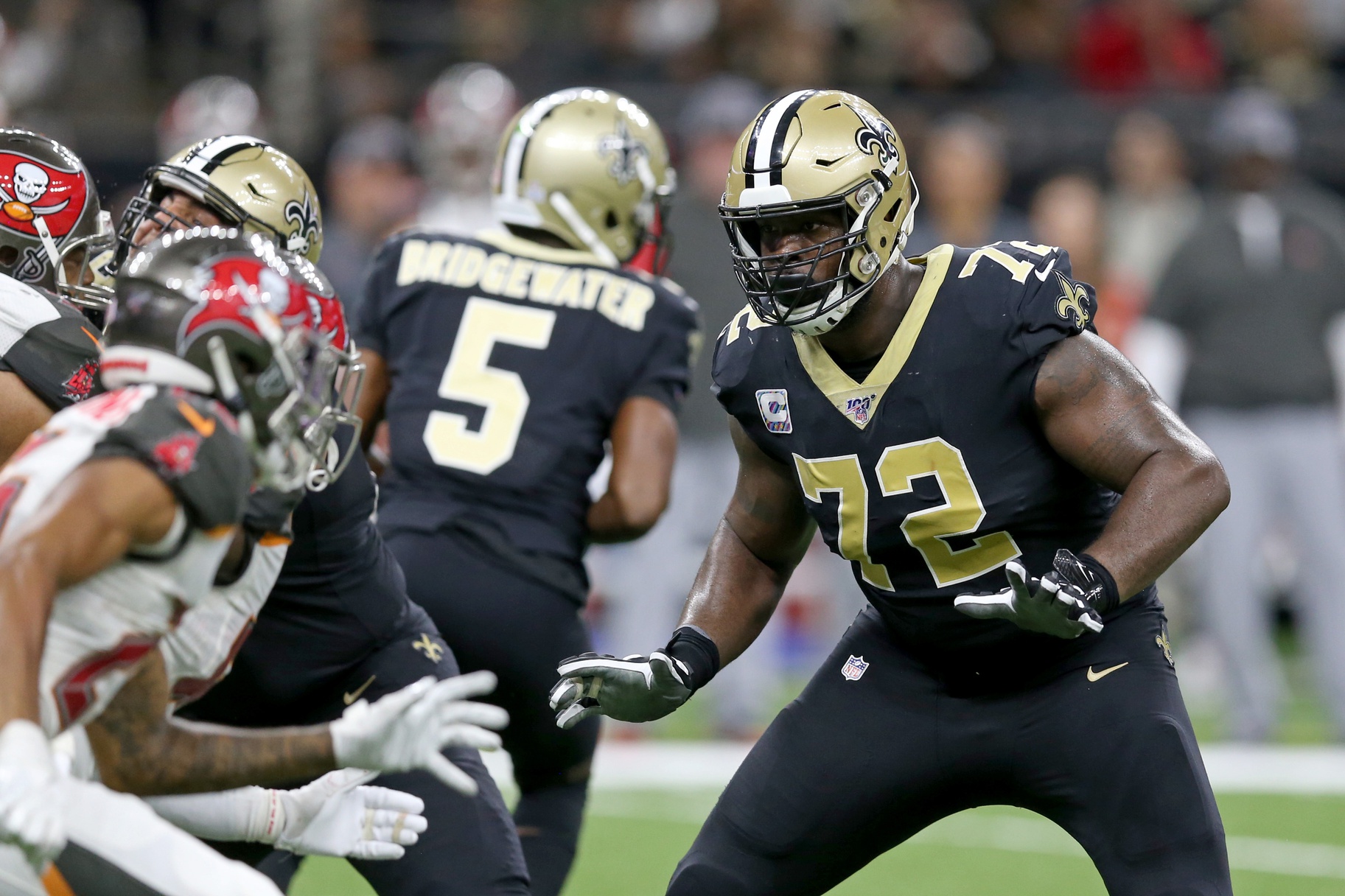 At his best, Terron Armstead is one of the best tackles in all of football, but an in-season injury affected his play and caused him to miss time. Even his absence showed how good he is, though, as Drew Brees completely changed his game when his reliable blindside protector wasn't in the lineup by dramatically speeding up his release. Armstead surrendered just one sack all season, including the team's lone playoff appearance, and the sack came in that game. In total, he allowed 24 pressures across more than 600 pass-blocking snaps and remains one of the best pass blockers in football.
Tyler Lockett has become one of the best and most underrated receivers in football. He doesn't have the stature of the prototypical number one receivers elsewhere in the league, but he has been outperforming his size since his days in college, and he did so once again in 2019. Lockett caught 74.8% of the passes thrown his way this season, including the postseason, and he accounted for 63 first downs over the year. When throwing it Lockett's way, Russell Wilson had a passer rating of 125.9, representing his second consecutive year over 125.
Had Ryan Tannehill been starting all season long, and performed at the level he did in the regular season, rookie A.J. Brown could well have been significantly higher on this list. The two forged an immediate and potent connection. From the point Tannehill started, only Julio Jones and Michael Thomas had a higher PFF receiving grade than Brown. The rookie led all receivers in yards per route run over that time, with a Julio-esque figure of 2.98. Brown also slips down the list a little by being relatively shut down in the postseason, as the Titans' passing game as a whole struggled to maintain its level against the better teams in the conference.
Kirk Cousins had one of the worst games of the entire season in Week 2 against the Green Bay Packers, but from that moment on, he was consistently among the better passers in the NFL and a big reason why the Vikings were able to make the playoffs and pull off an upset win on the road against New Orleans. Cousins had a passer rating of 118.0 when kept clean in the pocket this season, and only Patrick Mahomes surpassed him when it came to passer rating on deep shots throughout the year. Unfortunately for Cousins, the season ended disappointingly with the loss to San Francisco, but this was the best season of his career and the first in which he came close to justifying his lofty contract.
For the majority of the season, Jadeveon Clowney was repeating the career year he had a season ago, but he tailed off badly in the final weeks of the season and into the playoffs. At his best, Clowney was a game-changing force and had multiple games with an overall PFF grade above 90.0. He notched 58 total pressures over the entire season, had three forced fumbles and even an interception. Clowney once again showed the kind of potential he has and was particularly effective against the run, which has been his specialty since entering the league.
After a couple of less impressive seasons, Jack Conklin ended the season exactly matching the overall PFF grade he managed in a rookie season that impressed so much. His 80.6 was heading in the right direction by the end of the year, and he was playing his best football in the playoffs against some of the better defensive fronts he faced. Conklin had the fifth-best run-blocking grade of any tackle in the league and gave up just three total pressures in three postseason performances.
DeForest Buckner has been one of the best players in the league for a while, but he took it to another level this year after the 49ers put some legitimate edge rushers around him to maximize his impact on the game. His postseason run meant he ended the year with the most pressure he has had in a single season, and this represents his third consecutive season with an overall PFF grade north of 80.0. Buckner has solid grades across the board and is a player with no real weaknesses.
The enigma that is Aaron Rodgers continues to confound. Just when all hope of seeing the very best of Rodgers again had almost vanished for good, he pulled out one of the best games he has had in years in the playoffs against the Seahawks but wasn't able to back it up in the NFC Championship game against the 49ers. Overall, Rodgers is still capable of those sensational games, but his baseline has slipped from where it once was, and he ended the year ranked seventh in overall PFF grade at the position. At his best, Rodgers has been the No. 1 player on this list in multiple seasons, and while he has slipped from that level, he is still good enough to be one of the best 101 players in the league.
There are few players as metronomically consistent as Patriots safety Devin McCourty. This represents the eighth time he has appeared on the Top 101, and only Drew Brees has appeared on the list more times since we have been running it. McCourty earned a PFF coverage grade of 88.3 over the course of the season, including the playoffs, and he tallied five interceptions as well as two pass breakups. He also added a pair of forced fumbles and was once again one of the Pats' most reliable defenders, even if the team's 2019 defense was one of the best they have ever fielded.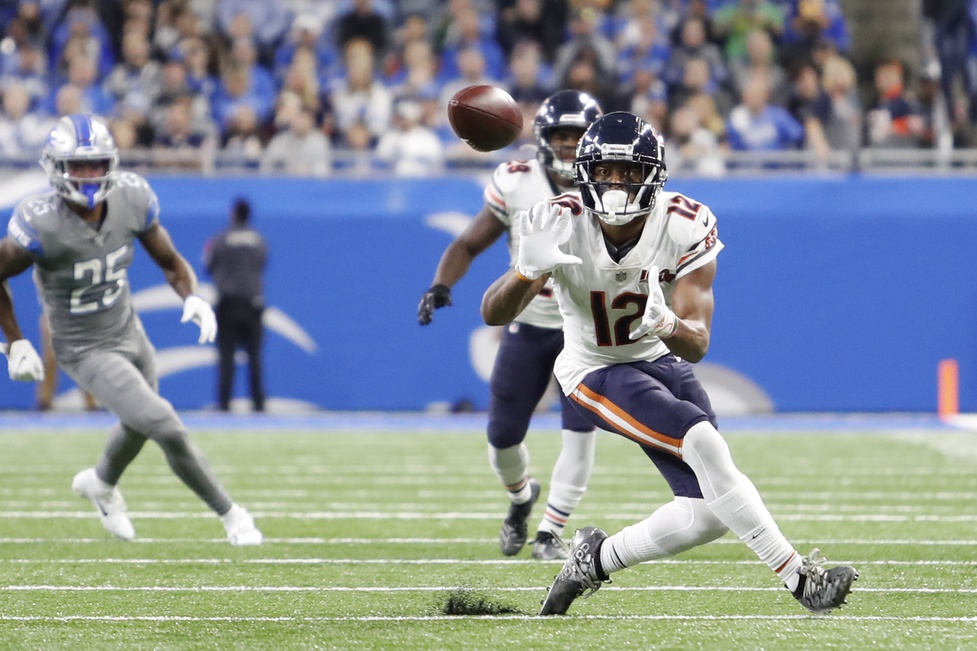 Allen Robinson's ability to produce despite the neverending list of dismal quarterback play over his career has been remarkable. Again, he was able to grade among the better receivers in the game despite Mitchell Trubisky's game falling off a cliff and the fact that he had to suffer through the play of backup Chase Daniel at times, as well. Robinson ended the season with over 1,100 yards from 153 targets, catching 64% of the balls thrown his way over the year. His ability to excel despite far from ideal quarterback play is phenomenal.
One of the more underrated players in all of football, Steven Nelson had an excellent season for the Pittsburgh Steelers after being "just another member" of a Chiefs defense that was disappointing in 2018. Nelson allowed just 51.5% of passes thrown his way this season to be caught and allowed only one touchdown across the 66 passes thrown into his coverage. Nelson's run defense was also solid, and he demonstrated that, while on a better unit, he was capable of much better play than he was being given credit for while playing in Kansas City.
At his best, Deshaun Watson belongs maybe 50 places or so higher on this list, but he still remains prone to occasional disastrous games. His three worst games all featured PFF grades in the 40.0s, but no other game was worse than 60.0, and he had six games of 80.0 or more. Watson also has more on his shoulders than almost any other quarterback, so a degree of inconsistency is to be expected. When kept clean, Watson had an adjusted completion percentage of 81.2% and is one of the most exciting players in the league to watch.
Taylor Lewan didn't start the season due to suspension, but he ended it playing like the best tackle in football in the postseason. Whether it was simply rust, or an epiphany during the year in recognizing he needed to play better, Lewan became a monster down the stretch and into the biggest games of Tennessee's season. On the season (including the playoffs), he allowed just 12 total pressures and had the best PFF run-blocking grade of any left tackle in the postseason, crushing defenders to open up running lanes for Derrick Henry to carry the offense.
Making his first appearance on the PFF Top 101, Titans cornerback Adoree' Jackson had the best season of his young career in an improved Tennessee defense. Jackson didn't get a single interception over the course of the season, but he did notch 10 pass breakups and had eight games in which he allowed 25 or fewer receiving yards. Jackson didn't allow 100-plus receiving yards in any single game and was a big part of the Titans' forward step this season.
One of the best coverage linebackers in the game, Cory Littleton makes the PFF Top 101 for the first time after his second consecutive excellent year in coverage. This season, his play in other facets of the game were better, and so his overall grade jumped to a career-best mark of 78.9. Littleton had two interceptions and seven pass breakups on the year, and he tallied 45 defensive stops across both coverage and the run game. He now gets to enter free agency coming off the best season of his career, with a proven track record in the most valuable area of linebacker play.
The Patriots' offensive line took a major step back this season, but one player who went in the other direction was left guard Joe Thuney, who built on a couple of solid seasons to post the best overall PFF grade of his career. Thuney narrowly missed out on topping the 80.0 threshold in terms of overall grade and had the best single-game of his season in the playoffs as the team fell to the Titans in the wild-card round. Thuney was excellent as a pass blocker, allowing just one sack all season, his only one over the past two seasons combined.
The Indianapolis Colts have assembled one of the best offensive lines in football, and it's largely due to hitting on young players, among them right tackle Braden Smith. A far less heralded draft pick than Quenton Nelson, and even Ryan Kelly at center, Smith has been impressive since entering the NFL nonetheless. He was at his best as a run blocker, dominating on the ground in most games, and while pass blocking was a weaker area, he was dealing with a quarterback who stresses pass protection more than most, and he still had solid grades in that area despite surrendering some pressure.
For a time this season, it looked as if Dak Prescott would be significantly higher on this list, but his season stumbled to a close much like that of the Dallas Cowboys around him. Prescott had three of his worst four games in the final three weeks of the season, as the Cowboys felt the pressure coming from the Eagles and couldn't wrap up a division that was theirs for the taking. Overall, Prescott's PFF grade of 80.3 was the best he has posted since his sensational rookie season, and it at least showed that he was capable of that kind of play once more as he looks to secure a monster contract this offseason.
If we were looking only at the Minkah Fitzpatrick who played in Pittsburgh, he would likely be higher on this list, but PFF grades every play of the season, and Miami Minkah was a thing that happened, albeit just for a couple of weeks. In Pittsburgh, Fitzpatrick showed that he could be a far bigger playmaker than the Dolphins ever coaxed from him, and he made several game-changing plays for them in his new home. Inconsistency remained his biggest issue, but there is no doubting the big-time playmaking ability he has.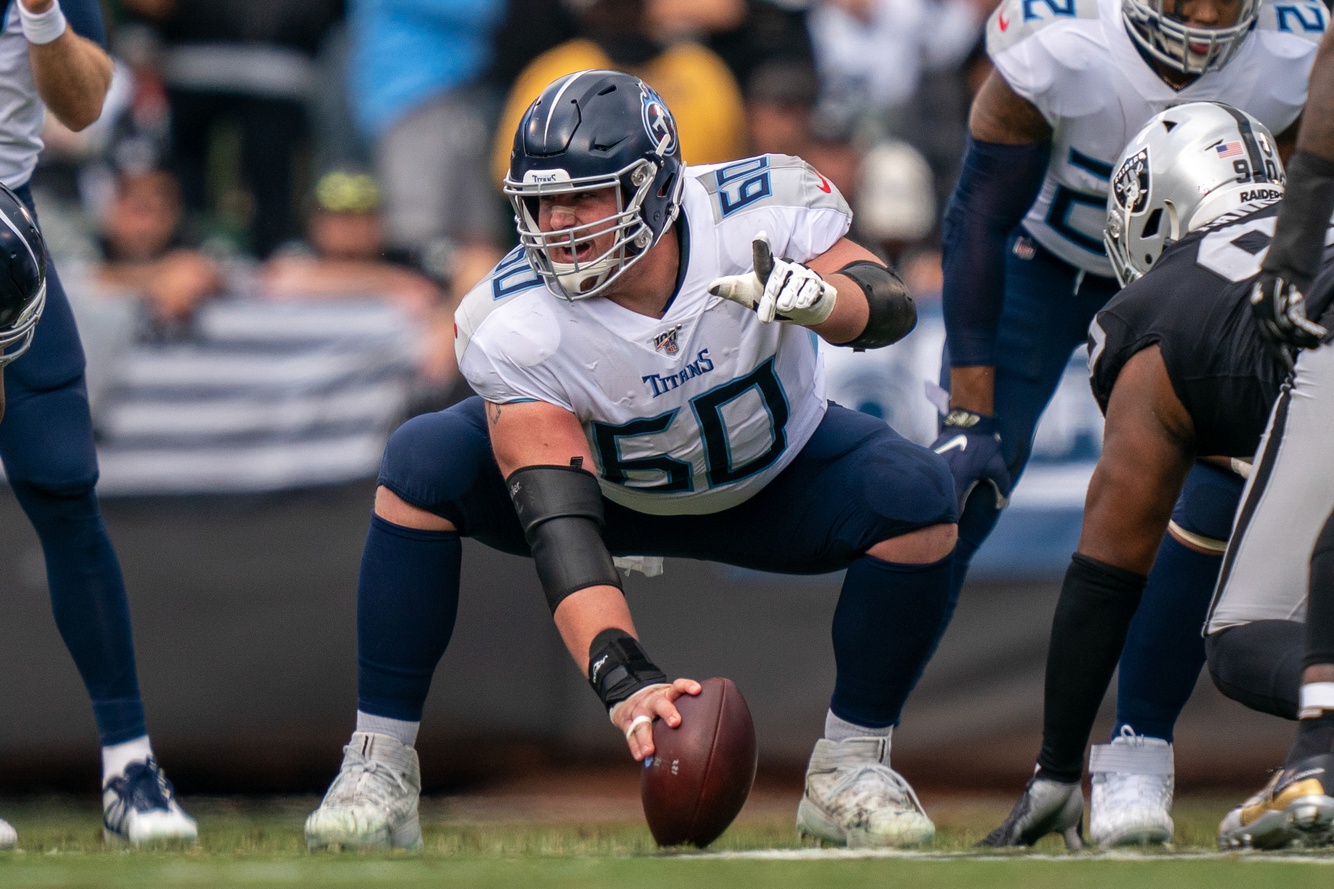 This wasn't a vintage year for center play, but Ben Jones was a part of an offensive line that turned itself around over the course of the season and was made to look significantly better once a change at quarterback was made. While Marcus Mariota had been badly stressing his pass protection and undermining them on many dropbacks, Tannehill was better at operating within the structure of the play. Jones ended the season having surrendered just ten total pressures, and he had impressive grades as both a pass protector and run blocker.
The Falcons' season was largely disappointing, but Jake Matthews remained consistently strong at left tackle after an ugly start to the year. His opening three games were the worst three of his season — and they featured two overall PFF grades in the 40.0s — but after that, he was the No. 3 ranked tackle in the league. On the season, he gave up 28 total pressures, almost exactly matching his total from a season ago, along with an almost identical overall grade.
There are so many devastating interior defenders in the NFL today that fitting them all on this list is a challenge. Green Bay's Kenny Clark has developed into one of the league's better pass-rushing forces inside, despite entering the league as a nose tackle and still plying much of his trade there. Including the playoffs, only Aaron Donald and Chris Jones had a higher PFF pass-rushing grade than Clark among interior defenders, and he tallied 69 total pressures. Only a relative step back in his run defense kept him from being much higher on the list.
But for an iffy stretch in the middle of the season, Ryan Jensen could have ended the season as the best-graded center in football, because either side of that, he was excellent manning the middle of the Bucs' offensive line. Jensen ended the year having been beaten for just one sack and 15 total pressures, despite being asked to pass protect on 751 snaps of high-octane Bruce Arians passing offense. Jensen was also solid in the run game and posted by far the best season of his career overall.
Only playing time kept Josh Jacobs this low on the list, because, in pure performance terms, he was one of the best players in the NFL at any position in his first season of action, and the fact that he did some of it with a major shoulder injury makes it all the more incredible. Jacobs was 13th in carries and yet still managed to lead the league by three broken tackles on the ground, and he averaged a ridiculous 3.5 yards after contact per carry in his debut season. Jacobs wasn't quite the factor in the passing game you would like to see, which is curious given how good he was in college in that regard, but his performance carrying the football was special.
Darius Leonard opens his NFL career with back-to-back appearances on the PFF Top 101, backing up his remarkable rookie season with another good year, albeit a slightly lower overall PFF grade. Leonard had five interceptions this season and allowed a passer rating under 80.0 when targeted, around 25 points lower than the average passer rating when targeting linebackers at the NFL level. He proved that his rookie season was no fluke with an excellent sophomore year.
Justin Houston had dealt with so many injuries in Kansas City that the team ultimately decided to move on, but in his first year with the Colts, he proved he can still get after the quarterback. The Colts wisely kept him on something of a pitch count over the season, and he totaled just 674 snaps over the year, most of which came as a pass-rusher, and he responded with 60 total pressures, the highest figure he has notched since the 2015 campaign.