Late Sunday night, New England Patriots fans got the news that they expected to hear but didn't want to hear, as veteran tight end Rob Gronkowski announced his retirement from football, bringing his NFL party to an end.
The 10th-year Arizona product will step away from the game as arguably the biggest mismatch weapon of all time. A tight end that could not only dominate as a pass-catcher but could also block as well as an offensive tackle. More than just a big-bodied receiver and more than just a gifted athlete, Gronk has been, and will likely always be, unparalleled and unrivaled at his position – a clear step above the rest. He'll retire as a three-time Super Bowl champion, five-time All-Pro, six-time PFF 101 standout and an all-time PFF great.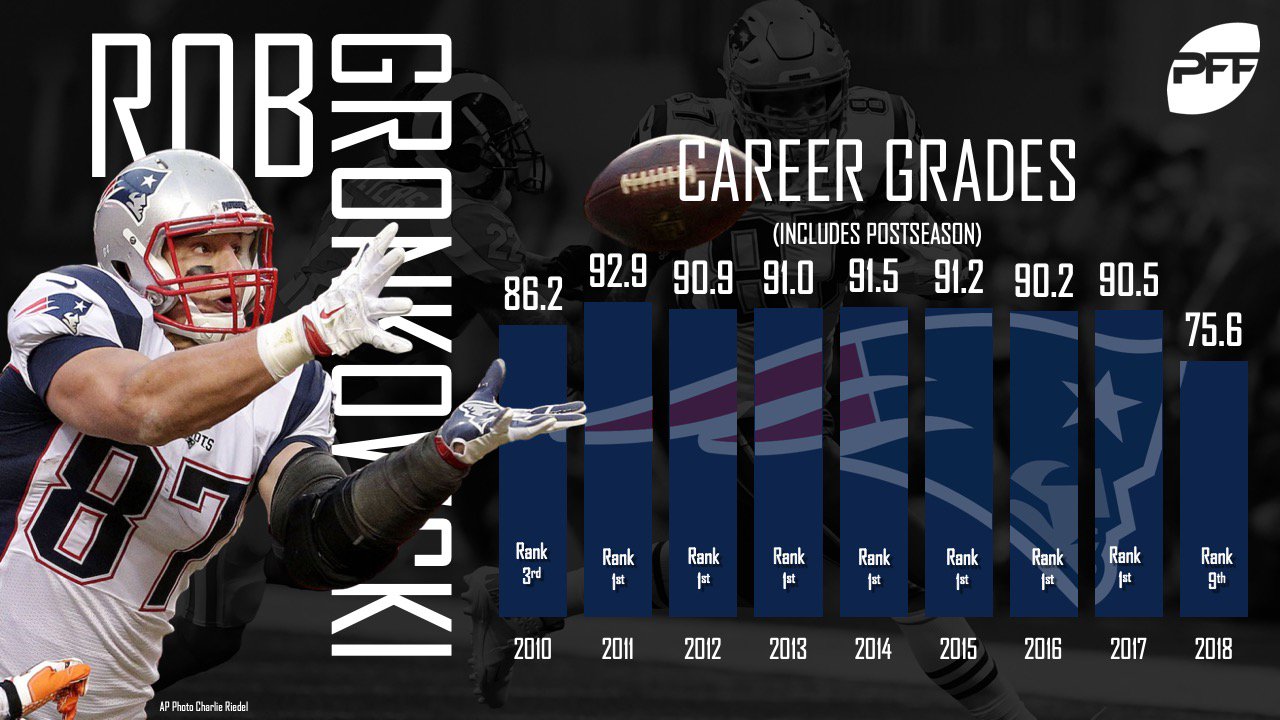 Gronkowski came into the league in 2010 as the 42nd overall pick of the 2010 NFL Draft, the second tight end off the board that year. Little did the Patriots know that they had just drafted one of the greatest to ever play the position: A player who would become the only skill position player in PFF history to record elite overall grades in seven consecutive seasons; a player that would go on to lead all Patriots skill position players in snaps played (7873), receiving yards (9013) and touchdown receptions (91).
His rookie year set the stage for a great career of terrorizing NFL defenses, as he recorded 42 catches from his 57 targets for 546 receiving yards 10 scores. Through 16 regular season games, he generated a passer rating of 143.0 that was, at the time, the best mark ever recorded by a rookie tight end, and in what would become a regular occurrence over the next nine years, he ended his rookie year ranked in the top five among tight ends in yards per route run, where he finished with a mark of 2.00.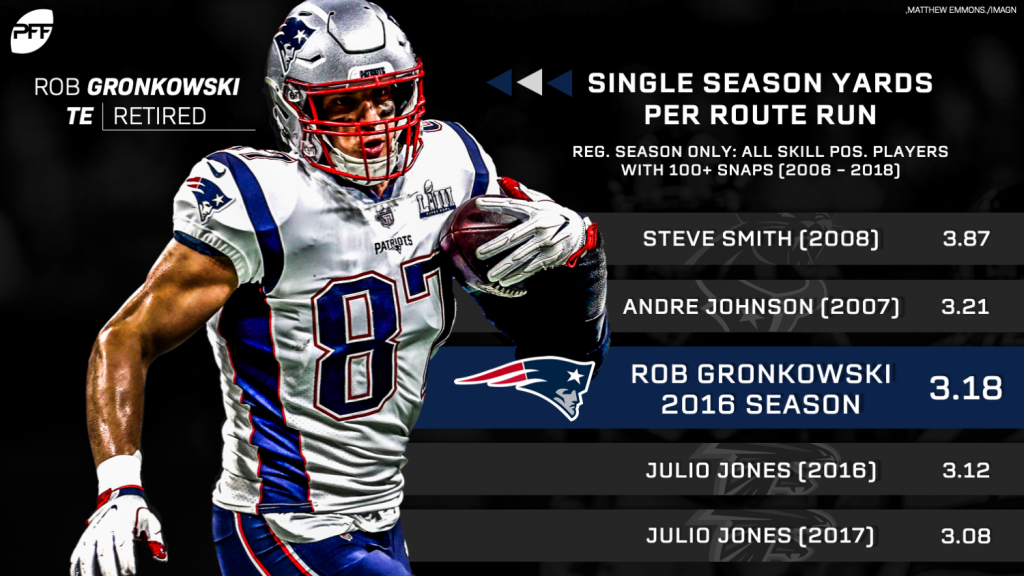 It was indeed a sign of a bright future. Gronkowski went on to build upon that promising rookie campaign and compile a career that can rival even the best wide receivers, let alone tight ends. From every season from 2011 to 2017, Gronkowski finished with an average of at least 2.00 yards per route run, finishing first among tight ends in that regard in five of those seven seasons. There is no greater testament to his sheer domination than his 3.18 yards per route run season of 2016, which still stands as the best single-season mark ever recorded by a tight end and the third-best single-season mark ever recorded by a skill position player.
After dominating for the best part of a decade and recording seven consecutive seasons of elite, peer-beating grades — with his 2011 season earning the best overall grade ever given to a tight end over the course of the season — the host of injuries that he'd sustained over the course of his career finally seemed to catch up with him in 2018. In somewhat of a down year by his standards, his 75.6 overall grade, including the postseason, was the low-point of his career, but it was still good enough to rank ninth among all players at the position. And that really does say it all: That a ninth-year Gronk, a shell of his former self and a player that was almost unrecognizable from the dominating figure of years past was still better than the other 59 players that took meaningful snaps at the position.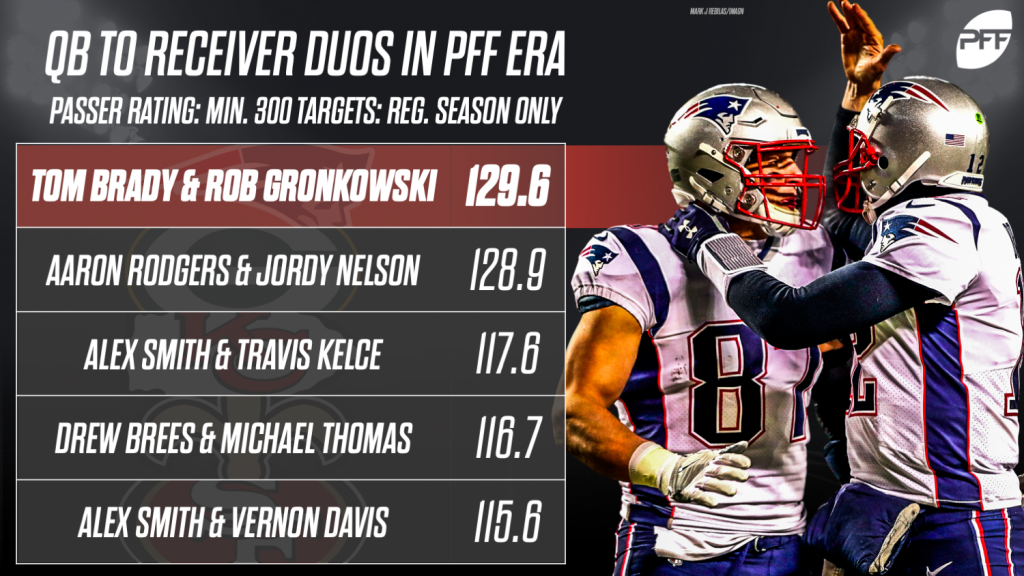 In addition to his great personal achievements over the years, Gronkowski also teamed up with quarterback Tom Brady to form a receiving tandem that will deservedly be mentioned in the same breath as the likes of Montana and Rice, Manning and Harrison, and Aikman and Irvin when it comes to discussing the best quarterback to receiver duo of all time.
In their time together during the regular season, Brady and Gronkowski have combined for 516 catches from 753 passing attempts for 7,786 yards, 78 touchdowns and just 13 interceptions. The 129.6 passer rating that they've generated over the last nine seasons ranks first among all quarterback-to-receiver duos with at least 200 attempts since 2006, while the 10.4% touchdown percentage (touchdown passes/attempts) is second only to the duo of Brady and Randy Moss.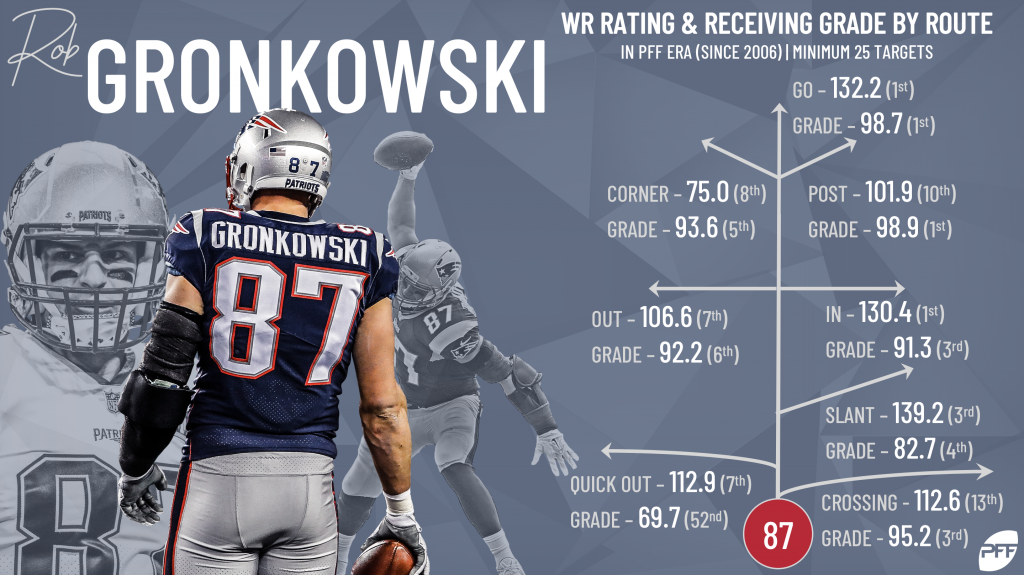 From the first day he stepped out onto an NFL field and for the duration of his stay, Gronkowski has been a dominant, almost-unstoppable force in the passing game — the ultimate mismatch weapon — and no matter who was tasked with covering him, Gronkowski always managed to find a way win. When cornerbacks were tasked with covering him, Gronkowski generated a 112.8 passer rating. When safeties were asked to lock him down, Gronk came away with a 123.0 passer rating. When linebackers tried to cover him, Gronkowski feasted to the tune of a 141.2 passer rating. In fact, among the 46 players who have had to defend Gronkowski for at least five targets, only three managed to achieve a coverage grade of 70.0, with Ronald Darby topping the list at only 81.6.
As a truly unique athlete, Gronkowski utilized his big body and athleticism to win on almost every single route of the route tree. From crossers, to in routes,  to post routes, Gronkowski has recorded a passer rating when targeted north of 100.0 on seven of the eight basic routes of the route tree, and he has recorded receiving grades north of 90.0 on all but two of those routes.
Of course, the ability to beat any man in front of him and win deep downfield was a huge aspect of his game, and the long receptions from beautifully thrown deep passes will one day fill the highlight shows when they come to relive Gronk's career. As you'd expect, Gronk's performance from go routes, the vertical route down the field, was practically unparalleled during his time in the NFL, as he caught 71-of-122 go-route targets for 1851 yards, 23 scores, 69 plays of 15 or more yards. He generated a WR rating of 132.2 on those routes, which ranks first among all tight ends with at least 25 targets in the PFF era. As if that wasn't impressive enough, Gronk's 98.7 receiving grade from go routes ranks first among every single skill position player in the PFF era, regardless of the snap count.
Rob Gronkowski's drive against the Steelers got me thinking about the best stretches we've ever graded. Gronk's was, in fact, the highest graded 5-play stretch for any receiver in past 5 years pic.twitter.com/3UN8Ui2upl

— Mike Renner (@PFF_Mike) December 29, 2017
At his low point, he was still one of the best in the game. At his best, he was about as much of an unstoppable force as there has ever been, and nothing truly demonstrates how much of a difference maker he has been in this league than his five-play stretch (above) from a season ago.
As Senior Analyst Mike Renner wrote shortly after Gronkowski's utterly destructive 2017 Week 15 performance: "Gronk's three catches, a run block, and a 2-point conversion were, in fact, the highest-graded stretch we've seen from any pass-catcher over the past five seasons. What reviewing the All-22 reveals is just how much separation the Patriots tight end had on every single play.
Seemingly, every single starting quarterback in the NFL could have led that drive if they were only looking at Gronk. With a better throw on the third pass from Brady, Gronk would have had a walk-in touchdown a play prior to the Pats' actual score. Nothing short of dominant from the league's best tight end."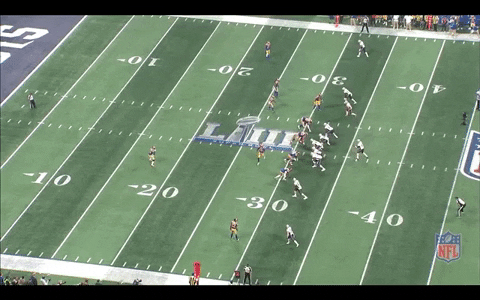 Of course, you can't summarise the career of the veteran tight end without looking at his postseason production, as he has been a significant cog in the Patriots' championship-winning machine. In postseason games alone, Gronkowski has caught 81-of-124 targets for 1163 yards, 439 yards after the catch and 12 touchdowns, which rank second, third, and first among all skill position players in the PFF era, respectively. His postseason receiving grade of 90.1 ranks fourth among the 165 skill position players with at least 100 postseason receiving snaps since 2006.
With that said, there is probably no more fitting way to exit to the NFL stage than by his last professional reception, which came in the closing moments of Super Bowl LIII. Lined up in the slot, Gronkowski breezed past linebacker Corey Littleton to secure the 29-yard grab from a go route, which, in turn, set the Patriots up for the game-securing score.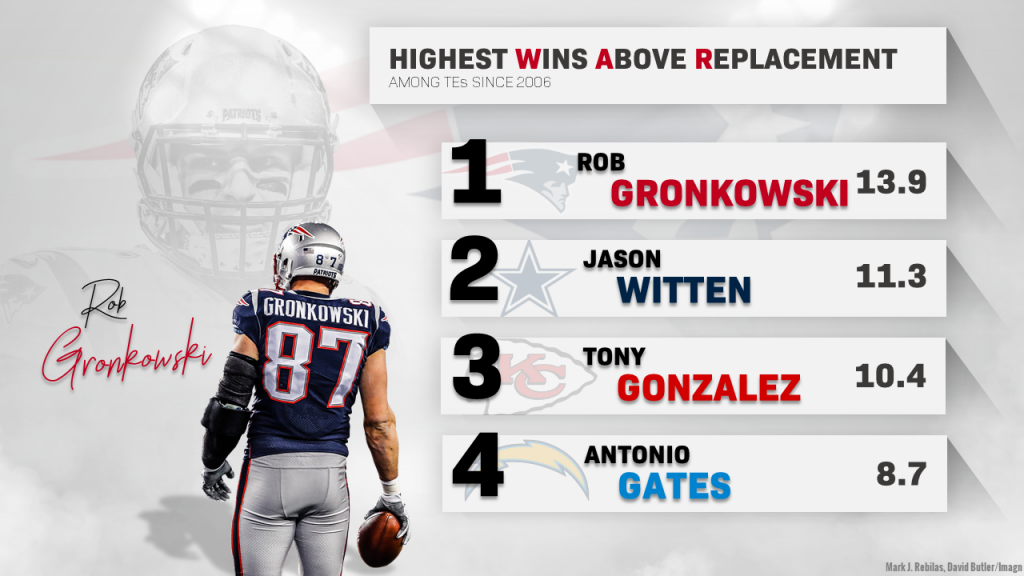 Gronkowski's receiving prowess will stand the test of time — that much is beyond debate — but there was something other than his ability to catch passes that made him so spectacular, and that was his equally-impressive ability to block.
Gronkowski recoded pass-blocking grades of at least 65.0 in seven of his nine professional seasons, giving up just 25 total pressures from 593 pass-blocking snaps. However, as impressive as that was, it was his effect in the running game that really cemented him as one of the premier blocking tight ends of his generation, as he recorded run-blocking grades of 65.0 in eight of his professional seasons, while he recorded run-blocking grades of 80.0 or more in four of those seasons. He'll step into the sunset with a career pass-blocking grade of 72.6, and a career run-blocking grade of 88.7.
Put it all together, and you get a modern-day titan, a real-life create-a-player that could beat you all over the field. That presence on the football field has been, according to out wins above replacement model, worth around 13.9 wins during his time in the NFL; more wins than any tight in the PFF era, despite not playing until 2010.
Gronkowski will end a tumultuous career head and shoulders above any other player at his position. He may have played just nine of the 13 seasons within the PFF era, but the peerless Gronkowski still ranks first among tight ends in most single-season overall grades, with seven; tied for first in most elite game grades, with 18; first among tight ends in 100-yard receiving games, with 31, and first among tight ends in games with at least 1.95 yards per route run, with 69.
Nice.
See you in Canton, Rob Gronkowski.