This week, Lamar Jackson joined Michael Vick as the only two quarterbacks to surpass 1,000 rushing yards over the course of a single season. That in itself is actually quite fitting, given that Jackson has been compared to Vick since long before the pre-draft process because of how devastating he is with the ball in his hands in open space.
We simply haven't seen many quarterbacks with the kind of athleticism that Lamar Jackson possesses, and as the only one that came close in that regard, Vick became the obvious comparison. How each player reached 1,000 rushing yards, though, has been very, very different.

A little more than a decade ago, we saw a radically different NFL landscape. Michael Vick played in an era of systems in which prospects and players were expected to conform to long-established schematic norms because those were the structures that worked. They had been tried and tested.
The idea of tailoring a scheme to a player's strengths was seen as a misdirection of resources. It was easier to teach one player the system than to change the entire system for that player to flourish. Consequently, there was a time when one of the most dynamic athletes the league has ever seen (Vick) was plugged into a West Coast offense and expected to run it much the same way any other quarterback was at the time. His incredible athletic talent was seen as a bonus to the real star of the show—the system—not something so unique as to deserve its own attention.
Thanks to this, when Vick racked up 1,000 rushing yards, almost all of it was unplanned—from scrambles to improvised rushes after passing plays broke down—and very little was done to take advantage of his ball-carrying dynamism by design. The Falcons' coaching staff of the time effectively saw Vick's rushing as a bonus and a way to let him make up for some deficient passing plays, but the thought of crafting a bespoke rushing offense around that skill set and reducing what was expected of him from a passing standpoint was never seriously considered. Altogether, 759 of his 1,039 rushing yards (73.1%) were scrambles, and he had more than double the number of scrambles of all but one other quarterback that year (Vince Young had 46).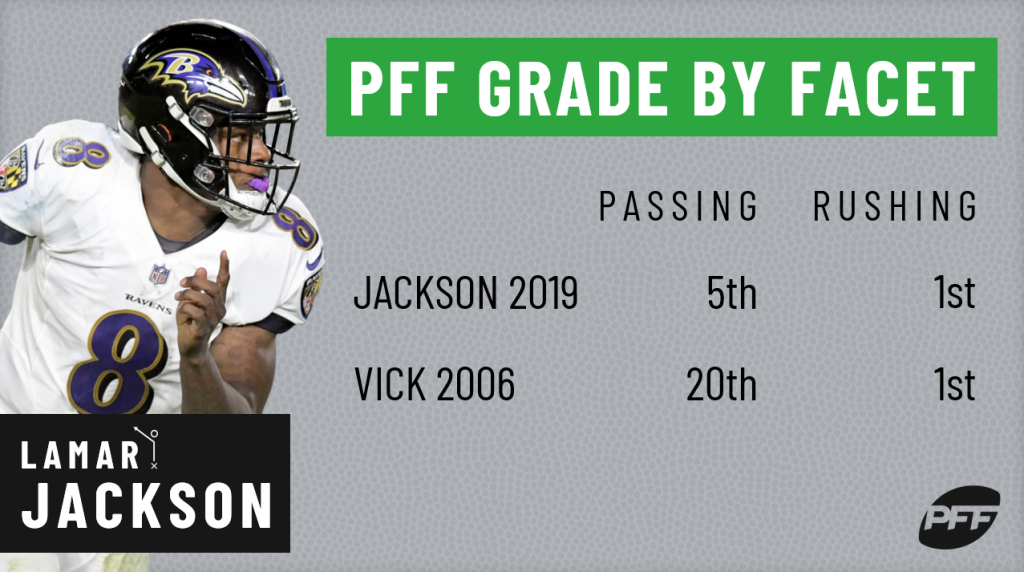 Despite setting the rushing record for quarterbacks, Vick had just 49 designed runs, which is fewer than Josh Allen has this season in Buffalo with three weeks of football still to play. Vick never had the luxury of an offense crafted around his talents the way Lamar Jackson does currently, and it's difficult to quantify what knock-on effect that had on other aspects of the game.
Jackson already has 116 designed rushes to his name, and 64.4% of his rushing yards have been on these intentional rushing plays. Scrambles make up just 35 of his rushing attempts, which is fewer than Josh Allen and only just more than Gardner Minshew (who has missed time). Vick had more than twice the scramble yardage in 2006 than Jackson currently has, and even if Jackson closes that gap down the stretch, the ratio of scramble yardage to total rushing numbers is unlikely to change much.
While each player is a human highlight reel, especially as a ball carrier, Jackson still puts some distance between himself and even Vick, and there's no telling if Vick's running style would have lent itself quite as naturally to the same kind of offense as Lamar's does. The Ravens superstar has by far the best broken-tackle rate of any quarterback on rushes this season, and even if you include running backs, he has the fourth-best rate of any player (0.25 broken tackles per attempt). Vick could make people miss, but his game was more about pure speed as a runner. On designed runs, Vick's broken tackle rate was just 0.10 per attempt, significantly lower than Jackson's. It's possible that with similar utilization, we would have seen Vick's elusiveness show better in this metric, but it's also possible that Jackson has a greater ability to make people miss in tighter confines, as opposed to Vick, who needed the open space of broken plays.
Because Baltimore has embraced the skillset of their quarterback rather than resisted it, one could make the argument that they have custom-crafted a far more dominant offense. If we look at EPA (expected points added) per play, the 2019 Ravens, with Jackson at quarterback, are at 0.194, which is by far the best mark in football. The Vick-led 2006 Falcons were negative, at -0.010 — a figure which would rank 15th in 2019, just above the league-average mark.
It's impossible to conclusively prove that leaning on such an effective ground game makes life easier as a passer for Jackson, or how strong that effect is to be able to retrospectively apply it to Vick, but it certainly can't hurt his passing output, which is the area where Jackson has been significantly better when comparing the two seasons.
Vick's PFF passing grade was just 57.8 in the year he rushed for 1,000 yards, lower than Matt Leinart and Aaron Brooks, while Jackson this year has seen one of the biggest year-on-year improvements we have seen in PFF's grading and currently sits with the fourth-best PFF passing grade in the league (82.4).
Jackson has been able to take advantage of the opportunities the Baltimore offense has opened up and be an extremely efficient passer without being asked to do too much. His average depth of target this season is only 9.2 yards downfield, lower than 10 other passers, while Vick's back in 2006 was 12.7, which is one of the highest marks we have ever seen. All told, 66.6% of Vick's passing yardage came through the air, while 56.3% of Lamar's has, with the rest coming after the catch. Vick was operating a low-percentage, higher-risk brand of passing, and he unsurprisingly had a lot more turnover-worthy plays as a result. Though he had only 13 interceptions that year, he had double that number of turnover-worthy plays. Jackson has just eight turnover-worthy plays all season but already has more big-time throws, more passing yards and significantly better passing metrics across the board.
Baltimore's franchise quarterback has shown this year already what Vick never quite could throughout his NFL career — that he can be a top-level, pure passer of the football on a consistent basis. The next step is to prove he can do that long-term and replicate the feat in 2020 and beyond, but he has already become a more efficient passing quarterback than Vick ever was, even if the former Falcon was his rival as a rushing threat.
What's impossible to say, however, is how much the Ravens' coaching staff has given Jackson an opportunity that Vick was never given — the chance to dominate on the ground by design and open up passing plays that would not have been there if all the defense had to think about was the threat of him breaking the pocket on a scramble. Lamar Jackson is likely to surpass Vick's single-season rushing yardage record for a quarterback before the season is done and has already joined him as the only passers to top 1,000 rushing yards in a season, but it's the team embracing the unusual abilities he has and building an offense around him that's allowed him to become the player people spent a career waiting for Vick to become.
I desperately wish we'd seen Michael Vick in the kind of offense the Ravens have built for Lamar.