If you've followed PFF's content this season you won't be surprised to learn that Baltimore Ravens' left tackle Ronnie Stanley has been the best pass-blocking player in football, and so it proved over the final games of the season on his way to winning PFF's Best Pass-Blocker award.
Stanley has been a vital part of the Ravens offense and always been a solid pass-blocker, but this season he stepped his game up to a new level and has been performing at a historically impressive level. He finished the season having surrendered just six total pressures across 16 games. Jaguars tackle Cam Robinson only played in 14 games and surrendered six or more pressures in a single game four times.
In nine of 16 games this season, Stanley kept a perfect clean sheet as a pass-blocker, and what's impressive is that he wasn't just substituting defeats with penalties, being flagged only five times all season.
Stanley certainly benefited from Baltimore's run-heavy offense, but he was still asked to pass block on 470 snaps over the regular season, giving him a win rate of 98.7% on his pass protection this season. In terms of pressure percentage, Stanley was in another world to any other tackle in the game. He didn't have quite the best rate of any pass blocker in the league, but he was behind only two centers — a position that typically gives up a fraction of pressure tackles do because of the nature of interior pass protection where they far more often supply help than block one on one.
The next-best pressure rate of any tackle in the league surrendered almost three times the pressure over the season (17 total) and had a success rate of 97.1%, resulting in a PFF pass-blocking grade more than eight points lower than Stanley's.
Stanley's PFF pass-blocking grade of 93.7 isn't just the best mark for tackles this season, it's one of the best grades we've ever given to a tackle. The only players to notch a better pass-blocking grade over a season since PFF has been grading are Jonathan Ogden (94.7), David Bakhtiari (94.0), and Joe Thomas (twice, 94.0 and 93.8). Two of those players are Hall of Famers (one current, one future), and the third has been the league's gold standard for pass-blocking over the past few years.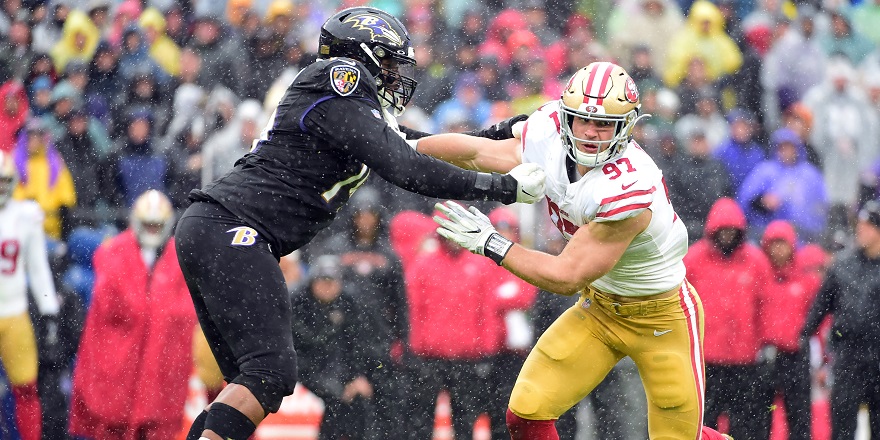 It's true to wonder how much Lamar Jackson and the Ravens offense helped Stanley, and it certainly had an influence on his numbers, but there is no subset of data and situations you can pull up in PFF's database that makes Stanley's numbers anything other than spectacular. Even when he was in tough pass-blocking situations (blocking for a long time, without help, on straight dropbacks by his quarterback, for example), he was still elite.
Even in the playoffs, the Ravens found themselves in a hole and forced to pass the ball and chase the game from very early, so Stanley was forced to pass-block 73 times in one game. He still emerged with a pass-blocking grade of 80.4 for that game.
The NFL has never been more of a passing league, and even in an offense like Baltimore's, it was Jackson's development as a passer that made that offense so devastating this season. Getting an elite quarterback is job one for any franchise, but protecting him then has to be pretty high up on the list of next steps. The Ravens have a genuine superstar in Jackson, but they have also found themselves the best pass blocker in football to protect his blindside.
Ronnie Stanley has always been an excellent pass protector, dating back to his days at Notre Dame, but he elevated his game to another level in 2019, and was by far and away the best in the entire league in that role. Ronnie Stanley is a deserved winner of PFF's Best Pass Blocker award.