Late Tuesday night, Carolina Panthers linebacker Luke Kuechly announced his shock retirement from the NFL, leaving the team with a significant hole to fill on their defense.
I say shock retirement because Kuechly is just 28 years of age and in his athletic prime. He finished the 2019 season with an overall PFF grade of 87.6, his sixth consecutive season grade above 85.0, making him a top-five linebacker league-wide. Looking back over any period of time, though, you can make a good argument that he is the best linebacker in the game, so from that lens, walking away seems like a strange choice.
The reason for that is, of course, the brutal physical toll that the game takes on players. Kuechly has a long and documented concussion history and was the first player in the NFL to wear the "Q Collar," a device designed to safeguard players from mild traumatic brain injury.
"In my heart, I know it's the right thing to do." pic.twitter.com/mSDyJ0iEMw

— Carolina Panthers (@Panthers) January 15, 2020
In the short video announcing his retirement, Kuechly makes reference to the fact that he still had the desire to play, but the toll on his body means he doesn't believe it's the right decision to continue to do so.
"There's only one way to play this game," he said, "to play fast and play physical and play strong. And at this point, I don't know that I'm able to do that anymore."
Kuechly is one of the best players PFF has ever graded, and obviously, we wish him well in retirement. Whenever we had any interaction with him, he was nothing but a great guy, including when we visited Panthers camp on our training camp tour a few years back. But what kind of void does his departure leave for the team?
Obviously, any time you remove a Defensive Player of the Year from a team, you're taking a significant blow to the unit. Kuechly himself name-dropped his teammate Shaq Thompson as a player he expects to step up and lead the unit to success. Thompson is a solid player, who has generated above-average to good PFF grading in most facets of the game so far. He has shown the ability to be a good player in coverage, but that has been the weakest aspect of his game over the past few seasons. His leadership may be his greatest quality, but on the field, he can't make up for the loss of Kuechly, who, as we mentioned earlier, was arguably the best linebacker in football.
Kuechly was good enough to change the way opposing offenses passed on the Panthers. His tape study was so good that it allowed him to anticipate and read plays way before other players, and it effectively expanded the area of the field in which he had to be considered a factor before the quarterback threw the ball.
The easiest way of reflecting this is in passer rating allowed in coverage. The typical NFL linebacker allows a passer rating of around 105.0 when targeted in coverage. However, over his entire NFL career — including the playoffs — Kuechly has allowed a passer rating of just 86.3 when targeted, almost 20 points lower. That's the 2019 equivalent of turning Patrick Mahomes into Daniel Jones.
Kuechly was part of a pretty spectacular linebacker class that also featured Lavonte David and Bobby Wagner. And while Kuechly actually had the slowest start to his career of the three, he was always incredible at flowing to the football, and he was a stud against anything he could see unfolding in front of him.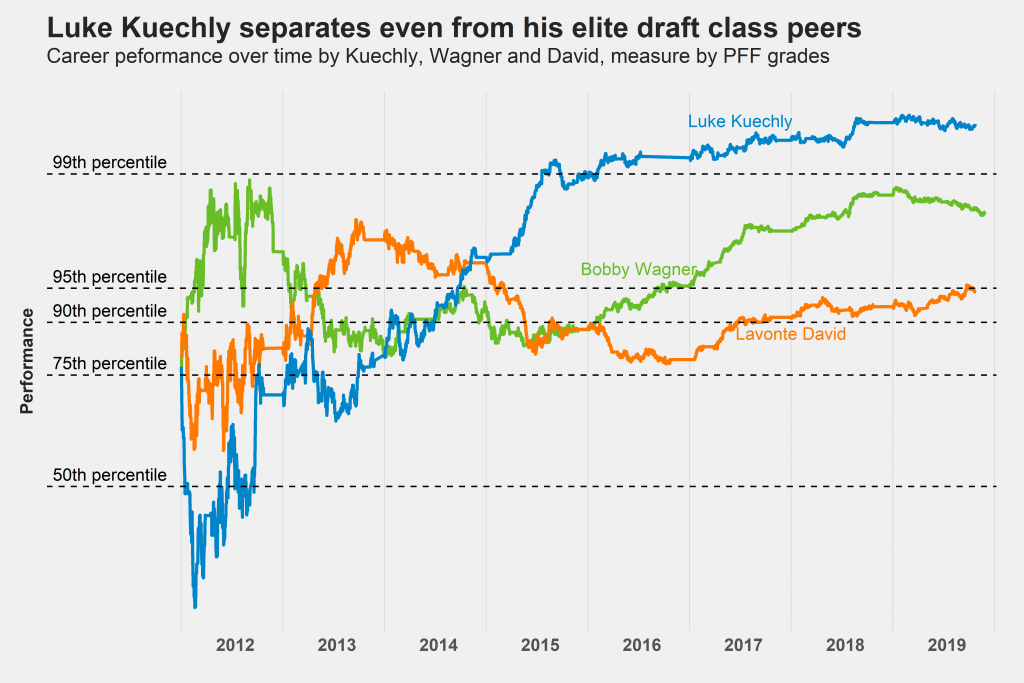 It took a little while for him to find a comfort level with dropping into coverage and understanding his role in the passing game, but once he did, he became by far the best player of the three. As the above chart — given to me by our data scientist @PFF_Moo — shows, Kuechly has effectively become the 100th percentile in terms of performance over the past few seasons.
Naturally, Kuechly has also been the most valuable linebacker in the league over the course of PFF history, according to our PFF WAR (wins above replacement) metric. Even when the Panthers have had a relative shortage of talent, they consistently had one of the best players in the game patrolling the middle and extending his influence to other players in the defense, which actually masked some deficiencies they had. Players like Shaq Thompson now have an even bigger challenge to up their game because Kuechly's role doesn't just need to be replaced, but his impact and demand for improved play from those around him does too.
The players on the depth chart behind Kuechly in Carolina are young and unproven, so it's likely that the Panthers are firmly in the market for linebacker help this offseason. There are some interesting free agent linebackers hitting the market this season, with Cory Littleton perhaps the most interesting in terms of elite-level coverage play. Still, the draft likely represents an area the Panthers will look to invest in to find their future and move on to life beyond one of their greatest players ever.