The NFL's Most Valuable Player award has never been PFF's favorite.
Quarterback is arguably the most important and influential position in all of team sports, and each year the discussion seems to get bogged down in quantifying the "value" component of the award instead of just giving the thing to the most outstanding player in the league in any given season.
In an effort to replace that value element with simply the best or most outstanding player at any position, we at PFF first pivoted to the Dwight Stephenson Award instead of handing out MVP honors. However, with the recent creation of our PFF WAR metric, we have now been able to actually add some tangible data to that previously intangible value.
This season, the data points to the fact that no player added greater value to their team than Russell Wilson did for the Seattle Seahawks.
Wilson ended the season comfortably ahead of Patrick Mahomes, Dak Prescott, Lamar Jackson, Kirk Cousins, among others. Reflecting the fact that quarterbacks are by far the most valuable players in football, the 23 highest WAR figures were all passers, with Tampa Bay's Chris Godwin coming in as the most valuable non-quarterback in the league.
Leaders in PFF WAR (2019)
Only Ryan Tannehill — who missed more than a third of the season — ended the year with a higher PFF grade than Wilson, whose mark of 91.2 tied with Drew Brees for the second-best mark in the league. Some will argue that Wilson never had a signature run as strong as that from Lamar Jackson, but it's important to compare the situations surrounding both quarterbacks.
While Jackson had an entire offense built around his strengths and had a coaching staff that embraced analytics to extend drives and steal fine winning margins, Wilson was dealing with a situation that consistently put him behind the eight ball then asked him to dig the team out of a hole. The fact that he was able to do just that as consistently as he did only stands testament to his MVP-caliber season.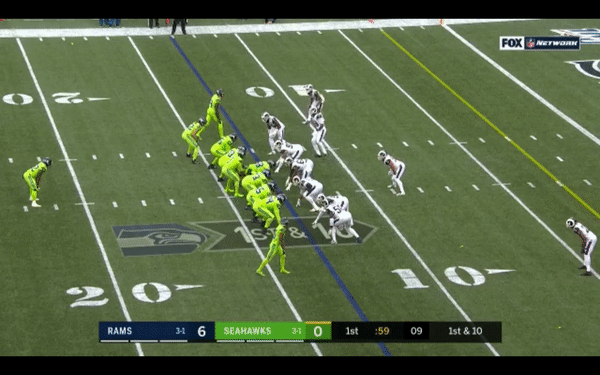 Nine quarterbacks dropped back to pass more times than Wilson did this season (659), but he led the NFL in big-time throws (BTTs) — PFF's highest-graded throws — with six more than any other quarterback. In addition, only Lamar Jackson had fewer turnover-worthy plays (TWPs) than Wilson among quarterbacks who started all year, and he had just two fewer (nine to 11) despite attempting 153 fewer passes over the course of the season.
Russell Wilson was at his best when his offense fell behind the chains. On second or third down and long this season, Wilson's earned a PFF grade of 88.5, seven grading points higher than any other quarterback. He had 17 big-time throws to just four turnover-worthy plays in these situations, and he averaged 8.4 yards per attempt in the process.
Wilson may not have been at the helm of an unstoppable juggernaut of an offense, but consider the offensive line working in front of him. Left tackle Duane Brown was by far the best member of Wilson's offensive line, as he has been since they traded for him, and he earned an overall PFF grade of 74.1 in 2019, 20th in the league among tackles. Brown also missed some time, and the average PFF grade of the other offensive linemen the Seahawks relied upon this season was just 56.3. By contrast, the Ravens didn't have an offensive lineman with an overall grade below 63.0, and even backups were able to come in as injury replacements and earn grades in the 70.0s.
Russell Wilson's offensive line (2019, regular season)
It's definitely fair to say that those Ravens linemen benefitted from an offensive scheme and system that made their jobs easier — all of which was only possible because of their quarterback — but it's equally as true to say that Wilson bailed his group out too, just in a different way.
The other thing that differentiates Wilson's performance is just how often he had to play from behind. We saw in the playoffs what happened to the Baltimore offense when it was knocked out of its comfort zone and forced to chase a game. Wilson dealt with that reality far more often than Jackson did in 2019, and he didn't suffer the same dip in performance. 
Some things are truly intangible and, as of yet, still unquantifiable. We can calculate the value that players brought to their teams above expected or even above the average at the position, but we can't yet fully quantify the value of Lamar Jackson having such a unique and devastating skill set that it allowed an entire offense to be built around it from the ground up — an offense that made everybody's job easier and worked in perfect harmony until it was knocked into a hole by the Tennessee Titans in the playoffs and found itself unable to climb its way out. It's certainly reasonable to say that's a blind spot in PFF's numbers and determine, because of this, that Jackson is the worthy MVP, and you wouldn't get much argument from us.
What we can say, though, is that based on everything PFF is currently able to quantify, Russell Wilson, and not Jackson, added the most value to his team and is, therefore, the league's MVP. When you try and see the entire board, Wilson dealt with much more adversity than Jackson did and was significantly ahead in terms of PFF WAR. So, Russell Wilson wins the award for a season in which there were two outstanding candidates.