In a world where the San Francisco 49ers are the top seed in the NFC, it should come with no shock that some individuals are set to receive some hardware at the end of the 2019 NFL season. What did come shockingly, however, was the overall demonstrative way in which rookie edge defender Nick Bosa shattered not only his rookie peers this season but rookie records from the PFF era with his brilliant play in his first season.
The former Ohio State Buckeye was PFF's clear-cut, hands-down winner for Defensive Rookie of the Year, and the superlatives and accolades landing on his mantle are more than deserved.
Bosa wasn't just great, he was historically great
Bosa's raw stats saw him finish with 80 total pressures during the regular season, 14 more than any other edge defender has ever accumulated as a rookie. These numbers are not an inflated figure either, due to him rushing the passer the third-most among all rookie edge defenders since 2006, as he finished his regular season with the third-highest pressure percentage and fourth-highest pass-rush win percentage among rookies, meaning he was rushing the passer a ton but still made the most of those snaps.
Bosa reached 80 total pressures by the way of 10 sacks, 18 QB hits, and 52 pressures, each of those figures finding their own mark in the PFF record book — his 10 sacks secured him as the 13th rookie in the PFF era to reach double-digits, his 18 hits were the second-most to only Von Miller, and his 52 hurries were nine clear of the next best rookie season.
Bosa joins elite company with his impressive year
What really separates Bosa's rookie season is the class of players he thrust himself into the conversation with during his rookie campaign. There have been 145 rookie edge defenders in the PFF era who averaged 15 or more snaps a game and Bosa's rank of fourth overall and fourth in pass-rushing grade only looks better when you see who he's competing with.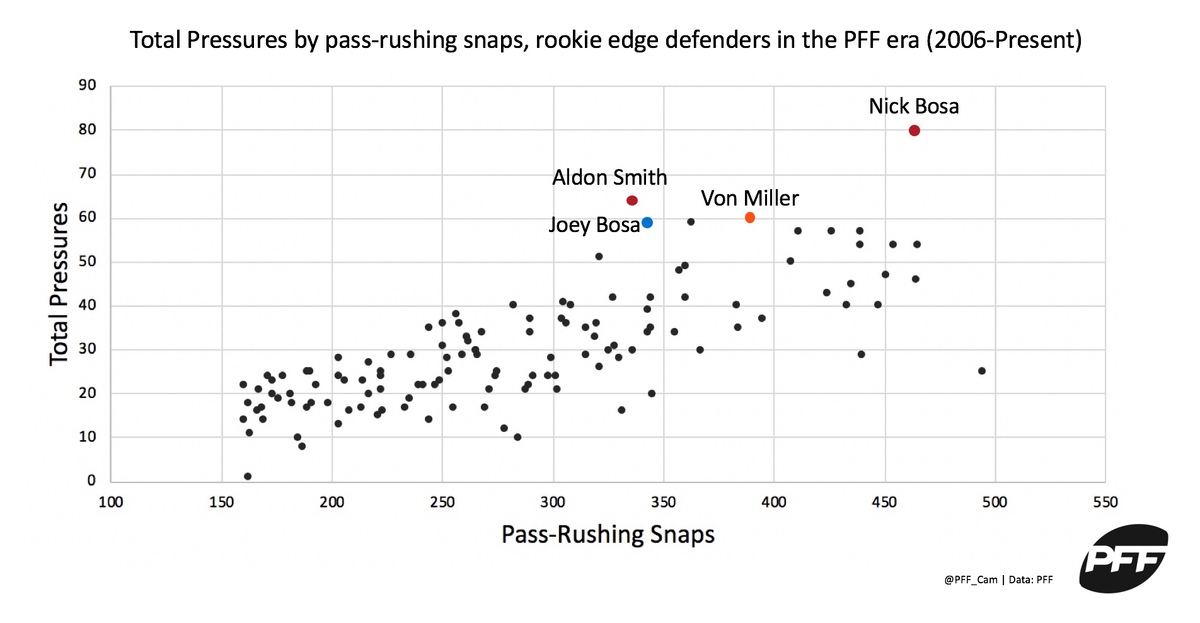 | | | | | | |
| --- | --- | --- | --- | --- | --- |
| Year | Player | Team | Snaps | Overall Grade | Pass-Rush Grade |
| 2011 | Aldon Smith | SF | 489 | 90.5 | 90.2 |
| 2011 | Von Miller | DEN | 880 | 90.3 | 88.5 |
| 2014 | Khalil Mack | OAK | 1002 | 86.9 | 68.8 |
| 2019 | Nick Bosa | SF | 777 | 86.7 | 81.5 |
| 2016 | Joey Bosa | LAC | 563 | 86.6 | 81.9 |
| 2017 | Myles Garrett | CLV | 518 | 80.0 | 78.9 |
| 2009 | Clay Matthews | GB | 834 | 76.6 | 74.0 |
| 2017 | Jordan Willis | CIN | 361 | 76.6 | 60.7 |
| 2012 | Chandler Jones | NE | 731 | 76.4 | 74.7 |
| 2006 | Elvis Dumervil | DEN | 317 | 74.2 | 67.2 |
| 2010 | Jason Pierre-Paul | NYG | 397 | 73.1 | 72.4 |
Anytime you've put your name in the conversation with the players listed above — notably Bosa's older brother — you're doing something right. Nick put forth a near identical season to what his brother finished with in 2016 as he narrowly edged out Joey Bosa with an 86.7 overall grade. What separates the younger Bosa is the fact that he was able to grade that high on over 200 snaps more than his brother did in his first season as a pro.
Bosa joins an incredibly deep class of edge defenders who hit the ground running in their first seasons and a pretty good group of players who have had sustained success throughout their NFL careers.
Bosa won in a multitude of ways
Some players along the edge have an elite pass-rushing move, some have maybe two moves that they're great at. Bosa, on the other hand, has shown that he can move the best or biggest of tackles with either speed or strength. He also possesses an incredible football IQ and a knack for diagnosing plays as he was more often than not in the right place at the right time as opposed to being beat by a play.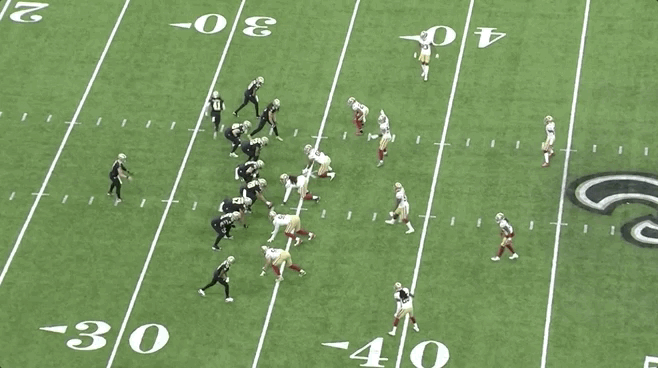 Bosa reads a designed carry for Taysom Hill faster than Ryan Ramczyk can adjust to make the block and even fights through a hold to take down Hill in the backfield.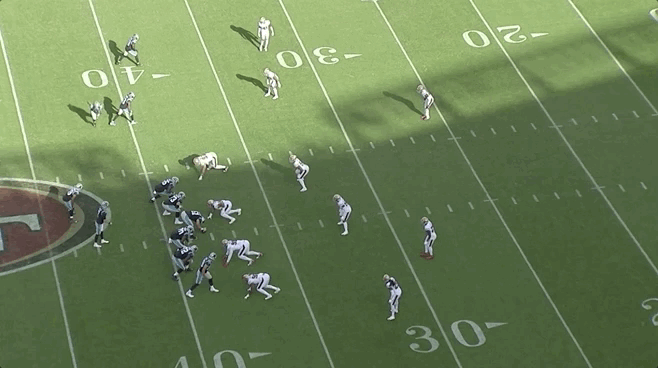 Bosa's ability to see the swing pass to Reggie Bonnafon is uncanny, given that he's fighting off a block attempt from Dennis Daley at the time and he still has the wherewithal to jump in front of the pass attempt and almost record the Pick-6.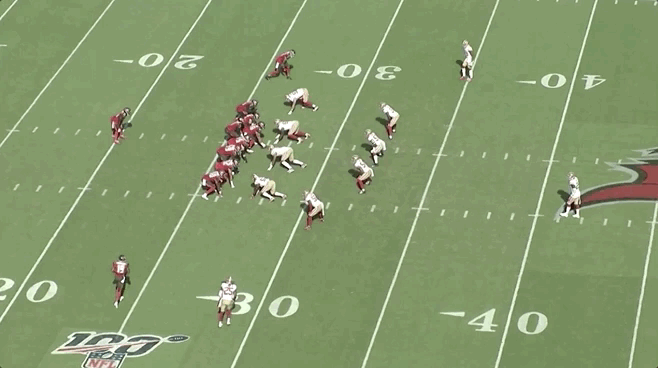 His hand speed was on full display from his first game when he beat Bucs LT Donovan Smith so fast that he beat Jameis Winston to his intended dropback spot.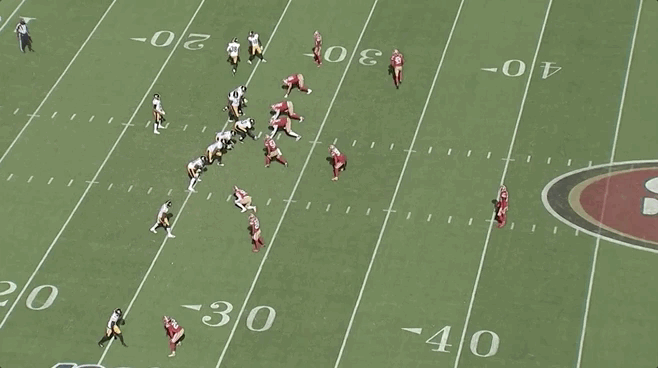 Bosa also possesses an elite sense of balance, utilizing that early against the Steelers when he ripped and dipped past LT Alejandro Villanueva, covering an incredible amount of ground in the process.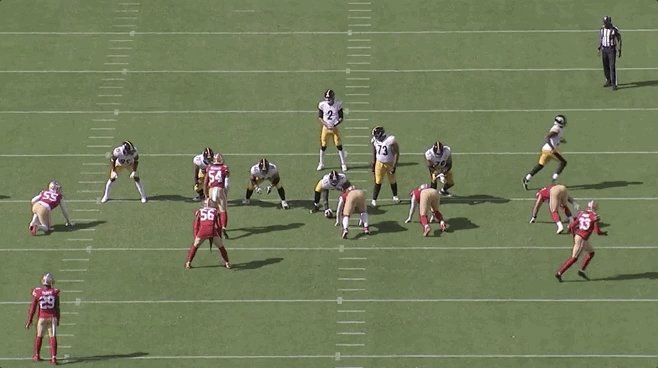 It takes a rare kind of athlete to take the outside route on a tackle and still beat the stunting interior defender to the quarterback like he does here.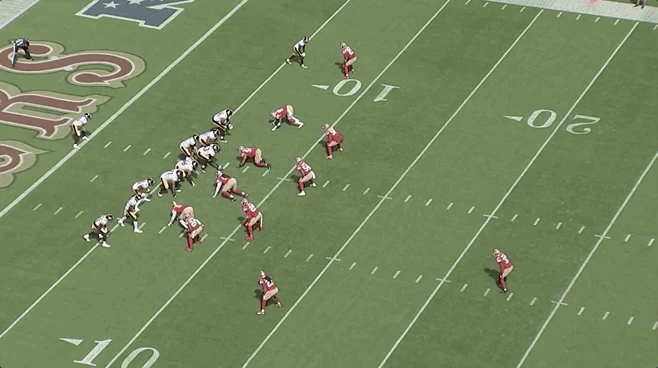 It wasn't just speed either for Bosa as he also won with an incredible bull rush for a guy his size, dominating with his leverage against taller tackles and pushing Villanueva into Mason Rudolph.
Bosa did it all in 2019
Rounding out his incredible year was his ability to simply do it all from the edge for the 49ers. He became just the fourth rookie edge defender to finish his rookie season with overall, pass-rush and run-defense grades above 75.0 for a full season. He joined Khalil Mack, Von Miller, and Joey Bosa on that list, once again placing him in elite company for future projection.
He recorded 20 run stops (leading all rookie edge defenders in 2019), another 12 stops in coverage (also leading all rookies this year) to go with his 10 sacks that also go down as a stop. He got home with 18 of his pressures on 103 pass-rushes from the left and 62 pressures on his 359 pass-rushes from the right. Bosa saved his best for last as well as he recorded a career-high 11 pressures against Seattle to help the 49ers close out the division as he was an absolute wrecking ball against the Seahawks.
Bosa's all-around play is some of the best we've ever seen from a rookie edge defender and as such, it's unsurprising that he lands in the conversation with some of the best edge defenders of the past decade plus. Bosa is more deserving of the Defensive Rookie of the Year than anyone else this season and should certainly be in the running for more awards as his career has only just begun.