The NFL's MVP award has lost its way. In most sports, MVP is simply designed to be awarded to the best or most outstanding player in the sport over a given period, but for some reason, the AP seems to tie itself in knots every year as they try to parse the 'valuable' element of the NFL's title. PFF's Stephenson Award tries to right that wrong, and its purpose is to acknowledge the best player in the NFL regardless of position and regardless of how much value he brought to the table.
Five of the seven Stephenson Awards that we've handed out over the years belong to either J.J. Watt or Aaron Donald. But this year, San Francisco's George Kittle gets the hardware.
Kittle just finished the season with the highest overall PFF grade we have ever given to a tight end, and PFF was around for the entirety of Rob Gronkowski's career. In his day, Gronk obviously put up bigger numbers than Kittle did this year, and Gronk did it for far longer, but PFF's grades can be seen as a production or efficiency measure, and Kittle was more dominant with his opportunities this year than any other player at the position since we been grading (2006).
Highest overall grades by a tight end in the PFF era (2006-2019, min. 200 snaps, regular season only)
| | | | | |
| --- | --- | --- | --- | --- |
| Name | Team | Season | Snaps | PFF Grade |
| George Kittle | 49ers | 2019 | 802 | 95.0 |
| Rob Gronkowski | Patriots | 2011 | 1092 | 92.0 |
| Rob Gronkowski | Patriots | 2014 | 832 | 91.8 |
| Tony Gonzalez | Chiefs | 2006 | 929 | 91.7 |
| Rob Gronkowski | Patriots | 2012 | 733 | 91.1 |
| Jason Witten | Cowboys | 2007 | 957 | 91.1 |
| Rob Gronkowski | Patriots | 2013 | 385 | 91.0 |
| Mark Andrews | Ravens | 2019 | 457 | 90.8 |
| Jason Witten | Cowboys | 2008 | 899 | 90.8 |
| Rob Gronkowski | Patriots | 2015 | 942 | 90.7 |
One way in which Kittle shares something in common with Gronkowski is in how dominant he is as a blocker. The league has changed a lot from the days when tight ends were run blockers first and foremost and, at the very minimum, needed to be able to hold up in that regard before they earned work in the passing game. Over the years, tight ends who have been ornamental at best — and complete and total liabilities at worst — in the running game have poured into the league, but that never applied to Gronk during his reign of dominance, and it certainly doesn't apply to Kittle now.
The college game has meant that much of this isn't the NFL's fault, but rather the product of a college landscape that doesn't feature that type of player anymore, and we typically talk about matchup weapons at the position purely in terms of receiving threats. However, Gronkowski, and now Kittle, are such matchup problems for defenses precisely because they are such dominant blockers.
While most dominant receiving tight ends can just be treated as big receivers, and the only matchup question on defense is who is best suited to cover them when they run pass patterns, players like Kittle and Gronk need to be thought of as blockers in the run game, too. Because if you line up a small, undersized coverage player against them, you're likely to see that guy driven seven yards off the line of scrimmage and into the turf.  Don't believe me? Take a look: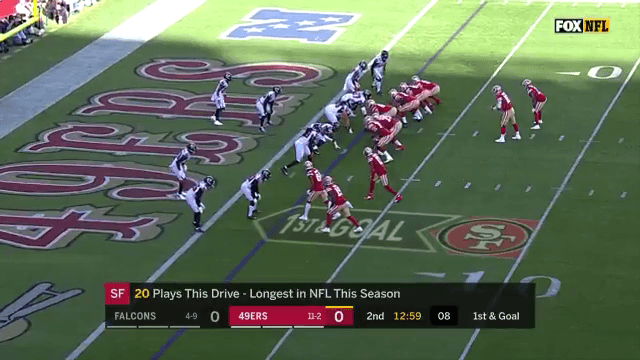 But that matchup advantage isn't just restricted to working against players he outweighs by 50-plus pounds. Again, what makes Kittle so special is that he can be deployed to handle players who typically need offensive line attention, such as defensive ends who outweigh him significantly. Bizarrely, Kittle was actually labeled as not a strong run blocker by some in the media this year, but it's actually one of many strengths to his game. Kittle, in fact, blocks with the better blocking tight ends in the league — including those who are blocking specialists. His run-blocking grade is the fourth-best among all tight ends this season, and his highlight reel might be by far the best given the players he has been tasked with blocking.
However, the NFL is a passing league, and all the run blocking in the world won't make up for being a non-factor in the passing game — in fact, it will make you Maxx Williams this season. Kittle, though, has been arguably the 49ers' best receiving option since he came into the league, and he topped 1,000 receiving yards for the second season in a row, this year doing it on significantly fewer targets. Including postseason play, Niners quarterback Jimmy Garoppolo has a passer rating of 114.6 when throwing Kittle's way this season, and Kittle has dropped just two of his 91 catchable targets all season.
It was Kittle who came up big in what was arguably the team's biggest win of the season — the Week 14 win that stole home-field advantage away from the New Orleans Saints. Kittle simply took over this game with seconds remaining and made multiple key catches; his catch and run that put his team in kicking range to win the game was one of the plays of the season and showed a ball-carrier who refused to be tackled until he had made the play he needed to make.
Kittle's overall grade of 95.0 wasn't just the best grade of any tight end in the game this season (by some distance), but was the best grade of any player at any position league-wide. A lot of players in the NFL had phenomenal seasons, but at the end of watching and grading every player on every play of the NFL season, George Kittle graded out as the best in football, and he rightfully deserves the Dwight Stephenson Award for his efforts.