Lamar Jackson broke the NFL this season, so it's only fitting that he broke the PFF Awards methodology, as well.
Every year since we started giving our awards out, the winner of the Dwight Stephenson Award (the award for the best player in the league regardless of position) has also been awarded either the Offensive or Defensive Player of the Year.  Logically, if a player is the best overall player in the NFL, he is also the standout on his side of the ball. This year, however, Lamar Jackson breaks that rule.
While a higher-graded player will take home the Stephenson Award (we'll reveal this player on Tuesday), Lamar takes home Offensive Player of the Year honors for 2019.
The logic is simply that no player had as big of an impact on offense as Jackson did this season. We knew what a special ball carrier he was and saw how easily that translated to the NFL in his rookie year, but nothing quite prepared us for his 2019 season.
LAMAR JACKSON. OH MY.#HOUvsBAL

(Via @NFL)
pic.twitter.com/Y8aKfhbm3Y

— PFF (@PFF) November 17, 2019
Jackson spent a career at Louisville embarrassing college defenders with his running ability while also passing to good effect, and he secured the Heisman Trophy in 2016 as a result. At the NFL level, that running ability was an immediate like-for-like translation, but the passing took more time.
When we analyzed our ball location data from PFF's QB Annual a season ago, we could see that Jackson was among the least accurate passers in football.  Whatever way you sliced the numbers (adjusting for drops, depth of target, situation, etc.), his passing was an issue. However, he was so spectacular as a rushing threat that the offense still functioned even with that level of passing, though it did put a fairly firm cap on how good he could be without improvement in that area.
What few saw coming, though, was Jackson's spectacular improvement as a passer in 2019. He led the league in passing touchdowns, had a top-10 completion percentage and owned the third-best passer rating, and that's just on a box score level. Of course, we know those can lie, but in this case, they are backed up by the tape.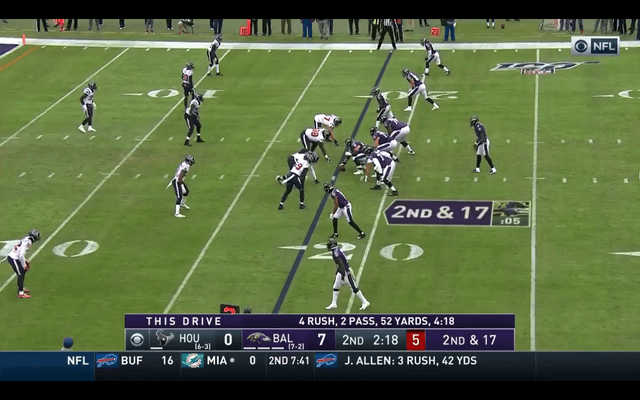 Jackson was a top-five player at the position in terms of PFF passing grade, and while he didn't become the most accurate passer in the NFL — he's never likely to be Drew Brees — he didn't need to be. He just needed to add to the danger he already posed on the ground, which, if anything, also went to new heights.
As a passer, he ended the season with the fourth-best passer rating from a clean pocket (118.5). He also ranked 14th in adjusted completion percentage just one year after finishing 28th of 29 qualifiers in the same metric.
Jackson also joined Michael Vick as the only quarterbacks to rush for over 1,000 yards in a season, and then he surpassed Vick to take the all-time single-season record at the position. He rushed for 1,206 yards, which ranked sixth overall in the league; he averaged the same per carry before being contacted by defenders (4.7 yards) as Alvin Kamara did total, thanks to being able to make an endless sequence of would-be tacklers look ridiculous. Jackson ended he season with 42 forced missed tackles, which were more than double any other quarterback.
Missed tackles forced per attempt (min. 100 attempts, all positions, regular season only)
| | | | | |
| --- | --- | --- | --- | --- |
| Rank | Player | Rush Att. | MTF | MTF/Att. |
| 1 | Josh Jacobs | 242 | 69 | 0.29 |
| 2 | Alvin Kamara | 171 | 42 | 0.25 |
| 3 | Devin Singletary | 152 | 36 | 0.24 |
| 4 | Lamar Jackson | 176 | 42 | 0.24 |
| 5 | Austin Ekeler | 132 | 30 | 0.23 |
Defending a rushing attack that featured Jackson, a stable of quality running backs and a top-level offensive line was already an issue for NFL teams that have skewed ever more toward lighter, faster defenders to counter pass-happy offenses. Adding in the ability to then pass efficiently off the back of that transformed this Baltimore Ravens offense into something that looked nigh-on unstoppable for a significant chunk of the season.
Jackson doesn't deserve all the credit — he certainly had some help. The Ravens added receiving weapons for him to throw to in the offseason, and huge credit belongs to offensive coordinator Greg Roman, who crafted a bespoke offense suited to Jackson's unique skillset in a way not many coaches would have had the guts to do.
But that unstoppable offense was built around the skills of Lamar Jackson. His ability to be the team's top rushing and passing threat is unmatched throughout the NFL. He wasn't the only quarterback to lead his team in rushing (Ryan Fitzpatrick), but the other guy to do it had just 243 rushing yards over the entire season. Jackson surpassed that in his final two outings of the season alone.
No player in the league brought a more versatile danger to NFL defenses than Lamar Jackson, except for maybe Taysom Hill in New Orleans, but Jackson played 968 snaps to Hill's 241. The impact of Jackson's incredible season will be felt throughout the NFL for several years to come, as some teams will look to try and emulate it while everybody else will look for ways to stop it. For that reason, Jackson is a worthy winner of PFF's Offensive Player of the Year Award.