Those completely unfamiliar with the Bosa name, the trademark Bosa production and the already-established Bosa history would have stacked the odds entirely against edge defender Nick Bosa heading into the first year of his NFL career. After all, he played just 113 defensive snaps in his final college season at Ohio State before undergoing season-ending surgery to repair a core muscle injury, and that was before he was forced to sit out the San Francisco 49ers' offseason program due to a Grade 1 hamstring strain.
But those who were clued in on the seemingly superhuman Bosa bloodline knew that greatness was just in arm's reach if he was able to get healthy, stay healthy and see the field regularly. And that's been precisely the case through 12 weeks of the 2019 NFL season, as Bosa hasn't just stepped in and made an impact to the once-hapless 49ers defense; he's stepped in and is on pace to record the best season by a rookie edge defender in the PFF era.

After 12 weeks of the 2019 NFL season, the younger Bosa brother has earned an overall grade of 89.7 that ranks third among all edge defenders in the NFL. He trails only T.J. Watt (91.0) and Khalil Mack (90.1), and he betters the likes of fourth-place J.J. Watt (89.6) and fifth-place Jadeveon Clowney (89.4).
But that doesn't just put him among 2019's top edge defenders — and by default, atop the shortlist for Defensive Rookie of the Year honors — simply put, it's one of the best starts to a career that we've ever seen from an edge defender. In just shy of 14 years of grading, only Denver's Von Miller (91.8) achieved a higher overall grade as a first-year player through 12 weeks of the season.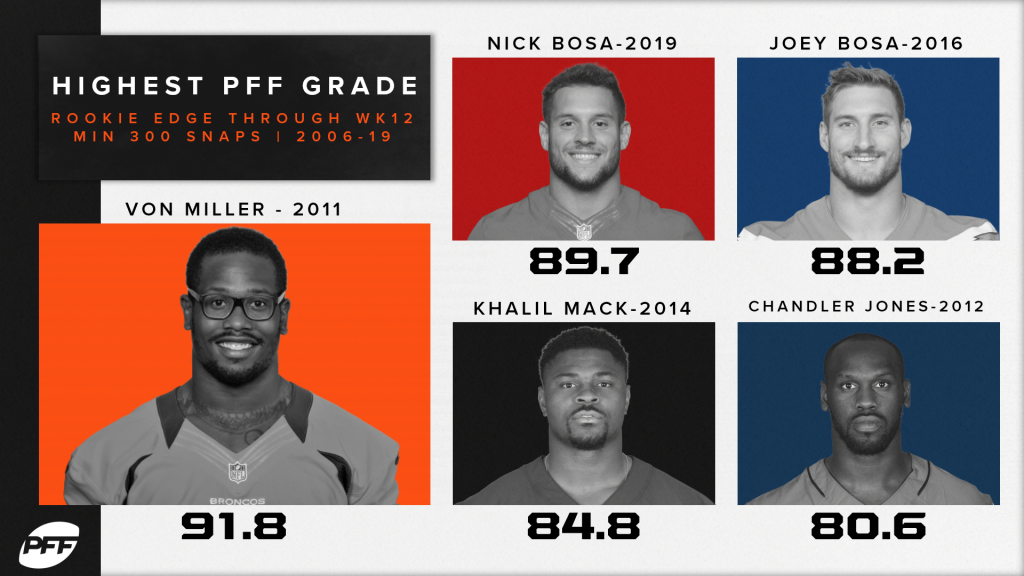 Subscribe to PFF Edge to continue reading
Already have a subscription? Sign In