NFL head coaches and players are notoriously mum about any negatives or poor play during offseason activities, understandably choosing to stay positive when discussing their team's outlook for the upcoming season.
But while team press conferences can be overly cheery in that regard, there's still information to glean. Which rookies are shining early on? How will coaches utilize different skill sets in different roles? Who bulked up and who slimmed down? The list goes on.
Here's one notable quote from each team's press conferences during 2021 OTAs.
ARZ | ATL | BLT | BUF | CAR | CIN | CHI | CLE | DEN | DAL | DET | GB | HOU | IND | JAX | KC | LVR | LAC | LAR | MIA | MIN | NE | NO | NYG | NYJ | PHI | PIT | SF | SEA | TB | TEN | WFT
NOTABLE OTA QUOTE — HC Kliff Kingsbury: "I know [Kyler Murray] has been working really hard this offseason to try and take that big jump. I thought not having an offseason last year rolling into season two, he made huge strides. And we expect him to make the same this season. He definitely is very confident right now. He's mastered our system. You see the leadership qualities continuing to emerge."
ANALYSIS: The Cardinals are counting on quarterback Kyler Murray to step it up in Year 3. The former No. 1 overall pick appears well on his way to do so after a notable 2020 campaign in which he ranked 12th in overall grade and third in rushing grade at the position.
But while he improved in a majority of areas, he still has work to do. Nearly all of Murray's interceptions last season came when he threw over the middle of the field — perhaps a side effect of his short stature. Regardless, it's one area where he can clean things up as Arizona looks to notch a winning record for the first time since 2015.
OTA POINTS IN BRIEF:
No updates on WR Larry Fitzgerald's future
Cardinals will look to add depth at tight end
NOTABLE MINICAMP QUOTE — HC Kliff Kingsbury: "[Isaiah Simmons] was a unique circumstance last year, there's no doubt. Of all the players drafted in that area, to come in and start at a new position that you've never really played and not have an offseason at all, no preseason games — that's a lot to throw at a guy. … To have it slowed down in the offseason, that type of pace of teaching and learning I think has been huge for him. We expect him to make huge strides."
ANALYSIS: Simmons was described as something of a Swiss Army knife coming out of Clemson in 2020, a modern linebacker who could play anywhere. He fulfilled that role with the Cardinals, playing 50-plus snaps at each of outside linebacker, inside linebacker and slot cornerback while also playing minimally at strong safety, free safety and outside cornerback.
The speed of the NFL game caught up to him, especially with no offseason, and he subsequently recorded a mere 59.9 overall grade. He allowed a 121.9 passer rating in coverage, which ranked last among 12 qualifying rookie linebackers.
minicamp POINTS IN BRIEF:
NOTABLE OTA QUOTE — HC Arthur Smith: "We think we got a lot of guys that can play multiple roles for us, and that's what's going to be the fun part about when we get into camp and everybody's here and we're actually practicing. … Hayden [Hurst] — he can play multiple roles for us. Lee Smith — he'll have multiple roles. Keith Smith, [too]. … When you get into those base personnel groups, they can do a lot of different jobs for us."
ANALYSIS: Head coach Arthur Smith noted that his tight ends because of the unit's versatility. Hayden Hurst and Kyle Pitts figure to be the team's top pass-catchers at the position, with the rookie Pitts boasting a wide receiver skill set. He drew comps to former Georgia Tech wide receiver Darren Waller throughout the 2021 NFL Draft process.
Meanwhile, Lee Smith and Keith Smith — the latter being more of a fullback — have lined up all across the formation in their respective NFL careers, serving primarily as blockers. Each earned 64.0-plus run-blocking and pass-blocking grades in 2020. It remains to be seen exactly how Arthur Smith will utilize the position group, but the versatility he speaks of is clearly there.
OTA POINTS IN BRIEF:
DI Marlon Davidson has been working hard to get healthy, developing well
Coaches putting a lot on Kyle Pitts' plate to see where he's at
NOTABLE MINICAMP QUOTE — WR Russell Gage: "Calvin [Ridley] is a beast. … He's explosive. Single coverage, you really can't do it [against him]. He's a beast, and I'm excited. … He's the definition of what I just described, which is playing fast, being decisive."
ANALYSIS: Expectations are sky-high for Ridley as the Falcons' new WR1 following the team trading Julio Jones. To Gage's point, Ridley was one of 15 qualifying wideouts who earned a 90.0-plus PFF grade against single coverage in 2020. And his 20 catches of 15-plus yards against single coverage ranked fifth in the league. With Jones now a Tennessee Titan, Ridley is set to face even stingier defenders in one-on-one situations next season.
minicamp POINTS IN BRIEF:
NOTABLE OTA QUOTE — WR Sammy Watkins: "I've played in numerous offenses, but this one is very complex. It's a lot of motion, a lot of moving around. [Offensive coordinator Greg Roman] can put you in a lot of different places. And honestly, I'm learning from the young guys right now. They're kind of helping me, putting me in certain spots."
ANALYSIS: Sammy Watkins' Chiefs utilized motion or shifts on 63.5% of their offensive plays in 2020. Meanwhile, the Ravens did so 71.2% of the time — ranking second to only the San Francisco 49ers.
Offensive coordinator Greg Roman has tailored his offense to quarterback Lamar Jackson's skill set, which means the run game is king in Baltimore. Watkins doesn't seem too concerned about that, though — he's seen 150-plus run-blocking snaps in six of his seven NFL seasons. "If we have to run the ball 25 times a game, that's what we have to do," he said.
OTA POINTS IN BRIEF:
NOTABLE MINICAMP QUOTE — QB Lamar Jackson: "All the QBs and the receivers, we been getting together and trying to make [the deep ball] a big emphasis for us this year. People always say we throw short, intermediate routes and stuff like that — little 5-yard, 10-yard routes. We had some chances last year, and we hit some of them, but we just trying to be more consistent this year."
ANALYSIS: The Ravens threw 20-plus yards on 13.6% of their passing plays in 2020, good for the fifth-highest rate in the NFL. Yet, their 7.19 yards per pass attempt ranked just 18th.
The consistency on downfield throws simply wasn't there, as Jackson points out. He completed 42.3% of his deep attempts after adjusting for drops, a mark that slotted him into 21st place out of 33 qualifying signal-callers. Baltimore added wide receivers Sammy Watkins, Rashod Bateman and Tylan Wallace, among others, to help combat the problem, but it's up to Jackson to remedy those accuracy difficulties.
minicamp POINTS IN BRIEF:
NOTABLE OTA QUOTE — QB Josh Allen on what he needs to work on: "I think there's a couple things it boils down to: Decision-making as far as where the ball should go in any given situation based on what the defense is doing, understanding and being better in situational football, ball security in the pocket and when I take off running … routes as well — the in-cut, throws to my left."
ANALYSIS: Quarterback Josh Allen rattled off various facets of quarterback play he hopes to improve for 2021. For the sake of brevity, let's focus on one: throws to his left. Seven of Allen's 10 interceptions in 2020 came on pass attempts to the far left side. As a result, his passer rating to that portion of the field (96.0) paled in comparison to his mark when throwing elsewhere (119.4).
After a lackluster first two NFL seasons, Allen burst onto the scene with a 90.3 overall grade last year, so any further improvement would be a scary sight for opposing defenses.
OTA POINTS IN BRIEF:
DC Brian Daboll: TE Jacob Hollister an "instinctive" player in the pass game, has past rapport with Josh Allen
NOTABLE MINICAMP QUOTE — HC Sean McDermott: "Devin [Singletary], in particular, I think is really trying to master the small things that come up down in and down out when you're playing all three downs — whether it's protection, some of the discipline that comes with those things. So I've really been impressed with his attention to detail."
ANALYSIS: A 2019 third-round pick, Devin Singletary has hit 100 yards in a game just once over 32 outings in his young NFL career. He found the end zone only twice in 2020, but it appears head coach Sean McDermott and company still view him as the Bills' lead running back.
Singletary is also the premier receiving threat in Buffalo's running back room, which includes 2020 third-round pick Zack Moss and veteran Matt Breida, but his five drops (tied for fourth-worst) and average of 7.1 yards per reception (33rd) leave much to be desired. And while pass protection isn't quite his forte, he improved from allowing six pressures on 60 pass-blocking attempts in 2019 to giving up four pressures on 86 such plays in 2020.
minicamp POINTS IN BRIEF:
RB Zack Moss should be ready for training camp, per McDermott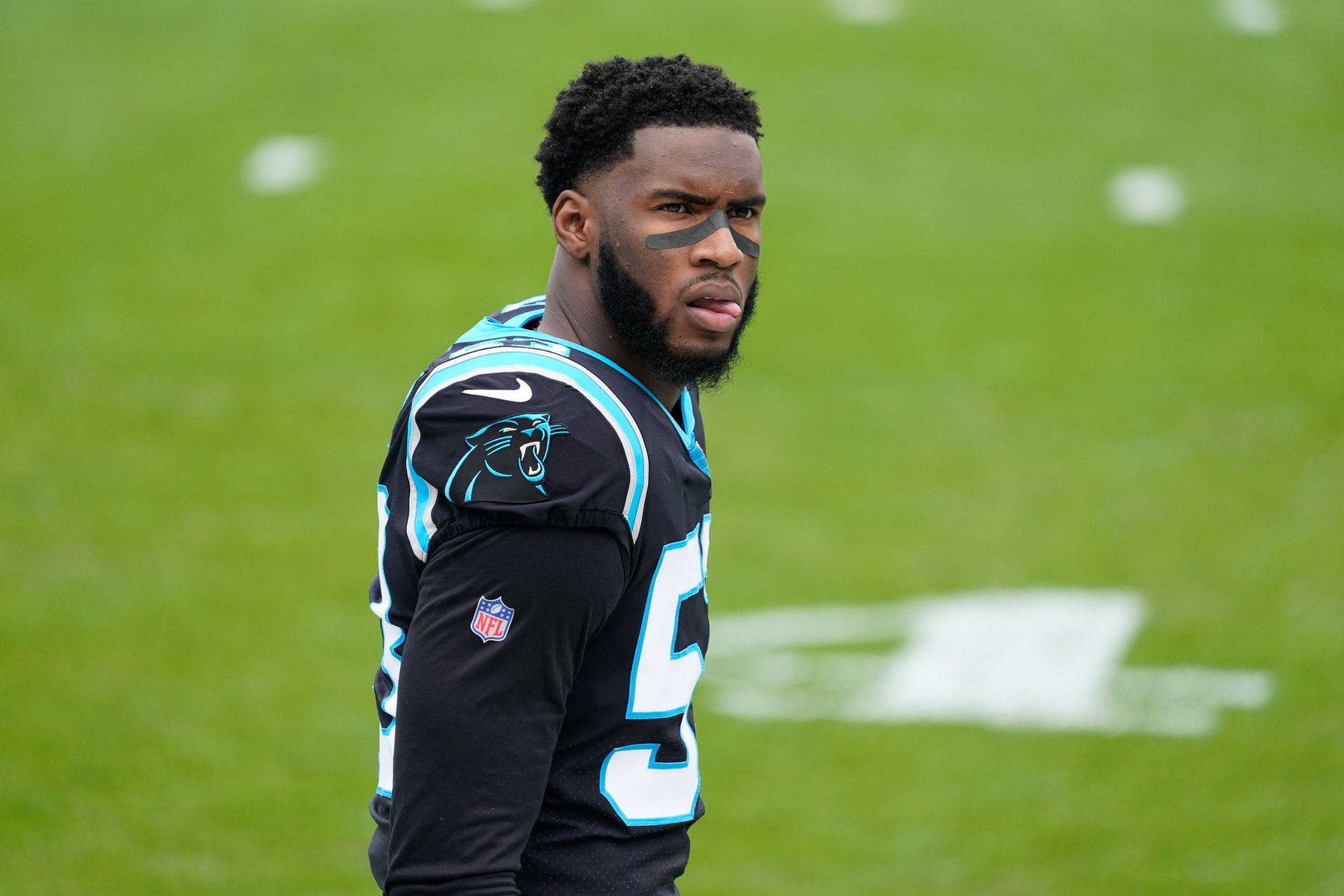 NOTABLE OTA QUOTE — EDGE Brian Burns: "[Haason Reddick] is gonna make me go even harder because there's going to be a little competition now in the room for who's going to get the sack the fastest. And also, he's just going to take a lot of attention off of me … [the offensive line] is going to have to pick their poison."
ANALYSIS: In a contract year, Haason Reddick broke out to the tune of 13 sacks and 56 quarterback pressures en route to a career-high 72.8 grade with the Cardinals last season. Meanwhile, Brian Burns notched 57 quarterback pressures and 10 sacks of his own with the Panthers. Carolina hasn't had two edge rushers record 50-plus pressures in the same season since 2013, so Burns could be on to something as this duo takes the reins on the edge for Matt Rhule's squad.
OTA POINTS IN BRIEF:
S Jeremy Chinn set to play primarily safety in 2021
Both Burns, Chinn feeling good after offseason surgeries
QB Sam Darnold not fixated on facing former team in Week 1
NOTABLE MINICAMP QUOTE — HC Matt Rhule: "I think last year we were spending a lot of time trying to figure out who we were in our base stuff. … So I think right now, the end of game, the red zone — I think our guys are more comfortable. And I think our coaches are more on the same page with the players."
ANALYSIS: Former Panthers quarterback Teddy Bridgewater made waves in May after saying Carolina rarely practiced red-zone or two-minute situations in 2020. No signal-caller posted a lower passing grade in the red zone last year than Bridgewater (29.2). He performed similarly, albeit not nearly as poorly, in two-minute drills, recording a 30th-ranked passing grade (61.6).
Panthers head coach Matt Rhule, entering his second season at the helm, chalked it up to the lack of an offseason and the need to prioritize other situations. He says his players are more comfortable in those more tense situations now, which, if it's the case, would bode well for new quarterback Sam Darnold.
minicamp POINTS IN BRIEF:
Rhule: Cornerback group stood out in minicamp

WR Robby Anderson: Panthers' system more "graspable" than Jets' "complex" scheme


---
NOTABLE OTA QUOTE — HC Matt Nagy: "[Justin Fields] has that mentality of rip your heart out … you got to see a taste of that today with [him]. He made the nice throw to Damiere [Byrd] down the sideline, and that ball just took off."
ANALYSIS: PFF's Anthony Treash declared the Chicago Bears' trade-up to select Justin Fields as "one of the biggest steals in the modern draft era." The former Ohio State signal-caller torched his opposition over the past two years, finishing as the most valuable player in college football over that span, per  PFF's Wins Above Average (WAA) metric.
It's rare to see coaches remember key plays this early in offseason activities, with unpadded practices and little true game speed. Take one throw with a grain of salt, but Fields' 91.5 grade in 2019 and 93.5 grade in 2020 weren't flukes.
OTA POINTS IN BRIEF:
Nagy envisions "a lot" for Cole Kmet in 2021
Presumptive starting center Sam Mustipher put on 10 pounds of lean mass during offseason
NOTABLE MINICAMP QUOTE — HC Matt Nagy on his mindset with QB Justin Fields as a runner: "If you get a chance to run: Run, because you're special with your legs."
ANALYSIS: NFL fans and pundits tend to come out in droves to say that mobile quarterbacks won't last long in the NFL if they're taking frequent hits while running. Fields won't be the Bears' starter in Week 1, but Nagy seems to have no qualms about letting the rookie run wild when the time comes.
Fields' 85.3 rushing grade in 2020 ranked second to only Florida's Emory Jones, and his 4.3 yards after contact on those attempts ranked fourth. He won't be the most dynamic rushing threat in the NFL, but his ability to tough out gains with his legs is surely something Chicago will utilize in the near future.
minicamp POINTS IN BRIEF:
Fields on biggest hurdle: "At Ohio State, we pretty much went no-huddle 90%-95% of the time. Getting through those basic mechanics of getting in and out of the huddle, making sure I'm on top of everything and getting every little detail right."


---
NOTABLE OTA QUOTE — HC Zac Taylor: "I'm really excited about Tee [Higgins]. I think that you saw in the last couple of games last year that the switch kind of flipped for him a little bit. … He's one of our most detailed receivers. He's got a really high football IQ. It all makes sense to him. … We've got a good receiving corps, but I think Tee has been really impressive this offseason."
ANALYSIS: Higgins, Tyler Boyd and rookie Ja'Marr Chase make up a formidable trio in Cincinnati's 12th-ranked wide receiver corps heading into 2021. With Joe Burrow at quarterback from Weeks 1-11, Higgins led the Bengals in yards per route (1.81), average depth of target (14.5 yards) and touchdowns (4). Head coach Zac Taylor also stressed the importance of Higgins soaking in a full offseason after COVID-19 derailed those activities ahead of his rookie campaign. All signs point to Higgins enjoying a monster 2021 campaign.
OTA POINTS IN BRIEF:
QBJoe Burrow feels like his velocity on throws has improved after offseason work
Burrow believes knee is around 80%-85% back to full strength
NOTABLE MINICAMP QUOTE — WR Ja'Marr Chase: "That was the main thing I was really trying to work on when I opted out. I made sure no one could tell what route I was trying to run when I'm running it. When Joe [Burrow] told me that, that just showed that I worked at it [well]."
ANALYSIS: Chase said Burrow took note of his ability to mask his routes, which should instill fear into opposing secondaries. Chase opted out of the 2020 season with LSU, but he was a nightmare to defend, especially in open space, in 2019. He hauled in 24 deep balls two years ago, the most by a wideout since 2014 — the year PFF began collecting college football data. His 860 yards and 14 touchdowns on those passes of 20-plus yards also led all wide receivers.
If Chase has shored up his route-running even further, cornerbacks and safeties alike will be in for a long season.
minicamp POINTS IN BRIEF:
S Jessie Bates III: Biggest transition this offseason is taking on a more prominent leadership role


---
NOTABLE OTA QUOTE — HC Kevin Stefanski: "Versatility is a big deal. Demetric [Felton] played running back and wide receiver previously in college. He's done both with us already — he's been in both meetings. There's been times where he's a running back for that day and a wide receiver the next day. It does speak to his versatility, his ability to mentally handle that."
ANALYSIS: Rookie Demetric Felton was touted as a wide receiver/running back hybrid during the 2021 NFL Draft process, playing as a full-time slot receiver at UCLA before switching to a full-time running back role in 2020.
PFF's Mike Renner noted in the 2021 NFL Draft Guide that Felton still has the tools to play from the slot, and it appears the Browns will give him a shot at both positions. Felton finished his college career with over 1,100 rushing yards and just under 1,000 receiving yards, earning a 70.0-plus PFF grade in 2019 as a primary receiver and a 70.0-plus PFF grade in 2020 as a primary running back.
OTA POINTS IN BRIEF:
LB Anthony Walker set to quarterback the defense
Stefanski stays mum on DI Malik McDowell's main role, says he can play from edge or interior
NOTABLE MINICAMP QUOTE — OC Alex Van Pelt: "The biggest improvement for [Jedrick Wills Jr.] would be pre-snap penalties. That's an area of emphasis for the offense, and Jed had a tougher time than most with the cadence last year. But in his second year, I'm looking for a big jump from him there."
ANALYSIS: There's not much to analyze here: Wills was called for 11 penalties last year, the second-most among offensive linemen. It goes without saying that any number of penalties is bad, but Wills was on another level in 2020. The saving grace is that his 79.4 pass-blocking grade ranked second among rookie tackles, and he allowed just 18 quarterback pressures on the year.
minicamp POINTS IN BRIEF:
NOTABLE OTA QUOTE — DC Dan Quinn: "Every once in a while, you can just see a person that's on a mission, and I think that's what I've seen from Leighton [Vander Esch] from the time I arrived. You can just feel the energy and intensity that he was putting into his workouts. … In the meetings, you could feel the urgency."
ANALYSIS: Perhaps the Cowboys lit a fire under linebacker Leighton Vander Esch after selecting two top-five linebackers on PFF's Big Board — Micah Parsons and Jabril Cox — in the 2021 NFL Draft. Vander Esch's stellar rookie season, in which he posted an 85.4 overall grade, has given way to two subpar campaigns of sub-60.0 overall grades and missed time due to injuries. While Vander Esch isn't out of a job, Dallas did decline his fifth-year option earlier this offseason. It's a make-or-break year for the Boise State product in a crowded linebacker room.
OTA POINTS IN BRIEF:
"Selfless" veteran linebackers taking rookie linebackers under their wing
Ezekiel Elliott looks "great," has had an "awesome" offseason, per OC Kellen Moore
NOTABLE MINICAMP QUOTE — LB Micah Parsons: "Last week we were watching film of pass rush, and [Demarcus Lawrence] came up to me and was like, "You pass rush like that rook?" and I was like "Yeah, I used to be a defensive end." … Me and him been getting closer, and if I'm confused out there, he'll help me out."
ANALYSIS: Parsons and Lawrence play decidedly different positions. But defensive coordinator Dan Quinn is looking to make the most of his rookie linebacker.
Parsons racked up 26 quarterback pressures in 2019 (opted out in 2020) from primarily an inside linebacker alignment. His 86.8 pass-rush grade ranked seventh at the position, and that's just a minor facet of his game. He was the only inside linebacker in college football that year to record 85.0-plus grades as a run defender, a pass rusher and a tackler.
minicamp POINTS IN BRIEF:
Parsons learning MIKE, WILL and SAM linebacker positions

QB Dak Prescott: WR CeeDee Lamb "will have a breakout season"


---
NOTABLE OTA QUOTE — G Lloyd Cushenberry III: "Every year you got to get stronger, you got to get faster. You got to just tweak certain things. Going into the offseason, I went straight to work, knowing how I played last year and how unacceptable that was. I had to change a lot of things."
ANALYSIS: Denver's offensive line comes in at 21st in PFF's offensive line rankings ahead of the 2021 season, with Cushenberry certainly being a reason why. No center graded out worse than him in 2020, and only four others allowed more pressure on the quarterback. He recognizes his struggles, but with the Broncos spending a third-round pick on Wisconsin-Whitewater's Quinn Meinerz, a guard-center hybrid, Cushenberry will face immediate competition for the starting spot.
OTA POINTS IN BRIEF:
LB Josey Jewell focused on improving short-area quickness to play better in box
CB Bryce Callahan "excited" about secondary additions, says unit can be the best in the NFL
S Jamar Johnson "needs to tackle better than he did in college this past year," per HC Vic Fangio
NOTABLE MINICAMP QUOTE — QB Drew Lock: "One of the big things that not a lot of people have talked about is that me and Noah [Fant] got a lot of work in this offseason. He was in Colorado for a decent amount of time. Every time we were throwing, he was right there. We found the things we thought he needed to work on. He even came to me with things he wanted to work on with me."
ANALYSIS: Few first-round tight ends over the past decade have panned out. And while 2019 first-rounder Noah Fant has yet to break out, his 2020 production suggests the future is bright.
He upped his overall PFF grade from 52.0 in 2019 to 71.2 this past year and racked up the third-most yards after the catch at the position (372). The NFL's best tight ends are after-the-catch weapons — George Kittle, Darren Waller and Travis Kelce — so Fant seems to be on the right path.
minicamp POINTS IN BRIEF:
CB Ronald Darby: We could definitely be the best [secondary]. If not top two, then top three, for sure"


---
NOTABLE OTA QUOTE — HC Dan Campbell: "We did not want to put an emphasis on size. I would rather have someone who was 220 and could freaking fly at inside linebacker — that just fits what we're doing. … We asked [Jahlani Tavai] to shed some weight, and he did that and he is moving better. Now, what does that turn into? I don't know. But he's putting the work in."
ANALYSIS: Linebacker Jahlani Tavai endured a rough 2020 campaign at his listed 250 pounds. Only once did he post a game grade above 70.0, seemingly going invisible at times. Tavai recorded a mere 13 stops on 265 run-defense snaps, making him one of three linebackers with 250-plus such snaps and fewer than 15 stops in 2020. It all culminated in a 32.1 overall grade that ranked 96th out of 99 qualifying linebackers, and Detroit's coaching staff took note.
OTA POINTS IN BRIEF:
NOTABLE MINICAMP QUOTE — LB Jamie Collins Sr.: "I've had a little success getting to the quarterback, so [defensive coordinator Aaron Glenn] is using me in that way. I can do it. Getting to the quarterback, that's a big deal. He's putting me in position to do that, so I'm looking forward to the challenge."
ANALYSIS: After earning a 75.0-plus pass-rushing grade in each of his first three NFL seasons, Collins has done so just once in his past five. That's not to say he can't do it, as he did notch eight sacks among 33 total pressures in 2019, but pass-rushing has been a declining facet of his game.
Collins split time between inside linebacker and outside linebacker in that fruitful 2019 campaign, but he almost only lined up on the inside last year. It remains to be seen where Glenn will play the veteran.
minicamp POINTS IN BRIEF:
Jack Fox, PFF's highest-graded punter in 2020, focusing more on situational punting this offseason
EDGE Trey Flowers learning to play from new alignments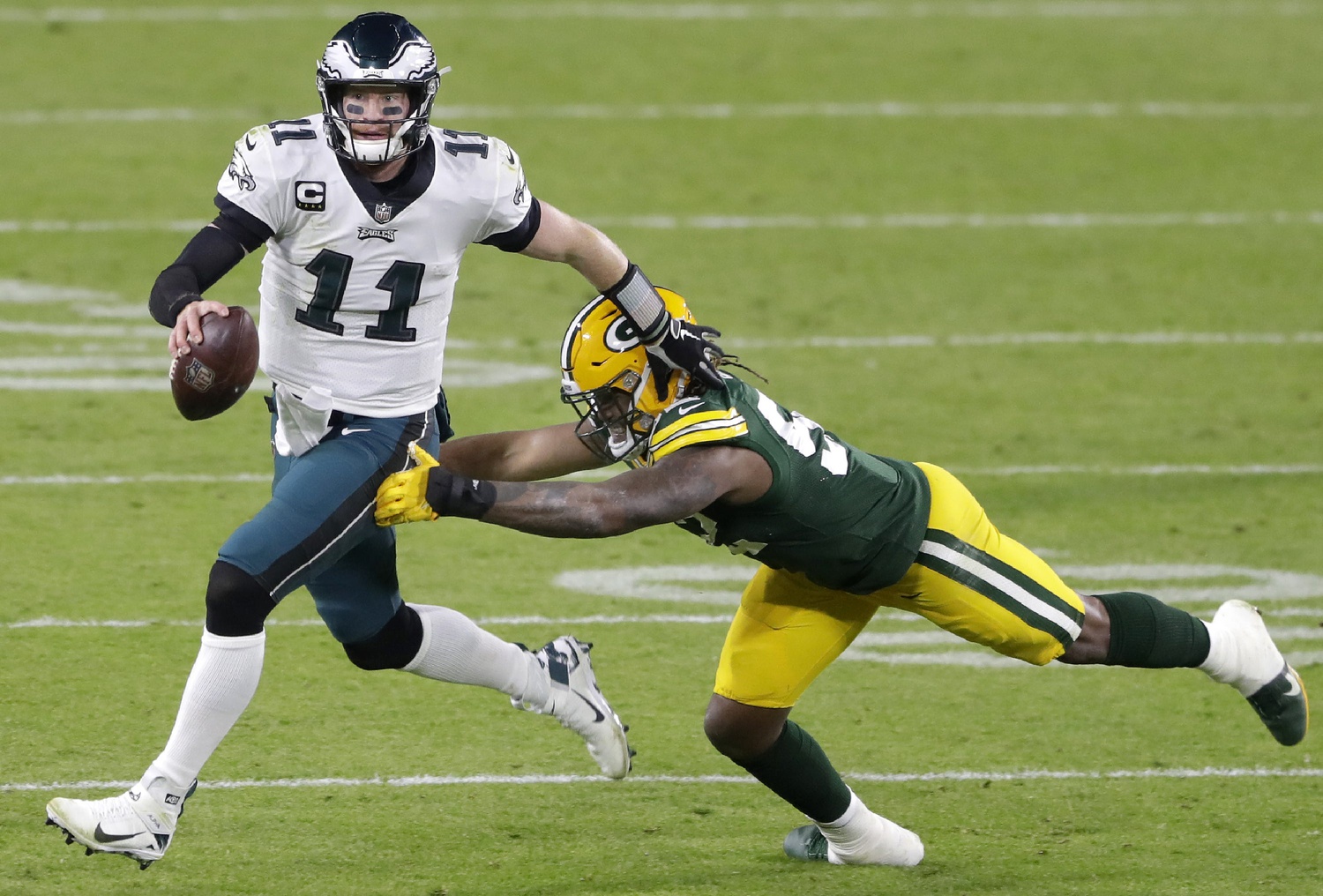 NOTABLE OTA QUOTE — OLB Coach Mike Smith: "Because of where Rashan [Gary] got drafted, in the first round, well [people think] he's got to come in and be a starter and an All-Pro — it don't work like that. … If you force a guy to get into the game early enough in his career and force him to play when he's not ready, you can do a lot of damage. … I expect a big jump from [him in] Year 3."
ANALYSIS: Edge defender Rashan Gary's improvement from 2019 to 2020 showed up in both how much time he spent on the field and his production on those snaps. After playing 20-plus snaps in a game just twice in 2019, he did so in 14 outings this past season.
He turned it on at the end of the year, notching two 90.0-plus grades to wrap up the regular season before bowing out with zero quarterback pressures against the Tampa Bay Buccaneers in the playoffs. Outside linebackers coach Mike Smith might be on to something.
OTA POINTS IN BRIEF:
NOTABLE MINICAMP QUOTE — LB De'Vondre Campbell: "When I'm in coverage against tight ends, most of them are bigger guys. Usually, it's a mismatch when a safety or a corner is on them. It's not really a mismatch with me because I can match up with them [with my length and my speed]."
ANALYSIS: Few, if any, NFL players would ever admit they can't beat an opposing player. Linebackers notoriously struggle in coverage, too. This all to say that Campbell was nothing special in that area with the Cardinals in 2020, as has been the case for his entire NFL career.
Campbell surrendered 411 yards in coverage last year, 281 of which came after the catch. He has flashed at times, such as a Week 2 performance against Washington in which he allowed five catches on 10 targets for a mere 17 yards, but the data says he's underwhelmed overall in that facet.
minicamp POINTS IN BRIEF:
NOTABLE OTA QUOTE — RB Phillip Lindsay: "If you want to be a running back, you've got to be able to run inside — inside out. … I make my money inside, and I know that I have the speed to [get] outside."
ANALYSIS: The Houston Texans constructed an almost completely new roster through offseason additions. The once-heralded Phillip Lindsay is among them.
On inside runs — directly to the left or right of offensive guards — since 2018, Lindsay ranks fifth in PFF grade among qualifying running backs. He's listed at a mere 5-foot-8 and 190 pounds, making it necessary for him to do his best work before contact. He has averaged 1.9 yards before contact on those same inside runs, slotting in behind only Alvin Kamara, Kenyan Drake and Christian McCaffrey over the three-year span.
OTA POINTS IN BRIEF:
NOTABLE MINICAMP QUOTE — Safeties coach Greg Jackson: "The first thing I saw was the length — how tall, how long [Lonnie Johnson Jr.] was. I think the biggest thing when you look at a player like that, and he's got the size, the first thing you think about is 'Man, that would be a great looking safety.'"
ANALYSIS: Johnson is staying at the safety position for 2021 after a 2019 season at outside cornerback and a 2020 season in which he transitioned to the new role.
He played 358 free safety snaps last year compare to just six in the prior season. It was a far better campaign for Johnson, who gave up a whopping nine touchdowns in his rookie campaign at cornerback. He was subsequently the lowest-graded player (30.0) in the NFL at the position. Meanwhile, he ranked 42nd of 97 qualifying safeties (65.5) in 2020.
minicamp POINTS IN BRIEF:
Garret Wallow, despite safety background, playing strictly linebacker
EDGE Jacob Martin joining Greenard in transition to defensive line with hand down more often
Note: The Houston Texans canceled their mandatory minicamp. Both quotes are from their OTA press conferences.
---
NOTABLE OTA QUOTE — DC Matt Eberflus: "The corners position, that's another thing that, competition-wise, we know we've got Kenny [Moore II], we've got [Xavier Rhodes]. Who's gonna be the third guy? There's competition there."
ANALYSIS: PFF's Ben Linsey said it best when ranking all 32 secondaries heading into 2020:
"Xavier Rhodes and Kenny Moore II provided strong seasons at two of the three starting cornerback spots for Indianapolis in 2020. … But the Colts still need more from 2019 second-round pick Rock Ya-Sin heading into next year. Ya-Sin is coming off a 48.2 coverage grade last season and has struggled with penalties throughout the first two years of his NFL career."
Other potential candidates for the No. 3 cornerback spot include T.J. Carrie (67.9 PFF grade in 2020, 452 snaps), Marvell Tell III (opted out) and Isaiah Rodgers (85.6, 56 snaps).
OTA POINTS IN BRIEF:
QB Carson Wentz providing a lot on the field, in the meeting room early on
NOTABLE MINICAMP QUOTE — DC Matt Eberflus: "There's usually some moment. It's not necessarily a moment, but there's moments during the course of early on where you look at it and say, 'Man, this guy is special.' … I remember with Julian [Blackmon] last year … we have him side by side with the corners, and we're doing the break drills and the movement drills that the DBs do, and we're looking at each other like 'Oh my gosh, this guy is as good as a corner. He's moving as quick and as fast as a corner.'"
ANALYSIS: Blackmon played 975 snaps across the regular season and playoffs, the second-most among rookie safeties. And he certainly looked like a cornerback on that workload despite facing just 17 targets in coverage. Blackmon picked off two of them, and only nine went for completions. The resulting 45.1 passer rating slotted him into fourth place among safeties who faced at least 10 targets.
minicamp POINTS IN BRIEF:
Backup QB Jacob Eason more involved, has better understanding of the position's nuances


---
NOTABLE OTA QUOTE — HC Urban Meyer: "I see a rebuilt secondary. … We have [Rayshawn] Jenkins and [Shaquill Griffin] added to the guys that are already there, so I'm anticipating our secondary to be one of the strengths of our team. We worked in free agency to help it. We worked in the draft to help it. I feel like we have some good core players there."
ANALYSIS: A starting safety for the Los Angeles Chargers in 2019 and 2020, Rayshawn Jenkins has been consistently solid since entering the NFL four years ago. He's allowed a 76.9 passer rating in coverage since 2017, ranking seventh among 60 qualifying safeties.
Jacksonville's cornerbacks combined to give up 19 touchdowns in coverage last season but snagged just three interceptions. Sidney Jones was the outlier of the group, grading out to 68.1 while the others floundered to sub-60.0 marks. Enter, Shaquill Griffin. He notched three interceptions alone in 2020 but struggled at times en route to a career-worst 64.6 grade. Still, his penchant for finding the football, whether through picks or pass breakups, will serve the Jaguars' secondary well.
OTA POINTS IN BRIEF:
New defensive coordinator Joe Cullen bringing passion, energy to practice
Defense made "three or four" interceptions in one OTA practice
NOTABLE MINICAMP QUOTE — HC Urban Meyer on RB Travis Etienne: "I saw flashes of what I remember seeing in college the last week and a half. The Jaguars, when you look at it statistically, big plays were very hard to find last year, and this guy has big play written all over [him]. He's a space player … and you could see that the last few practices."
ANALYSIS: The Jaguars ripped off just six runs of 20-plus yards in 2020, tied for the fourth-fewest in the NFL. Etienne, also a passing game threat, is here to remedy that. Over the past four years, no running back in college football racked up more 20-plus-yard runs than Etienne (55), with his 51 forced missed tackles and 21 touchdowns on such plays also leading the country.
minicamp POINTS IN BRIEF:
NOTABLE OTA QUOTE —  QB Patrick Mahomes: "Noah [Gray] has been really good. I think he has kind of that veteran-type skill set where he knows how to get himself open even if it's not exactly what the play is designed to do. He knows how to get his eyes back, be on the quarterback's timing. And then [Cornell] Powell, he's a beast, man. How big he is out there, he's running across the field, making a lot of big catches in tough, contested spots."
ANALYSIS: While quarterback Patrick Mahomes was directly asked about rookies Noah Gray and Cornell Powell rather than bringing them up himself, his words shouldn't be taken lightly.
Gray, the No. 6 tight end on PFF's Big Board for the 2021 NFL Draft, is more of an underneath receiver than a field-stretcher. Per the PFF Draft Guide, he has a "great feel working the middle of the field sitting in zones," which is almost exactly what Mahomes references.
Powell hauled in seven of his nine catchable contested targets in 2020 at Clemson, proving to be a reliable weapon against stingy coverage. And when Patrick Mahomes takes notice of such a skill, there's an added level of expectation that the rookie will translate well to the pro scene.
OTA POINTS IN BRIEF:
Mahomes still working on rehabbing toe
Chiefs potentially looking to get RB Clyde Edwards-Helaire more involved in passing game
NOTABLE MINICAMP QUOTE — HC Andy Reid: "The one thing that gives us flexibility, I mentioned that Jarran Reed hasn't been talked about much, but I look at him as kind of a key cog to that ability to move Chris [Jones] around. I know [Jones] likes to get [outside] to rush the passer."
ANALYSIS: Veteran Chris Jones is switching to edge rusher after lining up primarily as an interior defender over his five NFL seasons. Reid partially attributes the move to the newly signed Reed, who also boasts inside-outside versatility.
Reed tied his career-high with 11 sacks for the Seahawks in 2020, while Jones earned the fourth 89.0-plus overall grade of his career. The versatility each provides some depth to an otherwise thin Kansas City defensive front.
minicamp POINTS IN BRIEF:
NOTABLE OTA QUOTE — CB Casey Hayward Jr.: "I know last year [Las Vegas] didn't have a lot of veteran presence in the secondary. And I think this year with me, Karl [Joseph] coming back, [Nevin Lawson], we got a lot of veteran presence here."
ANALYSIS: Casey Hayward Jr. makes an important observation: The Raiders' secondary was bogged down by inexperience last season. Safety Johnathan Abram (drafted 2019) and cornerbacks Trayvon Mullen (2019) and Damon Arnette (2020) all played significant snaps in 2020, although Arnette missed time while on injured reserve. Abram's 35.9 overall grade ranked last among 99 qualifying safeties, while Arnette and Mullen slotted in at 89th and 126th, respectively, among qualifying cornerbacks.
Meanwhile, Hayward brings a wealth of experience to Las Vegas after signing during free agency. His 74.2 passer rating allowed since 2012, when he was drafted, ranks third among 83 cornerbacks who've faced 300-plus targets in that span. Pair that with a 15.4% forced incompletion rate, which ranks first among the same subset, and the Raiders have a savvy veteran cornerback to prop up their secondary.
OTA POINTS IN BRIEF:
Despite Raiders' lack of slot corners, Hayward working solely on outside
Raiders' running back room putting emphasis on routes of the backfield, from empty formations
John Brown: Henry Ruggs III can "really take over the offense"
NOTABLE MINICAMP QUOTE — HC Jon Gruden: "We got a lot of high picks in that secondary. They're young. [Casey] Hayward is gonna be a veteran that brings us some seasoning and some day-to-day consistency. … I don't care what round they came in. We're going to play the best four to five guys and the players will decide that."
ANALYSIS: The Athletic's Vic Tafur hinted that 2020 first-rounder Damon Arnette may already be an "afterthought" in the Raiders' secondary. Gruden's comments here suggest a similar sentiment, and his words on Hayward, who has eight seasons of 70.0-plus grades, imply that the veteran is in line to take over Arnette's spot.
Arnette was largely considered a reach at the time of his drafting, with him slotting in at 88th on PFF's Big Board despite being taken at No. 19 overall. He was thrown into the fire and earned a lowly 41.7 overall grade, a 37.5 coverage grade and a 27.7 tackling grade — all of which ranked in the bottom 11 at the position.
minicamp POINTS IN BRIEF: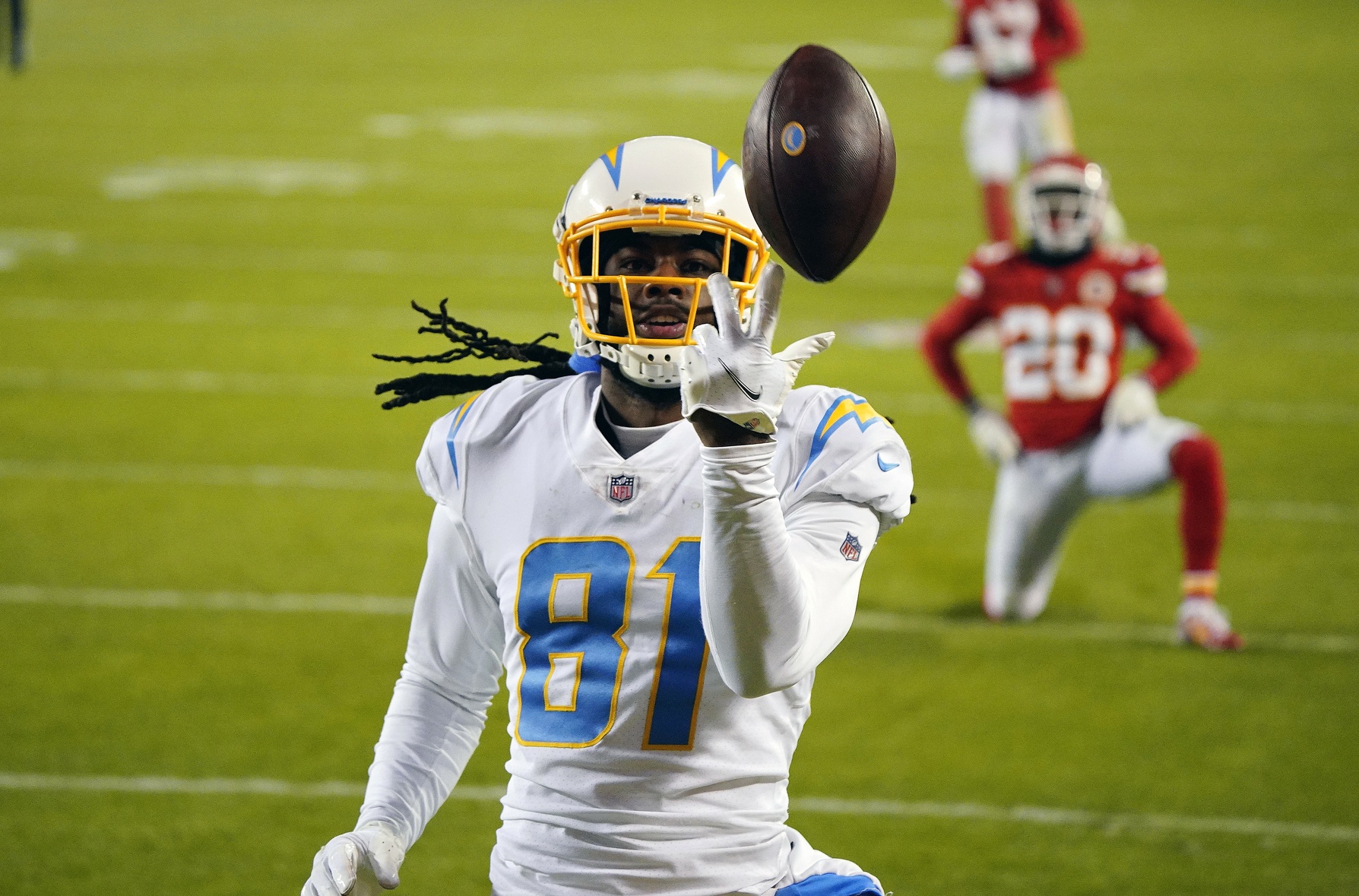 NOTABLE OTA QUOTE — OC Joe Lombardi: "As much as this offense will resemble New Orleans', [Mike Williams] plays the X, and the ball has always kind of found the X receiver in this offense, and so I think there will be some natural production that just comes his way because of the nature of the offense. … If I were a betting man, I'd bet on nice numbers coming from him on the stat sheet, that's for sure."
ANALYSIS: Look no further than Michael Thomas' target numbers with the Saints to understand what new Chargers offensive coordinator Joe Lombardi envisions for Mike Williams in Los Angeles. Lombardi worked with Drew Brees as a quarterbacks coach in New Orleans, and he isn't hiding what he has in store for Williams: a hefty workload, to say the least.
Before injuries derailed Thomas' 2020 campaign, his combined 326 targets and 3,130 yards from 2018 to 2019 topped all wide receivers, among many other areas where he ranked first.
And Williams, a former top-10 pick, is entering his fifth-year option season, meaning he's playing for a long-term contract this season. He's earned 70.0-plus grades while seeing 80-plus targets in each of the past three seasons.
OTA POINTS IN BRIEF:
Joe Lombardi taking elements from New Orleans, San Francisco — along with new ideas — to build his offense
Kenneth Murray excited to play more downhill, blitz more
NOTABLE MINICAMP QUOTE — EDGE Joey Bosa: "Defensive-wise, it's been tough for me the last couple days. But it's just an adjustment. Like anything, it takes some time getting use to new things and there's a lot more to this defense than I've ever been a part of before. It's something that'll take some time, but I'm confident in it."
ANALYSIS: OTAs and minicamp have yielded plenty of comments on "complex" systems and how everyone is just trying to learn their respective playbooks. Bosa took it a step further, admitting that it's been a struggle.
Don't read too much into his honesty, though. No edge rusher has earned a higher pass-rushing grade over the past four seasons than Bosa (92.2), and his 236 quarterback pressures over that span rank seventh. It may be a new scheme, but it would be a shock to see anything less than the always consistent Joey Bosa in 2021.
minicamp POINTS IN BRIEF:
RB Austin Ekeler: Joe Lombardi's offense is emphasizing getting him the ball


---
NOTABLE OTA QUOTE — HC Sean McVay: "Jacob Harris is a guy that has definitely stood out. Just his overall speed, athleticism. You kind of feel him on the field. But that's been in some of the limited seven-on-sevens and kind of just running routes on air … but he's [a rookie] that comes to mind if you were to point out anybody in particular."
ANALYSIS: Rams head coach Sean McVay has waxed poetic about rookie Jacob Harris all offseason. The above quote eventually led to Harris earning first-team reps a week later.
While Harris' college numbers aren't too flattering, his Pro Day numbers — a 41-inch vertical, 133-inch broad jump, 4.39-second 40-yard dash and 6.54 three-cone — vaulted him up draft boards. And that athleticism appears to be translating to the field early on, too. His mere 60.7 overall grade last season at UCF could become a distant memory by the time the 2021 season rolls around.
OTA POINTS IN BRIEF:
NOTABLE MINICAMP QUOTE — OT Andrew Whitworth on returning for 16th NFL season: "I played well [in 2020]. I had a really good year going and unfortunately got injured. I really felt like [it was] probably one of the best stretches of football I've played. … I knew when I had that much heart to get back on the field, that I still wanted to play football. … It was a pretty easy decision."
ANALYSIS: At 39 years old, Andrew Whitworth is still going strong. From Week 1 to Week 10, when he suffered a torn MCL, he ranked second in pass-blocking grade (90.5) and ninth in run-blocking grade (83.2) among tackles. He says his decision to return for his 16th NFL season was an easy one, and the numbers back that up.
minicamp POINTS IN BRIEF:
HC Sean McVay: RB Jake Funk a "mature" rookie and "as advertised"
Note: The Los Angeles Rams did not hold press conferences during mandatory minicamp. Both quotes are from their OTA press conferences.
---
NOTABLE OTA QUOTE — QB Tua Tagovailoa: "I think the guys we had last year were phenomenal. I just didn't have the comfortability of checking plays, alerting plays. I just rode with the play, even if I knew, in a way, that it wasn't going to work. I was going to try to make it work still."
ANALYSIS: Quarterback Tua Tagovailoa made headlines by saying he didn't know the playbook well enough in 2020, prompting some to question why he was thrown into the fire so early in his NFL career. He was charted as throwing an accurate pass only 55.8% of the time (29th) last season. But while his middling 65.4 PFF grade may have been buoyed by "simple" play calls, it's a mark that indicates potential for a young signal-caller still trying to find his footing in the NFL.
OTA POINTS IN BRIEF:
NOTABLE MINICAMP QUOTE — CB Byron Jones on what he learned from 2020: "We play a lot of man. We like to play aggressively at the line of scrimmage. I think I learned that I can stay more square at the line of scrimmage and fight receivers a little bit longer than I'm used to. … That's been a big linchpin in our defense is being able to play effective man coverage."
ANALYSIS:  No team played more snaps of man coverage in 2020 than the Dolphins (539). Jones performed at an average level on those plays, recording a 50.2 coverage grade (38th of 76 cornerbacks). Xavien Howard, on the other hand, excelled in man coverage. He snagged seven picks (first) and allowed a lowly 46.2% completion percentage (11th) on such looks. If and when Howard returns from a holdout, Jones will have to pick his brain entering Year 2 with Miami.
minicamp POINTS IN BRIEF:
NOTABLE OTA QUOTE — WR Justin Jefferson: "Going up against a guy like [Patrick Peterson] especially, him being one of the top corners in the league and going up against him at practice, that only makes us better as receivers. … For him to show us different looks and us running routes off those different looks … it makes it easier on game day going up against a guy that's not like Pat Pete."
ANALYSIS: Patrick Peterson is a household name, having played at least 1,000 snaps in nine of his 10 seasons with the Arizona Cardinals. The former top-five draft pick has never graded overly well, but he brings a wealth of experience and a penchant for limiting his opponent's production. Over the past five seasons, Peterson ranks tied for fourth among 114 qualifying cornerbacks in yards allowed per coverage snap (0.9).
OTA POINTS IN BRIEF:
Kirk Cousins rewatched entire NFL career this offseason in an effort to improve
NOTABLE MINICAMP QUOTE — LB Eric Kendricks on rookie Chazz Surratt's move from QB to LB: "I feel like oftentimes that shows the kind of athlete the player is and just their football IQ and their football comfortability. … I also played quarterback in high school. … You'd think it would be a tougher transition, but you're actually very in tune with the game."
ANALYSIS: Once a three-star dual-threat quarterback recruit, Surratt switched to linebacker after two years at North Carolina. He's had little time to learn the position, but he took to it quickly in 2019, amassing 56 stops — six more than first-round pick Micah Parsons. Kendricks' spot-on assessment bodes well for Surratt, who still has a ways to go in run defense (35.2 grade in 2020) and coverage (53.2) before becoming an all-around linebacker.
minicamp POINTS IN BRIEF:
OC Klint Kubiak: OT Christian Darrisaw has "exceeded expectations"
Kendricks: EDGE Danielle Hunter is "the best in the league" and likely itching to get back on the field


---
NOTABLE OTA QUOTE — OC Josh McDaniels on RB Rhamondre Stevenson: "A big back, good vision, displayed quick feet, an ability to break tackles, make yards with the ball in his hands, demonstrated an ability to catch the football and do something with it when he was used in the passing game. And he's tough enough to stand in there and block blitzers and do things in protection."
ANALYSIS: The 250-pound Rhamondre Stevenson knew nothing but excellence in college, earning an 86.6 grade in 2019 and a 90.4 grade in 2020. While he wasn't one to rip off big runs, he did force missed tackles at a daunting rate. That mark came out to 0.36 missed tackles per attempt, which ranked second among qualifying FBS running backs in 2020. Stevenson also caught 28 of his 33 college targets, typifying the ideal running back in today's NFL.
OTA POINTS IN BRIEF:
QB Cam Newton has a "different grasp of the offense" this year
NOTABLE MINICAMP QUOTE — QB Cam Newton on Patriots drafting Mac Jones: "It didn't make me feel any type of way because he was the right pick, in my opinion. He was the best player available, and that's what the NFL draft is for. As far as having any chip on the shoulder, you're stating the obvious. I don't need too much to get myself going. … I support [the decision] 110% because you still have to do what's right for the organization."
ANALYSIS: Aaron Rodgers was reportedly displeased when the Packers drafted Jordan Love in the first round of the 2020 NFL Draft, but Newton is unfazed about the Patriots taking Mac Jones.
Jones ranked 14th on PFF's Big Board, and New England snagged him at No. 15 overall. The former Alabama signal-caller made 28 big-time throws on deep passes last year, ranking behind only Florida's Kyle Trask and North Carolina's Sam Howell. His 1,355 yards and 17 touchdowns on such throws led the country.
minicamp POINTS IN BRIEF:
OT Trent Brown doesn't mind which side of offensive line he plays on


---
NOTABLE OTA QUOTE — T Terron Armstead: "I've applauded the front office over the last several years for the guys that they have brought into the [offensive line] system. The level of player we've had to come in at spot six, seven, eight has been incredible."
ANALYSIS: James Hurst, Nick Easton and Will Clapp, among others, epitomize Armstead's point. They haven't been anything special, but earning overall grades anywhere near 60.0 as a backup offensive lineman is nothing to scoff at when many NFL teams struggle to field five solid players along the line.
Hurst is a true swing tackle, and his first season in New Orleans resulted in a career-high 85.5 pass-blocking grade. Clapp spent little time on the field in 2020 but has proven capable of performing at an average level at either guard spot. And Easton allowed more than two quarterback pressures in only one of his 12 outings last year.
Should one of New Orleans' starters up front go down in 2021, the unit will still be in decent shape.
OTA POINTS IN BRIEF:
NOTABLE MINICAMP QUOTE — C Erik McCoy: "I've been focusing on center more, but I'm still definitely tuned into guard, tuned into the calls, tuned into the technique just in case there's a spur of the moment thing or we get in camp and things just need to switch up."
ANALYSIS: McCoy played all 1,113 of his snaps at center in 2019 and all 1,213 of his snaps at center last year. He also saw a mere 18 snaps at guard over four seasons at Texas A&M. The third-year lineman's position for 2021 was never really in question, but he is keeping his options open.
Second-year lineman Cesar Ruiz played exclusively guard in 2020 despite being a center in college, so he too boasts the versatility to play either position. Perhaps there's not much to read into here, as McCoy's 70.1 regular-season grade last year was a top-10 mark.
minicamp POINTS IN BRIEF:
Note: The New Orleans Saints did not hold press conferences during OTAs. Both quotes are from their mandatory minicamp.
---
NOTABLE QUOTE — HC Joe Judge: "When you watch us practice and you watch [Evan Engram] on the field, no one empties the tank like this guy. I mean this guy goes hard every day. We've got to tell him to tone it down more than pick up his pace. …"
ANALYSIS: The "bust" narrative continues to follow closely behind tight end Evan Engram, a 2017 first-round pick. Head coach Joe Judge sees the work ethic, but the on-field product hasn't aligned.
Engram dropped eight passes last year, tied for the most among tight ends. And of the seven tight ends who saw 20 or more contested targets, all but one hauled in at least 40% of them: Engram, who caught just 19% of those balls. While many of those throws were deemed uncatchable, it's still an incredibly low rate that indicates some issues between Engram and Jones' rapport.
OTA POINTS IN BRIEF:
NOTABLE MINICAMP QUOTE — CB James Bradberry: "I would say the addition of Adoree' [Jackson] helps the overall defensive scheme because he has speed. And in this league, every team probably has like a fast guy, and the fact that you can match Adoree on him, it gives your defense a lot of versatility."
ANALYSIS: Jackson was injured for much of 2020, so let's dive into his 2019 campaign. He lined up against D.J. Chark Jr., Tyreek Hill, D.J. Moore and Calvin Ridley, among others, that year. Ridley's 4.44-second 40-yard dash time is the slowest of that group, and he's hardly a slouch, racking up over 2,200 receiving yards since 2019.
Jackson is clearly used to facing speedy wideouts, and he didn't surrender a touchdown in any of those outings. His 79.9 overall grade that season was a career-high, but injuries have since kept him largely out of action.
minicamp POINTS IN BRIEF:
Jackson employing a "rookie" mindset in first offseason with Giants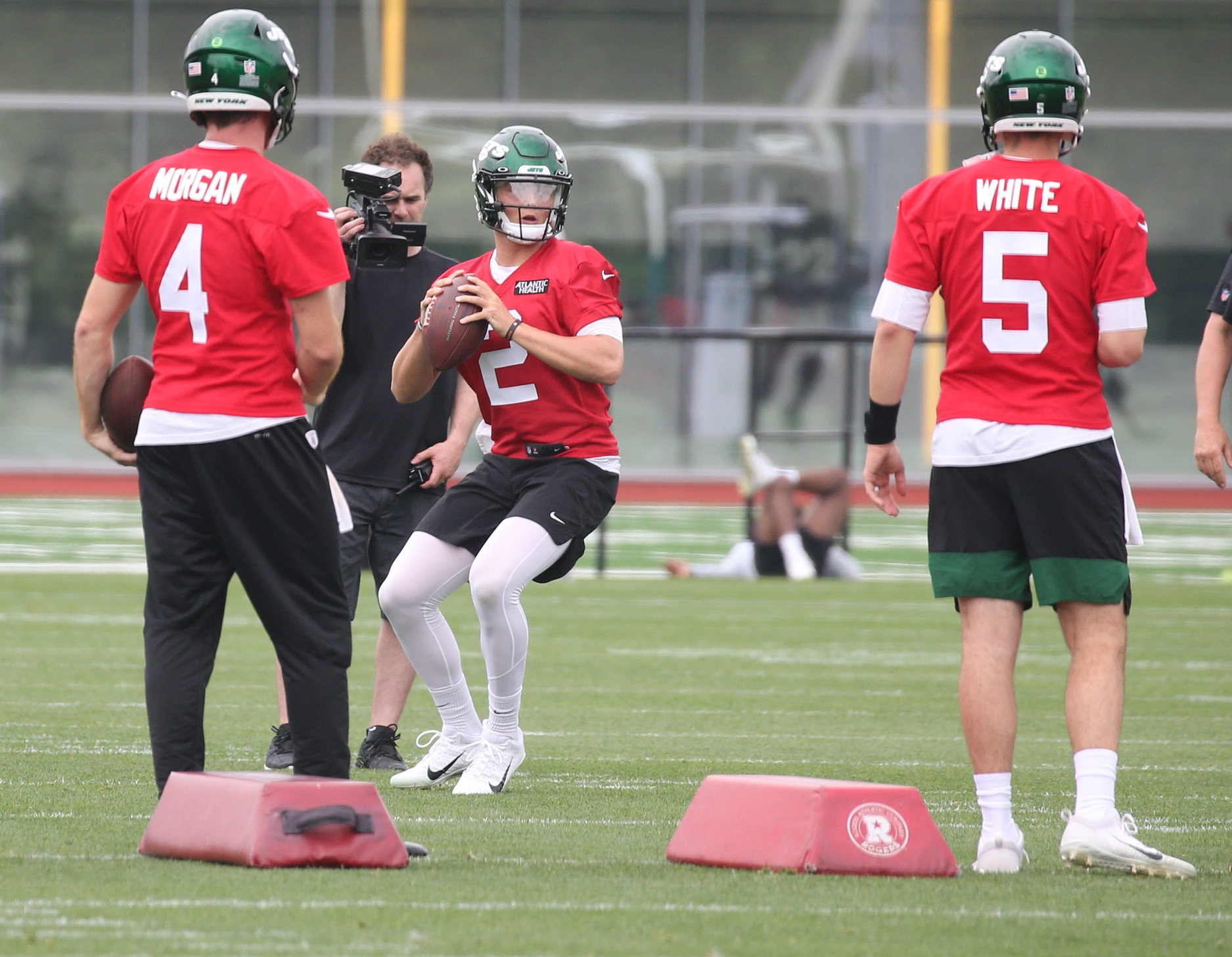 NOTABLE OTA QUOTE — HC Robert Saleh: "The defense was running a coverage that vacated the middle of the field, and [Zach Wilson] had [Braxton] Berrios down the middle and he just zipped it in there and didn't try to do anything cute with it. He just got it to him in a hurry. … We felt like that was a pretty veteran move."
ANALYSIS: It's early in offseason practices, and many coaches haven't been able to pinpoint specific plays that have wowed them thus far. Robert Saleh is not one of them. Rookie quarterback Zach Wilson is showing off early, flashing a skill set that perhaps wasn't as apparent in his breakout 2020 campaign at BYU.
With the Cougars last season, Wilson completed 34 of his 47 attempts between the hashes and past the line of scrimmage, with one going for a touchdown. He was far more potent when throwing down the sideline, but if Saleh is seeing a "veteran" on an over-the-middle throw, then the sky may be the limit for the rookie.
OTA POINTS IN BRIEF:
RB Tevin Coleman: "The offense has been kind of the same as San Fran"
S Ashtyn Davis working through injury, will be ready for training camp
NOTABLE MINICAMP QUOTE — DI Quinnen Williams: "I'm a huge C.J. Mosley fan from the beginning, so I think he looks amazing. He's slimmed down a little bit, trim, and he's C.J. Mosley. Super smart, super athletic, super talented and just a leader all the way around the board."
ANALYSIS: Mosley is the forgotten man in New York. The former first-round pick of the Ravens was once the model of consistency from a grading perspective. He recorded 70.0-plus grades in four of his five seasons with Baltimore and gave up a passer rating over 100.0 in just one of those campaigns.
That production led to a hefty five-year, $85 million deal with the New York Jets ahead of the 2019 season, but Mosley has since played 114 snaps due to injury and an opt-out. He's back for 2021, his third year with the Jets despite hardly seeing the field for the team.
minicamp POINTS IN BRIEF:
Rookie WR Elijah Moore standing out early in offseason activities
Trevon Wesco set to play fullback role in Mike LaFleur's offense


---
NOTABLE OTA QUOTE — G Brandon Brooks: "I think the biggest thing that everybody's forgetting is, I've torn my Achilles before. And when I came back, I was the best. Period. So with that being said, what tells you it will be any different this time?"
ANALYSIS: Guard Brandon Brooks returned in 2019 after suffering a torn Achilles to close out the 2018 campaign, and he was indeed the best. Period. The 335-pounder posted a 92.8 overall grade — the best mark among offensive linemen. He excelled as a run blocker, recording a position-leading 91.4 grade in that facet, too. Not to mention, he was called for just two penalties all year. The Philadelphia Eagles likely have nothing to worry about regarding their star guard.
OTA POINTS IN BRIEF:
LB Eric Wilson, in his first year with Philadelphia, taking on a leadership role
NOTABLE MINICAMP QUOTE — WRs coach Aaron Moorehead on WR Jalen Reagor: "He's calmer. He's just letting his play speak for itself. … [It's about] understanding that you have enough talent to be a really, really, really good player in this league. And you don't have to listen to anyone else but the people in this building."
ANALYSIS: First-round draft picks are expected to come out of the gate firing, but Reagor did anything but in 2020. Reagor's 1.3 yards per route ranked last among the other five Round 1 receivers. His campaign wasn't devoid of bright spots, though.
Reagor endured a disastrous year from quarterback Carson Wentz, but the then-rookie led the first-rounders in catch rate on catchable passes (96.9%) and reeled in four of his 12 contested targets to rank second among that group. With quarterback Jalen Hurts now leading the Eagles' offense, Reagor could hit his stride in Year 2.
minicamp POINTS IN BRIEF:
"Healthy competition" among Eagles' running back room

Moorehead on potential leadership role for WR DeVonta Smith: "Not yet"


---
NOTABLE OTA QUOTE — WR JuJu Smith-Schuster on his biggest goal for 2021: "Playing more outside. It's as simple as that."
ANALYSIS: Short, sweet and insightful from wide receiver JuJu Smith-Schuster. The USC product re-signed with the Pittsburgh Steelers this offseason and is looking to buck his slot role. A whopping 84.7% of his snaps came from the slot in 2020, ranking ninth among qualifying wideouts. Smith-Schuster's work from the slot has increased in each subsequent season since he was drafted in 2017. He's been wildly productive from that part of the field, but the now-veteran receiver has his sights set on a change of pace.
OTA POINTS IN BRIEF:
NOTABLE MINICAMP QUOTE — EDGE T.J. Watt: "The last five or six games [Alex Highsmith and I] had together last year gave us a real good look at how we jell together and the things we can improve on collectively. … He has a great repertoire of moves already."
ANALYSIS: Highsmith was a pleasant surprise for the Pittsburgh Steelers last year. The third-rounder ranked behind only Washington's Chase Young in PFF grade among rookie edge defenders. Highsmith even finished above then-teammate Bud Dupree in pass-rush win rate, helping Pittsburgh slot into the No. 1 spot in PFF's defensive line unit rankings ahead of 2021.
minicamp POINTS IN BRIEF:
Watt on high snap counts: "I have no problem taking a break and letting the guy behind me go and get some reps"

"If it's not broke, don't fix it": Roles within Steelers' defense will remain largely the same




---
NOTABLE OTA QUOTE — DC DeMeco Ryans: "You will see some wrinkles. You will see my brand of football. … I want to be known as an attacking defensive line. Our D-line is going to attack. … We're going to play off our defensive line. We're going to let our D-line just get off the ball and attack. … We will be, I feel like, a more aggressive, attacking defense."
ANALYSIS: New 49ers defensive coordinator DeMeco Ryans, taking over for now-Jets head coach Robert Saleh, inherits an already formidable defensive front. Nick Bosa and Dee Ford missed significant time in 2020 due to injuries, but this unit should return to its dominant form for 2021, barring further health setbacks. Whether the unit truly takes off relies on second-year man Javon Kinlaw breaking out after a lowly 54.1 grade in 2020.
OTA POINTS IN BRIEF:
Team already dealing with a bevy of injuries
No. 3 WR spot is a wide-open battle
NOTABLE MINICAMP QUOTE — EDGE Samson Ebukam on DI Javon Kinlaw: "The dude is huge. He's a monster. I feel like he's definitely gonna have an All-Pro year the way that he's going right now. He's running all the way to the ball and he looks in phenomenal shape."
ANALYSIS: All-Pro status is a lofty expectation for Kinlaw, San Francisco's 2020 first-round draft pick. He was one of 14 interior defenders who saw at least 300 pass-rushing snaps but failed to notch 20 quarterback pressures. His 7.2% win rate ranked 45th out of 53 among that same subset of players. Pump the brakes for now on Kinlaw, although it's still incredibly early in his NFL career.
minicamp POINTS IN BRIEF:
Note: The San Francisco 49ers canceled their 2021 mandatory minicamp. Both quotes are from their OTA press conferences.
---
NOTABLE OTA QUOTE — QB Russell Wilson: "Gabe Jackson is a spectacular football player. Watching his tape, watching his film, he is tough as nails. He can do everything. I'm excited to play behind him. He's a really special player. He's been great in meetings, too."
ANALYSIS: The Las Vegas Raiders purged major strengths of their offensive line this offseason, allowing Seattle to bring in a top guard. Quarterback Russell Wilson aired his grievances about getting hit too much, and Seattle went to work to keep their star signal-caller in town.
Jackson didn't allow a sack on 308 pass-blocking snaps in 2020, furthering a career trend of keeping his quarterbacks off the ground. Across seven NFL seasons and more than 4,000 pass-blocking snaps, Jackson has surrendered just 13 sacks and 14 quarterback hits.
OTA POINTS IN BRIEF:
NOTABLE MINICAMP QUOTE — HC Pete Caroll: "I've been really impressed with Stone Forsythe — his work that he's done to get caught up — and he had a great experience in college. He played three years at Florida in a great level of competition and has been a starting left tackle against a lot of really good players. And it shows."
ANALYSIS: Mike Renner said of Forsythe in PFF's 2021 NFL Draft Guide:
"At 6-foot-9 and 315 pounds, he looks big even by offensive line standards. While that height and length combination does him some favors, it also hinders him. He's consistently able to land the first punch in pass protection. At the same time, though, Forsythe almost can't help defensive ends from getting underneath his shoulder pads."
Forsythe posted a sub-70.0 run-blocking grade in his final season at Florida while also recording a 70.0-plus pass-blocking grade. He never completely faltered in either facet over the course of a season, but he never shined, either.
minicamp POINTS IN BRIEF:
NOTABLE OTA QUOTE — OC Byron Leftwich: "It's all over [Jaelon Darden's] college tape. … Very fast, very similar mannerisms to [Antonio Brown]. I think it'll be good that he's in the same room with him. Skill sets are similar. Obviously, that's a big order to put on anybody, but I just remember AB being a rookie, being a player on that team. They are very similar football players."
ANALYSIS: Rookie wide receiver Jaelon Darden will seemingly be tasked with living up to monumental expectations in 2020. While coaches aren't shy about praising players during offseason training, to be compared with Antonio Brown — the same player who earned a 90.0-plus grade three times over an unheard-of four-season stretch — is one sizable mountain to ascend.
But Darden has the skill set to eventually do it. He broke out in 2020, reeling in an astounding 19 touchdowns to rank second to only Eagles wideout DeVonta Smith. He was unable to snag a single contested catch, but he'll now have Tom Brady as his quarterback.
OTA POINTS IN BRIEF:
NOTABLE MINICAMP QUOTE — T Tristan Wirfs: "Something I've been working on is trying to stay off my toes when I'm run blocking so I'm not getting all top-heavy and leaning forward and falling over."
ANALYSIS: Wirfs was not only one of the best rookie tackles of 2020 but also one of the best at the position overall. His regular-season pass-blocking grade ranked 16th among 89 qualifying tackles, and while his run-blocking mark lagged only slightly behind (19th), he's made it an area of focus this offseason.
A career-high 93.2 run-blocking grade in Super Bowl 55 may have temporarily assuaged those concerns, but as is the case for every NFL player, Wirfs is looking to perfect his game.
minicamp POINTS IN BRIEF:
EDGE Shaq Barrett has sights set on Defensive Player of the Year award


---
NOTABLE OTA QUOTE — S Kevin Byard: "Something that was really talked about for us last year was obviously a historically bad year on third downs. So I think that's something we're stressing a lot just this OTAs, being better on third downs, really being aggressive."
ANALYSIS: The Titans' defense surrendered 79 first downs on third-down pass plays in 2020, making them the second-worst team in the NFL in such situations. On the same subset of plays, Tennessee notched the fewest defensive stops of any NFL squad and was one of seven teams to give up 10 or more touchdowns. Defensive-minded head coach Mike Vrabel is looking to nip the issue in the bud early on during offseason activities.
OTA POINTS IN BRIEF:
NOTABLE MINICAMP QUOTE — DC Shane Bowen: "I think it's huge getting [Janoris Jenkins] in here. He's a pro. … Obviously, there's little things here and there that he's still catching up on, but you feel his presence out there. You feel his presence in the room along with Kevin [Byard]. You feel his presence in the unit, talking to other positions."
ANALYSIS: The veteran Jenkins is on to his fifth NFL team. The Titans lost Adoree' Jackson in free agency, leaving them with an incredibly young cornerback room. Caleb Farley, the team's top pick in the 2021 NFL Draft is set to man the other outside spot.
Jenkins' experience will be an asset to the rookie and the group as a whole. His 84.1 passer rating allowed since 2015 is the 15th-best mark among 48 cornerbacks who have faced 300-plus targets over that span. Jenkins is a much-needed veteran presence within an otherwise untested Tennessee cornerback unit.
minicamp POINTS IN BRIEF:
T Taylor Lewan's knee is "doing really well" after he tore ACL in 2020


---
NOTABLE OTA QUOTE — WR Curtis Samuel: "[Moving around the field] is great. It's fun, just being in different parts of the field, creating so many mismatches for the team. Being able to move around, it confuses a defense to open up things for other guys. It makes it tough on defensive coaches because they gotta game plan differently."
ANALYSIS: Curtis Samuel is a weapon from all areas of the field. No wide receiver took more handoffs (41) than him in 2020, and he even featured as a slot receiver after playing primarily on the outside during his first three NFL seasons. We won't know how he'll be used in his first season with the Washington Football Team Samuel until Week 1 hits, but he's capable of lining up anywhere on offense.
OTA POINTS IN BRIEF:
NOTABLE MINICAMP QUOTE — EDGE Chase Young: "Even going into my rookie year, I had did something to my hip before even the first game. So even going into the Eagles game, my hip was messed up. And then my groin had pulled in the Browns game probably because of my hip, and nobody knew about my hip. I feel like my biggest thing this year is coming into the season just 100% healthy."
ANALYSIS: Chase Young played through injuries even more so than initially thought? Offensive tackles around the league are quivering at such a thought.
Young began his NFL career with four pressures against the Eagles in Week 1, two of which were sacks. He recorded another four in Week 2 before being pulled early against Cleveland in Week 3 with the aforementioned groin injury. He eventually put up an 87.2 overall grade — the highest regular-season mark by a rookie edge defender since Von Miller and Aldon Smith in 2011.
minicamp POINTS IN BRIEF: