As we inch ever closer to the 2021 NFL season, there is still ample time to set the stage through player and team unit rankings.
After diving into individual linebackers and ranking the top 32, it's time to rank linebackers units.
For the purposes of these rankings, we are looking only at true off-ball linebackers, as 3-4 outside linebackers — though designated as a linebacker — are in truth edge rushers. Therefore, they are included in our defensive line rankings despite dropping into coverage at times. With that in mind, some of these units have fewer members than others.
View PFF's 2021 position rankings: 
QB | RB | WR | TE | OT | OG | C | DI | EDGE | LB | SCB | OCB | S
Subscribe to
The 49ers are one of the few teams to have multiple players featured in PFF's ranking of the top 32 linebackers entering 2021, and that makes them a very difficult group to top as a unit. Fred Warner wasn't the top-ranked linebacker, but he has outgraded Bobby Wagner (who was) in coverage over the past two seasons and was the No. 1-graded linebacker (88.6 overall) in the league last season. Dre Greenlaw is a solid player but isn't coming off his best year alongside Warner.
If the Seahawks still had K.J. Wright, they would comfortably field the NFL's best linebacker unit, but with Wright still a free agent, this unit is carried by Bobby Wagner. With the team deteriorating around him, Wagner has been put in ever-tougher positions, but he still has a top-five overall PFF grade over the past two seasons. He recorded 20 total pressures, 53 defensive stops and seven pass breakups in 2020. Jordyn Brooks is a work in progress, but we saw flashes of what he's capable of as a rookie last year.
Lavonte David is one of the best linebackers in football, and you don't need to go back further than the Super Bowl to see evidence of it. While Travis Kelce had been destroying the rest of the league, regardless of position, David was able to notch a pair of pass breakups when covering him. Devin White is viewed as a star by many because of the high frequency of positive impact plays he makes (tied for sixth in tackles for loss or no gain over the past two years), but he also gives up a lot of negative plays. Those obviously hurt the team, but they are often harder to identify at first glance. 
Denver's linebacker group may lack flashy names, but Alexander Johnson and Josey Jewell represent a remarkably consistent and well-rounded duo in the middle of their defense. The pair combined for 100 defensive stops in 2020, and neither player missed double-digit tackles nor surrendered more than two touchdowns in coverage. If Johnson can return to his 2019 form, then the Broncos' linebacker group will be difficult to get past.
The Colts' unit is another that feeds off the star power of an individual. Darius Leonard has been one of the best linebackers in the game since he came into the league, and while 2020 wasn't his finest season, he still finished the year with good PFF grades of at least 67.0 in every facet of play we measure. Bobby Okereke was significantly better as a rookie than in Year 2, but if he can steady the ship after an ugly sophomore campaign, the Colts will justify this spot.
To accept Dallas this high on the list, look beyond the disaster that was their 2020 season and acknowledge the talent they have at the position, particularly factoring in rookies. Jaylon Smith and Leighton Vander Esch were both poor in 2020, with neither earning an overall PFF grade above 55.0 and injuries also being a factor. Each player has a previous season with an 84.0-plus grade on their resume. They are now joined by Micah Parsons, the best linebacker prospect to enter the league in several seasons. This unit has incredible potential, but it needs to translate that into real production.
New England's linebacker group is in flux right now, but Dont'a Hightower's return should give them back one of the cornerstone pieces of their defense. Hightower opted out of the 2020 season but will make his way back in 2021, adding veteran savvy and quality to an otherwise young unit that got some much-needed experience last year. None of the Patriots linebackers missed more than seven tackles in 2020, showing the kind of sound fundamentals you would expect from a Bill Belichick-coached unit.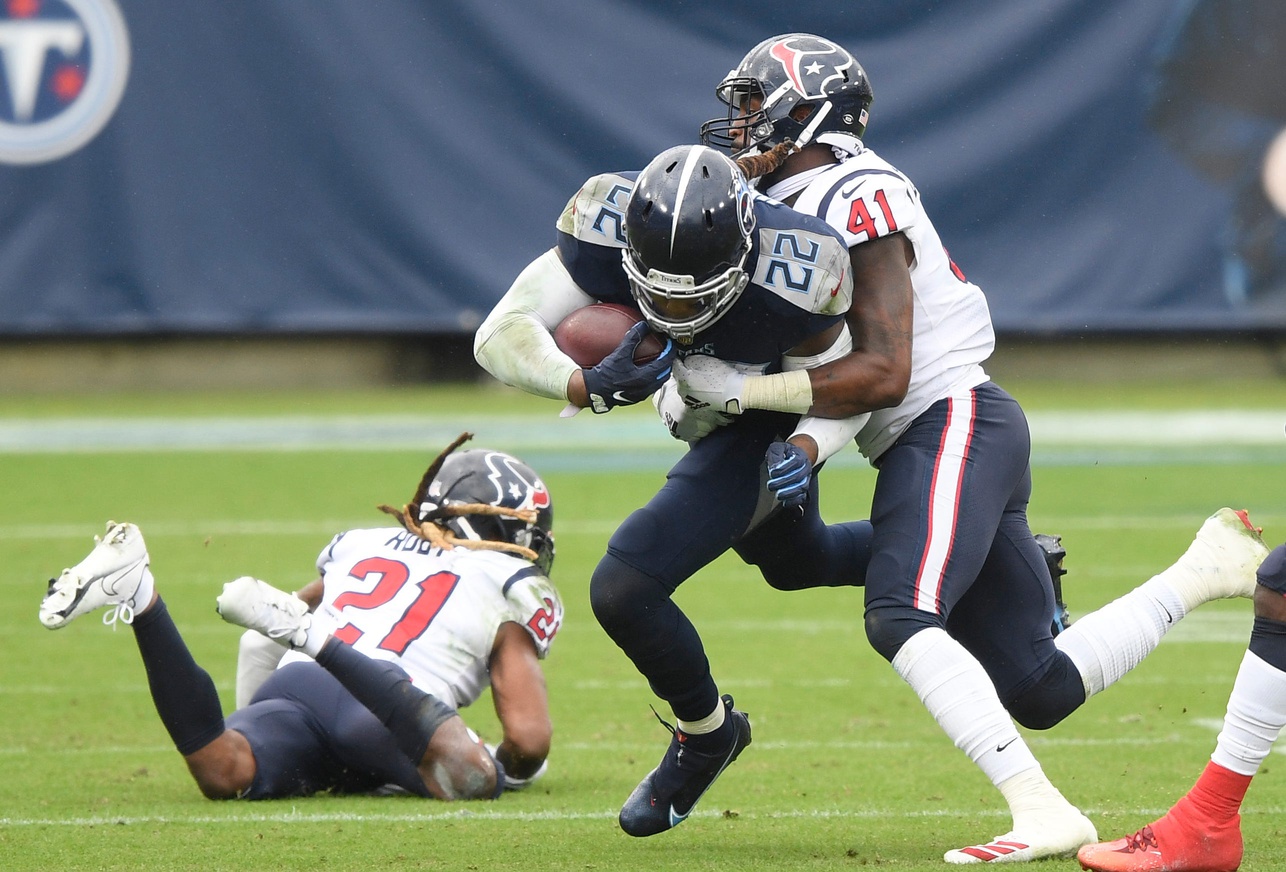 Houston is building what looks like a  disaster almost across the board right now, but one exception to that is their linebacker group, which is impressive on paper. Zach Cunningham is a tackling machine, leading the league not just in tackles last season, but in defensive stops, as well. Christian Kirksey and Kamu Grugier-Hill are capable depth players, and Kevin Pierre-Louis has earned the third-best PFF coverage grade of any linebacker over the past two seasons, albeit on a smaller sample size than most. He could be a real value signing in free agency.
Eric Kendricks has the best PFF coverage grade of any linebacker in the NFL since the start of the 2019 season (91.7), as well as the most forced incompletions (17) and the highest forced incompletion rate (14.9%). He is one of the best coverage linebackers in the game, and if the Vikings can coax the best play out of any of Anthony Barr, Nick Vigil or rookie Chazz Surratt alongside him, they will really be cooking.
Demario Davis has been a star for the Saints since signing with the team, and he is one of the more sure tacklers in the league. Only Eric Kendricks has a higher overall PFF grade than Davis since the start of the 2019 season, and he has 107 defensive stops over that time, a top-five mark. Rookie Pete Werner is likely to start alongside him, which is a significant question mark, but Davis has been so good over the past two seasons that he alone is worth this ranking.
Roquan Smith was one of the best coverage linebackers by PFF standards when coming out of Georgia, and he put it all together at the NFL level last season. His PFF 84.0 coverage grade ranked fourth in the league, and he allowed just a 75.8 passer rating into his coverage, some 30 points lower than the average linebacker target. Danny Trevathan is coming off a season with a sub-40.0 overall PFF grade, so his time of making a positive impact may be over, leaving the team to hope that somebody such as Joel Iyiegbuniwe can win the job in camp.
It's been a couple of years since Deion Jones has been at his very best, but he has yet to put forth a poor season at the NFL level. He is consistently one of the best coverage linebackers in the league, both dropping into space and flying toward plays underneath. Outside of Jones, the Falcons are waiting for some young players to step up and improve, with the likes of Foyesade Oluokun and Mykal Walker showing merely flashes rather than consistent plus play thus far in their NFL careers.
The Steelers ask a lot of their inside linebackers, and because of that, we are waiting on Devin Bush to earn the kind of grades his talent suggests he should. The best endorsement of his impact thus far has arguably come from what happens when he isn't in the lineup. Vince Williams returns for 2021, but he is coming off a career-low 50.3 overall grade and has never been a plus player in coverage.
The Bills would be much higher than this on name recognition, but Tremaine Edmunds has been more hype than overall production thus far. His highlights are spectacular, but so are his lowlights, and he has yet to finish a season with a PFF grade higher than 60.0. He's also missed 57 tackles in three seasons. Matt Milano has been much better, giving up just two touchdowns in coverage in two seasons. A.J Klein played over 600 snaps last season as Milano dealt with injury, but he recorded only a 46.1 overall PFF grade.
Blake Martinez has racked up 109 defensive stops over the past two seasons, the third-most in the league. He is coming off the finest year of his career and the first in which he matched his best play in coverage with his best play against the run in the same season. However, the Giants don't have much outside of Martinez, relying on journeyman run-stuffer Reggie Ragland alongside him.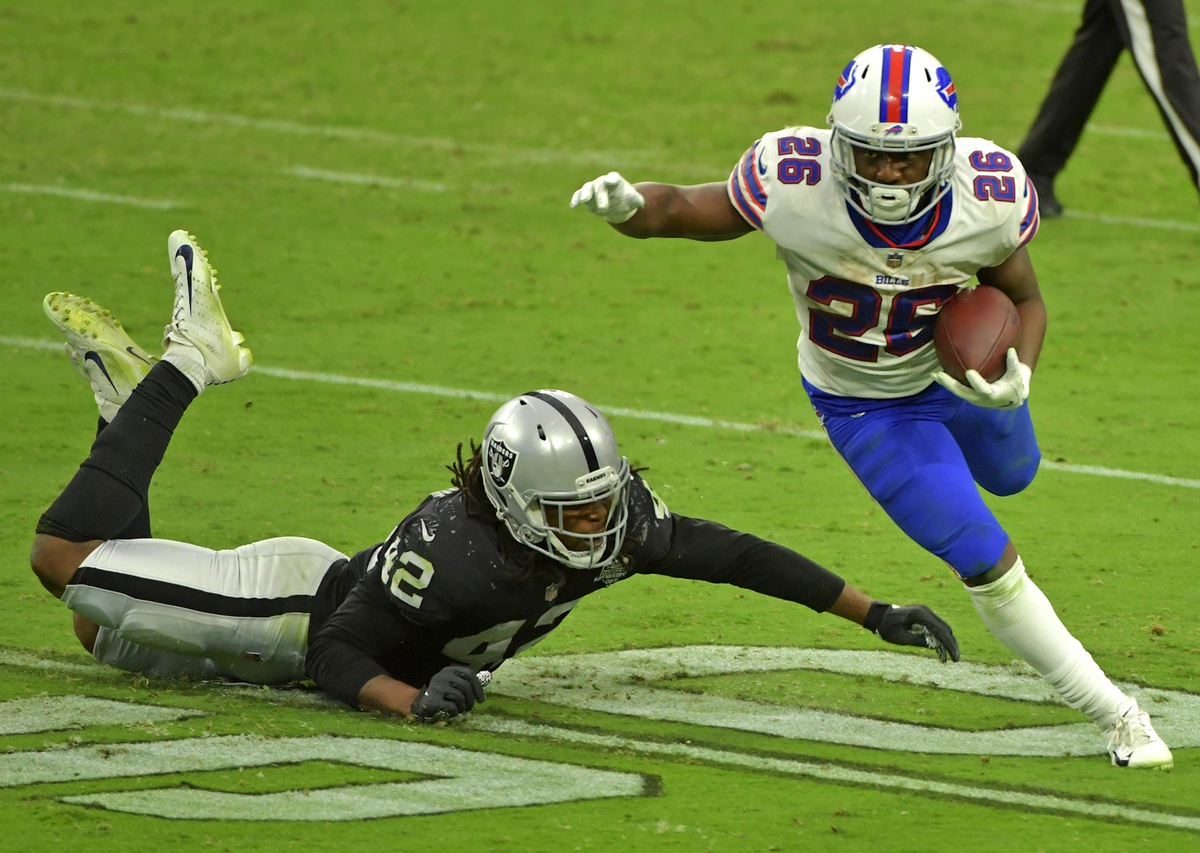 The Raiders' linebacker group was supposed to be vastly improved in 2020 with the addition of Cory Littleton, who had PFF coverage grades of at least 80.0 in back-to-back years with the Rams before signing as a big-money free agent. Littleton's first season in Las Vegas ended with a coverage grade of 49.7, though, leading to questions about what went so wrong. Nick Kwiatkoski was the better of the two new additions, but the Raiders need Littleton to rediscover his best play going forward.
For the first month of the 2020 season, Myles Jack was the best linebacker in the league before tailing off and recording a series of below-average games down the stretch, bottoming out with an ugly 29.3 PFF game grade against the Ravens. Jack has huge physical talent but rarely sustains consistently high-level play. Joe Schobert hasn't performed at his best in Jacksonville yet, and it remains to be seen what kind of impact the new coaching staff will have on the group going forward.
Jayon Brown came in at No. 12 in PFF's linebacker rankings, but former first-round pick Rashaan Evans has failed to develop as expected. Evans hits like a Mack truck, but he often fails to put himself in the right position and has struggled in coverage most of all, allowing a catch on 79.7% of the passes thrown his way in his NFL career. Third-round pick Monty Rice may have an opportunity to earn that job sooner rather than later.
Patrick Queen made a lot of plays in his rookie season, but he was also destroyed in all facets of the game regularly, and the overall net result of both extremes was a mere 29.7 PFF grade. The number of big plays he made is encouraging for a second-year leap, however, and while L.J. Fort isn't an exciting name, he played well when forced into action last season, giving the team some real contingency in case Malik Harrison doesn't emerge in 2021.
Shaq Thompson had five straight seasons of good to very good PFF grades to start his career, but after Luke Kuechly retired, Thompson earned a 49.8 mark in 2020 on a defense that was chock-full of young players. Denzel Perryman is a hard-hitting run specialist who is coming off a career year and could add some real steel alongside Thompson. Rookie Paddy Fisher went undrafted but posted spectacular PFF grades earlier in his college career. He could be a surprise bonus.
It isn't easy for rookie linebackers to adapt to the NFL so soon, but Kenneth Murray acclimated himself pretty well in 2020, all things considered. He missed only nine tackles on the year, and while he was targeted and exploited in coverage, he also made some plays on his side of the ledger there in return, with three pass breakups — including a critical one late in the game against Kansas City. If Drue Tranquill takes a step forward along with Murray, the Chargers could leap up this list quickly. 
The potential within the Arizona linebacker corps is off the charts, but to date, it remains potential only. Isaiah Simmons was a special prospect a season ago, with a freakish blend of size, speed and experience in coverage that made him a mouth-watering prospect at linebacker, but he was attacked by opposing offenses in his first year. Simmons ended up playing only 376 snaps en route to a sub-60.0 PFF grade, coughing up five touchdowns in coverage in that time. Zaven Collins, the Cardinals' 2021 first-round rookie,  provides similar reasons to get excited, but recent history says don't expect much in Year 1.
The Chiefs' linebacker unit is another with a lot of potential, but we may not see it on full display in 2021. PFF was high on Willie Gay Jr. as a draft prospect, ranking him 39th on our final Big Board. Gay played 269 snaps as a rookie and managed three pass breakups. He has the makings of a high-level coverage linebacker, but we need to see it over a full season of play. Second-round rookie Nick Bolton possesses the kind of seek-and-destroy ability that could see him more readily translate than many linebackers recently. In 2019, he produced a 91.1 PFF grade in his heaviest workload in college.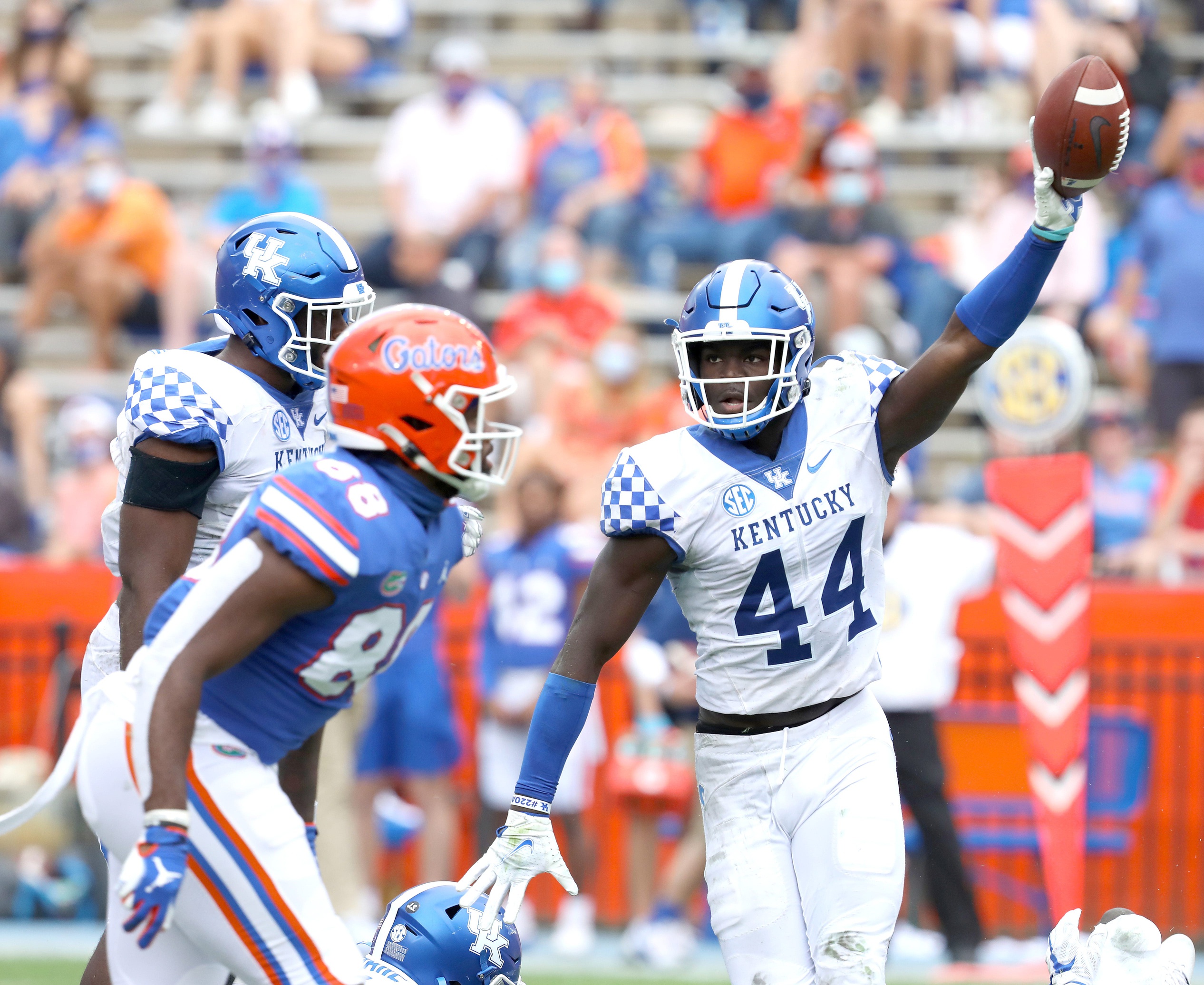 The performance of this group rests on first-round rookie Jamin Davis, and rookie linebackers have been struggling to transition to the NFL in recent seasons. Just four linebackers over the past five seasons have earned an overall PFF grade above 71.0 as a rookie. Cole Holcomb has been improving consistently in his two years at this level, including above-average PFF grades in all facets of play last year. Jon Bostic has struggled lately, so he could face pressure to maintain a starting spot from David Mayo and Davis.
The ranking of the Jets' linebackers depends somewhat on whether we finally see C.J. Mosley take the field. Mosley has played just two games and 114 snaps since signing a big-money deal with New York. Though he was viewed league-wide as a star, he has always earned good-not-great PFF grades of between 66.0 and 76.0, so expecting him to be a stud — even without factoring in the layoff — seems optimistic. Jarrad Davis is an intriguing reclamation project as a former first-round pick, but in his first three seasons of extensive play, he didn't earn an overall PFF grade higher than 53.0, bottoming out with a disastrous 38.6 mark in 2019.
Benardrick McKinney was limited to just 234 snaps last season due to injury, but before that, he had earned five straight average or better PFF grades. If he can return to full health, he should be a significant upgrade to the defense. Jerome Baker regressed after an impressive rookie season, earning overall PFF grades of just 46.7 and 55.2 over the past two seasons. Baker rediscovering his rookie form would completely transform this unit's outlook.
Cleveland's linebacker corps struggled last season, so much will be expected of second-round pick Jeremiah Owusu-Koramoah going forward. But even though he is tailor-made for today's NFL, it might be a bumpy transition. Sione Takitaki was impressive against the run, earning an 86.3 PFF grade in that area while struggling in coverage. Malcolm Smith, Anthony Walker and Mack Wilson provide useful depth, but the Browns need that difference-maker in coverage. Hopefully for them, Owusu-Koramoah is it.
Jamie Collins enjoyed his first solid season outside of New England in 2020 for the Lions, and with the scheme only getting more player-friendly from a year ago, we might expect him to be even better in 2021. Collins forced three fumbles, matching his total from 2019, and has allowed two touchdowns in coverage over the past two years. It will be more of a lottery next to him, with little in the way of proven quality. Alex Anzalone might have the best play on his resume, but he's an injury concern and hasn't shown that best play in some time. Jahlani Tavai earned just a 32.1 overall PFF grade last season.
The Eagles' linebackers were historically bad last season, seemingly attacked and exposed in coverage on a weekly basis. Passes targeting Philadelphia linebackers generated a 113.9 passer rating and were open targets 66.1% of the time — both far from ideal figures. The team brought in Eric Wilson from the Vikings and returns T.J. Edwards, the best-graded member of the starters last year. This group could still use some help, but it likely won't be coming until next offseason.
The Rams seem to be of the opinion that the linebacker position doesn't need much investment. They allowed Cory Littleton to walk for big free agent money, and the players currently occupying their off-ball roles were drafted in the fourth and fifth rounds in recent years — only one of which the Rams selected themselves. Neither player earned a PFF grade above 40.0 last season.
Cincinnati's linebacker corps has been a problem for years, and it's still an issue on paper heading into the 2021 season. Nobody likely to see significant playing time posted an overall PFF grade higher than 61.0 last year, and two of the three proposed starters earned grades of 41.5 or lower. The best hope for Cincinnati's linebackers may be an improved defensive line in front of them.
Green Bay actually saw some impressive play from Kamal Martin — a fifth-round rookie — last season, albeit on just 190 snaps, but he looks set to be a backup once again in favor of players who earned PFF grades in the 40s. Throwing at Green Bay's linebackers last season generated a 121.0 passer rating, the second-highest mark in the NFL.