It's always good to have a fantasy football draft strategy, and that doesn't start with the minute you sit down to actually conduct your draft. Personally, before my draft, I print out both a copy of the PFF Fantasy staff rankings and a copy of the ADP from the site I'm using to draft. As the draft progresses, I'll cross off names from both lists and make my selections based on general research and our rankings.
By about the fifth or sixth round, the values become glaring. According to PFF's sheet, there will always be a few players still listed who should have been taken off the board rounds ago but are still a few picks away according to my ADP sheet. I'll then move these players to the top of my queue, as these are likely the current best values in my draft.
Individual site ADP is heavily influenced by casual drafters, and if it is true that PFF's experts are the best in the business — and it is — then that site's ADP is inherently inferior. One of the biggest advantages you can gain as a drafter is by exploiting your draft site's specific ADP. You can use the method I outlined above (if you're more old-school like I am), or you can use our DraftMaster tool, or, well, you can read this.
Below I will be listing a number of the most undervalued players (per PFF's rankings) on Yahoo drafts. These players will be ranked in order of their Yahoo ADP. You can check out our rankings if you're a subscriber.
(Yahoo ADP: WR7, 19th overall)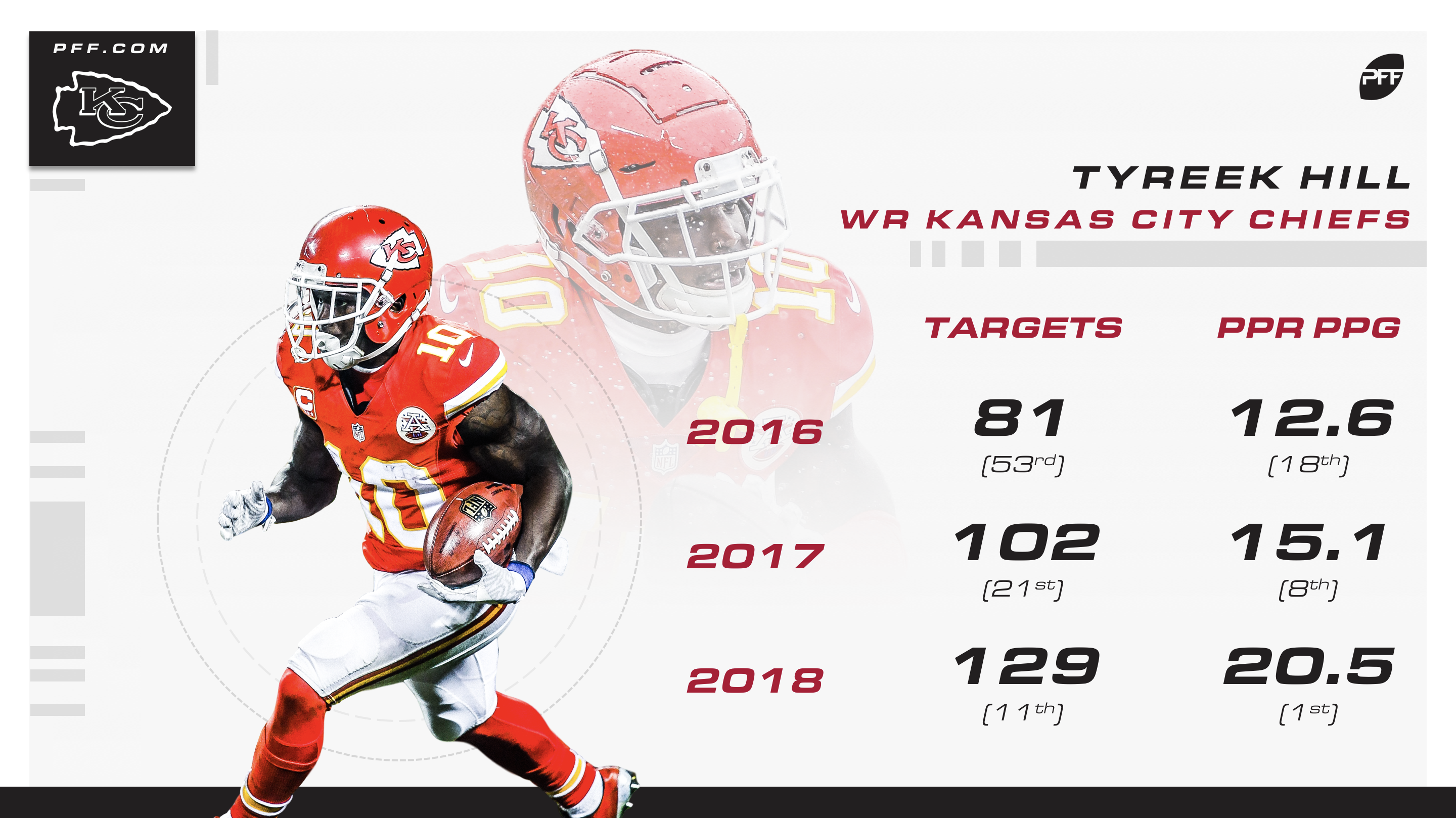 Hill is
fantasy football's most efficient wide receiver
, ranking first, eighth, and 18th in total fantasy points over the past three seasons, despite ranking 11th, 21st, and 53rd in targets in those years. Even if Kansas City regresses in 2019, as everyone expects, he has no business going this late.
(Yahoo ADP: RB18, 35th)
It seems Yahoo's ADP hasn't yet to adjust to the news of Detroit releasing Theo Riddick, but our rankings certainly have. I wrote earlier why I finally feel comfortable drafting Johnson as early as the late second round. Yet, on Yahoo, you can get him in the late third-round.
(Yahoo ADP: WR19, 41st)
Last year, including the postseason, Edelman averaged 18.3 fantasy points per game after returning from suspension (which would have ranked 10th-best over the full year), while also reaching at least 16.0 fantasy points in 80% of these games (second-most). Edelman also averages 18.6 fantasy points per game across his last 16 games (postseason included) without Rob Gronkowski on the field. For perspective, that would have ranked ninth-best at the position last year. Somehow – and I have no idea why, so don't ask me – he's priced at just WR19 on Yahoo.
(Yahoo ADP: RB19, 44th)
Fournette is probably the single greatest ADP value on Yahoo this year. In 2017 (postseason included), He ranked sixth in fantasy points per game (18.1) and third in touches per game (23.8). In 2018, he ranked 12th in fantasy points per game (15.1) and seventh in touches per game (19.4). That makes it seem like he fell off a cliff (likely playing a role in his lowly ADP), but these stats need more context. Fournette played in eight games last year but saw the field in just 26 (of a potential 32) quarters due to ejection and injury. Once adjusted for that, it becomes clear Fournette saw little dropoff in production or usage, averaging 18.5 fantasy points (ninth-most) and 23.8 touches (second-most) per four quarters. If he stays healthy (okay, big if), Fournette has better odds of finishing top-five than he does of finishing anywhere near this low.
(Yahoo ADP: RB20, 45th)
Jacobs checks all of the boxes you want to see from a rookie running back: talent, promise of bell-cow usage from the front office, and high invested draft capital. As Mike Clay has pointed out, seven of the 11 first-round running backs drafted since 2012 have finished top-10 at the position in their rookie years. Jacobs has better odds of joining that group of names than he does of finishing this low.
(Yahoo ADP: WR22, 48th)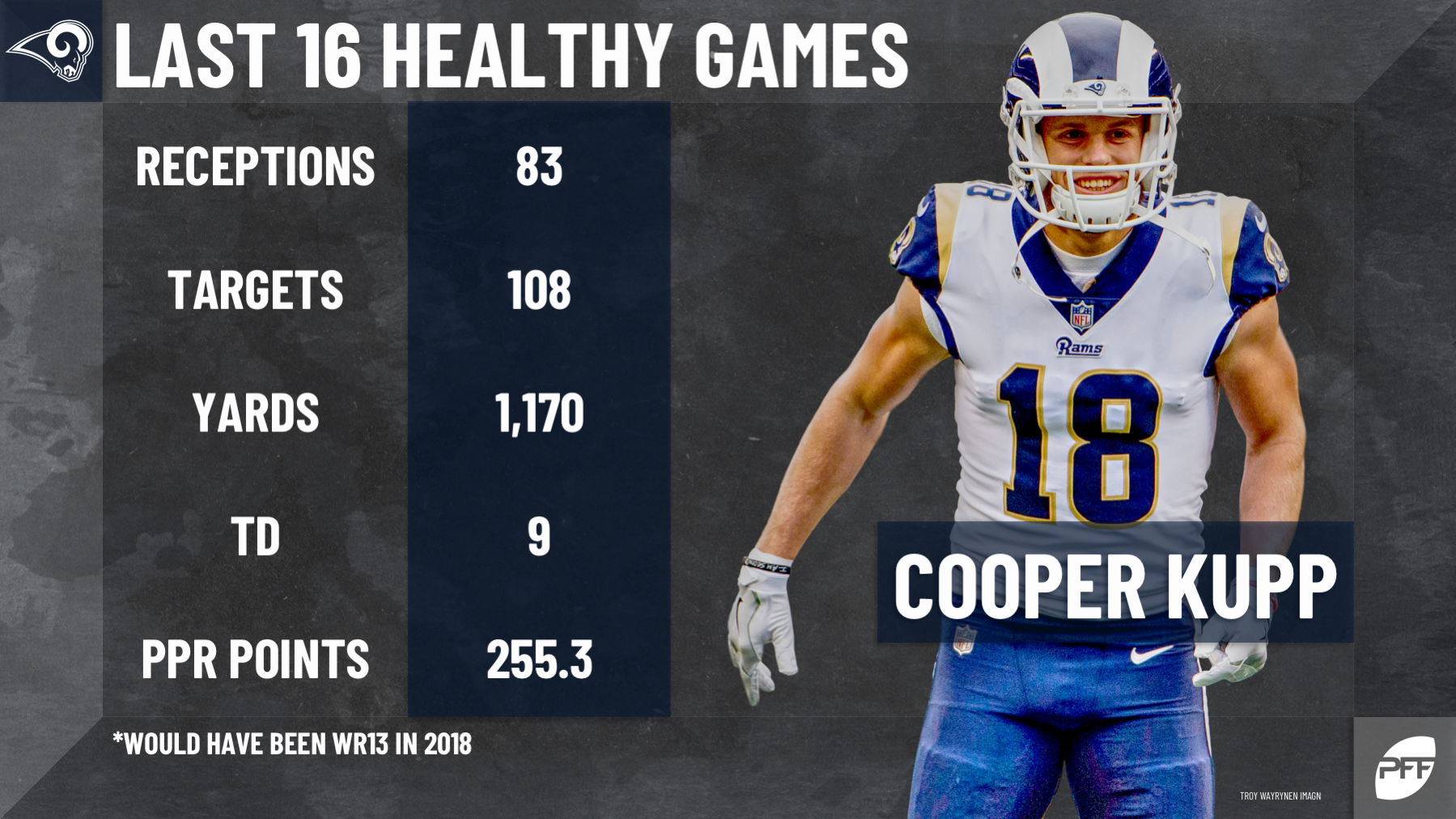 Kupp averaged 15.4 fantasy points per game across his final seven games in 2017, which would have ranked 10th-best over the full season. Last season, Kupp averaged 16.6 fantasy points per game, which ranked 14th among wide receivers. If we exclude games he left early due to injury, that number jumps to 20.6, which would have ranked fifth-best last year. Any way you look at it, Kupp seems like a terrific value at ADP.
(Yahoo ADP: RB24, 60th)
I typically avoid running backs without bell-cow potential, but Carson's ADP is too attractive to ignore. As I tried to show here, following Mike Davis' departure, Carson has better odds of finishing as a fantasy RB1 than he does of finishing this low.
(Yahoo ADP: RB28, 72nd)
If the Dolphins rank perfectly average in plays per game this year — and not dead-last like where they ranked last year under Adam Gase — we should expect the Dolphins to run eight more plays per game this year. For perspective, that would have been worth an additional 60.1 fantasy points to Drake — the difference between him ranking 14th at the position and ninth. Though he's deserving of a bell-cow workload, he might not officially be the team's "starter" this year. Even if that's true, he's the safest bet to lead Miami's running backs in PPR points. Even if Kalen Ballage gets the majority of the team's early-down carries, Drake will get the more valuable work, as the team's primary pass-catching running back, on a team that's projected to finish dead last in the win column. He's not an exciting pick but he is a good value.
(Yahoo ADP: WR35, 79th)
Watkins is finally healthy (for now). So long as that remains true, he gives you a massive edge over your opponents at current ADP. Last season, Watkins averaged 13.6 fantasy points per game when playing on at least 20% of the Kansas City's snaps. This would have ranked 25th-best at the position last year.
(Yahoo ADP: WR36, 83rd)
Green's status for Week 1 is up in the air (at best), but even if he misses multiple games, he's still a screaming value at current ADP. Over the past seven seasons, Green ranks 15th, 11th, fourth, 12th, 16th, fifth, and third in fantasy points per game. Grabbing him at WR36 gives you a massive advantage over your opponents when he's actually on the field and when it matters most (the fantasy playoffs). If it's not Fournette, Green is the best overall value by Yahoo ADP.
(Yahoo ADP: RB32, 87th)
Henderson is a boom-or-bust middle-round pick. His talent is a given, but with Todd Gurley (and his arthritic knee) in front of him, he might be league-winner or he might not ever crack your starting lineup. Still, Henderson's risk is well worth the reward at current ADP.
(Yahoo ADP: WR40, 95th)
With Kenny Golladay now (at least supposedly) taking over as the team's WR1, Jones reprises the WR2 role that left him ranking 27th and 14th in fantasy points per game (or 23rd and 20th in expected fantasy points per game) across the past two seasons, both numbers ranking well above his current ADP.
(Yahoo ADP: RB36, 97th)
This time last year, Guice had an early-fourth-round ADP. He typically goes in the late eighth round on Yahoo. That's great value for a guy whose range of outcomes fluctuates between Adrian Peterson in 2018 (19th in fantasy points) and being a potential league-winner. At the combine this year, Jay Gruden told Matthew Berry, "[Guice] doesn't have to come off the field on third down." Berry continued, "Gruden expanded on that, saying that though LSU never really used him in the pass game, the Redskins discovered last year in practice and OTAs that's he's a really good pass-catcher, and they will use him in that role this season." While a running back by committee situation is the most likely outcome, that sort of upside makes him a great value.
(Yahoo ADP: WR42, 102nd)
Allison is Green Bay's starting slot wide receiver, and, luckily for him, Aaron Rodgers loves throwing to the slot. Over the past 10 seasons, Rodgers has targeted wide receivers out of the slot on 25.6% of his throws (fourth-most among quarterbacks) with a 111.6 passer rating (best). Allison played in only four full games last season but averaged 7.3 targets and 15.0 fantasy points per game across this stretch. Since Rodgers was named the starter in 2008, Green Bay's WR2 has yielded two WR1 seasons, four WR2 seasons, two WR3 seasons, and two WR4 seasons for fantasy. On Yahoo, however, you can get him at just a low-end WR4 price-tag.
(Yahoo ADP: RB37, 104th)
Last season, Ekeler ranked:
Sixth of 61 running backs in PFF grade (83.6);
Seventh of 56 running backs in elusive rating (67.6);
Sixth of 56 running backs in yards per carry (5.23);
Seventh of 31 running backs in yards per target (7.62)
All these numbers ranked better than Melvin Gordon's, who hit 4.0 yards per carry for just the first time in his career last year and is now threatening to holdout. With just a ninth-round price tag, Ekeler is a screaming value, even if a full bell-cow workload in Gordon's absence isn't a guarantee.
(Yahoo ADP: WR44, 110th)
Sutton graded out poorly in his rookie year (77th of 118 qualifiers), but it's hard not to get excited about the second-round pick's potential in Year 2. His only real competition for targets are a rookie tight end, a 32-year-old wide receiver coming off of a late-season Achilles tear, and DaeSean Hamilton (who graded far worse than Sutton).
(Yahoo ADP: TE15, 122nd)
Last year, Walker played in just one game before dislocating his ankle and spending the rest of the season on IR. Across the previous four seasons, Walker finished sixth, sixth, third, and seventh among tight ends in fantasy points per game. He also led Tennessee's receivers in expected fantasy points per game in each of those seasons — and that sort of volume could return in 2019, with Walker's former tight ends coach (Arthur Smith) now calling the plays.
(Yahoo ADP: WR62, 126th)
Like with Green, Tate is going to hurt you to start the year (four-game suspension), but he'll be back for you when it matters most. Tate has long been a favorite of mine, and, I think, a good bet to outscore Sterling Shepard on a per-game basis and return mid-range WR3 value when he's on the field. The early-season zeroes are going to be worth that return on investment.
(Yahoo ADP: RB49, 149th)
Barber is one of the most unsexy picks you can make in fantasy drafts this year. He's never done much for fantasy and is likely stuck in a low-upside committee again this year, but he is a value. Barber is likeliest to remain the team's lead back, and started for the team in Week 1 of preseason. If that remains true, he's an easy bet to beat his lowly ADP.
(Yahoo ADP: WR61, 167th)
Williams has long been one of the league's most efficient fantasy wide receivers on a per-target basis, though target volume has been far more suspect. He should see better volume this year, as Oakland's No. 2 receiver, and that's especially true now with Antonio Brown's Week 1 status (and whereabouts?) currently unknown.
(Yahoo ADP: WR62, 184th)
Humphries ranked 32nd in PFF grade and 24th in fantasy points last year. Somehow, he's going undrafted in the majority of leagues. Granted, he's on a new team, but he also chose that team for a reason – and over New England offering him more money. Maybe it was a desire for more consistent usage? In Week 1 of preseason, Humphries saw six targets on just seven routes.
(Yahoo ADP: undrafted)
As far as man crushes go, my love for Wilson borders on embarrassing. Of course, I'm not going to let Wilson go undrafted when I'm playing on Yahoo. He just needs to get healthy, and, ideally, earn full-time starting slot duties before I start reaching multiple rounds.
(Yahoo ADP: undrafted)
I really love David Montgomery, but Davis might be one of the best sleepers at the position, going undrafted in the majority of Yahoo leagues. This is despite the fact that he ranked 25th in PFF grade last season, and that Davis and Chicago beat writers both think he'll have an even bigger role in Chicago this year than the one he had in Seattle last year (112 carries and 42 targets). If true, that means Davis has stand-alone value in addition to upside as a handcuff. According to our rankings, Davis should be going in the 10th round of current drafts, rather than going undrafted like he is on Yahoo.
(Yahoo ADP: undrafted)
Brown is priced like a flier, and that's exactly what he is. He's not yet 100%, coming back from Lisfranc surgery, but if he were to return to 100%, the upside is high. As I've highlighted multiple times (looking at WR breakout age, the draft class leaders in yards per route run, and the draft class leaders in depth-adjusted yards per target), the first-round pick (top overall wide receiver) has all the markings of a special talent. He should be going late in drafts (and could be an easy cut if he struggles early on) but shouldn't be going this low.
Josh Gordon, WR, New England Patriots
(Yahoo ADP: undrafted)
Gordon is currently going undrafted in many Yahoo drafts but ranks a great deal higher in our rankings. Sure, he might not play a single game all year, but his upside is far more valuable than the cost to acquire him. Last season, while with the Patriots, Gordon averaged 2.15 yards per route run (12th-best), not far off his numbers across his previous three seasons: 2.01, 2.20, and 2.68. Gordon also averaged 11.8 fantasy points per game with New England, which would have ranked 29th-best last year. No other wide receivers have his talent or this sort of upside near his ADP range.
Other players who are going undrafted who shouldn't be: Duke Johnson Jr., Kareem Hunt, Giovani Bernard, C.J. Anderson, Ted Ginn Jr., Alexander Mattison, Brian Hill, Tony Pollard, Alfred Morris, Mecole Hardman, Justice Hill, Noah Fant, Darren Waller, Chase Edmonds, Phillip Dorsett, Quincy Enunwa, Trey Quinn, Marquise Goodwin, Malcolm Brown, Darwin Thompson, Ty Montgomery, and Tyler Eifert.