(PFF Fantasy is reacting to all the offseason moves from a fantasy football perspective. Follow along here.)
The New York Giants have reportedly signed WR Golden Tate to a four-year deal worth $37.5 million, which includes $23 million in guarantees. In effect, that makes Tate the 14th-highest-paid wide receiver in total guaranteed money, or the 19th-highest-paid wide receiver in total value. This seems like a strange move for a team that's supposedly in rebuild-mode, and though I don't love the fit, I do love the player.
Tate, 30 years old, is not Odell Beckham Jr., but he has historically been one of the league's most efficient wide receivers. In fact, by two metrics, he's arguably been the NFL's best wide receiver:
In each of the past eight seasons, among all wide receivers with at least 50 targets, Tate has ranked top-four in missed tackles forced per reception.
In five of the past six seasons, among all wide receivers with at least 50 targets, Tate has ranked top-four in yards after contact per reception.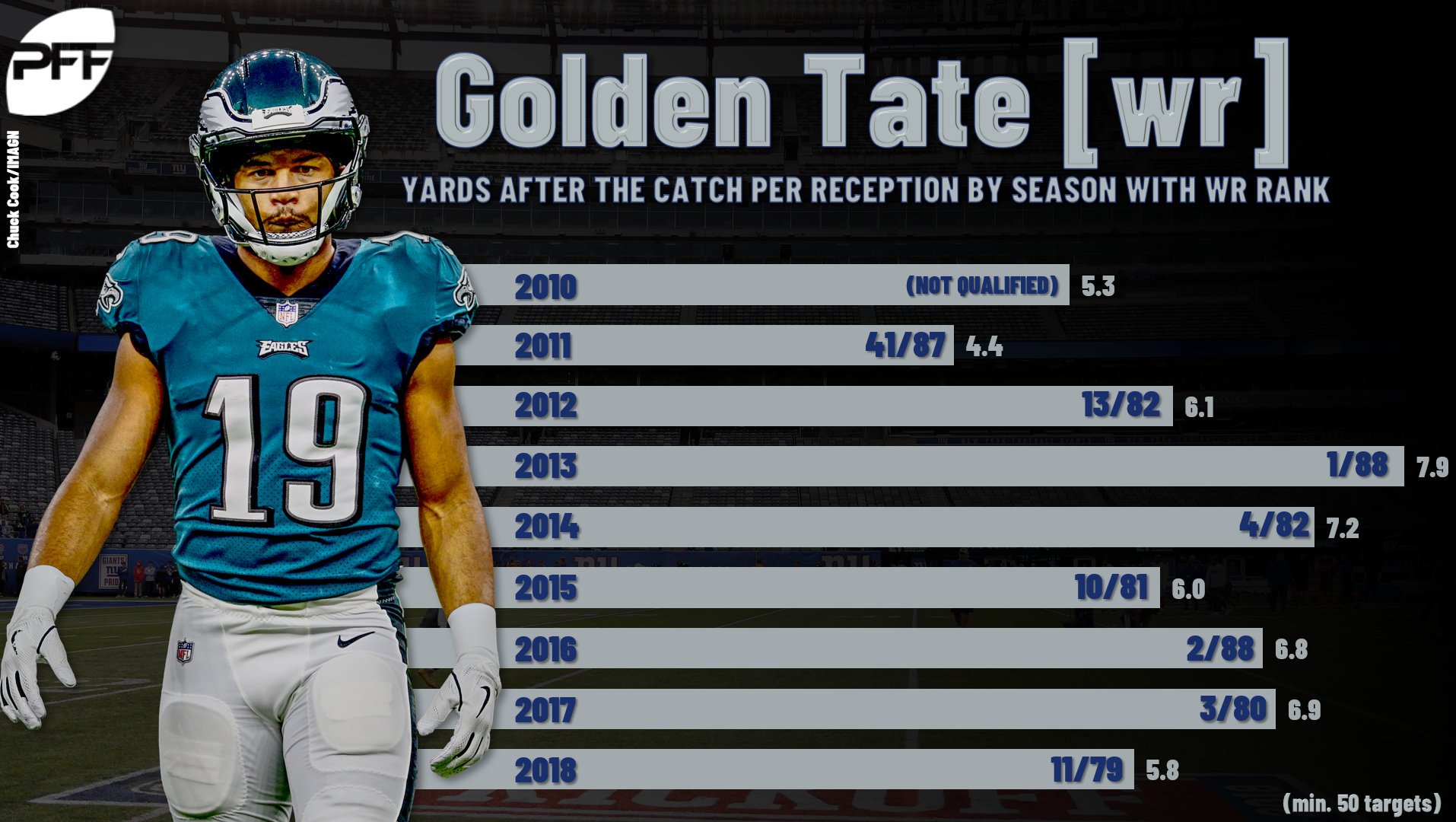 This paints the picture of Tate as one of the league's best slot wide receivers, or one of the league's best wide receivers once the ball is in his hands – and I think that's correct. He's also long been a reliable and productive fantasy asset.
Over the past six seasons, (starting with 2018), Tate has ranked 28th, 17th, 24th, 12th, and 30th in fantasy points scored. Although his short stint in Philadelphia was a disappointment, Tate has routinely been one of fantasy's most dependable wide receivers, and especially so in contrast to a typically much lower ADP. I expect that, despite the unideal landing spot, Tate will again prove to be a fantasy value.
Beckham's departure leaves 124 targets (across 12 games) unaccounted for in this offense, which is good, but the Giants are likely to be a much more run-heavy team in 2019, and one of Tate or Sterling Shepard is likely to be playing out of position. Throughout his career, Shepard has run 75% of his routes from the slot. Over the past two seasons, Tate has run 76% of his routes from the slot.
In 2017, Tate ranked as our seventh-highest-graded wide receiver (of 102 qualifying). That's good, but it's concerning that Tate's two-worst-graded seasons (since his rookie year) have come in 2018 and 2016. 2018 is notable because, well, it's his most recent season. 2016 is notable because unlike at any other point over the past five seasons, that year he ran the majority of his routes outside (73%).
Tate is currently WR46 by ADP and is unlikely to climb much higher given how this landing spot is perceived. I think either way he's a good bet to beat it, but I'd be much more optimistic if we received confirmation at some point in the offseason that he'll be the team's primary slot wide receiver. Either way, Sterling Shepard (WR48 by ADP) looks like someone to avoid.