We're barely one week removed from the 2019 NFL Draft and Los Angeles Rams rookie Darrell Henderson has already become one of the most talked-about and most polarizing players in 2019 fantasy drafts.
Henderson was one of my favorite prospects in the pre-draft process before adding to that on draft day, benefiting from good draft capital and close to an a ideal landing spot. The Rams traded up with the Buccaneers on Day 2 to make Henderson the 70th player (third running back) drafted. In the short term, Henderson's landing spot might not be as attractive as Oakland (Josh Jacobs), Chicago (David Montgomery), or Philadelphia (Miles Sanders), but he maintains good long-term upside and with league-winning potential in Year 1.
In two seasons with Sean McVay as head coach, we've seen Todd Gurley lead all non-quarterbacks in PPR points per game in back-to-back seasons. We also saw backup C.J. Anderson average 24.0 PPG across three games when Gurley was hurt last season.
There have been reports Gurley has arthritis in his knee, which prompted Dr. David Chao to suggest Gurley's days (seasons) of 300-plus touches are behind him. Last month, Gurley refused to answer whether he had a degenerative knee condition or arthritis. In any case, Henderson's most likely role (Rams RB2) is a valuable one, with Gurley likely coming off the field more in 2019 and given his long-term injury risks.
Henderson is also a special talent, and I wanted to spend the remainder of this space illustrating exactly how I know that to be the case.
Yards per carry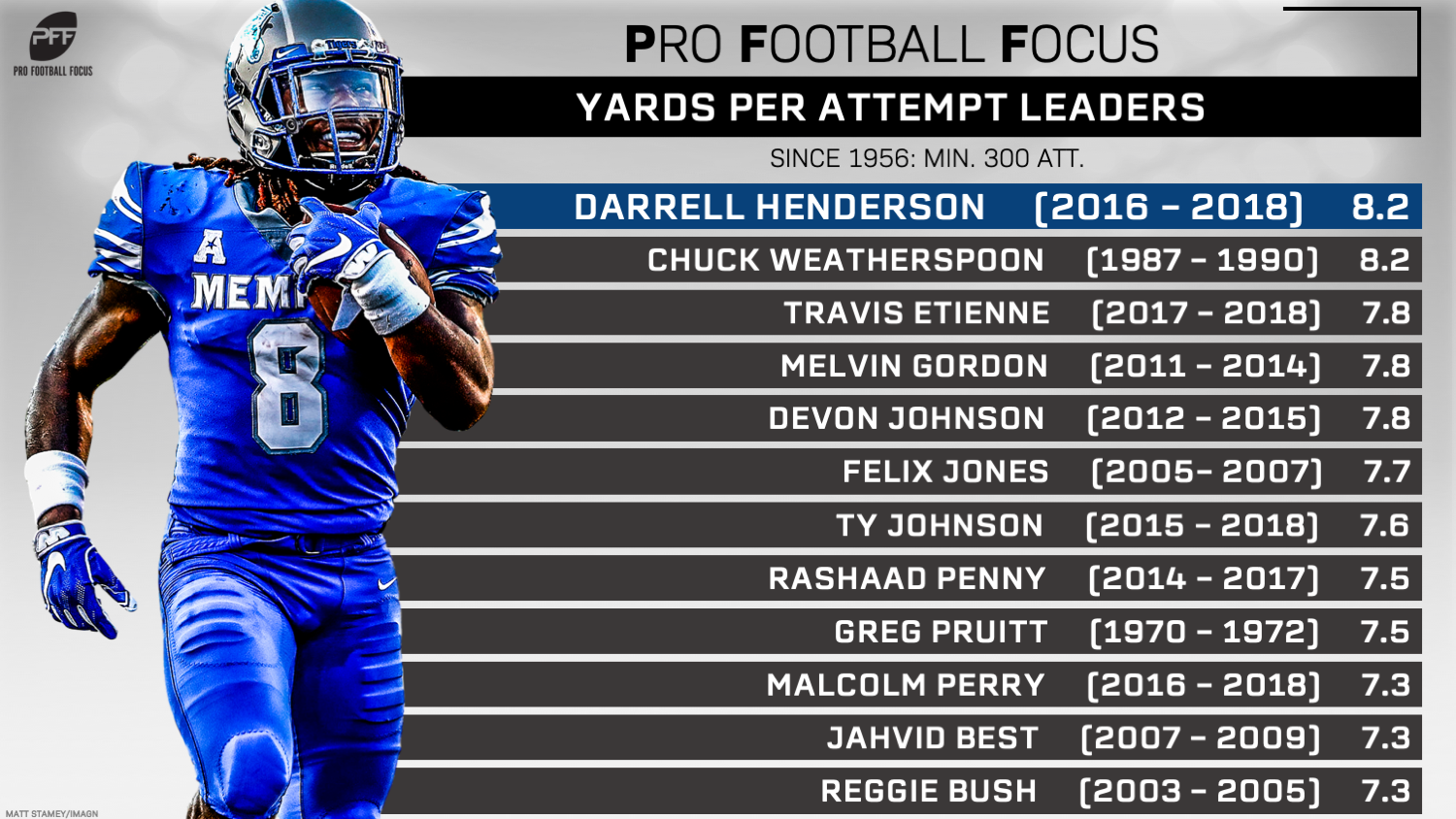 Since at least 1956, Henderson leads all Division I running backs (min. 300 carries) in career yards per carry (8.2).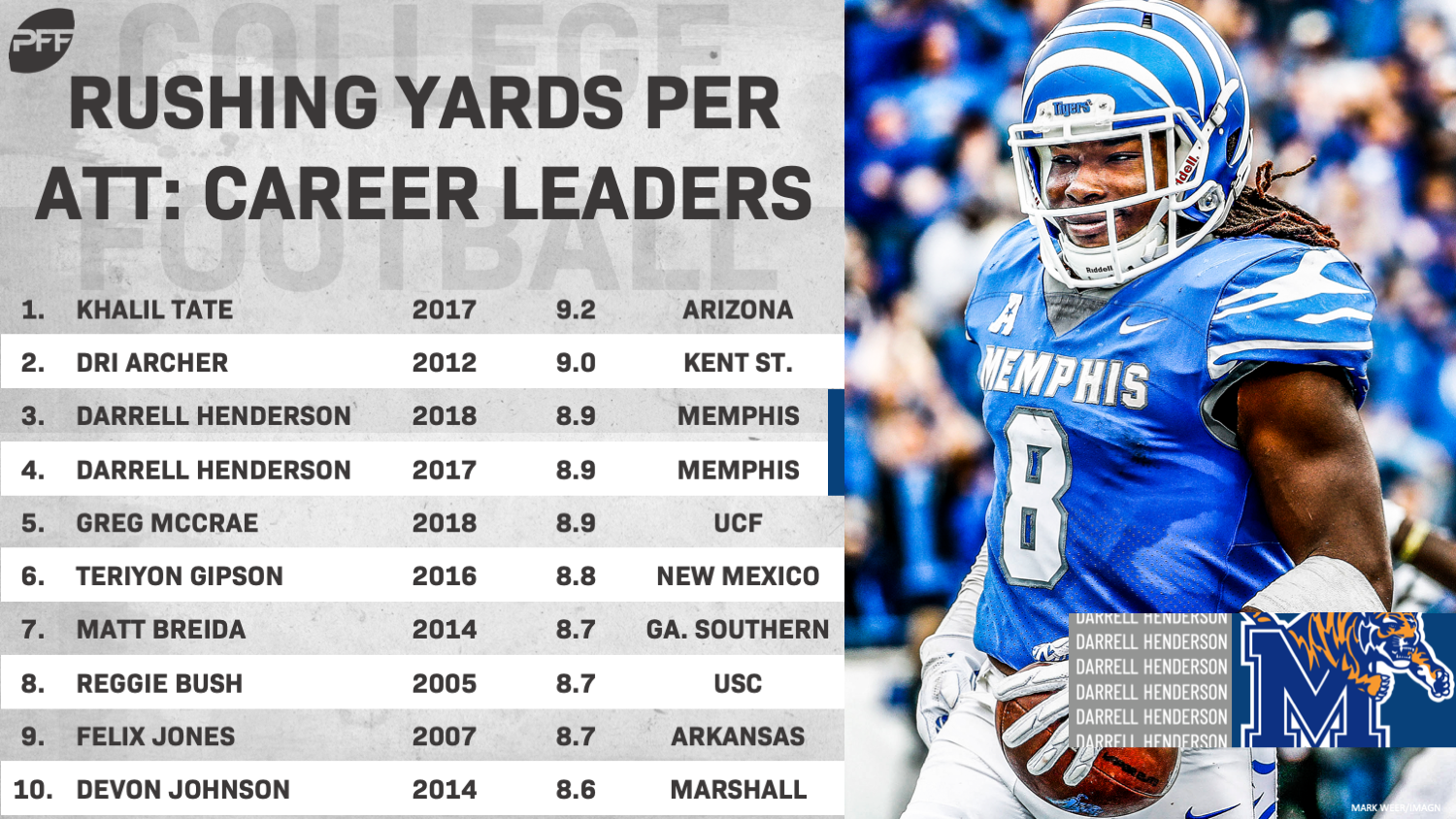 Henderson averaged 8.9 yards per carry in 2017 and 2018. Among all Division I running backs since at least 2000, those seasons both rank top-four (minimum 130 carries). His 2018 season ranks best among all running backs with at least 160 carries.
Yards after contact per attempt
Yards per carry is an imperfect metric that fails to divorce offensive line play from running back play. Yards after contact per attempt, however, adds more context and gives a more accurate representation of a runner's ability with the ball in his hands, independent of the blocking in front of him.
Since we began tracking college players in 2014, there have been 1,332 instances of a running back totaling at least 65 carries in a single season. Of those 1,332 seasons, Henderson's 2018 season (on 214 attempts) ranks best in yards after contact per attempt (6.16). His 2017 season (on 128 attempts) ranks second-best (5.60).
Among all running back seasons with at least 200 carries, Henderson's 2018 season is 21.8% better than the next-best season on record.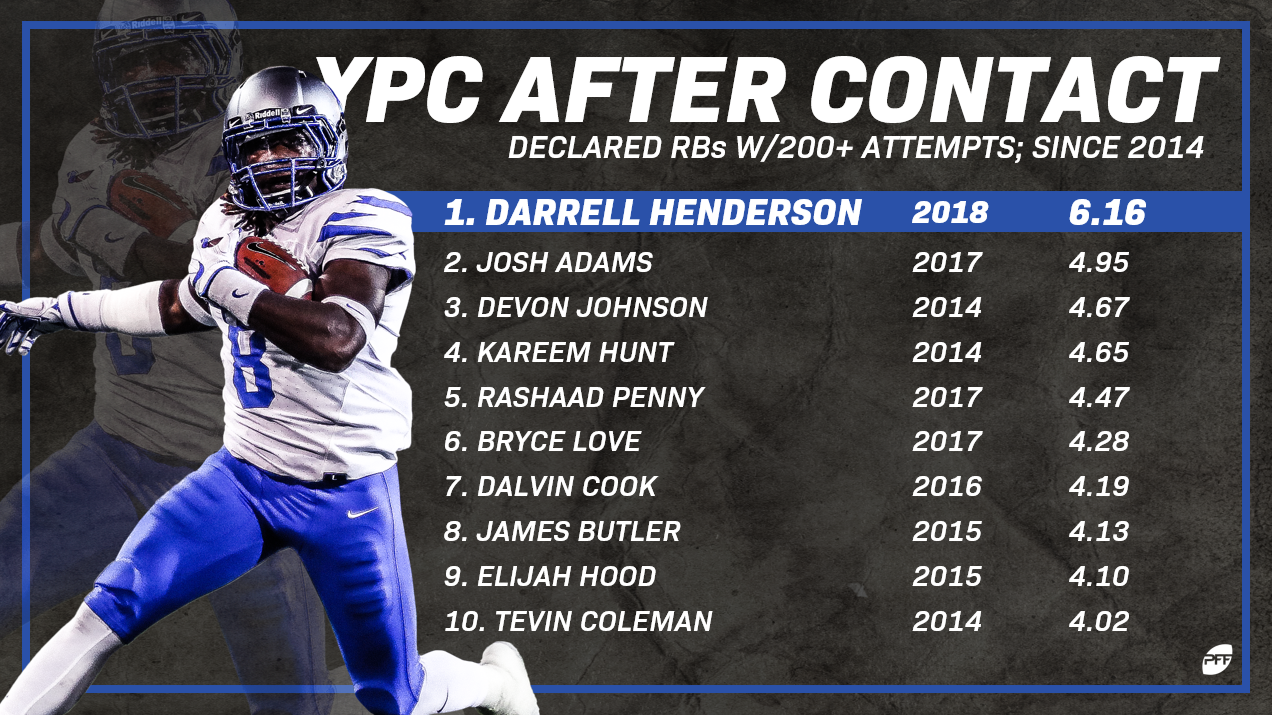 Home run ability
15.2% of Henderson's career carries gained 15 or more yards (tied for first in this class) and 62.9% of his career rushing yardage has come on carries of 15 or more yards (first in this class).
Since McVay took over as head coach, the Rams rank tied for second-best in yards before contact per attempt (1.8). Basically, McVay's running backs have been gifted plenty of running room and spacious holes thanks to superior play-calling or offensive line play. This should reinforce the fact that Henderson is a perfect fit for this offense. Although Henderson was tremendous at fighting through contact, he can also take advantage of these large holes by breaking off monster gains.
Receiving ability
Henderson never reached 25 receptions in a single season in college, but I'm optimistic regarding his long-term receiving potential. That's important in that offense considering Gurley ranks fourth among running backs in targets over the past two seasons (168).
In 2018, Henderson ranked 12th of 89 qualifying running backs in yards per route run (1.68).
Among all 67 qualifying Division I running backs with over 75 career targets since 2014, Henderson ranks seventh-best (and best in the class) in career depth-adjusted yards per target (2.71).
Henderson wasn't just catching dumpoffs out of the backfield either – last season he ran 22 routes lined up in the slot as a receiver.
Add it all up, and Henderson might not get a bell-cow workload in Year 1, but his ability and landing spot add up to a sky-high long-term potential.