(PFF Fantasy is reacting to all the offseason moves from a fantasy football perspective. Follow along here.)
According to reports, the Oakland Raiders have continued invigorating their receiving corps this offseason, agreeing to terms with ex-Los Angeles Charger Tyrell Williams.
Williams is an intriguing player. He burst onto the fantasy scene for the Chargers in 2016 after Keenan Allen suffered a season-ending injury in Week 1, thrusting him into a WR1 role that he handled more than amicably. That year, he totaled 1,059 yards and seven touchdowns on 111 targets, after catching just two passes the year prior (his rookie season). He ranked 24th in targets and 18th in fantasy points. Since then, things have not looked so rosy. In 2017, he ranked 57th targets (68) and 43rd in fantasy points. Last season he ranked 63rd in targets (74) and 49th in fantasy points. That said, it should be obvious by these stats that he's highly efficient on a per-target basis. Indeed, since entering the league in 2015, he ranks behind only Rob Gronkowski (10.9), Tyler Lockett (10.6), Tyreek Hill (10.4), and Julio Jones (10.2) in yards per target average (10.2).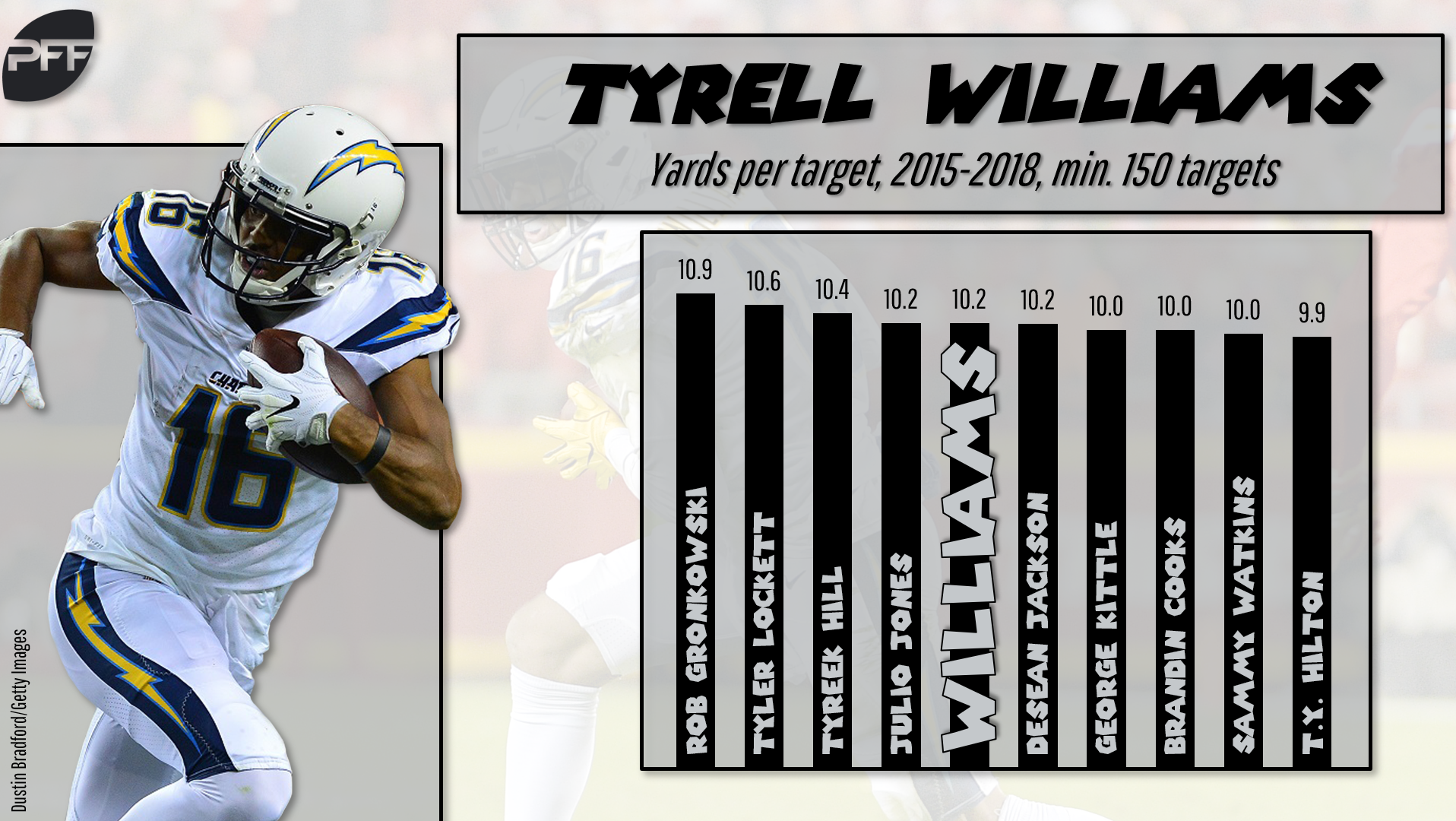 [using promo code BESTBALL grants you 25% off any PFF subscription, join now]
Though I like the player, I'm not convinced his fantasy prospects will be much better than they were in Los Angeles. Mostly, I'm not sure Derek Carr is an especially good fit for Williams. Over the past three seasons, Williams has seen 38% of his fantasy points and 40% of his yards come on deep passes. Both of those numbers rank top-10 of 109 qualifying wide receivers. Meanwhile, over this same stretch, Carr ranks 28th of 30 quarterbacks in deep pass percentage (10.4) and 14th in deep passer rating (94.9).
Oakland was more pass-heavy than Los Angeles (2.8 more pass attempts per game), but also far less efficient and productive in all other meaningful categories. Perhaps the acquisition of Antonio Brown improves things, and I'm sure they will, but I still see efficiency being worse, and I don't see volume being significantly better. As it stands, I'll be ranking Williams as a borderline WR4. However, that could climb depending on whether Oakland releases Jordy Nelson, and whether they sign or re-sign a competent pass-catching tight end.
Otherwise, this is a significant upgrade (in conjunction with their trade for Brown) for Carr and the offense as a whole. Carr had arguably the league's worst wide receiving corps in 2018, throwing passes to (predominantly) Nelson, Seth Roberts, and Marcell Atemen, who ranked, respectively, 47th, 88th, and 113th of 118 wide receivers in PFF grade.
In Los Angeles, Allen and Hunter Henry get a slight boost in projected targets, while Mike Williams gets a substantial one. He played on only 65% of the team's snaps last year, but should have solidified more of a full-time role with Tyrell Williams' departure. He'll be a hot commodity in 2019 fantasy drafts, after ranking 13th among wide receivers in fantasy points (87.2) over the final six weeks of the season.