The greatest fantasy football enigma of the 2019 season? Detroit Lions running back Kerryon Johnson
I can't stop moving him up and down my rankings. He very well could be a fantasy league-winner with legitimate top-five upside. Or, he's just another hyper-efficient running back held back by his coaches, undeservingly stuck in a committee (think Aaron Jones in each of the past two seasons). If that's right, he's probably more than a little overvalued at ADP (RB14).
Here's why I've struggled so much with Johnson this offseason, and why I think I finally feel good about where he sits in my rankings.
He's really good
Johnson was phenomenal last season.
Last season, Johnson averaged 5.43 yards per carry on over 100 carries — something that's only been accomplished 48 times since the NFL merger (1970). Or, something that's only been accomplished nine times by a rookie over this span.
He scored a touchdown or gained a first down on 26% of his carries, which ranked fourth-best. He ranked best in schedule-adjusted yards per carry (+1.14). He ranked top-12 (of 42 qualifying running backs) in yards after contact (3.30) and missed tackles forced per attempt (0.18). As a receiver, he also ranked top-12 (of 33 qualifying running backs) in yards after the catch per reception (8.44) and missed tackles forced per reception (0.25).
He's deserving of a much bigger workload
In spite of this, Johnson averaged just 11.8 carries per game last season. All other Detroit running backs combined to average 15.7.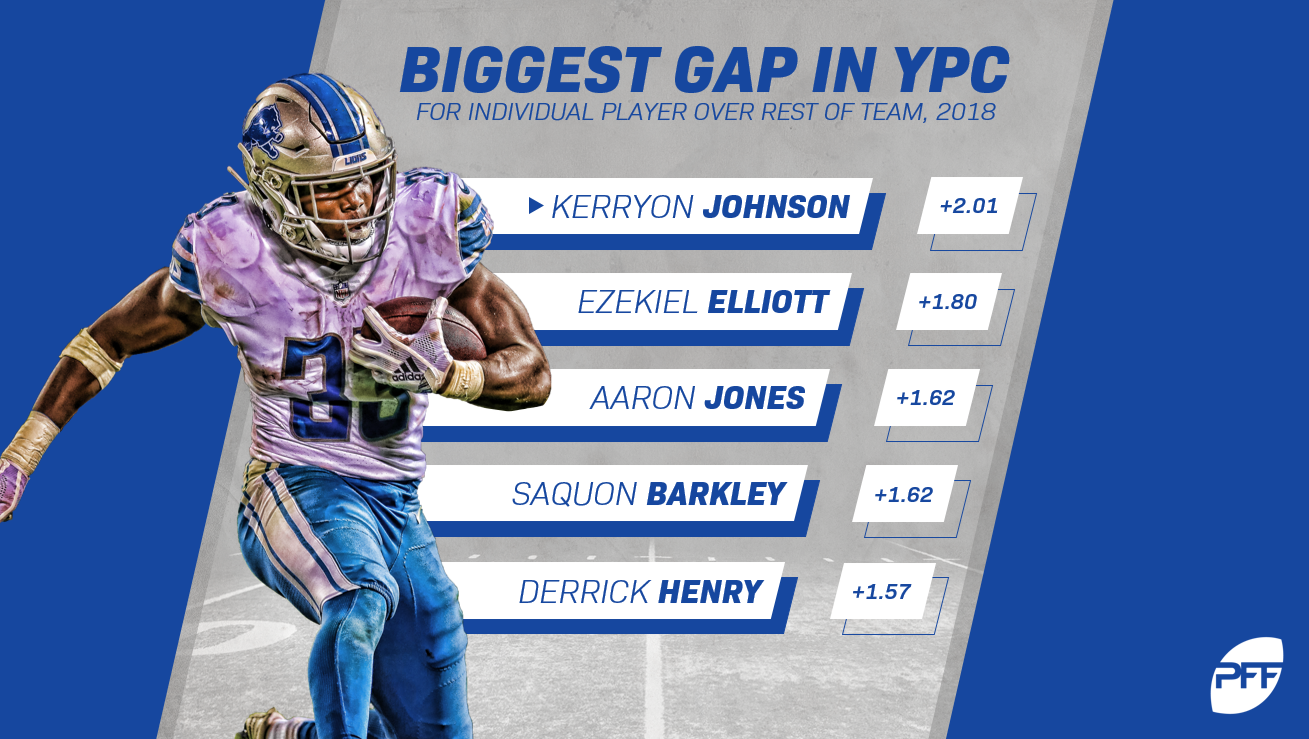 Though Johnson averaged 5.43 yards per carry, all other Detroit running backs combined to average just 3.42. That differential (2.01) led all running backs. That 3.42 yards per carry would have ranked last among all NFL teams.
Last season, LeGarrette Blount saw 36 more carries than Johnson. Somehow, Johnson still outgained him by 223 rushing yards. As bad as that was, Johnson's competition for touches seems even lighter this year, in competition with only C.J. Anderson (signed off the street by Los Angeles last year), Zach Zenner (62 touches last season), Mark Thompson (zero career touches), and sixth-round rookie Ty Johnson.
The question is, will he get the volume he deserves — the volume he deserved last year but still never saw?
Who to trust?
During the 2018 offseason, GM Bob Quinn had this to say of Johnson's usage: "This isn't a one-back league. We're not a one-back team. It's a running-back-by-committee league. We'll probably have three of them active every week, and every one of them is going to have a role in our offense."
Detroit went four years and nine months without seeing a running back gain 100 yards on the ground before Johnson did it in his third game. Heading into Week 4, head coach Matt Patricia doubled-down on his desire for a committee approach to the position, saying, "I think Johnson played a significant amount of the game. He played 20 snaps of 55, that's a good amount."
At the 2019 NFL combine, Patricia (here) and Quinn (here) both remained steadfast in their desire for a committee backfield.
The Lions hired OC Darrell Bevell to call the team's plays in January, which should mean more touches for Johnson and maybe also a higher percentage of the team's backfield touches. In Bevell's last 11 seasons in the NFL, his teams have ranked top-five in run percentage six times and top-12 eight times. Throughout his career, Bevell's lead running back (by fantasy points per game) has averaged 18.4 carries and 2.8 targets per game. Last year, Johnson averaged 11.8 carries and 3.9 targets per game.
Bevell's lead running back also commanded 79% of the team's backfield carries and 47% of the team's backfield targets over this span. By RB1 touch share (74%), he ranks top-five among all active play-callers.
Granted, he's had some terrific running backs throughout his career, but this seems encouraging. Bevell hasn't officially weighed in on whether or not wants Johnson to remain in a committee, but running backs coach Kyle Caskey seemingly has.
Late last month (well after Quinn and Patricia's most recent comments on the subject), Caskey said, "I'm not going to sit there in a game and say, 'Oh my gosh, he's got a number of touches, we got to get him out,' or anything like that… Nobody's setting a number, a ceiling, a floor or anything of who's going to get what touches and all that… But whoever the best running back is that comes out of this thing will be getting the touches, whoever's hot will be getting the touches."
This is big, but actions speak louder than words.
Luckily, Detroit's actions last week, after Caskey's comments, seem to be drowning out whatever Patricia and Quinn were saying at the Combine.
The key piece in the puzzle?
On July 27, the Lions released running back Theo Riddick. Last season, Riddick averaged 2.9 carries and 5.3 targets per game. Remember, in PPR leagues, a target is worth 2.74 times as much as a carry to a fantasy running back. Essentially (by weighted opportunity), Riddick's departure signifies a vacancy of 10.1 fantasy points per game.
Who will get the majority of those vacated targets? I don't think it will be Anderson (who has seen just 12% of his career touches come through the air) or any of the other lesser-known names on the roster. None of Zenner (seven receptions over the past two seasons), Johnson (11 receptions over the past two seasons), and Thompson (16 receptions over final two seasons in college) profiles as being especially capable pass-catchers. Rather, I think it will be Johnson who receives the bulk of the targets out of the backfield – he ranked ninth-best of 61 qualifying running backs in PFF receiving grade last year.
After Detroit's decision to release Riddick, I feel more confident Johnson is going to receive the volume he deserves — enough volume to justify an early-round pick and low-end to mid-range RB1-upside. Anderson should still eat into touches, but Riddick's departure signifies that it might not be by much more than, say, Giovani Bernard's impact to Joe Mixon. Following Riddick's release, Johnson jumped five spots in my rankings — from RB19 to RB14 (24th overall).