(Each week, the PFF Fantasy cheat sheet will have all the relevant fantasy content for the week in one place for you to keep track and review as needed as you prepare for that week in fantasy football.)
So there were a lot of points scored in Week 1 — 47.8 per game, which would have been the third-highest-scoring average across all of 2017. It was a full 7.4 points per game better than Week 1 a year ago.
For fantasy, the practical application of that is easy to determine: Scores are up. I chose a FanDuel contest at random from Week 1 last year and from Week 1 this year (both had six-figure entrants) — the champion in Week 1 of 2017 scored 166.28 points, led by Matthew Stafford's 28.08. The champion this year put up 244.28 behind the 42.28 of Ryan Fitzpatrick. Five different members of this year's champion lineup outscored Stafford a year ago.
Assuming that continues, it means two things. First, that you're going to enjoy your in-a-vacuum totals more this year, because it's fun seeing numbers shoot up like a toteboard at a telethon. But second, it means you'll have to be even more diligent … or at least, diligent in a different way. When scores are low, you have to identify the few guys who will go off. You have to separate the wheat from the chaff. But when everyone appears to be going off, you have to separate the wheat from the … also-wheat.
That's not to say one is better or worse for fantasy, necessarily. Both require you to be smarter and/or luckier than the rest. But I'd bet the sum total of entrants in Week 2 DFS games this week outpaces the same week a year ago. It's the same as baseball scores — diehards can appreciate a pitchers' duel or a slugfest, but the casual fan is going to respond more to a 15-12 game than a 2-1. High scores bring in the fans. And that gives the smart fantasy player a small edge in DFS in Week 2.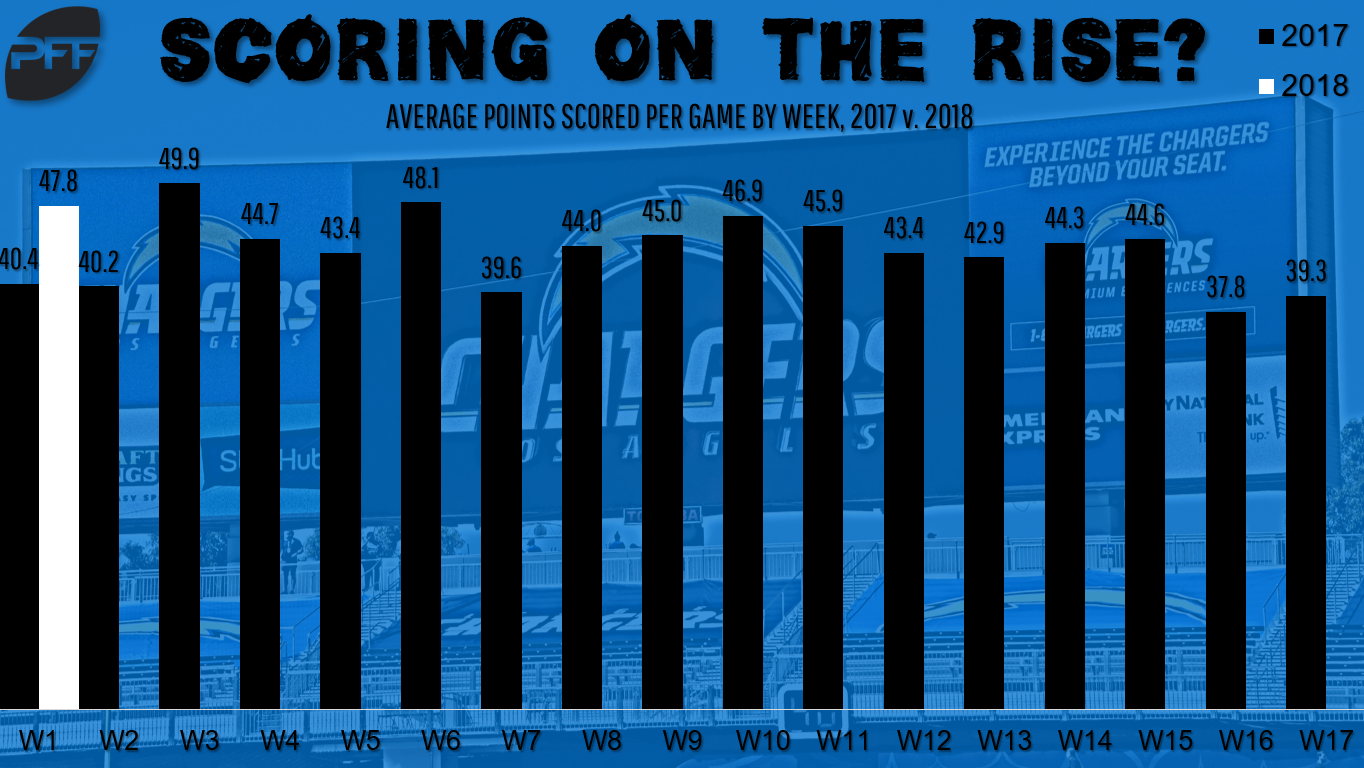 And now our week of advice:
Week 1 lookback
Podcasts
Videos
Written content
Check out our tools as well:
Redraft advice:
DFS advice: