Hurricane Florence is barreling toward this author's home in Charlotte, North Carolina, but somehow, the NFL is forecasted to enjoy much better weather in Week 2 than it did in its kickoff weekend. The Panthers play under the protection of Atlanta's new dome, and so the Florida games featuring the Buccaneers, Eagles, Jaguars, and Patriots are the only contests with even a hint of possible rain. Still, even dry players can show meaningful venue and weather adjustments because home vs. road and indoors vs. outdoors make big differences in fantasy. Elite subscribers can peruse the full list of those adjustments, and I'll highlight the ones I find most interesting and impactful here.
Sunday, 1 p.m. ET
Matt Ryan (+1.1) had a captive audience for his poor performance in the NFL season opener against the Eagles last Thursday. You might then be tempted to put him on your bench this week. I wouldn't. Playing at home in the dome is really the best fantasy tonic, and it jumps Ryan by a projected 1.1 fantasy points from 11th to sixth at the position in my rankings.
I would certainly start Ryan over the man he'll face on Sunday. Cam Newton (-1.0) will have to contend with a loud road environment and a team that allows fewer passing yards and touchdowns per attempt than a typical team. The injuries to star linebacker Deion Jones and safety Keanu Neal would likely have eased that burden except the Panthers have their own key losses to offensive linemen Daryl Williams and Matt Kalil to deal with. Christian McCaffrey (+0.3) will undoubtedly struggle behind that patchwork line, but his role as a pass catcher helps him hold onto a spot at the back of my RB1s.
Drew Brees (+3.1) had a vintage fantasy performance with 439 yards and three touchdowns in an unexpected comeback attempt against the Buccaneers last week. He probably won't enjoy the same beneficial game script hosting the Browns on Sunday, but he still has the Superdome. That should net him an extra 3.1 fantasy points, which makes him my No. 1 fantasy quarterback for the week.
Brees' top-two pass-catchers should be fantasy-worthy, as well, but there is a little uncertainty about who they will be. Michael Thomas (+1.5) and Ted Ginn (+1.0) sat out of Wednesday practice with an undisclosed illness and a knee injury, respectively. If they play, they are my Nos. 3 and 14 receivers in PPR. If not, rookie Tre'Quan Smith (+0.7) and Cameron Meredith (+0.4) could become interesting fliers.
I feel like the Browns are suddenly flush with skill-position talent, but last week against the Steelers, Tyrod Taylor (-1.0) relied mostly on two. Carlos Hyde (-0.4) took 22 of the team's 30 running back carries and Jarvis Landry (-0.3) saw 15 of the team's 30 receiver targets. I don't love either player in fantasy this week on the road against a team that — Fitzmagic aside — has been a minus matchup. Hyde is 28th and Landry is 27th at their respective positions in my PPR rankings.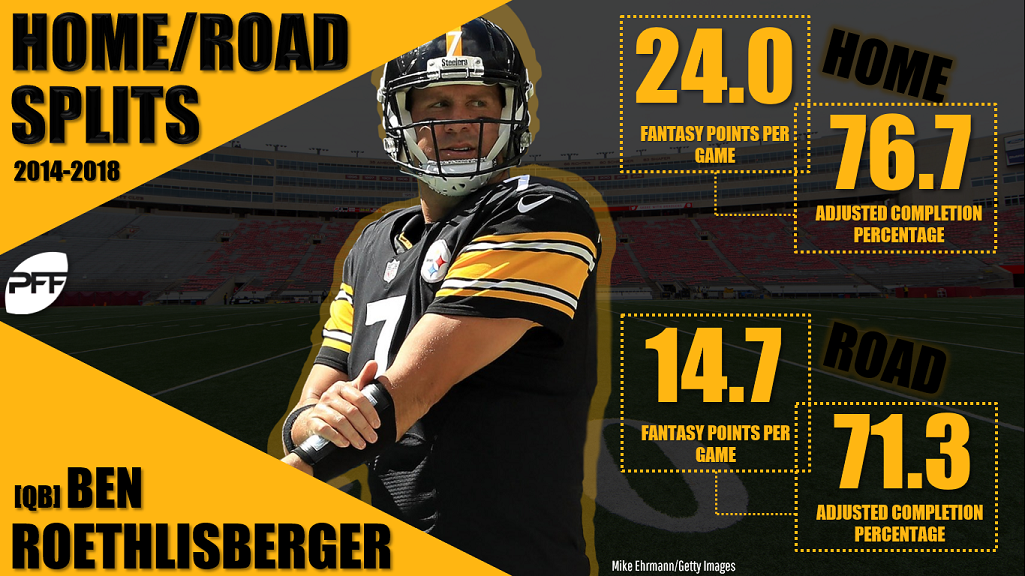 Ben Roethlisberger (+3.5) has shown the most extreme home/road splits of any quarterback, and his return home from a bad-weather road matchup against the Browns swings him from 29th in my rankings to 2nd. You should start him, running back James Conner (+0.3), and wide receivers Antonio Brown (+2.4) and JuJu Smith-Schuster (+1.7) this week. They are all in my top-10 at their positions.
Sunday, 4 p.m. ET
The Patriots/Jaguars afternoon affair has the best chance of rain on the docket. That should have the biggest negative impact on the Patriots' passing game, which was already in for a tough road against a Jaguars defense that allows 10 percent fewer pass plays, passing yards per attempt, and passing touchdowns per attempt and promotes 40 percent more interceptions and 100 percent more fumbles than a typical team. All told, Tom Brady (-1.1) falls from his normal perch at the top of my quarterback rankings to 15th at the position for the week. Chris Hogan (-1.0) and Phillip Dorsett (-0.9) are down to 37th and 60th among receivers for me.
It's a tough matchup for pretty much every Patriot, but if you need some help at running back, take a look at James White (+0.3). Jeremy Hill tore his ACL last week and Rex Burkhead is in concussion protocol. Even with rookie Sony Michel likely to return, White could be a featured player. He's my No. 31 PPR running back for the week.