When sitting down to put together IDP start/sit advice, one needs to have a cornerback's mentality. By that I mean one needs to have a short memory and not get caught up in the hits and misses from the previous week. Trust the process of researching and watching film (I'm showing my age there) dutifully while putting forth 100 percent effort, especially early in the season, before trends become more evident and players' roles become more defined.
Injuries have already hit the IDP landscape, especially in Atlanta, where both Keanu Neal and Deion Jones have landed on IR. The Chargers may be without Joey Bosa once again and Roquan Smith of the Bears may still be on a limited snap count (he played eight in Week 1).
As I stated last week it's still advisable to ride studs early in the season until things shake out a bit. A down season opener by a top draft selection is no reason to press the panic button.
Let's take a look at some Week 2 IDP start/sit suggestions.
Defensive linemen
Start
Trey Flowers, New England Patriots (@ Jacksonville)
The Patriots defensive line really brought the pressure in the team's Week 1 win over the Texans, putting up three sacks, 20 quarterback hurries, and four hits. Flowers led the charge, racking up 1.5 sacks with four hurries and a hit, leading all defensive linemen with 50 snaps played. The Jaguars allowed just half a sack to the defensive line position but did give up 22 total tackles to the position. When these teams met in the AFC Championship game last season, Flowers had nine total tackles.
DeForest Buckner, San Francisco 49ers (vs. Detroit)
Do not be fooled by the fact that the Lions didn't allow a sack in the season-opening blowout loss to the Jets. This is still a struggling unit that benefitted from a New York defensive line that lacks playmakers outside of Leonard Williams (who had a pair of QB hits). Buckner was a one-man wrecking crew in Week 1, putting up seven total tackles as well as 2.5 sacks and 3.5 tackles for loss. Buckner will be able to exploit the center/guard duo of Graham Glasgow and rookie Frank Ragnow who allowed six quarterback hurries as well as two hits last week.
Sit
Muhammad Wilkerson, Green Bay Packers (vs. Minnesota)
After playing (or not really playing) his way out of New York, Wilkerson signed with the Packers, where many folks predicted a bounceback season. I will admit that I was not among those people, and his Week 1 performance was underwhelming at best. Wilkerson did manage four total tackles but was credited with just a single quarterback hurry while playing 43 snaps. The meat of the Packers defensive line production came from Mike Daniels and Kenny Clark, who combined for four quarterback hurries, a hit, and a sack. We can avoid Wilkerson in this Week 2 matchup.
Melvin Ingram, Los Angeles Chargers (@Buffalo)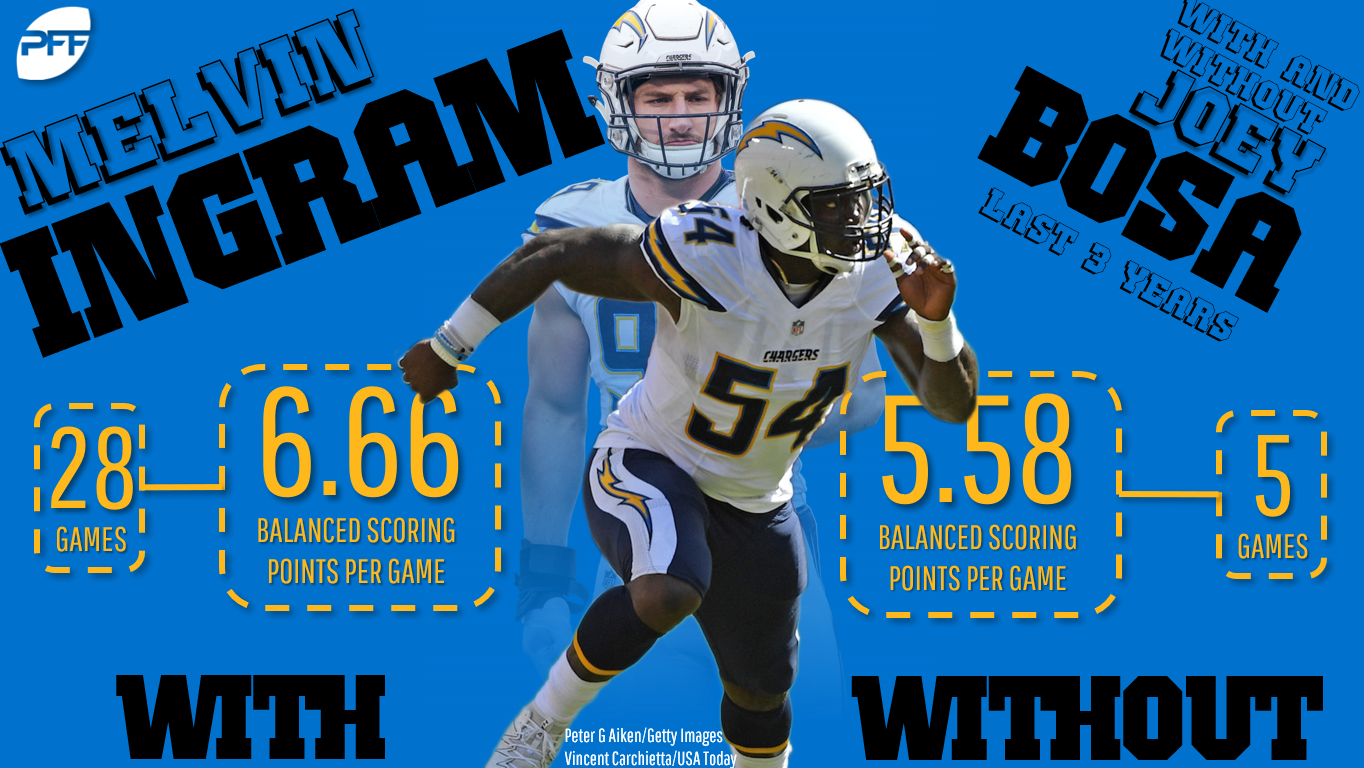 This suggestion is solely based on the health (or lack thereof) of Joey Bosa. There are recent reports that Bosa reinjured his foot last week in practice and could miss the Week 2 game against Buffalo. With Bosa out, teams can focus on stopping Ingram with few other edge-rushing options in Los Angeles. Ingram was brought on the pass-rush 28 times last week and failed to register a sack while being credited with three quarterback hits. He finished the game with just an assisted tackle. Until Bosa returns, Ingram will struggle mightily to have fantasy relevance.
Linebackers
Start
Jordan Hicks, Philadelphia Eagles (@ Tampa Bay)
It was an impressive return to the field for Hicks after an Achilles injury ended his 2017 season. Hicks flashed his overall skillset putting up seven total tackles along with a pass defended. More impressively Hicks was brought on the pass-rush seven times against the Falcons and finished with 1.5 sacks. The combination of Saints linebackers put up 18 total tackles and a forced fumble against Tampa Bay last week. It's hard to envision the Buccaneers moving the ball as easily against a stout Eagles defense as they did last week. Hicks should approach double-digit tackles while bringing big-play potential in pass defense.
Cory Littleton, Los Angeles Rams (vs. Arizona)
It appears the Rams knew what they were doing when they dealt Alec Ogletree to the New York Giants. They had Littleton waiting in the wings and the third-year linebacker had a great debut performance as the man in the middle for Los Angeles. Littleton played every defensive snap putting up 11 solo tackles (13 overall) along with a pass defended and interception. Those numbers were good enough for a top-five fantasy finish. Look for the Cardinals to give David Johnson more than the nine carries he had in Week 1 and for another big week from Littleton.
Sit
Raekwon McMillan, Miami Dolphins (@ NY Jets)
It appears McMillan is struggling to regain the form he showed before a preseason knee injury suffered prior to last season. While it is encouraging that he played 61 snaps in the middle for the Dolphins last week the six total tackles were disappointing. McMillan is also struggling from an NFL perspective, grading out poorly in both run defense and coverage. The Jets allowed just six total tackles to Detroit inside linebackers in Week 1, so sitting McMillan is the way to go until we see his game round into shape.
Jarrad Davis, Detroit Lions (@ San Francisco)
The second-year linebacker continues to disappoint from a fantasy standpoint, putting up just four total tackles and nary a big play in the season opener. For the record Davis has reached double-digit tackles just once in the 15 games he's played to date. He continues to struggle in coverage, allowing both passes thrown his way to be completed in the loss to the Jets. The 49ers allowed just 11 total tackles to the linebacker position last week so I'm in official wait-and-see mode regarding Davis moving forward.
Defensive backs
Start
Clayton Geathers, Indianapolis Colts (@ Washington)
It's only Week 2 and we have our first back-to-back suggested "starts." Geathers put up solid DB2 numbers against the Bengals with seven solo tackles and a forced fumble. As I eluded to in last week's evaluation, a healthy Geathers is a productive Geathers. It's hard not to like a still-healthy Geathers against a Washington offense that allowed 26 total tackles along with a forced fumble to the trio of Budda Baker, Antoine Bethea, and Tre Boston.
John Johnson III, Los Angeles Rams (vs. Arizona)
The move to strong safety seems to have been a good one for the second-year safety fantasy-wise. Johnson just missed double-digit tackles finishing with nine and capped a top-15 performance with an interception. There were 23 plays that saw Johnson either in the box or on the defensive line and he graded well in both run defense and coverage. With Cardinals quarterback Sam Bradford averaging just 4.5 yards per pass attempt, Johnson will have ample tackle opportunities along with the chance for big plays in the pass defense.
Sit
Clayton Fejedelem, Cincinnati Bengals (vs. Baltimore)
Let's keep this one short and sweet. Yes, Fejedelem had a career day and top-three fantasy totals for the DB position. No, Fejedelem would not have been on the field had starting strong safety Shawn Williams not been ejected for a helmet-to-helmet hit. Look for Williams to resume his starting role for Week 2.
Bradley McDougald, Seattle Seahawks (@ Chicago)
One thing I strive for when putting together this piece is a level of consistency. If you perused any of these pieces last season you know how I feel about chasing stat lines of multiple-interception games. Rarely do safeties put back-to-back weeks with two or more interceptions, with the exception being Kevin Byard last season in Week 7 and Week 9. McDougald had a pair of interceptions in the opener, vaulting him to a top-five fantasy finish. Outside of the interceptions he finished with five solo tackles in 63 snaps.