Hello, and welcome to the 2018 fantasy season's first installment of the Actual Opportunity Report. If you're unfamiliar with Actual Opportunity, you can read the in-depth explanation here.
Essentially, we're using an 11-season sample of play-by-play data to calculate expected fantasy points from a player's seasonal or weekly usage. We look at each target (by distance from the end zone and depth of target) and each carry (by distance from the end zone and down and distance) and add this up to determine how valuable a player's role was for fantasy purposes. We can contrast this with fantasy production to measure efficiency.
In layman's terms, Actual Opportunity is "how many points a player should have scored" given his workload, based on what the average player would have scored. "Expected fantasy points" will be used interchangeably with "Actual Opportunity" throughout this article.
After one week of action, here are the top-25 players in expected fantasy points per game: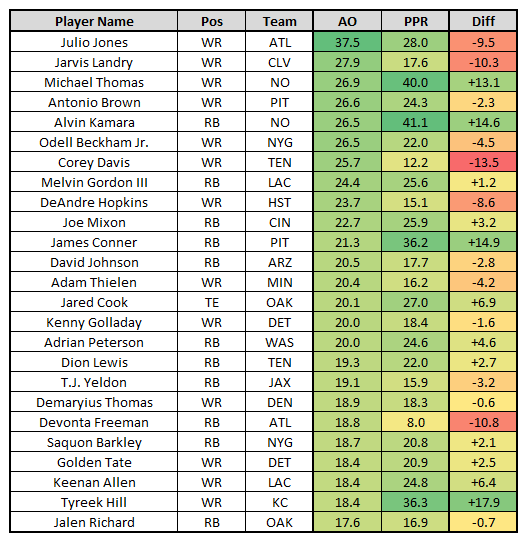 (AO: 37.5, PPR: 28.0)
Jones dominated our chart for Week 1. He saw 306 yards in air (121 more than next-closest) and also led in targets (18), end-zone targets (3), and deep targets (5). Jones also led all receivers in expected touchdowns (1.52) but unfortunately failed to find the end zone. That's now a recurring theme with him. Last season, Jones totaled 10.0 expected touchdowns but scored only three times, which was the second-worst differential of any player this past decade. However, QB Matt Ryan is likely more to blame than Jones in this department. Ryan has a career PFF grade of 63.9 in the red zone but 94.5 between the 20-yard lines. For perspective, Tom Brady led all passers with a PFF grade of 92.9 in 2017. The data above suggest Jones is due for a positive regression in the touchdown department, but he was all last year as well (and failed to deliver). Unfortunately, I think poor touchdown efficiency might just be something we have to learn to accept with Jones.
Subscribe to PFF Edge to continue reading
Already have a subscription? Sign In