Even casual dynasty fantasy football players are typically aware of the top names in the next rookie class in any given year. However, there is a significant edge to be gained by knowing and tracking more players. Being better informed than your leaguemates can help you make better trades and collect draft picks for the right draft classes. The rise in popularity of devy leagues and college fantasy football is also going to lead to more players having a better grasp on draft classes – so you don't want to be left behind.
Not sure where to start? Earlier in the summer I released my devy top 60, complete with tiers. Devy Stock Watch will serve as an in-season complement to those initial rankings. I'll be adding players to the list, moving players up and down tiers, and ultimately tracking the values of the most important college football skills players for you to know.
Stock (way) up
Laviska Shenault Jr., WR, Colorado
6-2, 220 pounds, sophomore (draft-eligible 2020)
Perhaps no player has made a bigger leap among college football prospects through the first two weeks of the season than Shenault. He opened the season with a gargantuan, highlight-filled 11 catch, 211-yard performance against in-state rival Colorado State. Lest he leave any doubt about whether it was a fluke performance, he followed it up with perhaps an even more impressive line of 10 receptions for 177 yards on the road against Power-5 Big Ten opponent Nebraska. His two touchdowns have gone for 40 and 89 yards, respectively.
A three-star recruit out of Texas, Shenault was also offered scholarships by LSU, Arizona State, Oklahoma State, Texas A&M, Oklahoma, and Alabama, among others, prior to accepting his offer from Colorado. His early-season boom has him on every All-American watch list, and he's firmly planted on my devy watch list as well. I'd like to see a few more weeks of consistency, but I've already determined to rank him in Tier 3 later this month. Continued dominance through September could land him as high as Tier 2.
Greg Dortch, WR, Wake Forest
5-9, 176 pounds, redshirt sophomore (draft-eligible 2019)
On the other side of the country, the wide receiver causing a stir is Dortch. He debuted at 44 (atop Tier 5) in my summer devy Top 60 following his strong redshirt freshman season but will be moving up to Tier 2 following his scorching start to 2018. Wake Forest had a change at quarterback over the offseason and I was curious to see how Dortch would adjust. He hasn't missed a beat.
In Week 1, he hauled in 12 catches for 149 yards on the road at Tulane, announcing himself as the clear alpha in the offense. A dynamic return specialist, he returned two punts for touchdowns in Week 2 in addition to grabbing seven receptions for 94 in a blowout against Towson in which he only played a partial game. He is impossible to miss when watching Wake Forest and despite his smaller stature, he seems almost larger than life when he's in action. Do yourself a favor and find a way to tune in to a Demon Deacons game sometime this fall.
Dwayne Haskins, QB, Ohio State
6-3, 220 pounds, redshirt sophomore (draft-eligible 2019)
Six quarterbacks made my summer devy Top 60, and Haskins wasn't one of them. As a native Central Ohioan, I recognized the talent, but have remained skeptical of Urban Meyer's recruiting preferences at the position as it relates to player-potential as future NFL quarterbacks. However, Haskins is not a prototypical Meyer signal-caller and everyone was anxious to see how his big arm and pocket presence would translate to unlocking a different offensive style for the Buckeyes.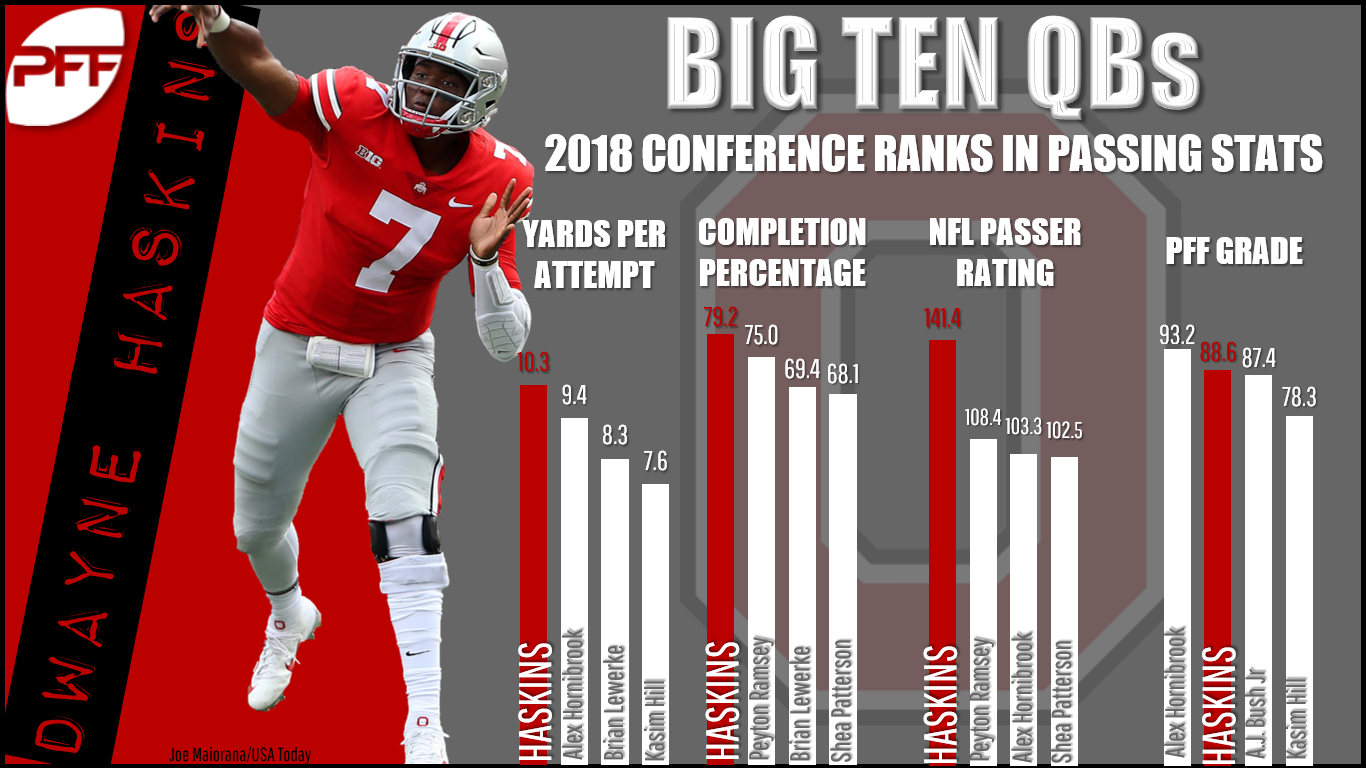 The former four-star recruit from Maryland has exceeded all expectations through two games, completing nearly 80 percent of his passes for 549 yards and nine touchdowns despite barely playing the equivalent of a full game. He currently ranks first in the Big Ten in completion percentage, yards per attempt, and passing efficiency rating, while his nine passing touchdowns are tied with Will Grier for first in the NCAA. When combined with his size, arm strength, and elite school pedigree, this type of production could lead to Haskins being a potential day one pick in 2019 if he decides to declare. I'm curious to see how he handles tougher competition, and we'll get a chance to see that this week as he'll face 15th-ranked Texas Christian on the road. I've already got Haskins ear-marked to leap Ryan Finley but with another differentiating performance in Week 3, he could shake up my top-five quarterback rankings.
Stock (way) down
Rodney Anderson, RB, Oklahoma
6-2, 223 pounds, redshirt junior (draft-eligible 2019)
Anderson suffered a devastating knee injury to his right leg last week. It's the third time he's had a season-ending injury. In 2015, he broke a leg. In 2016, he fractured multiple vertebrae in his neck, an injury that already had most devy analysts (including me) ranking him cautiously despite his obvious talent. This third injury will likely put a severe damper on how he's viewed by NFL scouts and the type of investment teams are willing to make in him. The domino effect for fantasy is it will be much harder for him to earn touches early in his career, if he even gets a chance.
I had Anderson rated as a Tier 2 devy prospect and as my ninth-ranked devy running back. Following the injury, I'll be dropping him to the bottom of Tier 5, essentially a stash-and-see prospect that we just have to hope gets a chance to prove himself at some point. There's some precedent for future success – Willis McGahee comes to mind, but that's not a scenario we should feel comfortable projecting as a likely outcome. If you can move him for anything of value in your devy league, I'd sign off.