It can be difficult to fully take advantage of matchups in season-long leagues the way you can in daily fantasy football. But far too many fantasy owners lose out on critical points because they are content to rely on the players they drafted. Now there are no more excuses because, I've done the research to determine which players you should trade for and away based on the four sources of fantasy market inefficiency:
the tendencies of Future opponents;
Limitations because of injuries or suspensions;
Efficiency metrics that suggest likely gains or losses in opportunities;
and Affectations, or the artificial inflation or deflation of value because of fads.
So let's run through the FLEA market finds for Week 2.
Future opponents
Buy
Alex Smith, QB, Washington Redskins
Smith may not face an easier team to beat this season than his Week 1 opponent, the Cardinals. But he still does have a couple more plus fantasy matchups in his next two games before the Redskins' Week 4 bye. Those contests are both at home against the Colts and the Packers, who allow between 10 percent and 50 percent more passing yards per attempt and passing touchdowns per attempt than an average defense. His projected 3.8-point fantasy bump over the next two weeks is the most at the position.
Sell
Michael Crabtree, WR, Baltimore Ravens
Crabtree authored one of the best Week 1 highlights with his incredible toe-tapping touchdown catch in the Ravens' blowout win over the Bills. But things won't always be so easy for Crabtree and the other Ravens skill players. They have to go on the road for two of their next three games in Cincinnati and in Pittsburgh, and Joe Flacco has historically shown some of the largest home/road splits among quarterbacks. In between, the Ravens will host the Broncos' fearsome pass rush, which has helped the team limit their opponents to 10 percent fewer pass plays than a typical defense. Now is a great time to try to trade Crabtree, who I fear may end up behind teammate John Brown in targets even after the Ravens schedule gets easier.
Limitations
Buy
Marlon Mack, RB, Indianapolis Colts
Rookie running back Jordan Wilkins failed to impress as the Colts' primary option against Cincinnati in Week 1. His 14 carries for 40 yards produced -10 RuYards Added, which was tied for the second-worst total for the week. In contrast, Mack was a plus contributor as both a rusher and a receiver in 2017. As soon as he's ready to return from his hamstring injury, Mack is a good bet to become an every-down back. Get him on your rosters now.
Sell
Christian McCaffrey, RB, Carolina Panthers
As had been the indication from the Panthers all preseason, McCaffrey dominated the team's backfield in snaps in Week 1. He was on the field for 57 plays, more than four times as many as backup C.J. Anderson (14). McCaffrey is an excellent fantasy option right now, but I continue to have long-term concerns for his ability to keep that every-down role. Right tackle Daryl Williams reinjured his knee and could join left tackle Matt Kalil on injured reserve, and bad blocking seems to hurt McCaffrey more than a typical back. In Week 1, he managed just 2.8 yards per carry on his eight chances with three or fewer yards before contact. That continues a trend from last season when McCaffrey was one of the least productive backs on poorly blocked attempts.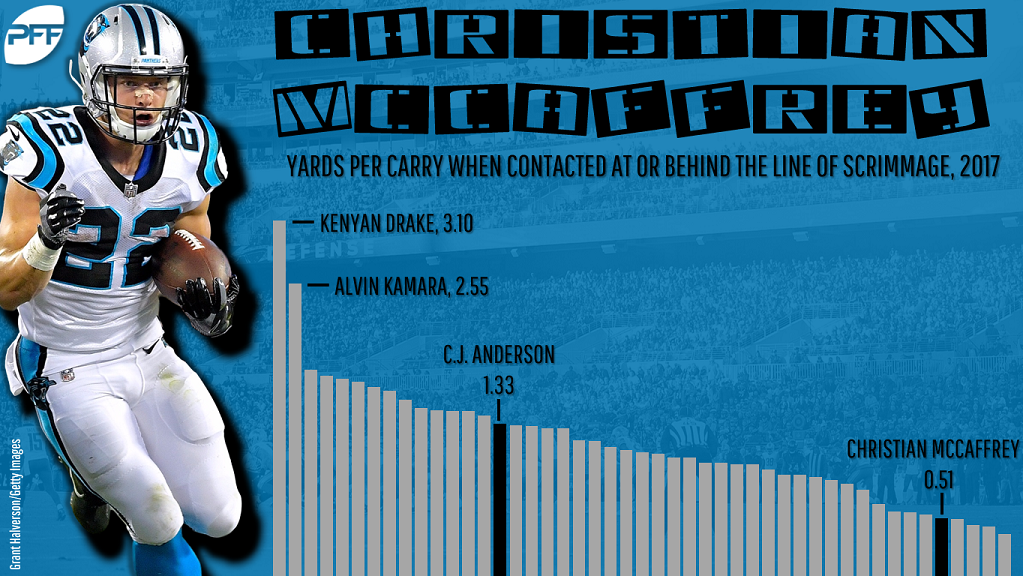 Anderson cannot match McCaffrey's big-play potential, but he is better equipped to avoid big losses on plays with poor blocking. I think he will start to eat into McCaffrey's carry totals, in particular on early downs and near the end zone. Don't give McCaffrey away, but consider moving him for a player like Joe Mixon or Dalvin Cook in a better situation.
Efficiency trends
Buy
Emmanuel Sanders, WR, Denver Broncos
Sanders was the least efficient receiver in football in 2017, costing the Broncos 54 yards relative to a typical receiver on his catchable targets. Entering this season, I was unsure how much of that inefficiency to attribute to his ankle injury versus a potential decline in skill. Well, if Week 1 is any indication, Sanders is back and healthy and hasn't lost a step. He lit up the Seahawks to the tune of 10 catches for 135 yards, which was good for 10 RecYards Added. I think it's safe to consider him a WR2 again.
Ryan Grant, WR, Indianapolis Colts
Sanders looks like the Sanders of old, and if any player looks like the new Sanders, it's Grant. After a weird offseason, he suddenly finds himself the No. 2 wide receiver on a Colts team that seems to have a healthy Andrew Luck again. Grant was heavily featured last week with nine targets, and I think he has the talent to create some fantasy success out of that opportunity. He added an impressive 40 yards on just 50 catchable targets last season.
Sell
Carlos Hyde, RB, Cleveland Browns
I was already worried about Hyde's fantasy prospects entering the season because of his inefficiency as a receiver. He put up an abysmal -53 RecYards Added in 2017, which suggested to me that he was in major jeopardy of losing half or more of his 59 catches, primarily to teammate Duke Johnson. After Week 1, I'm even more concerned. Hyde cost the Browns a league-high 14 yards on his 22 rushing attempts on Sunday, and rookie Nick Chubb looked much better in his limited work. Hyde won't maintain his current workload for long if he's the third-best back on his team.
Matt Breida, RB, San Francisco 49ers
With Hyde gone and Jerick McKinnon injured, there is a massive opening for backfield touches in San Francisco. But even though Breida seems like the logical choice following a rookie season with 4.4 yards per carry, I'm skeptical. He actually cost the team 37 yards compared to an average back last season because of easy-difficulty attempts and continued that trend with -5 RuYards Added on Sunday. Veteran Alfred Morris is my choice to lead that backfield in touches this year.
Affectations
Buy
Peyton Barber, RB, Tampa Bay Buccaneers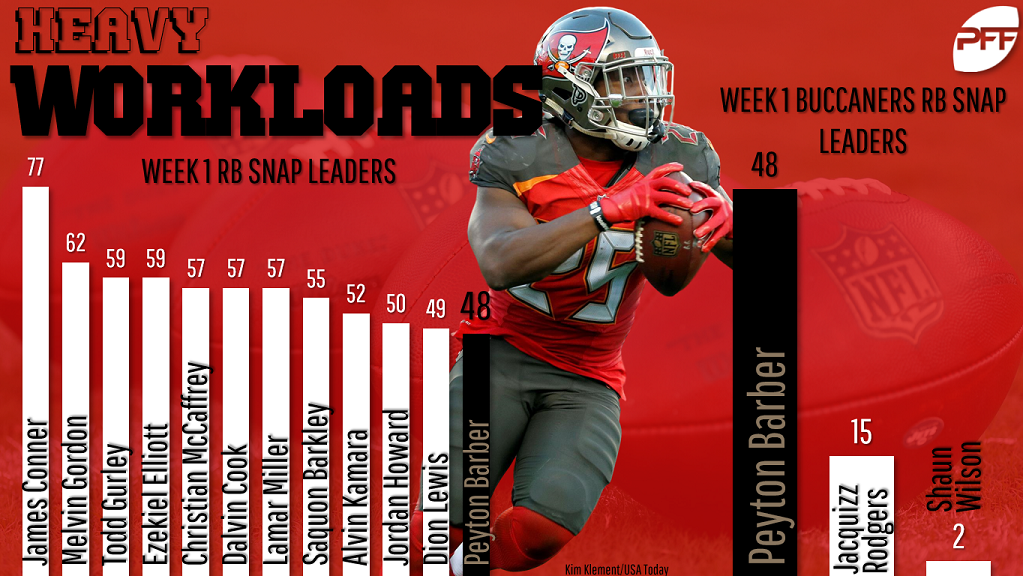 Ryan Fitzpatrick and the Buccaneers receivers stole the spotlight on Sunday, but for me, the major fantasy revelation of that game was for the running back Barber. He was on the field for 48 total plays compared to just 23 for Jacquizz Rodgers, while Ronald Jones was a healthy scratch. Barber looks like an early-down player rather than a three-down player, but he could provide similar fantasy numbers to Jordan Howard and Marshawn Lynch and is likely to be much easier to acquire in trades.
Sell
Adrian Peterson, RB, Washington Redskins
Peterson produced a vintage fantasy day with 166 total yards and a touchdown last weekend, but don't expect that success to continue. In three of his last four seasons, he has been a minus contributor as a rusher. When the Redskins face tougher opponents than the Cardinals, they won't be able to rely so heavily on an early-down back. Treat Peterson as a flex consideration at best. If you can only own one back in their backfield, I suggest you make it Chris Thompson.