The first week of the 2018 season is in the books and there were some very interesting developments. The Cleveland Browns managed to remain undefeated while also remaining winless — managing to frustrate their fans even when they don't lose.
There were two kickoffs and one punt return for scores as well as five defensive touchdowns, which always spices things up from a DST perspective. So what does this tell us? Unfortunately, not much so far — it is still too early in the season to determine which defenses will emerge as weekly fantasy streamers. At this point it's advisable to chase offenses that have come out of the gate turning the ball over and/or allowing sacks. After two or three more games we should have more of a handle on the defenses we look to stream.
Here are a few DST pickups for Week 2.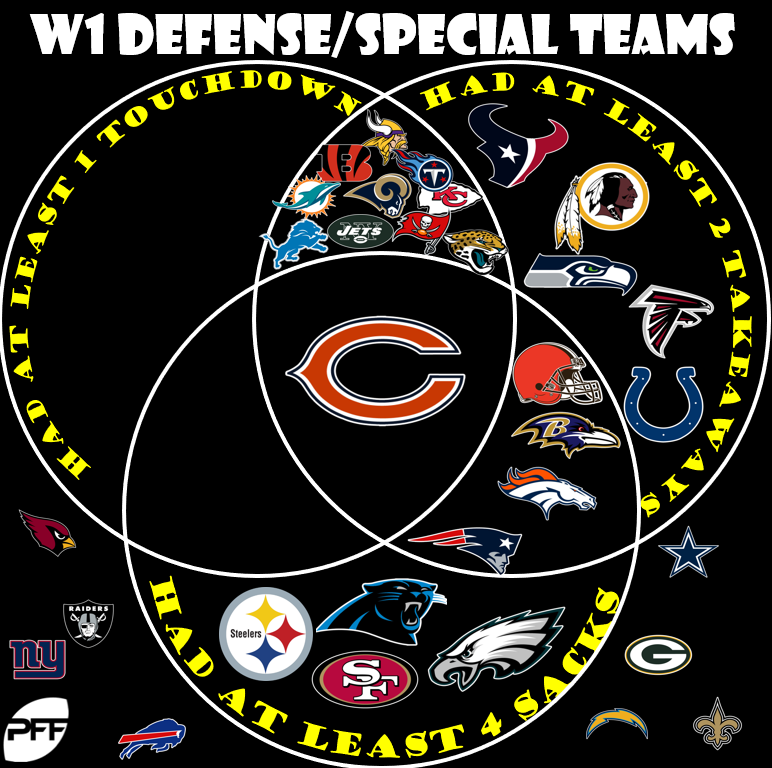 The Bears defense is undoubtedly still stinging from the late-game collapse that allowed division rival Green Bay to steal a victory with a hobbled Aaron Rodgers working his magic. There were plenty of positives for the unit — the addition of Khalil Mack paid immediate dividends, as he scored a defensive touchdown in his debut. The defense put up top-10 fantasy totals, with four sacks, an interception, a fumble recovery, and the aforementioned score. The Seahawks offensive line once again struggled to protect Russell Wilson, allowing six sacks to a Von Miller-led Broncos defense. Seattle also turned the ball over three times, while the Bears forced a pair of turnovers of their own against the Packers. This should be a nice matchup for Chicago.
While the Panthers defense finished just outside the top-12 in Week 1 there were some very positive things to build on. They held the Cowboys to just eight points and fewer than 250 total yards while putting up six sacks and a turnover. Carolina was in Dak Prescott's face all day long and was credited with 13 quarterback hurries and two hits. On the flip side, Atlanta's offensive line allowed 16 quarterback hurries with six hits and Matt Ryan was sacked four times in the Falcons' loss to Philadelphia. Getting pressure on Ryan can lead to nice fantasy production from a DST as he completed less than 50 percent of his passes when pressured last week and threw an interception.
For the second consecutive season, Baltimore's defense has been an absolute fantasy goldmine out of the gate. Last week against the Bills, the unit put up six sacks and a pair of interceptions while giving up just a field goal. In their 2017 opening game, the Ravens pitched a shutout and had five sacks, four interceptions, and a fumble recovery. Their opponent in that 2017 opener was the Cincinnati Bengals, who they play in Week 2 on Thursday night. While the Bengals only allowed two sacks last week Andy Dalton, was hit seven other times by the Colts' less-than-stellar pass rush. In the drubbing of Buffalo, the Ravens had 29 combined quarterback pressures (hurries, hits, sacks) and will be hounding Dalton all game long.
All in all, considering their Week 1 opponent (New England), the Texans defense had a decent outing. It's no small feat to force three turnovers against the Patriots while also putting up a pair of sacks. It would really help this unit if J.J. Watt can get to pre-injury form and it's encouraging that he played 70 snaps. Enough about the Texans defense as this streaming selection is all about the Tennessee offense. There is a very good chance Blaine Gabbert will be under center in Week 2 as Marcus Mariota deals with an elbow issue (numbness in his throwing hand fingers). In relief of Mariota, Gabbert was 11-of-22 for 117 yards and an interception. In the last 12 games he's played, Gabbert has 12 touchdowns while turning the ball over 14 times. Those are numbers worth streaming a defense against.
In their Week 1 victory over the Texans, the Patriots showed a rejuvenated pass-rush, getting to Deshaun Watson three times while also being credited with 20 quarterback hurries and four more hits. The duo of Trey Flowers and Deatrich Wise combined for seven hurries, a hit, and three sacks. New England also forced two turnovers while keeping the potent Texans passing game in check, allowing just 158 net passing yards. With running back Leonard Fournette looking iffy for this game the Jaguars will need to lean on Blake Bortles a bit more than they'd like. While he did shore up his turnovers a bit last season, Bortles is always a candidate for a three-turnover-or-so outing. I like the Patriots' improved pass-rush to force Bortles into at least a pair of interceptions.