Each week in this space, we'll be taking a look back at Sunday's games to find five of the most important stats for fantasy owners heading into the following week. With 14 of 16 games from Week 1 in the books, here are the five stats you need to know: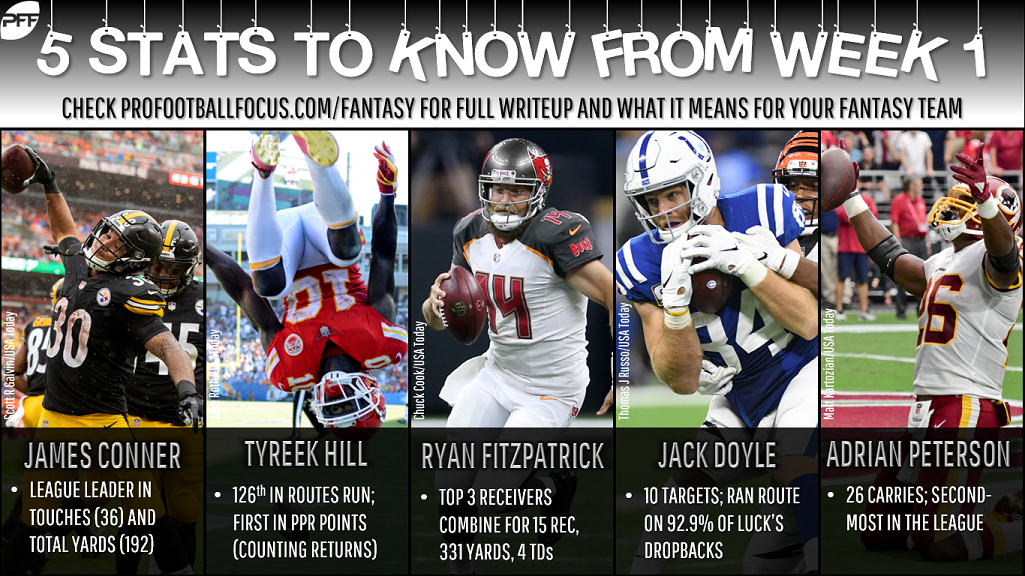 1. James Conner leads all players in touches and (36) and total yards (192).
With Le'Veon Bell in the midst of a holdout, Conner has cemented himself as a top-five fantasy running back whenver Bell is inactive. Conner saw terrific volume in Week 1, playing on 100 percent of the team's snaps and totaling 31 carries with five receptions. For perspective, there were only five instances of a player totaling at least 36 touches in a single game last year, and two of those were from Bell. Conner was also terrific on those touches, scoring 35 fantasy points, or second-most among running backs. Week 1 was a tremendous follow-up to a great preseason from Conner, when he ranked as our highest-graded running back of 133 qualifying.
Since 2015, Bell has averaged 23.3 fantasy points per game. Since 2015, in the 16 games Bell has been inactive, his primary backup has averaged 22.0 fantasy points per game. For perspective, over the past decade, there are only 17 instances of a flex player averaging over 22.0 PPR fantasy points per game.
Bell's absence doesn't just create fantasy value for Conner, but also for Antonio Brown. Since 2015, Brown has averaged 13.9 targets per game and 28.1 fantasy points per game when Bell has been inactive (14 such games) — as opposed to only 10.4 and 19.6, respectively, when he's been on the field.
2. Tyreek Hill ran just 20 routes. So far, 81 wide receivers, 18 running backs, and 26 tight ends have run more routes than Tyreek Hill. Still, even so, he leads all non-quarterbacks in fantasy points (42).
Hill saw eight targets and caught seven of them for 169 yards and two touchdowns, while also scoring on a 91-yard punt return. All offseason fantasy analysts have been projecting a regression to the mean for Hill. "Hill can't possibly continue to be as productive as he's been without a massive increase in targets, right?" Well, maybe. Or maybe Hill is just one of the best wide receivers in the NFL.
Indeed, I do think that's the case. Hill has ranked top-six in yards per route run and top-15 in WR rating in each of his two seasons in the NFL. In terms of Actual Opportunity, Hill averages 3.6 fantasy points per game above his expectation, which leads the league over the past two years.
In addition to consistently absurd efficiency, Hill is also seeing better volume with Patrick Mahomes under center. Last year, Hill averaged one target every 4.9 routes. This year (including preseason), Mahomes has locked onto Hill, targeting him once every 3.0 routes. In total, Hill has comprised 50 percent of Mahomes' touchdowns and a whopping 56 percent of his passing yards over this stretch.
3. Ryan Fitzpatrick finishes the week as fantasy's top-scoring player. Wide receivers Mike Evans, DeSean Jackson, and Chris Godwin combined for 16 targets, 15 receptions, 331 yards, and 4 touchdowns.
What does this mean? Well, a few things.
I think we know by now who Fitzpatrick is. He does have a very talented roster to work with, but I wouldn't make him a priority add on the waiver wire. That said, I think there is legitimate concern he might take the starting job away from Jameis Winston. I don't think it's by any means probable, but it is possible. Head coach Dirk Koetter came under fire in July for saying he wouldn't commit to Winston as the team's Week 4 starter. Tampa Bay's offense has also seemingly fared better with Fitzpatrick under center. Since 2017, Tampa Bay averages 29.2 points per game across the five games Fitzpatrick attempted more than 15 passes. In all other games they've averaged 19.7.
As outlined here, earlier in the offseason, I had a suspicion that Winston's three-game suspension would actually help his wide receivers score more points for fantasy. Why? Because Winston is quietly one of the least efficient quarterbacks when targeting wide receivers. So far, the production has matched the efficiency. Since 2017, Evans averaged 5.5 more fantasy points per game and Jackson averages 8.0 more fantasy points per game with Fitzpatrick under center.
Last season, Drew Brees finished 11th among quarterbacks in fantasy points scored. Before that, he had finished top-six in each of 11 consecutive seasons. Last season, Brees averaged 33.5 pass attempts per game while his defense surrendered only 20.4 points per game. Over the previous five seasons, Brees averaged 41.0 attempts per game and his defense surrendered 26.9 points per game. Coincidence? I think not. The takeaway here is that if this defense is closer to where they were in 2016 than 2017 (28.4), that should be great news for Brees and the rest of the passing offense.
4. Tight end usage implies Jack Doyle is still the TE1 in Indianapolis and Jordan Reed's fantasy stock is on the rise.
In 2017, Doyle ran a route on 77.7 percent of Indianapolis' dropbacks in 2017. On Sunday, he ran a route on 92.9 percent of Andrew Luck's dropbacks. He also saw 10 targets. Meanwhile, Eric Ebron ran a route on only 39.3 percent of Luck's dropbacks and saw five targets. This implies the concerns over Ebron capping Doyle's fantasy potential were overblown.
Reed was a major target of mine this offseason, and those shares are looking good today. Despite coming into the week on a snap count, Reed impressed. He saw five targets, catching four for 48 yards and a score. In Week 1, Reed played on only 60 percent of the team's dropbacks. When healthy (in 2016), that number was typically around 83 percent. Expect these numbers to rise as he gets healthier and the season goes on.
5. Week 1 is just 6.7 percent of your fantasy season. Don't overreact to a one-game sample. Don't fall victim to primacy bias. Do take advantage of your myopic league-mates.
With that recommendation and caveat in mind, something I do pay very special attention to in Week 1 is running back usage. Here are my top usage-driven takeaways for running backs: