College football is losing a handful of running backs that everyone looked forward to watching on Saturdays like Travis Etienne, Jonathan Taylor, Zack Moss, J.K. Dobbins, et al. So, who'll be the next backs to run into the spotlight? Using PFF's database that is used by all 32 NFL teams and 70 FBS programs, we give you the top 25 running backs who'll be returning to college football in 2020:
25. Rhamondre Stevenson, Oklahoma
Junior college transfer Stevenson got a handful of opportunities throughout the 2019 season due to injuries in the backfield and he made the most of them with 16 runs of 10-plus yards (eight of 20-plus) on 64 carries. Stevenson averaged 5.86 yards after contact per attempt altogether. It's hard telling what the future hold for Stevenson as he was suspended for their CFP semifinal matchup against LSU and Kennedy Brooks and Trey Sermon back in Norman, but if he's on the field he's one to watch.
24. Re'Mahn Davis, Temple
Davis was tasked with a lot in his true freshman season and was victorious as far as rushing goes being the highest-graded freshman in rushing grade, barely edging out Kenneth Walker. His four drops knocked him down some, considering it's the most valuable trait for a running back.
23. Kenneth Walker III, Wake Forest
True freshman running back Walker had to run behind the No. 96 run-blocking unit in the FBS, but that didn't stop him from having success. He trucked his way through defenders, averaging the fifth-most broken tackles per rush. The highlight of his 2019 campaign came in Week 13 when he broke 11 tackles on his 17 carries.
22. Gary Brightwell, Arizona
With J.J. Taylor declaring for the NFL draft, Arizona is left with Brightwell as the likely starter. He was decent on his limited time on the field. Brightwell saw 66 carries this year and broke 18 tackles while racking up yards after contact as 287 of his 390 total rushing yards came on such plays.
21. Wan'Dale Robinson, Nebraska
The Nebraska freshman Robinson missed time in the latter part of the year, which was unfortunate considering he was the second highest-graded running back as a receiver through the first 10 weeks. Robinson also had the second most receiving plays of 15-plus yards in that stretch with 10. There wasn't a whole lot of success in the run game for Robinson, but his receiving gives hope for a bright future as a Cornhusker.
20. John Lovett, Baylor
Lovett struggled with creating a decent rate of explosive runs in his first two years at Baylor, but he came around this year with a 10-plus-yard run on nearly 23% of his carries – 8% higher than his previous career high.
19. Journey Brown, Penn State
With Saquon Barkley and Miles Sanders both in the NFL, Brown was giving lead duties of the backfield toward the tail end of the 2019 season and didn't disappoint. Brown was a tank rushing up the middle averaging 10.1 yards per carry, 7.5 yards after contact, and 0.41 broken tackles on his 37 attempts in between the guards.
18. #De'Montre Tuggle, Ohio
Tuggle split reps in the backfield and impressed in his limited action, averaging 3.92 yards after contact per attempt and picking up 11 touchdowns on his 100 carries. If someone couldn't get a hand on Tuggle to slow him down out the gate, he was going to explode for a run. Ten of his 11 touchdowns came when he wasn't contacted until he was past the line of scrimmage and five of those were an explosive run.
17. Bentavious Thompson, UCF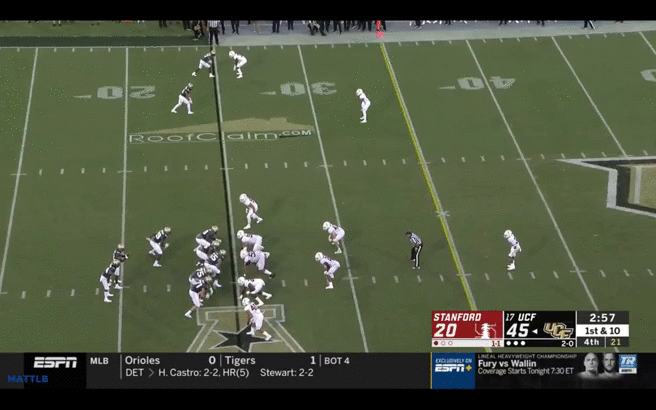 Being the backup running back for UCF, Thompson far exceeded expectations in 2019, recording an elite PFF grade of 91.1. On his 86 carries, Thompson had 18 carries go for 10 or more yards and averaged 4.4 yards before contact, which says a lot about both his offensive line and himself.
16. CJ Marable, Coastal Carolina
In his first full season as starter for the Chanticleers, Marable did not disappoint by increasing his rushing grade from 71.4 to 81.3 and receiving grade from 52.4 to 76.5. Marable saw 42 targets this year and hauled in 38 with just one drop.
15. Otis Anderson, UCF
While Bentavious Thompson was used primarily in the run game, it wasn't the same case for Anderson, who picked 2.24 yards per route run this season (seventh most). His speed and athleticism had been used all over the field and rightfully so as it's just flat out hard to catch. Anderson's versatility has made him 23rd among running backs in PFF WAA this season and makes the duo of Thompson and him one of the best entering 2020.
14. Michael Carter, North Carolina
North Carolina runs a scheme with a heavy concentration on run-pass options and Carter was pivotal in that. Carter finished the year as the 20th-most valuable running back overall and broke the 10th-most broken tackles per attempt out of an RPO.
13. Keaontay Ingram, Texas
In his second year as a Longhorn, Ingram improved greatly across the board – his rate of explosive runs jumped 5.5%, yards after contact per attempt increased over half a yard and he improved his broken tackle per attempt total from 0.2 to 0.27.
12. Elijah Mitchell, Louisiana
Mitchell is one of two running backs on this list to rank among the top 15 at the position in PFF WAA in both 2018 and 2019. The Ragin' Cajuns' run scheme is heavily reliant on zone concepts and on those Mitchell has thrived picking up a first down or touchdown at the second highest rate at 38.4%. Louisiana's run-blocking unit was among the 10 best in the country, but Mitchell brought value to the table with breaking tackles on over three-fourths of his explosive runs.
11. Javian Hawkins, Louisville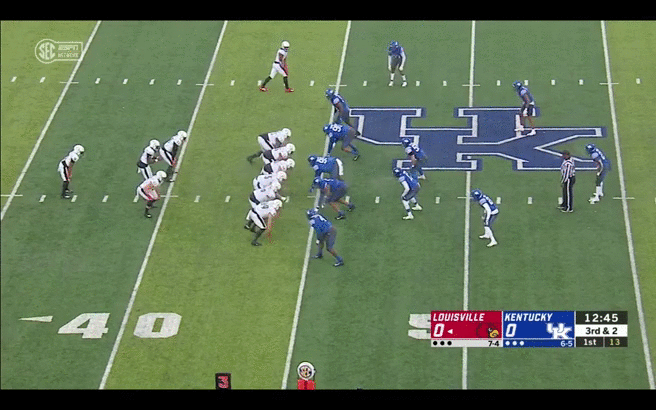 Louisville's Hawkins was consistent over the course of the 2019 season and finished 15th in PFF grade. Standing at 5-foot-9 inches, Hawkins is a speedster who reportedly once ran a 4.37 second 40-yard dash. He displays this trait of his constantly on the field and has used it to avoid getting contacted from defenders. When he isn't contacted behind the line of scrimmage, Hawkins is the third highest-graded running back. Not to mention, his small frame is incredibly difficult to bring down, producing the 12th most broken tackles in the country at 68.
10. Max Borghi, Washington State
While I'm sure he was sad to see his head coach Mike Leach leave for the SEC, Borghi had to be ecstatic to get more carries as they'll no longer be passing the ball over 80% of the time in the Air Raid. Borghi was obviously used more as a receiver than rusher for the Cougars over the last two years and what he did there was impressive – he dropped just four of his 157 targets while breaking 47 total tackles. On the rushing side of things, Borghi took a big step forward in 2019, raising his rushing grade from 70.1 to 82.5.
9. Javonte Williams, North Carolina
Michael Carter got the starts, but Williams was the better running back in 2019. In UNC's RPO offense, Williams produced the most runs of 10-plus yards with 29 and averaged an impressive 4.5 yards after contact per attempt. Overall, Williams finished the year 11th in WAA at his position and will likely have an increased role in 2020.
8. Trey Sermon, Oklahoma
Sermon suffered an unfortunate season-ending injury in Week 11 and didn't have much production prior to that. That said, when he was healthy in 2018, Sermon was easily one of the best backs in the FBS. That year, Sermon had an elite PFF grade of 90.8 that ranked fifth and a WAA total that was second at his position in the country. His 0.35 broken tackles forced per attempt in 2018 was third to NFL backs David Montgomery and Devin Singletary. He'll likely split time with Kennedy Brooks, but regardless of who carries the ball more, Oklahoma is clearly set at the position.
7. Pooka Williams Jr., Kansas
Ever since his performance against Oklahoma in Week 12 of 2018 where he picked up nine gains of 10-plus yards on 15 carries, Williams has been making his name known as one of top young running backs in college football. The rate of explosive runs seen from Pooka since that game hasn't been quite the same he had to run behind the 95th-best run-blocking unit in the FBS this year, but he wasn't going down without a fight with the third-most broken tackles per attempt at 0.37.
6. Kennedy Brooks, Oklahoma
Brooks wasn't the go-to running back at Oklahoma until Sermon got hurt, but he has been lighting up defenses since Week 5 of 2018. In two-year PFF rushing grade, Brooks owns the fifth-best one and has produced the 10th-most runs of 20-plus yards despite ranking 72nd in carries. Yes, he benefits from being in a spread air raid attack, but he can make guys miss off the edge and pick up yards after contact outside the tackles better than anybody. Over the last two years running outside the tackles, Brooks ranks first in both PFF grade and yards after contact per attempt at 4.8.
5. Kenneth Gainwell, Memphis
There aren't many running backs in college football that can be as good as a dual threat as Gainwell this past year. He's the only running back to have a rushing grade and receiving grade above 85.0 and was the eighth-most valuable of the year. In rushing and receiving combined, Gainwell was responsible for 37 plays of 15-plus yards and could even be considered darkhorse candidate for the 2021 Heisman.
4. Amare Jones, Tulane
Tulane Green Wave's very own Jones was the fourth-most valuable running back this past year in PFF WAA. In the receiving game, Jones was highly productive, gathering the fourth-most yards per route run at his position at 2.51. Jones had just 60 carries on the year but picked up a gain of 10-plus yards on 20% of those and broke a tackle in a third of them.
3. Jaret Patterson, Buffalo
Not only is Patterson the best running back to be playing in some MACtion next fall, but he's the third-best returning one overall. Patterson produced a PFF grade that was eighth-best and WAA total that was fifth among those at his position in 2019. At Buffalo, Patterson was at his best in RPOs by producing the best rushing grade in the country and averaging an impressive 6.7 yards per carry.
2. Chuba Hubbard, Oklahoma State
Hubbard could have very easily declared for the 2020 NFL Draft after his 2019 campaign where he racked up 1,300 yards after contact, which would rank 15th among all running backs in rushing yards in general. When given the ball in the backfield, Hubbard has great field vision and patience to allow an open hole to be made by his offensive line. Sometimes a hole would open up, sometimes it wouldn't, but if one did Hubbard would take full advantage of it with his burst and agility for a massive gain. Hubbard ended 2019 with 15 runs that resulted in a gain of 30 or more yards, four more than any other running back in the country.
1. Najee Harris, Alabama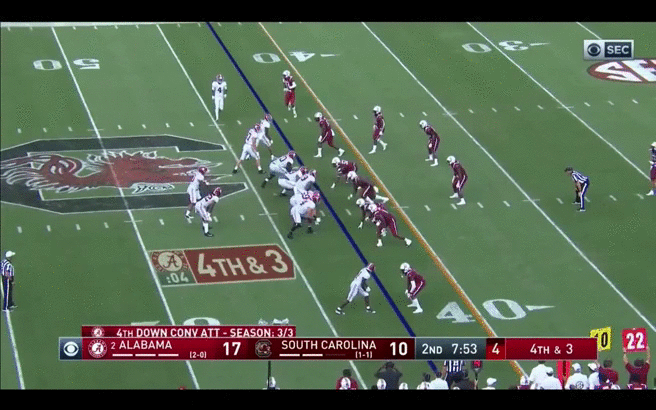 Third-year back Harris opted to return to Tuscaloosa for his senior season and eyes set on bringing home another national title as well as being the first running back off the board in 2021. Harris' two-year PFF rushing grade ranks behind only Travis Etienne, Jonathan Taylor and Zack Moss. He benefited this past year by running behind the fourth highest-graded run-blocking unit in the country, but he took advantage of that by producing a first down or touchdown on 39.2% of his carries – the second best in the FBS. It's been said numerous times by various PFF analysts that what separates a valuable running back from a replaceable one is what they bring to the table in the receiving game. Harris vastly improved upon this aspect from a year ago, hauling in 27 catches for seven touchdowns (five were in red zone) while breaking 11 tackles.