Only the No. 1 and No. 2 overall picks are set in stone as we approach Week 17 of the 2020 NFL season, but the projected 2021 NFL Draft order still presents ample opportunity to attack storylines and narratives as we approach the offseason.
The Atlanta Falcons could be in a position to take the heir apparent to veteran quarterback Matt Ryan. The Cincinnati Bengals may reunite former LSU wideout Ja'Marr Chase with Joe Burrow if they're indeed out of the Penei Sewell sweepstakes. The Denver Broncos and San Francisco 49ers could swing the bat on first-round quarterbacks despite drafting outside the top 10.
Below is a 2021 NFL Mock Draft based on the current projected draft order that doesn't project what I think teams will do but instead should do if I were making the picks for all 32 NFL teams.
[Editor's Note: Run your own mock drafts using PFF's 2021 NFL Mock Draft Simulator.]
This is a no-brainer decision for the Jags. PFF's lead draft analyst, Mike Renner, wrote recently that Lawrence "is truly the type of prospect who comes around only once in a generation." Jacksonville can sprint the card in with confidence.
Renner also recently compared BYU signal-caller Zach Wilson and Ohio State's Justin Fields in an article for PFF.com, in which he said:
"The only way I'd go Fields over Wilson is if I had an offensive coordinator who needed a rushing threat at the quarterback position. Otherwise, Fields' issues with holding onto the ball combined with Wilson's elite off-platform ability and arm talent ultimately gives the BYU quarterback the nod."
PFF's Seth Galina also praised Wilson in his article comparing the former Cougars quarterback to another significant pre-draft riser in Joe Burrow, calling out Wilson's notable arm talent as a key separator between the two prospects. And no quarterback in college football has a higher grade than Wilson in 2020.
While some Jets fans are encouraged by what Sam Darnold has shown in flashes throughout his three-year NFL career, the former USC standout simply hasn't shown enough to warrant passing on a talent like Wilson at No. 2 overall.
If the Dolphins' front office feels that Fields or Wilson is a better quarterback prospect than Tua Tagovailoa and one of the two 2021 prospects falls to them at No. 3, the decision should be to swing the bat again and take another quarterback in the first round. It's really that simple.
No, Tagovailoa hasn't played enough to make a decision on his NFL prospects — he's earned a 63.0 PFF grade across just 265 NFL dropbacks. But if Miami isn't confident that Tagovailoa is a better prospect than Fields, Wilson or even NDSU's Trey Lance, the team should pass on Oregon's Penei Sewell, decide on whether to trade Tagovailoa for draft compensation and take a quarterback at No. 3 overall.
With Lawrence and Wilson already off the board in this mock draft, I opt for Sewell over Fields and Lance because I'm still a bit more confident in Tagovailoa over those two quarterback prospects. Sewell is a generational offensive tackle prospect who earned PFF grades in 2019 that we've never seen from an underclassman in the PFF College era (2014-20). However, if I could trade in this mock draft, I'd look to trade back here. It's also a close call between Fields and Sewell, not an obvious decision either way.
Related: It's too early to write off Tua Tagovailoa, but the Miami Dolphins should still draft a top quarterback via Kevin Cole
4. Atlanta Falcons: QB Justin Fields, Ohio State
No non-quarterback picked at No. 4 overall in 2021 will take Falcons from a four-win team to a Super Bowl contender with a 36-year-old Matt Ryan under center and on the books for more than $80M in 2021 and 2022 combined. I'm sorry. So, even if the Falcons' front office is still confident in going the distance with Ryan, adding an heir apparent at the quarterback position with the — ideally — rare opportunity they have drafting inside the top five should be an easy decision.
PFF's 10th-ranked signal-caller in terms of passing grade in 2020, Ryan offers trade value if Atlanta's brass can find a suitor or can continue to start ahead of a rookie quarterback with what should at least be an improved coaching situation and two top-flight wide receivers (Julio Jones and Calvin Ridley).
Fields has his fair share of concerns as a prospect, but he's still the No. 3 overall player on PFF's board and the first-ranked college quarterback in terms of PFF passing grade over the past two seasons (2019-20).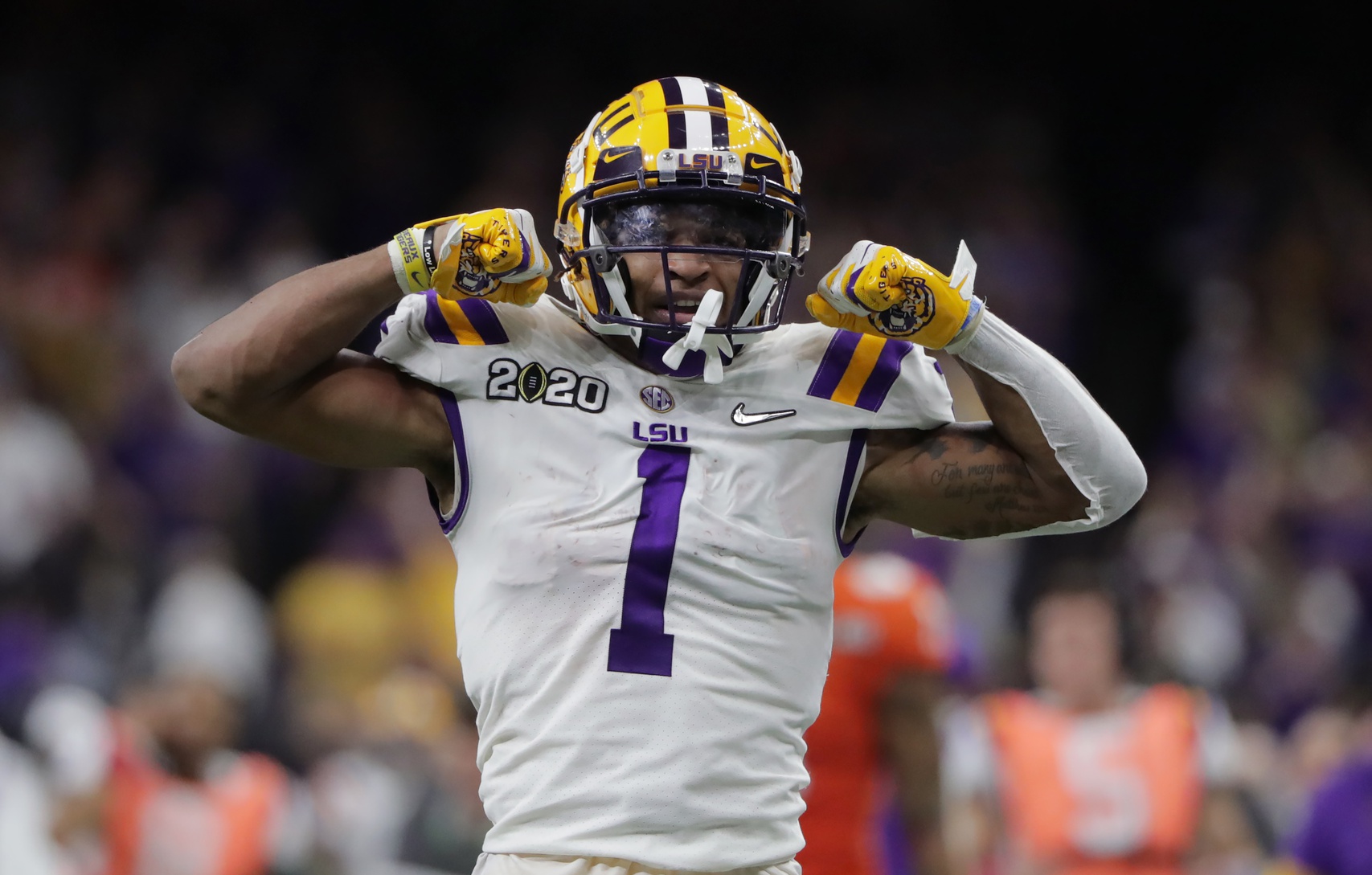 A Burrow-Chase reunion is in order for Cincinnati if they do indeed fall out of the Sewell sweepstakes. The former LSU wideout is currently PFF's No. 1 wide receiver and No. 5 overall player in the 2021 class. He also earned the third-ranked PFF receiving grade (91.3) in college football at just 19 years of age as a true sophomore in 2019.
The Eagles are somewhat screwed at the quarterback position. Even if they draft as high as sixth in the 2021 NFL Draft, it's likely the top three quarterback prospects (Lawrence, Wilson, Fields) are already off the board. They're also still tied to veteran Carson Wentz's monster contract unless they can find a trade suitor in the offseason. And while rookie Jalen Hurts has shown flashes of competence as the team's starter, he's still one of the lowest-graded quarterbacks over the past three weeks (Weeks 14-16) and largely a project at the position.
Hurts and Wentz will likely duke it out in camp to compete for the starting nod just to play for an offense that lacks depth and high-end talent across the board. Targeting one of the best non-quarterbacks in the draft at higher positional value than off-ball linebacker (sorry Micah Parsons stans) at No. 6 overall makes the most sense for Philly.
Waddle is arguably a better receiver prospect than Henry Ruggs III was coming out of Alabama in 2020. An explosive, dynamic athlete, Waddle ranks inside the top five in yards per route run (3.64) and yards after the catch per reception (11.5) over the past two seasons.
7. Detroit Lions: WR DeVonta Smith, Alabama
Even if the Lions re-sign soon-to-be unrestricted free agents Kenny Golladay (27), Marvin Jones (31) and/or Danny Amendola (35), the team still needs more talent at wide receiver. Smith should finish the year with the highest single-season receiving grade in the PFF College era (2014-20) and currently ranks 12th overall on PFF's 2021 NFL Draft Board.
New York has needs nearly across the board, including offensive line, edge defender, wide receiver and off-ball linebacker. Paye is a rare athlete that won't last deep into the first round if he does test as well as expected at the 2021 NFL Scouting Combine. He also has the fourth-best PFF pass-rush win rate (26%) of any Power 5 edge defender in the country.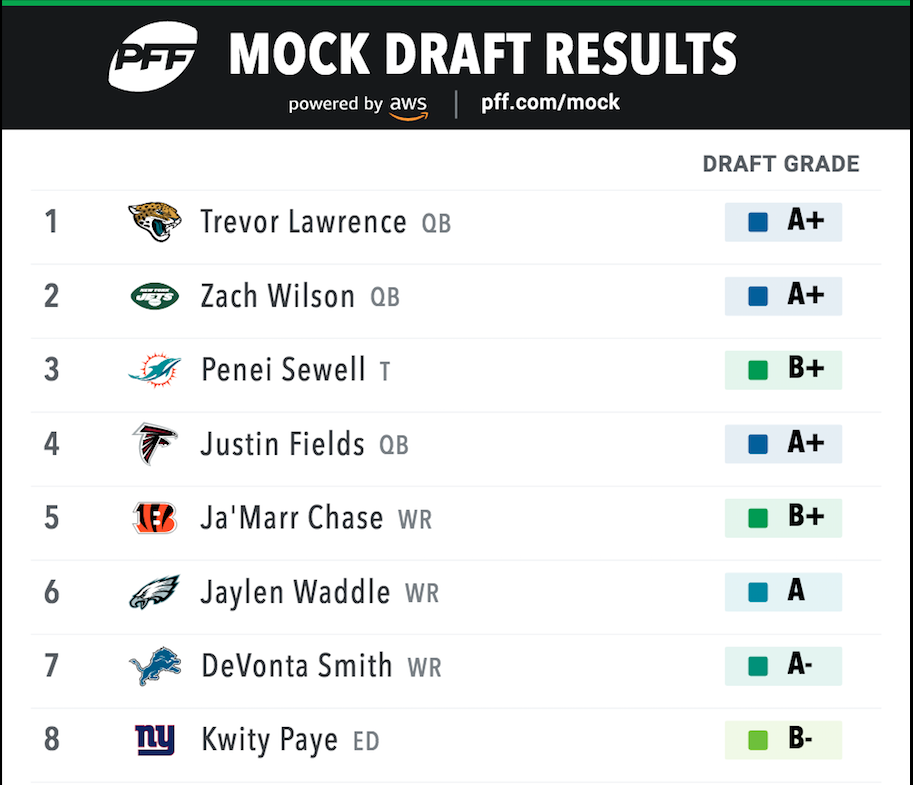 After firing GM Marty Hurney in late December, the new Panthers regime will need to make the decision to either build around Teddy Bridgewater and his $23M cap hit in 2021 or look to make an upgrade at the position this offseason. If they're indeed drafting at No. 9 overall, the prospects of Lance, Alabama's Mac Jones or Florida's Kyle Trask might not be enough for the front office to draft a rookie quarterback over Parsons.
The former Penn State off-ball linebacker is currently PFF's sixth-ranked prospect on the 2021 NFL Draft board. Parsons also finished the 2019 season as the highest-graded off-ball linebacker (91.6).
The Broncos are in a tough spot. John Elway & Co. threw the kitchen sink at adding offensive weapons (Jerry Jeudy, K.J. Hamler) for second-year quarterback Drew Lock in a prove-it year, and now Lock will enter Week 17 as PFF's 28th-ranked quarterback in terms of passing grade (60.8). While it's obvious the Broncos should pursue an upgrade over Lock, adding a clear-cut upgrade without a top-five pick will be difficult.
Elway may chase veteran quarterbacks on the trade market (Carr, Wentz, Garoppolo, Ryan, Stafford), but if he can't find a price point he likes, Lance could be his best option at No. 10 overall. The former NDSU standout is a toolsy prospect with a lot of the measurables (size, athleticism, arm strength) talent evaluators look to target and develop at the quarterback position.
Drafting a tight end early in the first round isn't great from a positional value perspective, but Pitts doesn't just play tight end. The 6-foot-6, 240-pound Florida Gator currently owns one of the highest PFF grades in the country regardless of position (96.2) while playing 261 offensive snaps at inline tight end, 79 at slot receiver and 69 at wide receiver. Not even the Cowboys have enough weapons on offense to warrant passing on Pitts at No. 11.
Currently PFF's top-ranked cornerback and No. 14 overall player in the 2021 class, Farley is a fluid athlete with all the tools necessary to dominate at outside cornerback in the NFL. Before opting out of the 2020 season and declaring for the draft, the 6-foot-2, 207-pound Farley earned a 90.5 PFF coverage grade that ranked third among Power 5 cornerbacks in 2019.
13. Minnesota Vikings: Edge Gregory Rousseau, Miami (Fla.)
Even when Danielle Hunter returns from injury, Minnesota will have a need at edge defender. Veterans Ifeadi Odenigbo and Jalyn Holmes and rookie D.J. Wonnum have all earned sub-61.0 PFF grades through Week 16. The Vikings also rank 32nd in the NFL in quarterback pressure percentage at 21.6%.
Rousseau is far from a polished prospect, but the former Miami (Fla.) defender is a high-end athlete with ridiculous size and length for the position (6-foot-6, 260 pounds). He earned a 76.2 PFF grade playing up and down the line of scrimmage for the Hurricanes in 2019 and can immediately step in as a chess piece in Zimmer's defense while he develops his pass-rushing skill set.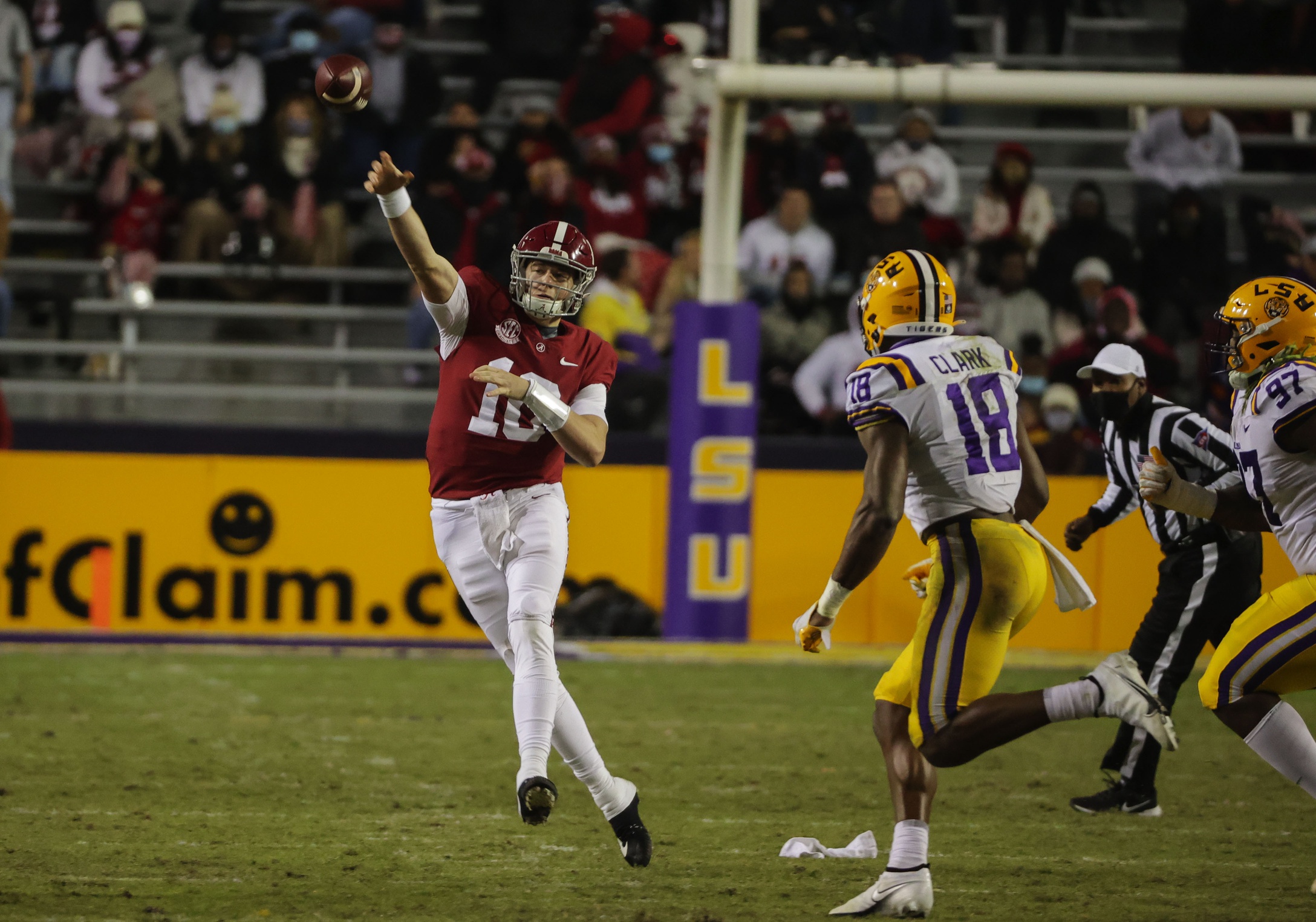 The Cam Newton experiment has not panned out in New England. Through Week 16, he ranks just 26th in PFF passing grade (67.1). Jones is currently outperforming Tua in what is still a loaded 'Bama offense and currently ranks second behind BYU's Wilson in PFF grade (95.3) among all FBS quarterbacks.
Richard Sherman, Jason Verrett, K'Wuan Williams and Ahkello Witherspoon will all test free agency if they aren't re-signed before March 2021. Surtain is a big, instinctive outside cornerback prospect that should push Farley for CB1 in the 2021 class by the time April comes around. Surtain leads all college cornerbacks with at least 400 defensive snaps played in PFF grade (87.0) in 2020.
16. Las Vegas Raiders: LB Jeremiah Owusu-Koramoah, Notre Dame
Draft need is irrelevant for Las Vegas. Every level of the defense could use an upgrade, the wide receiver position still lacks consistency and the offensive line is older/consistently battling injuries. Notre Dame linebacker Jeremiah Owusu-Koramoah should be one of the best players available to Mike Mayock & Co. if they're indeed drafting at No. 16 in April's draft. JOK is a high-end athlete who can actually hold his own in coverage, an ever-elusive trait for the Raiders' defense for the last decade-plus.
While D.J. Humphries and Kelvin Beachum have been more than serviceable for Arizona this season, adding a developmental tackle like Cosmi in the first round is good process when considering positional value and the fact that he could be the best player available at No. 17. One of the better athletes at his position, the 6-foot-7, 309-pound Cosmi has earned 82.0-plus PFF pass-blocking grades in all three of his years at Texas. He also earned a 90.5 PFF grade in 2020 and could very well kick inside early in his NFL career if Arizona re-signs Beachum (31).
18. Indianapolis Colts: T Christian Darrisaw, Virginia Tech
Darrisaw is one of the bigger college football breakouts in 2020. A former three-star recruit out of Maryland, Darrisaw has improved his grade from 68.6 starting at left tackle in 2018 up to 95.6 playing the same position in 2020. The 6-foot-5, 350-pounder earned himself some money this season, for sure.
Leatherwood is currently PFF's No. 21 overall player in the 2021 class. The smooth-moving Alabama offensive tackle has some of the best footwork in the class and is just scratching the surface on his potential as a former five-star recruit at 6-foot-6, 312 pounds.
20. Chicago Bears: T Rashawn Slater, Northwestern
A former three-star recruit, Slater earned 75.0 and 76.6 PFF grades playing right tackle for Northwestern as a true freshman and sophomore in 2017 and 2018, respectively. His PFF grade jumped up to 90.0 in his first season starting at left tackle for the Wildcats in 2019. He immediately fills a need for the Bears along the offensive line regardless of whether he plays tackle or interior offensive line at the next level.
The Jaguars need to continue to invest draft capital in the secondary. Sidney Jones is the only Jacksonville defender with 100-plus snaps at outside cornerback and a PFF grade above 61.0. Rookie C.J. Henderson should continue to get better with experience as long as he can get healthy, but the rest of the depth chart is a bit of a mess.
Georgia cornerback Tyson Campbell is a former five-star athlete with absurd size, length and athleticism for the position. He's well worth a first-round investment, even if he too needs time to develop like Henderson.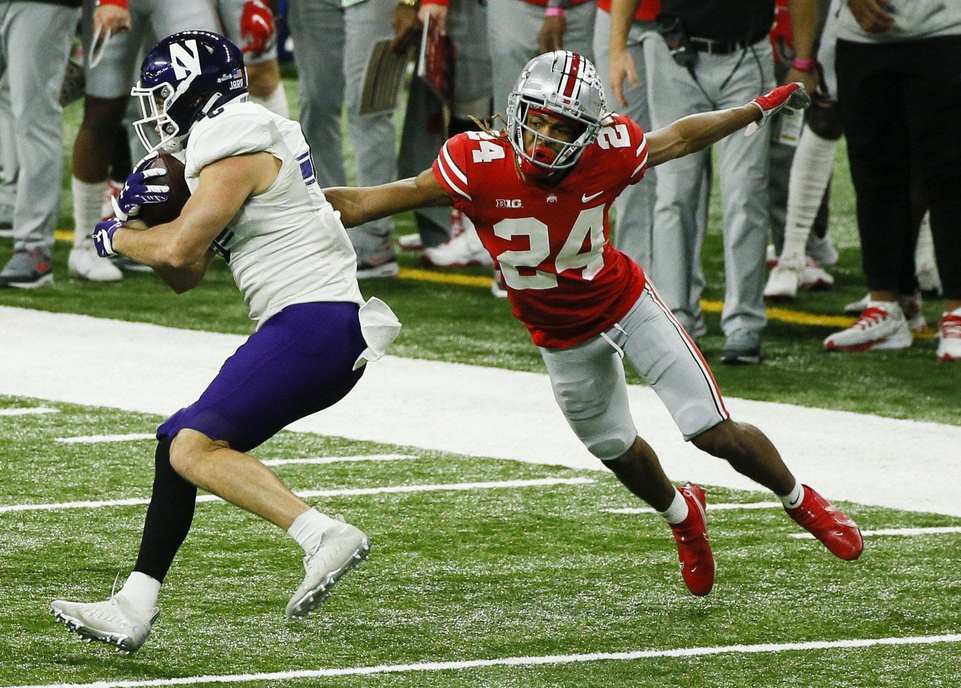 Wade hasn't been overly impressive for Ohio State in his first season playing mostly outside cornerback for the team, but he still presents a high floor as a playmaking box/safety player in the NFL. The former five-star recruit is an aggressive tackler who flies to the football when playing the run or shallow route concepts in front of him. Cleveland can't go wrong spending a late first-round pick on a talent like Wade.
23. Miami Dolphins: Edge Carlos Basham Jr., Wake Forest
While he hasn't taken the 2020 leap we expected from him after earning a 90.6 PFF pass-rushing grade in 2019, Basham is still a plus athlete with ideal size (6-foot-5, 285 pounds) for the edge defender position in the NFL. Miami's highest-graded edge defender this season is Andrew Van Ginkel, and even he doesn't have a PFF pass-rush win rate above 17%. Let the likely 2020 Coach of the Year Brian Flores cook with some actual pass-rushing talent along the edge.
24. Baltimore Ravens: WR Rashod Bateman, Minnesota
Baltimore's 2019 draft picks Marquise Brown and Miles Boykin haven't lived up to expectations. Rookies James Proche and Devin Duvernay have been gadget players at best in 2020. Willie Snead IV is an afterthought in the offense and is expected to test free agent this offseason. Dez Bryant is 32 years old and nearly quit the team after testing positive for COVID-19. If Rashod Bateman, Rondale Moore or even Kadarius Toney is still on the board late in the first round, Baltimore might have to prioritize need and sprint the card in.
25. Tennessee Titans: Edge Jayson Oweh, Penn State
One of several developmental edge prospects in this class, Oweh is athletic and bendy for the position but lacks high-end collegiate production. He earned just an 81.8 PFF pass-rushing grade in 2019 and an 80.3 PFF pass-rushing grade in 2020. However, he is a project worth investing in the back end of the first round for a Titans team in desperate need of some juice along the edge.
The wheels haven't fallen off for Tom Brady just yet, but investing in the heir apparent for the future Hall of Fame signal-caller could be a worthwhile option for Tampa Bay. The biggest knock on Trask is that his arm talent isn't on par with the top prospects in this class, but his improvement from 2019 to 2020 is significant enough for a team with a viable starter to look take a flyer on him late in Round 1.
27. New York Jets (via Seattle): LB Nick Bolton, Missouri
Bolton is a hard-hitting off-ball linebacker prospect who flies sideline to sideline. He's been one of the best coverage linebackers in the country over the past two seasons and has more than proved he has the movement skills to have success at the position in the NFL.
28. Buffalo Bills: CB Asante Samuel Jr., Florida State
What Samuel lacks in size, he makes up for in athleticism and positional versatility. He's an instinctive player who doesn't shy away from contact if positioned in the slot or the box, and his movement skills give him an advantage over a lot of outside receivers when lined up at cornerback. He likely projects as a slot cornerback or safety at the next level at just 5-foot-10, 184 pounds, but he's earned the best PFF coverage grade (82.8) of his career playing outside cornerback for FSU this season.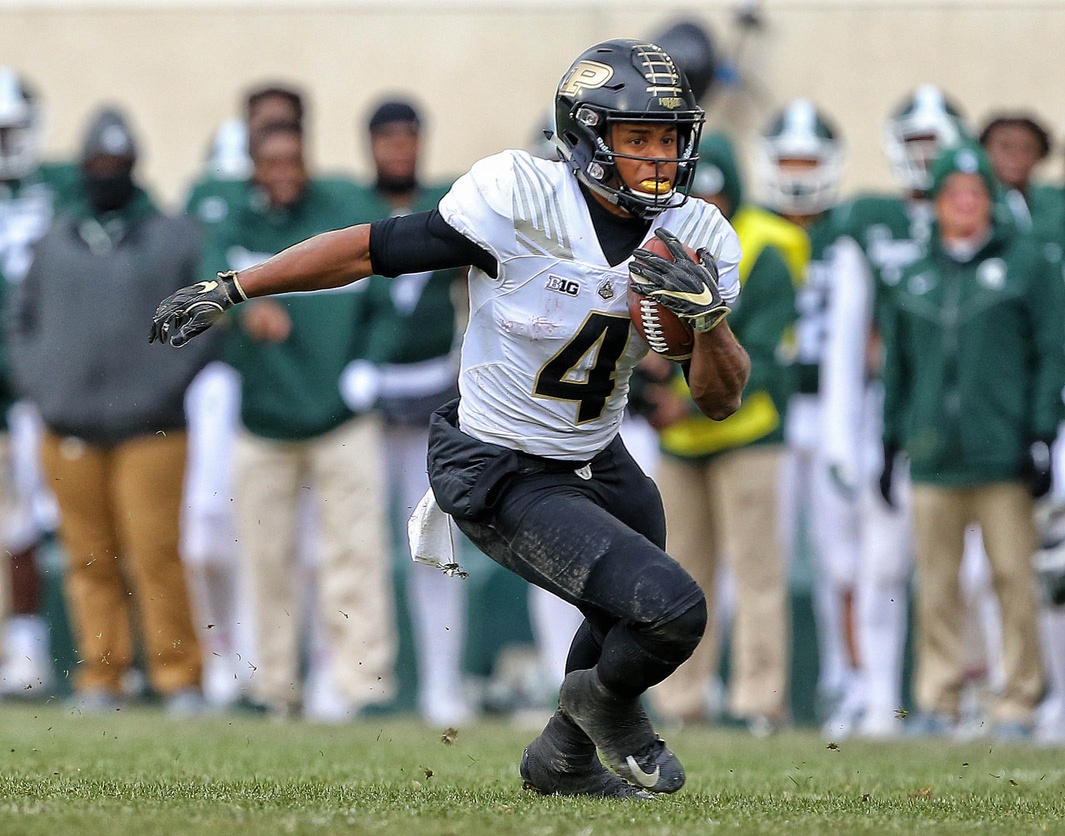 Veteran wideout Emmanuel Sanders is a likely cap causality this offseason, and the Saints already have bigger possession types in Michael Thomas and Tre'Quan Smith in their arsenal. Moore is a legit different-maker after the catch that can turn quarterback Drew Brees' infatuation with the short pass into a more profitable strategy for New Orleans early in his career.
Veterans Steven Nelson and Joe Haden both enter the final years of their respective contracts in 2021. And while they haven't been complete liabilities at outside cornerback for Pittsburgh this season, there's opportunity for Pittsburgh to improve at the position late in the first round come April.
Kendrick is a former five-star recruit who first played wide receiver at Clemson as a true freshman in 2018. He then made the transition to outside cornerback in the spring of 2019 and never looked back. He currently ranks 26th on PFF's 2021 NFL Draft Board and has earned a 73.9 PFF coverage grade with the Tigers so far this season.
I'll say it. I'm high on Olave, perhaps higher than Renner and the rest of the PFF office. He doesn't have game-changing speed or size, but he's easily one of the most polished route-runners in the class. Give MVP Aaron Rodgers another technician to throw to opposite Davante Adams, please.
Vera-Tucker is one of the highest-graded offensive tackles in the country but best projects as an interior offensive lineman at the next level. The USC standout can fill a need at either guard position for Kansas City right away and provide depth at multiple positions as a swing piece for an offensive line that's been plagued by injuries of late.