As a part of our partnership with ESPN, this is a part of a story that was originally published on ESPN+ and can be viewed in its entirety here with your ESPN+ subscription – Ranking NFL franchise quarterbacks: How the 2017-2021 draft classes stack up, and why Trevor Lawrence is high on the list
The recent influx of talent at the quarterback position has transformed passing games across the NFL. We've seen 15 quarterbacks drafted in the first round of the past four drafts, with 11 of them currently serving as the starter for their respective franchise. On top of that, there are somewhere in the neighborhood of five more QBs primed to be selected in Round 1 next April at the 2021 NFL draft.
With that in mind, PFF set out to rank the top 10 quarterbacks who we'd want to lead a franchise — based on talent alone, and not their respective contract situations — from the 2017-2021 NFL draft classes.
Draft class: 2017
Do you really need an explanation here? Since Mahomes entered the NFL, his 93.1 passing grade trails only that of Drew Brees (93.4). The next closest player on this list is Deshaun Watson at 83.5. Mahomes ranks third in deep completions over that span with 101, despite playing only one game his rookie year, and second in deep adjusted completion percentage at 48.0%.
What really separates him from the rest of the quarterbacks on this list, however, is his consistency. In 46 career starts, including the playoffs, Mahomes has only six career games with below-average passing grades. You can count on Mahomes and the Chiefs' offense to show up every single week.
---
Draft class: 2021
Lawrence's freshman season was arguably more impressive from a draft perspective than anyone on this list's best college season overall. The cannon arm and quick decision-making we saw during that 2018 season were special traits, regardless of age.
The scary thing: He's still getting better. We've seen a level of accuracy from Lawrence this season that we had not seen from him in years past. Our ball charting says that Lawrence has been the most accurate quarterback in college football in 2020, with 73.7% of his throws hitting their mark — even higher than Joe Burrow's incredible 71.7% mark at LSU last season. Lawrence is as sure a thing as we've seen at the quarterback position in Pro Football Focus' seven years of grading college football.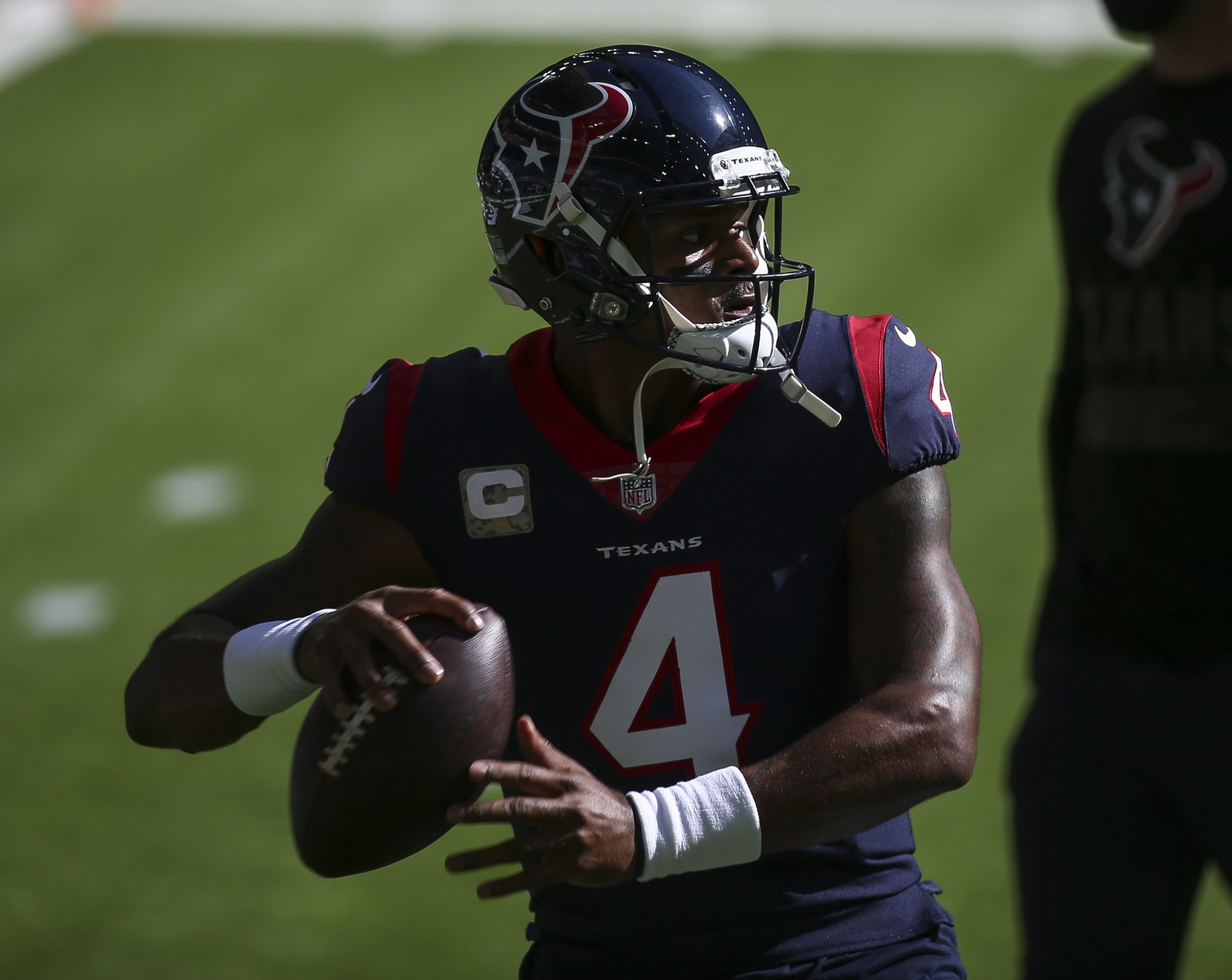 Draft class: 2017
While most of the other quarterbacks on this list are either too young to get a handle on how good they are or have been up and down over the course of their careers, Watson has been a top-10 quarterback since day one. An ACL tear robbed us of his special rookie season, but Watson has finished No. 11 and No. 7 in overall grade among quarterbacks in his full two seasons since, and he is currently fifth this season.
---
Draft class: 2018
In 2019, we saw Jackson's high end: an MVP-level performance. He earned a 90.1 overall grade that season and led the league's most efficient offense by a good margin. But in 2020, we're likely seeing his low end. He went from an 82.5 passing grade last year to 69.9 this season, and his 90.5 rushing grade in his MVP year has fallen to 75.9 this time around.
The real Jackson is likely somewhere in the middle going forward. He's one of the highest-floor quarterbacks in the league because of how dynamic he can be as a runner and what that does to opposing defenses. His 1,730 rushing yards since the start of 2019 rank sixth among all players in the NFL — not just quarterbacks. And he has had to do it this season with an offensive line hurt by injuries. His offense will never look like that of other quarterbacks on this list, but Jackson is one of the scariest players for opposing defensive coordinators.
---
Draft class: 2020
It's important to remember that this isn't a list of who you'd want for a game tomorrow, but rather who you'd want to lead a franchise for the next decade. So there's a good deal of projection involved, even as Burrow is now out for the season with a knee injury. While Kyler Murray and Josh Allen might have been playing better headed into Week 11, Burrow's rookie season blows their respective first-year campaigns out the water. His 74.7 overall grade would be the seventh highest from a rookie that we've seen since we started grading in 2006.
How is he doing it? Well, that pinpoint accuracy that Burrow was known for during his Heisman campaign at LSU hasn't gone anywhere. While he has struggled to connect on some deep balls this season, Burrow has been the fifth-most accurate quarterback in the NFL throwing to the intermediate range — the area often thought to separate the elite quarterbacks from the mediocre ones. The quarterbacks who join him in the top five are Brees, Dak Prescott, Philip Rivers and Russell Wilson. That's pretty good company for a rookie to keep.
Draft class: 2019
---
Draft class: 2018
Before the season, Allen wouldn't have come close to cracking the top 10 here. That's indicative of how fickle the business of player evaluation can be, but also a testament to the kind of leap Allen made from Year 2 to Year 3 with the Bills. He has massively improved in the one area most agree is nearly impossible to improve: accuracy.
The numbers are astounding. He went from his targeted passes being deemed accurate 51.4% of the time in 2019 to 59% in 2020. He went from his targeted passes being deemed uncatchable 26.8% of the time in 2019 to 16.5% in 2020. That's a leap we've really never seen in our charting. At only 24 years old, and with one year of junior college and two years of starting in the Mountain West under his belt before he entered the NFL, Allen is a "tools" prospect success story.
---
Draft class: 2021
Before the whole "Ohio State QBs never work out in the NFL" conversation comes up, consider this. Dwayne Haskins Jr. earned an 84.9 passing grade in his lone year as a starter for the Buckeyes and gained 51.4% of his yards through the air. Fields, on the other hand, earned a 92.4 passing grade in 2019 while a ridiculous 72.0% of his yardage came through the air. Fields simply does far more heavy lifting in the Buckeyes' offense than anyone who came before him.
Fields started 2020 with three straight games of 90.0-plus passing grades, with 11 touchdowns and zero interceptions. And we haven't even mentioned that he's valuable as a runner, too. Fields racked up 688 yards with 20 broken tackles on 72 carries last season.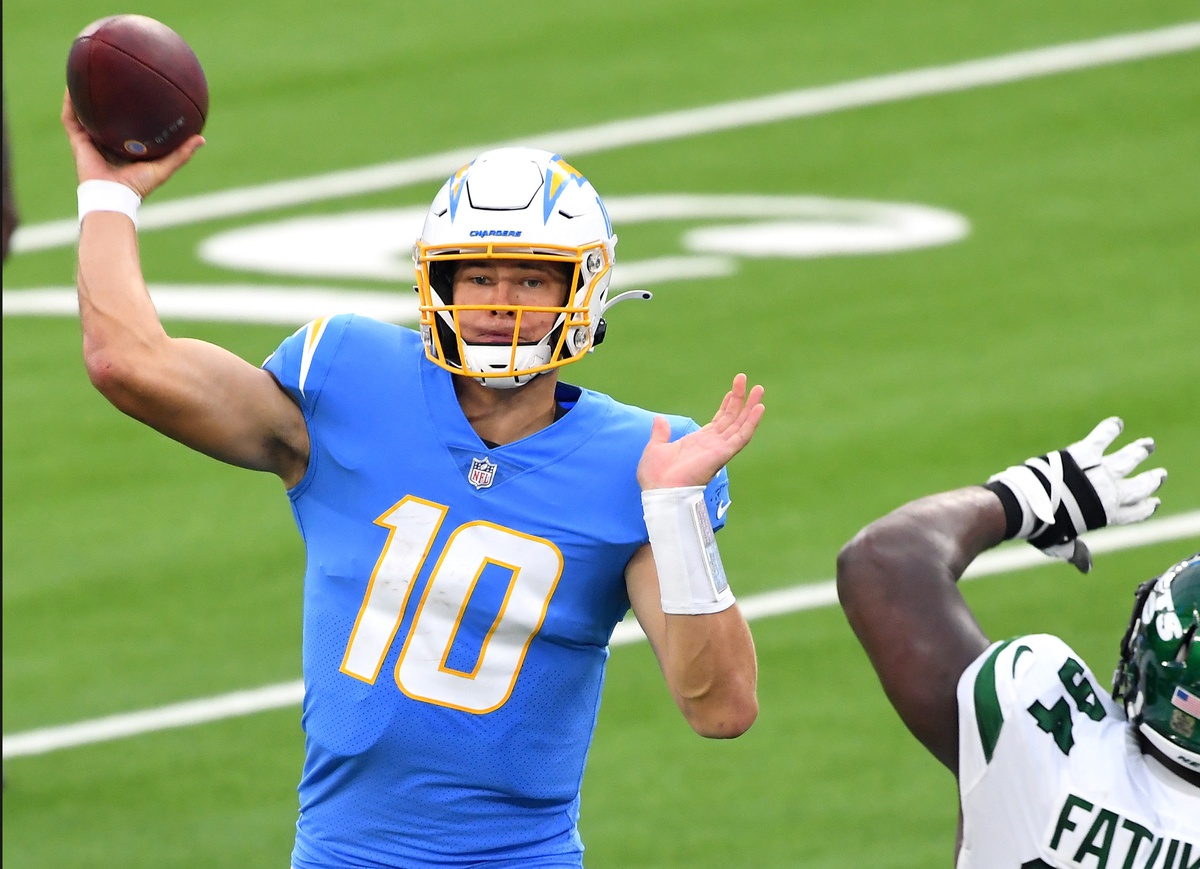 Draft class: 2020
Ninth might seem low for how well Herbert has started off his rookie season, but that's how much talent has entered the league of late. The Oregon product has been a big-play specialist for the Chargers so far. It's not often you say that about a rookie, and it is made even more ridiculous when you realize he was far from that for the Ducks last season. His 19 big-time throws rank ninth among all quarterbacks in the NFL through 10 weeks — only two fewer than he had at Oregon in all of 2019.
That's why scheme is so important at the QB position. He was in a lateral, screen-heavy offense at Oregon that rarely attacked downfield. The Chargers have been the opposite, and his natural arm talent has shined. While the hype train came crashing back down to earth a bit with a rough performance against the Dolphins, Herbert has still shown more than enough to know he's for real.
---
Draft class: 2021
There's no fluke to Wilson's meteoric rise up draft boards this season. He edges out Dolphins rookie Tua Tagovailoa because of his physical tools. Wilson has a quick snap release that can send the ball 50-plus yards downfield on the move with a flick. And he isn't missing throws this season. He ranks third in FBS with only 12.7% of his throws being deemed uncatchable.
It's not as though Wilson is out there running screens and run-pass options to pad his accuracy numbers underneath, either. He ranks fourth in the country with 20 big-time throws, and his average depth of target is a healthy 10.7 yards downfield. In a loaded draft class at the position, Wilson's 94.7 passing grade leads the nation. Expect him to be one of the top quarterbacks taken next April.