PFF's 2021 NFL Draft Guide includes scouting reports and advanced data on 150 draft prospects. So, what better way to celebrate its initial release than by taking a look through the PFF lens at the top prospect at each position along with one prospect to keep an eye on as we navigate through draft season.
PFF's 2021 NFL Draft Guide is live and available to all EDGE and ELITE subscribers. If you're already an EDGE or ELITE subscriber, download your copy here.
Considered a four-star recruit coming out of Jennings, Louisiana, in 2017, Travis Etienne was heavily recruited by LSU but ultimately opted for Clemson even though it was the last of the 34 schools to offer him a scholarship, per Luke Johnson of The Advocate. His dedicated following in his small hometown wasn't enthused, as he received countless calls shortly after his commitment from those upset with his decision not to attend LSU, per Matt Connolly of The State.
Etienne had just one offer on the table (South Alabama) before he attended the New Orleans Nike Opening camp in April 2016. There, the 5-foot-11, 199-pound back made waves. He finished second behind Clyde Edwards-Helaire in composite score among Louisiana's participants, but he beat out the LSU commit in the 40-yard dash with his 4.43-second time,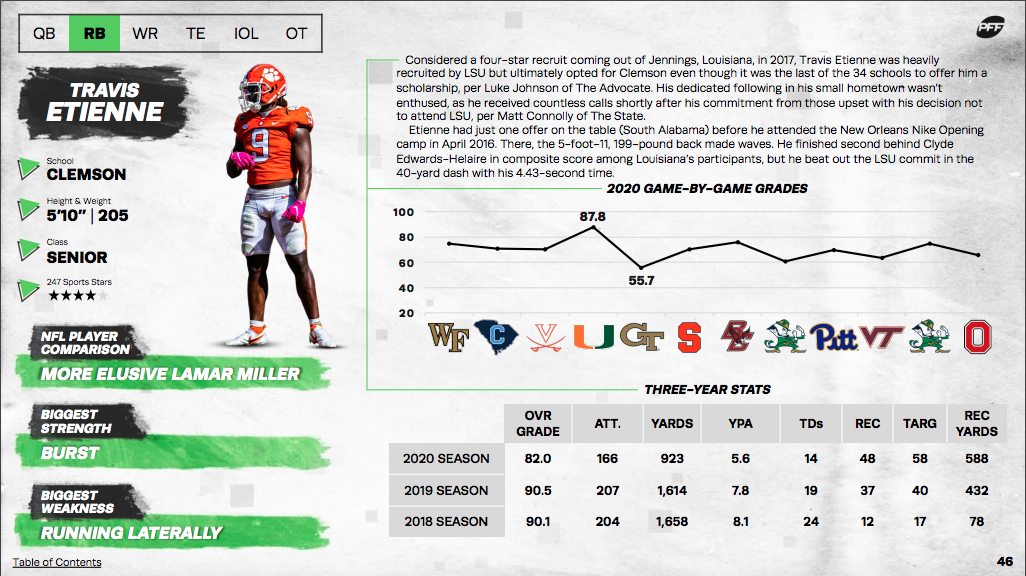 While it's a tad concerning that Etienne's efficiency took a massive hit — Clemson's offensive line faltered this season after losing four starters to the NFL — what Etienne did as a receiver likely turned some heads. He was a downfield passing weapon in the Clemson attack after being an afterthought in that regard early in his career. His 588 receiving yards were the most of any back in the country this year. His explosiveness and tackle-breaking ability didn't go away; rather, Etienne only saw 1.8 yards before contact this season compared to 2.8 in 2019 and 3.8 in 2018.
NFL player comparison: A more elusive Lamar Miller
Biggest strength: Burst
Biggest weakness: Running laterally
Projection: Second-round pick
Bottom line: Etienne is not a plug-and-play NFL running back, but he's the
most dynamic threat at the position in the class.
For advanced stats, pros and cons, passing heatmaps, three-year grades, game-by-game breakdowns and more, download your copy today!
---
Javonte Williams led North Carolina's Wallace-Rose Hill High School to its fourth consecutive title as a senior, as he earned MVP honors in the title game and totaled 2,271 rushing yards and 27 touchdowns on the year (2017). He also won a track and field state title in the 4×100-meter relay in 2016. However, Williams didn't receive a ton of offers as part of the 2018 class.
He was tagged as just a three-star recruit and saw scholarship interest from only FCS and Ivy League schools. Following his standout performance in the title game, he made a visit to North Carolina and received an offer. He accepted it quickly and enrolled early.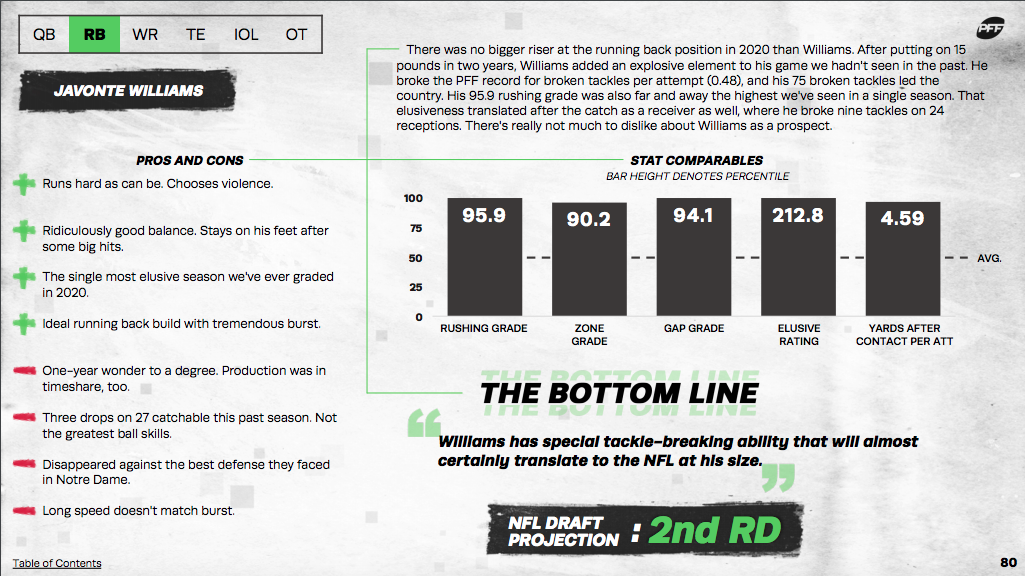 There was no bigger riser at the running back position in 2020 than Williams. After putting on 15 pounds in two years, Williams added an explosive element to his game we hadn't seen in the past. He broke the PFF record for broken tackles per attempt (0.48), and his 75 broken tackles led the country. His 95.9 rushing grade was also far and away the highest we've seen in a single season. That elusiveness translated after the catch as a receiver as well, where he broke nine tackles on 24 receptions. There's really not much to dislike about Williams as a prospect.
NFL player comparison: A bigger Aaron Jones
Biggest strength: Violent running style
Biggest weakness: Workload
Projection: Second-round pick
Bottom line: Williams has special tackle-breaking ability that will almost
certainly translate to the NFL at his size.
For advanced stats, pros and cons, passing heatmaps, three-year grades, game-by-game breakdowns and more, download your copy today!
---
Though he was born in Memphis, Tennessee, Felton attended Great Oak High School in Temecula, California. It was not until his final two seasons that he showcased his talents, totaling 367 carries, 2,624 rushing yards and 29 touchdowns on the ground. He added another 951 yards and nine touchdowns off 49 receptions.
The speedy back was labeled a three-star athlete by 247Sports and pulled in seven offers. The likes of Michigan and Arizona State sought his services, but Felton chose to stay closer to home and signed his letter of intent to join the UCLA Bruins in February 2016.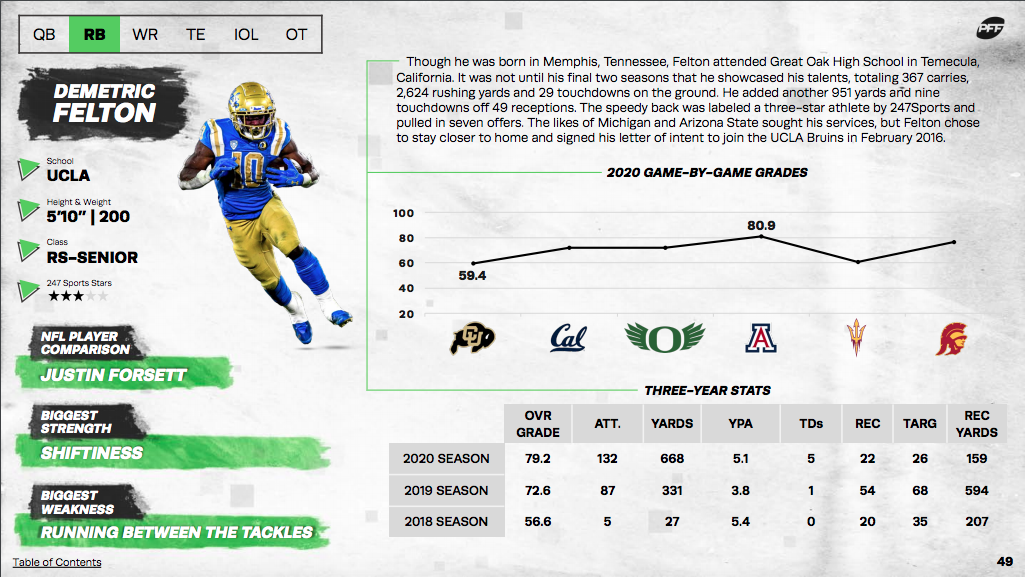 Felton started his career as a slot receiver in the UCLA offense before packing on the mass and taking over as a full-time running back this season. The ball skills didn't go anywhere, and he also proved he could handle a large workload this past season. He had 25-plus carries in three of his six games this season and broke 36 tackles on 132 attempts. Felton will be coveted most for that versatility, and any team that plans to feature running backs heavily in the passing game will undoubtedly give Felton a long look.
NFL player comparison: Justin Forsett
Biggest strength: Shiftiness
Biggest weakness: Running between the tackles
Projection: Fourth-round pick
Bottom line: Felton is a modern slot-running back hybrid who can create
mismatches in the passing game.
---
Courtesy of PFF's 2021 NFL Draft Guide, find PFF's top draft prospect, biggest riser and wild card to watch at each position here: