Utilizing tiers during fantasy football drafts is a great way to get the most value out of each position. This year, the tight end tiers are broken out quite nicely, varying in degree from the elite options at the top and breakout tight ends at the bottom, with a mixed bag of talent in between. 
Subscribe to PFF's EDGE or ELITE subscriptions to get access to the following tools, charts, etc. 
– All Premium Article Content
– Fantasy Football Rankings & Projections
– Fantasy Football Draft Guide, Cheat Sheets & Advanced Stats
– Fantasy Football Mock Draft Tool (DraftMaster)
– Fantasy Football Strength of Schedule Matrix
– NFL Player Grades
– NFL Premium Stats
The skill at the tight end position falls off significantly after the early tiers, incentivizing us to forego addressing the need in the middle rounds. We're much better off fading the middle-range tight ends in favor of running backs and wide receivers. We're just passing up too much RB/WR talent in the middle rounds when there's so much value at TE in the late rounds. 
My advice is to either select a Tier 1 tight end early or wait until the Tier 4 to 6 range to snag your first — but you'll need to add backup. If you take two or three tight ends from Tiers 4 through 9, chances are you'll find a usable fantasy asset or end up with a collection worth streaming.
This article is the fourth and final edition in a series on skill position tiers following my 2020 fantasy football quarterback rankings tiers, wide receiver rankings tiers and running back rankings tiers.
TIER 1 – Set It and Forget It
George Kittle, San Francisco 49ers
Mark Andrews, Baltimore Ravens
Travis Kelce, Kansas City Chiefs
You might be surprised to see Travis Kelce at the bottom of this trio of elite tight ends. The biggest knock I have on Kelce has nothing to do with the player but rather the the supporting cast around him.
The addition of Clyde Edwards-Helaire could eat into Kelce's target share. As I explained in a previous article on the relationship between running back and tight end targets, TE and RB targets are negatively correlated. All three tight ends in this tier were supported by teams that ranked top-five in TE1 targets and bottom-five in RB1 targets.
Considering our PFF projections have CEH seeing 70 targets in 2020 — almost double what Damien Williams saw last season — Kelce's three-year run as the No. 1 tight end in fantasy land is over.
Most TE1 targets in 2019
| | |
| --- | --- |
| Kansas City Chiefs | 130 |
| Philadelphia Eagles | 128 |
| Las Vegas Raiders | 115 |
| San Francisco 49ers | 106 |
| Baltimore Ravens | 97 |
Fewest RB1 targets in 2019 
| | |
| --- | --- |
| Baltimore Ravens | 28 |
| San Francisco 49ers | 28 |
| Tennessee Titans | 28 |
| Miami Dolphins | 33 |
| Kansas City Chiefs | 36 |
On the other hand, Mark Andrews projects to see more targets in 2020, along with a higher percentage of snaps on offense. It seems shocking, but Andrews played fewer than 60% of his team's passing snaps in 2019 and was an absolute target magnet when running routes. His target rate on routes run (32.9%) was the highest among all players with at least 100 routes run.
Target rate on routes run (min. 100 routes)
| | |
| --- | --- |
| Mark Andrews | 33% |
| George Kittle | 31% |
| Tyler Higbee | 31% |
| Michael Thomas | 30% |
| Davante Adams | 29% |
George Kittle is my highest-ranked tight end and should be seriously considered in the second round. With Deebo Samuel sidelined to start the season, Kittle should have a clear path to the No. 1 receiving role for Jimmy Garoppolo. His yards per route run (3.12) and PFF receiving grade (95.0) ranked No. 1 in the league among all positions in 2019.
TIER 2 – Solid Starters
Zach Ertz, Philadelphia Eagles
Darren Waller, Las Vegas Raiders
We know what we're getting with Zach Ertz and Darren Waller — solid tight ends we can start with confidence every week. They ranked second and third in targets, respectively, last season, although both teams have added several weapons on offense. This could eat into their target shares, limiting their ceilings.  
Waller will have to deal with the addition of veteran tight end Jason Witten, who commanded 82 targets with the Dallas Cowboys in 2019 — that ranked eighth at the position. It's noteworthy as well that returning backup tight end Foster Moreau saw heavy usage near the goal line in 2019. He consistently stole touchdowns that could have gone to Waller — nine red-zone targets and eight red-zone receptions resulting in five touchdowns.
Ertz was the only show in town with the Philadelphia Eagles plagued by injuries, and he absolutely delivered down the stretch with five top-five finishes from Week 9 on. But when the Eagles were healthier during the beginning of the season, Ertz was not nearly as productive.
He had five finishes outside the top-10, which for a tight end with a premium price tag is a disappointment. Ertz was also less efficient than teammate Dallas Goedert, who edged out Ertz in yards per route run (1.73 vs. 1.65), target rate on routes run (23.8% vs. 23.3%) and PFF receiving grade (78.0 vs. 71.5).
With Goedert on the verge of a breakout and the Eagles adding more mouths to feed on offense, Ertz's days as an elite tight end might be over.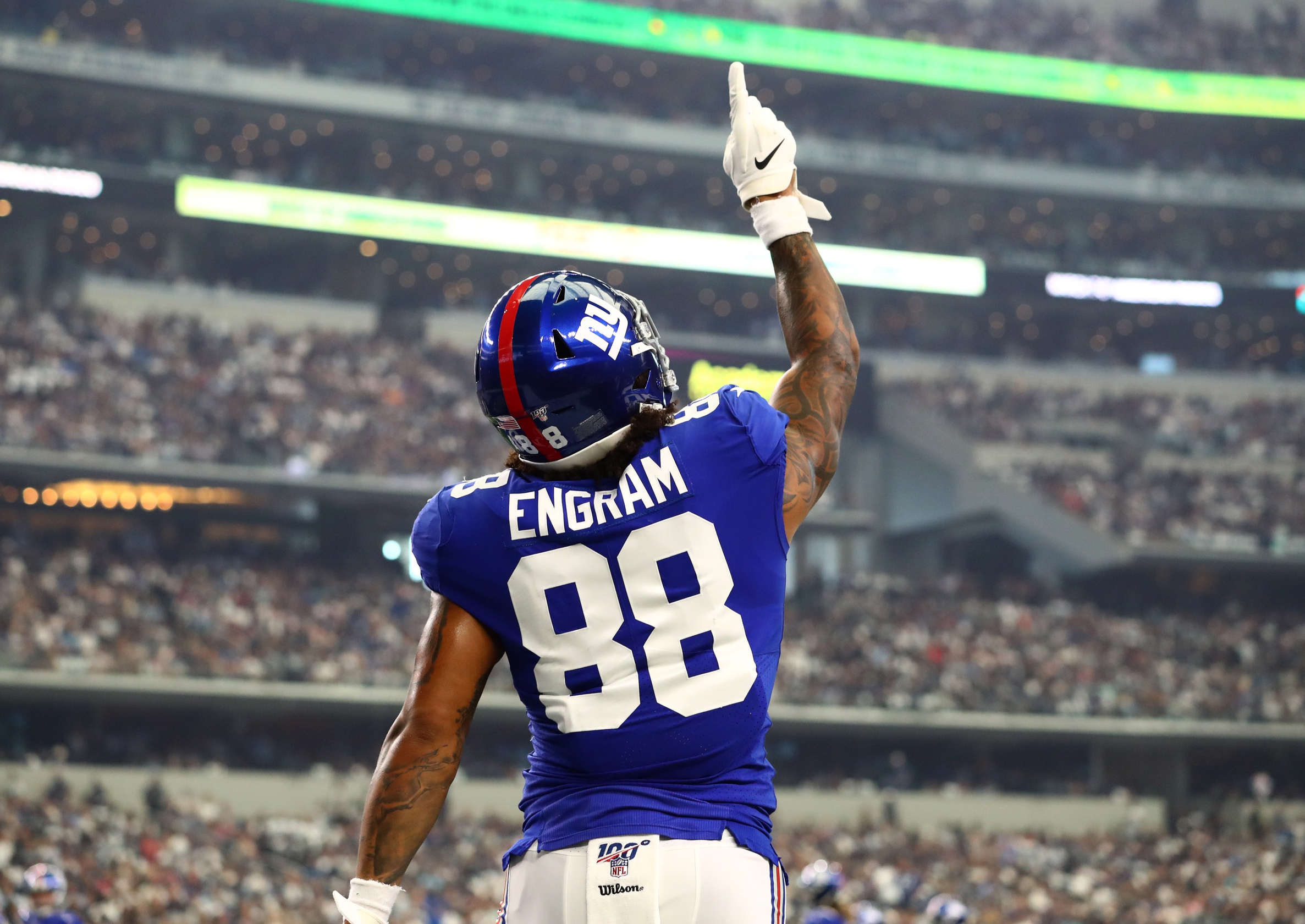 TIER 3 – Middle of The Pack
Austin Hooper, Cleveland Browns
Hunter Henry, Los Angeles Chargers
The middle tier of the tight end landscape is tricky to navigate. Each tight end has enough buzz around him to avoid the "late-round" label, but they all come at a less-desirable price.
Evan Engram and Hunter Henry have produced as high-end TE1s in the past but constantly deal with injuries. Austin Hooper was one of the best tight ends overall last season but signed with the Cleveland Browns, where he won't see nearly the same passing volume he saw in Atlanta.
The Falcons replaced Hooper with Hayden Hurst, putting him in a great situation, but Hurst's sample size as an NFL tight end is limited to just 47 catches over his first two seasons.
Unless any of these tight ends fall enough in drafts to give them that "late-round" label (or you hate every running back or wide receiver available at their ADP), it is better to wait. The reasoning: If you invest a middle-round pick in one of these guys, you will be much more reluctant to move off him for a waiver tight end who breaks out in Week 1.
If either Hooper or Hurst falls in the draft, he would be the preferred target. Baker Mayfield has been at his best when he's had a tight end like Hooper at his disposal, and Hurst has a legitimate shot to emerge as the primary slot receiver for the Falcons. Even if you miss out, both will be great buy-low candidates if they start slow come October as they get more comfortable with their new teams.
TIER 4 – Can They Return to Form?
Tyler Higbee, Los Angeles Rams
Rob Gronkowski, Tampa Bay Buccaneers
When we saw these two players firing on all cylinders, they were in the elite category of fantasy tight ends. The question now becomes: Can they reclaim the elite production that once was?
Tyler Higbee is the frontrunner for the Rams' No. 1 tight end job, but with Gerald Everett returning to the lineup — not to mention Higbee's TE7 ADP — there should be concerns that Higbee won't duplicate his elite production during the final quarter of the 2019 season. After all, Higbee was averaging just under three targets per game when Everett was playing a full snap share.
We have not seen a fully healthy Rob Gronkowski since the start of the 2018 season, but Gronk is back in our fantasy lives after a short retirement to reunite with his beloved quarterback Tom Brady in brand new surroundings.
Gronkowski's health is going to be a question, but until games are played we must assume the year off has him ready to roll Week 1. Of course, we can't expect the Gronk of old, steamrolling guys left and right. But he'll likely be deployed as a go-to option in the red zone for Brady. In seasons when Gronkowski has played at least eight games — except for 2018 due to injury — he has scored at least eight receiving touchdowns. The Gronk spike will return.
It's highly unlikely Gronk plays a full season, especially in 2020, but if you do draft him expect early production as Brady leans on a familiar face.
TIER 5 – The 2020 Primary Breakout
If you've been following my work this summer, I'm sure you've stumbled upon at least one or two of my breakout tight end articles. Trying to identify this year's next Mark Andrews or Darren Waller has been a challenge, but, like The Da Vinci Code, nothing is uncrackable.
With 13 tight ends analyzed as breakout candidates, I feel like it truly comes full circle with the league-winning tight end in 2020 emerging as Jonnu Smith. He checks off all the boxes when it comes to identifying breakout tight ends and, ironically, he was the first tight end featured in the series.
Smith has a clear path to targets on a team that does not have a great surplus of depth at the wide receiver position. He is an absolute monster after the catch (8.1 YAC per reception), and the days of him backing up Delanie Walker have ceased.
Once Walker was sidelined starting in Week 8, Smith ranked ninth in yards per route run (1.78) and saw the sixth-highest target rate on routes run (21.2%) at the tight end position.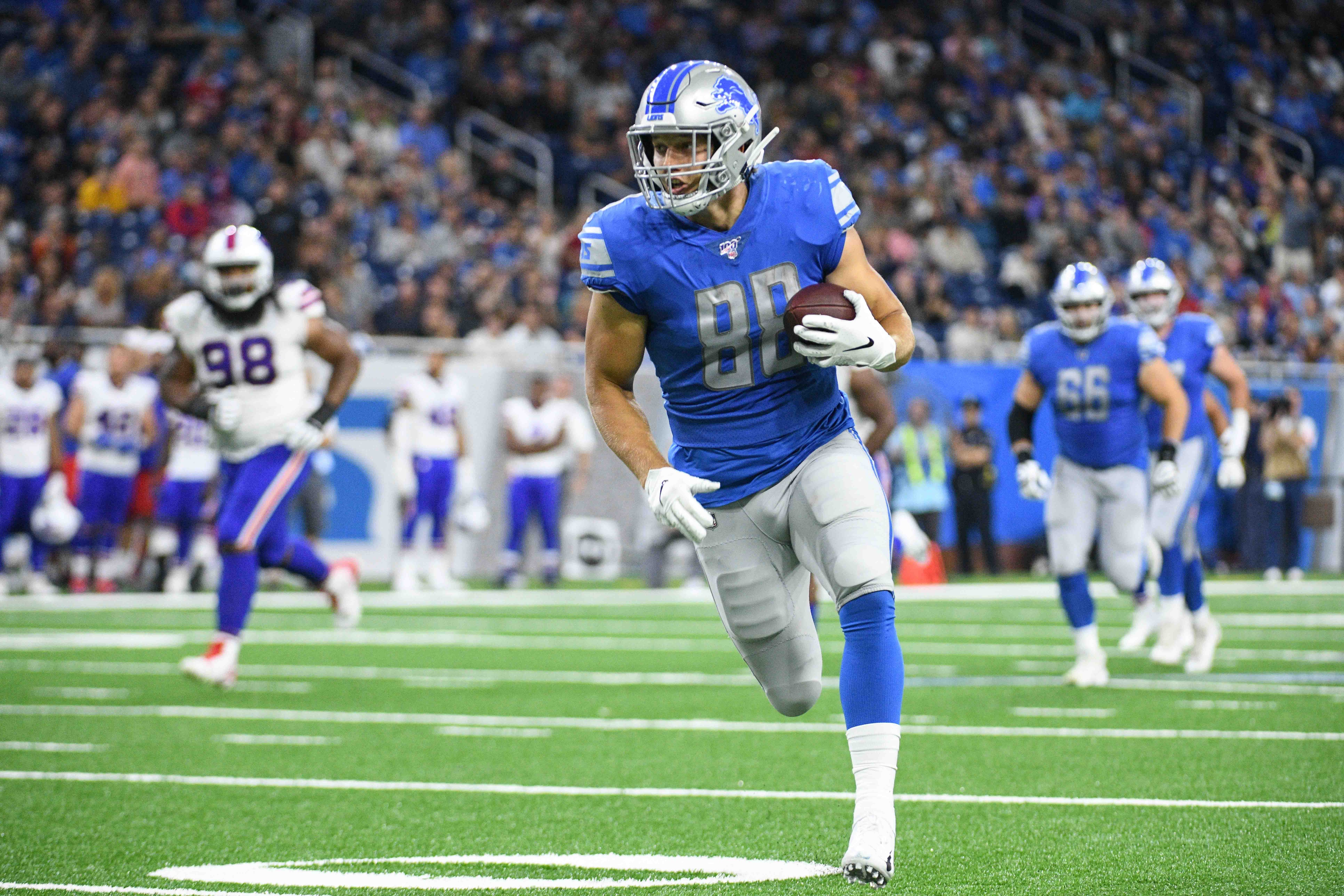 TIER 6 – The 2020 Secondary Breakouts
Dallas Goedert, Philadelphia Eagles
This is the first crop of breakout tight ends from the series outside Smith, so if your strategy is waiting on the tight end position, you'll want to come away with one of these breakout candidates.
As mentioned earlier, Dallas Goedert's stock is quickly rising, and you'll be hard-pressed to find a tight end who can provide average TE production while also having the upside of an elite tight end should anything happen to Ertz. Goedert did not exceed Ertz's production toward the second half of the 2019 season, but he still posted five top-10 finishes from Week 11 on. 
There's a lot to like about Mike Gesicki, from his supreme athleticism, usage in the slot and projected opportunity in a barren Miami Dolphins offense, but his efficiency up to this point is alarming.
His average yards per route run (1.09) and target rate on routes run (15.4%) both ranked outside the top-25 tight ends in 2019. He has also only forced three missed tackles in his two seasons in the NFL, with zero coming last season. For perspective, Noah Fant forced three missed tackles in one game during his rookie season.
Now, all the efficiency cannot be blamed on Gesicki with Ryan Fitzpatrick throwing yolo balls, so he could see better efficiency once Tua Tagovailoa enters under center. The incoming rookie led the NCAA in passer rating (140.2) and ranked sixth in PFF passing grade (90.3) among college quarterbacks with at least 100 dropbacks when targeting the slot in 2019.
With slot receiver Albert Wilson opting out of the 2020 season, Gesicki should remain the No. 1 option for slot snaps.
Fantasy owners might need to wait until they see a new quarterback in Miami before they witness a Gesicki breakout. To make matters worse, he does not have a top-10 matchup until Week 8.
TIER 7 – The 2020 Surprise Breakouts
Gerald Everett, Los Angeles Rams
Irv Smith Jr., Minnesota Vikings
Jace Sternberger, Green Bay Packers
This tier contains the second batch of potential tight end breakouts. They are separated from the group above because their path to targets is more of an uphill battle.
If Jason Witten's targets from last season carry over to Jarwin, he could have some huge fantasy weeks considering the Cowboys use him heavily as a downfield threat and as a red-zone weapon. Among 35 qualifying tight ends with at least 70 targets over the past two seasons, Jarwin's aDOT (9.5) ranks 10th and yards per reception (11.6) ranks 14th.
He also posted great efficiency numbers in his limited opportunities in 2019. Jarwin's yards per route run (1.82) and target rate on routes run (21.4%) both ranked inside the top-15 among all tight ends.
TIER 8 – Veterans Trying to Maintain Relevance
Jared Cook, New Orleans Saints
Jack Doyle, Indianapolis Colts
Eric Ebron, Pittsburgh Steelers
Kyle Rudolph, Minnesota Vikings
Eric Ebron is the name to highlight from this tier because he offers the most upside of the group with his new team. He is also being severely underrated after his shortened 2019 campaign due to injury.
The former Colts tight end saw massive touchdown regression, going from 13 receiving touchdowns in 2018 to just three in 2019. But it's important to note that his yardage efficiency did not fall off. Ebron's yards per route run increased from 2018 (2.12) to 2019 (2.19), maintaining a top-eight ranking in both seasons.
With Ben Roethlisberger entrenched as his new quarterback, we could see Ebron's touchdowns spike back up in 2020. In his past two healthy seasons, Big Ben has averaged 92 red-zone passing attempts.
Many people think Ebron is washed up entering his age-27 season, but that age is more often when we see tight ends enter their prime.
TIER 9 – Don't You Forget About Me
O.J. Howard, Tampa Bay Buccaneers
Dawson Knox didn't get his own article write-up during the breakout series (sorry, Bills Mafia), but what the Bills' tight end showed in 2019 warrants consideration as a late-round selection in deep fantasy formats.
His aDOT (10.1) ranked seventh and yards per reception (13.9) ranked second among tight ends with at least 25 targets, displaying his big-play upside with quarterback Josh Allen. His biggest problem in 2019 was the drops — no tight end had a higher dropped pass percentage (24.3%) than Knox.
Drops are not a particularly sticky stat year-over-year, so there can be room for improvement for Knox in his second season. His major concern comes in the target pecking order in a Bills offense where he falls (far) behind the core trio of wide receivers.
But with all the attention of defenses on those receivers, Knox should find himself in some easy matchups and provide some spike fantasy weeks — basically, he is shaping up to be a "Knox-off" version of Blake Jarwin. Jokes aside, a boom week could happen rather quickly — his opening schedule is an absolute dream. Don't be surprised if he is a hot commodity off the waiver wire after Week 1.