PFF's 2021 NFL Draft Guide includes scouting reports and advanced data on 150 draft prospects. So, what better way to celebrate its initial release than to take a look through the PFF lens at the top prospect at each position, along with one prospect to keep an eye on as we navigate through draft season.
PFF's 2021 NFL Draft Guide is live and available to all EDGE and ELITE subscribers. If you're already an EDGE or ELITE subscriber, download your copy here.
A consensus four-star recruit, Penei Sewell earned first-team all-league and all-state honors in his senior year at Utah's Desert Hills in 2018. He drew more than 20 scholarship offers and took visits to Oregon, Alabama, Nevada, USC and Utah before committing to the Ducks in February 2018. Sewell was born in American Samoa but moved to Utah in 2012. His three brothers all play college football: Gabriel is a linebacker at Nevada, Nephi is a defensive back at Utah and Noah is a linebacker at Oregon. His uncles, Isaac Sopoaga and Richard Brown, also played football in the NFL. Football is in the man's blood.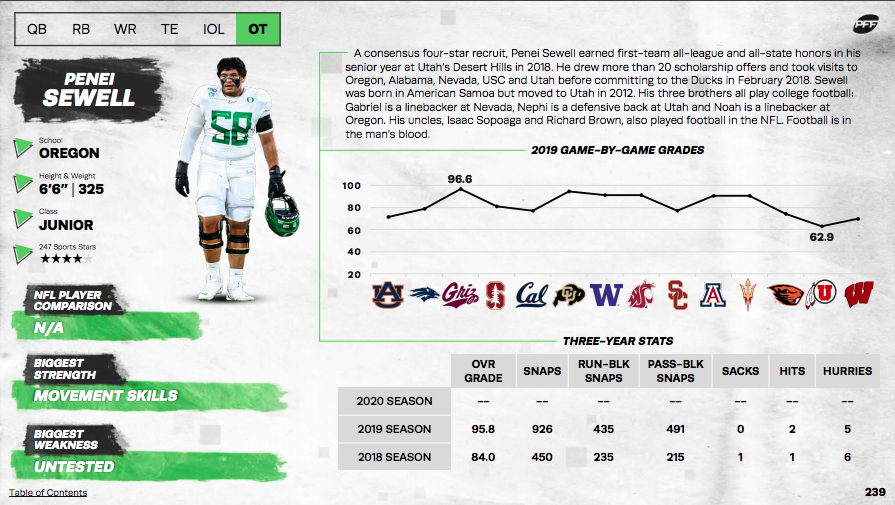 For most prospects, only a year and a half of starting experience would be a tad worrisome. But most guys aren't Penei Sewell. He is a different breed altogether. You'd never guess he was pushing the scales at 330 pounds as a 19-year-old in 2019 the way he tracked down defenders in space. He put together the highest-graded tackle season ever at the time and allowed only seven pressures all year. While the competition level wasn't great, no one came close to getting the better of him. He is the tackle you want.
NFL player comparison: N/A
Biggest strength: Movement skills
Biggest weakness: Untested
Projection: Top-five pick
Bottom line: While Sewell's ceiling is debatable, he is one of the highest-floor
tackle prospects to come out in some time
For advanced stats, pros and cons, passing heatmaps, three-year grades, game-by-game breakdowns and more, download your copy today!
---
Darrisaw received only one Power 5 offer coming out of Maryland's Riverdale Baptist School in 2016: Virginia Tech. The then-6-foot-5, 300-pound three-star offensive tackle recruit received offers from Morgan State, North Carolina Central and Central Connecticut before receiving an offer from and committing to Virginia Tech in November 2016. He took a prep year at Fork Union Military Academy in 2017 and joined the Hokies in 2018.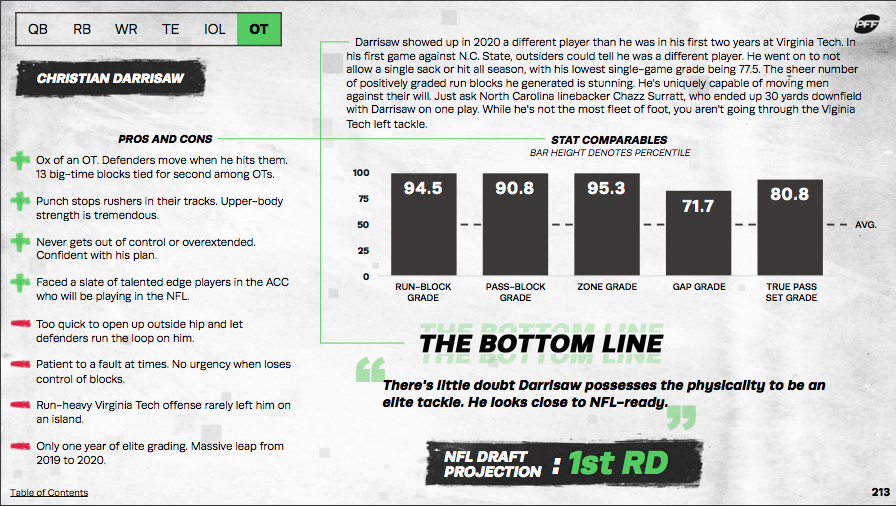 Darrisaw showed up in 2020 a different player than he was in his first two years at Virginia Tech. In his first game against N.C. State, outsiders could tell he was a different player. He went on to not allow a single sack or hit all season, with his lowest single-game grade being 77.5. The sheer number of positively graded run blocks he generated is stunning. He's uniquely capable of moving men against their will. Just ask North Carolina linebacker Chazz Surratt, who ended up 30 yards downfield with Darrisaw on one play. While he's not the most fleet of foot, you aren't going through the Virginia Tech left tackle.
NFL player comparison: Ereck Flowers
Biggest strength: Power in his hands
Biggest weakness: Riding rushers past the pocket
Projection: First-round pick
Bottom line: There's little doubt Darrisaw possesses the physicality to be an
elite tackle. He looks close to NFL-ready.
For advanced stats, pros and cons, passing heatmaps, three-year grades, game-by-game breakdowns and more, download your copy today!
---
Texas' crown jewel in the 2017 recruiting class, Walker Little was tagged as a five-star recruit and the ninth-best overall recruit in the country coming out of Episcopal High School. The 6-foot-7, 315- pounder had offers from more than 30 schools and held official visits with Stanford, Florida State and Georgia before committing to the Cardinal. He lettered in football, basketball and track in his preps career and received seemingly every honor and award in the book as a senior in 2016.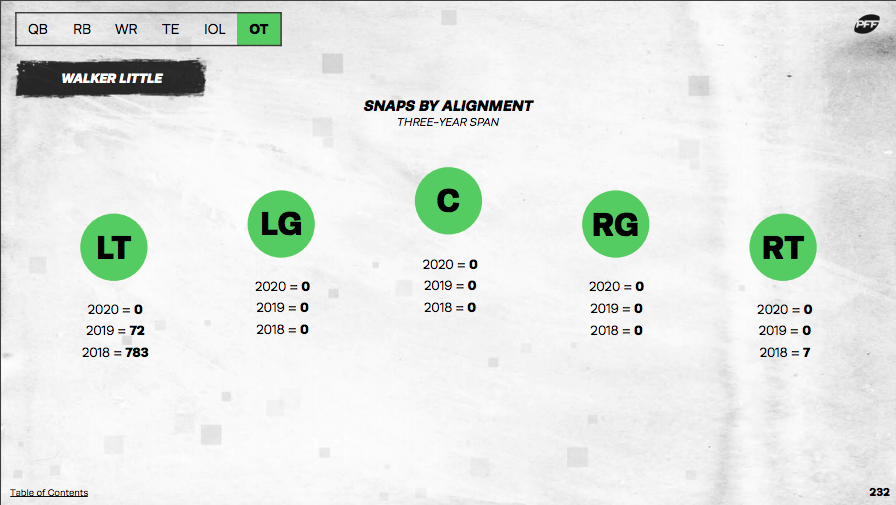 You may not find a more difficult prospect to properly evaluate in the 2021 NFL Draft than Little. The reason is obvious. He has played a grand total of 72 snaps over the past two seasons. While his true sophomore tape is impressive, he'll be nearly three years removed from that when he first steps on an NFL field. He was in the conversation for OT1 in that loaded 2020 NFL Draft class prior to the 2019 season. He has the feet and explosiveness in his lower half to be a dominant tackle in the league. It's just impossible to know how he's developed without him being on the field.
NFL player comparison: Jared Veldheer
Biggest strength: Mirror ability
Biggest weakness: Not playing for two years
Projection: Second-round pick
Bottom line: Little has the physical traits, but tackle is still a "skill" position,
and it's impossible to judge where he is in that regard.
---
Courtesy of PFF's 2021 NFL Draft Guide, find PFF's top draft prospect, biggest riser and wild card to watch at each position here: