PFF's 2021 NFL Draft Guide includes scouting reports and advanced data on 150 draft prospects. So, what better way to celebrate its initial release than to take a look through the PFF lens at the top prospect at each position, along with one prospect to keep an eye on as we navigate through draft season.
PFF's 2021 NFL Draft Guide is live and available to all EDGE and ELITE subscribers. If you're already an EDGE or ELITE subscriber, download your copy here.
Micah Parsons was a wrestler through eighth grade but pivoted to football and basketball in high school. As a senior at Harrisburg, he totaled 55 tackles, 1,239 rushing yards, 99 receiving yards and 29 offensive touchdowns playing defensive end and running back. A consensus five-star recruit, Parsons received more than 20 scholarship offers from major programs around the country and took official visits to Penn State, Georgia, Nebraska, Ohio State and Oklahoma.
The Buckeyes had to stop their recruitment of Parsons due to a self-reported violation involving Kirk Herbstreit. Parsons had initially committed to Penn State early in his recruitment before decommitting in April 2017 and then recommitting in December 2017.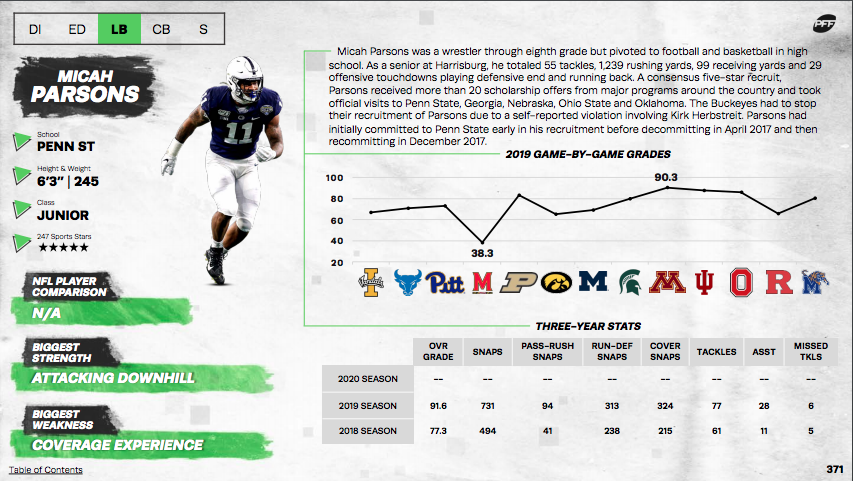 There aren't many linebackers in college football history who can rest on their true sophomore tape and still be a likely top-10 draft pick. That's how special Parsons was in 2019. He's got the type of size and skill set that could make him the first edge rusher drafted if he wanted to switch to that position. Parsons destroys blocks and ball carriers. He earned the second-highest run-defense grade we've ever given in 2019 (94.8) while also finishing with the third-highest tackling grade in the country (90.0).
While we haven't seen a ton of him in one-on-one coverage, I'm not too worried given the athleticism he shows in space.
NFL player comparison: N/A
Biggest strength: Attacking downhill
Biggest weakness: Coverage experience
Projection: Top-10 pick
Bottom line: Parsons is the best linebacker prospect we've scouted in seven years of grading college. He can play in any scheme.
For advanced stats, pros and cons, passing heatmaps, three-year grades, game-by-game breakdowns and more, download your copy today!
---
Zaven Collins played everything in high school. Hailing from Hominy, Oklahoma — a city with a population of fewer than 4,000 people — Collins played quarterback, linebacker and safety as a four-year starter on both offense and defense at Hominy High School. He totaled 4,084 rushing yards, 54 rushing touchdowns, 3,056 passing yards, 32 passing touchdowns and more than 200 tackles in his career at Hominy.
The then-6-foot-3, 220-pounder didn't have a single Power 5 offer as a three-star linebacker recruit. Collins participated in 12 different camps around the country in search of a scholarship offer, but it wasn't until his last camp at Tulsa in July 2016 that he got what he was searching for from the Hurricane.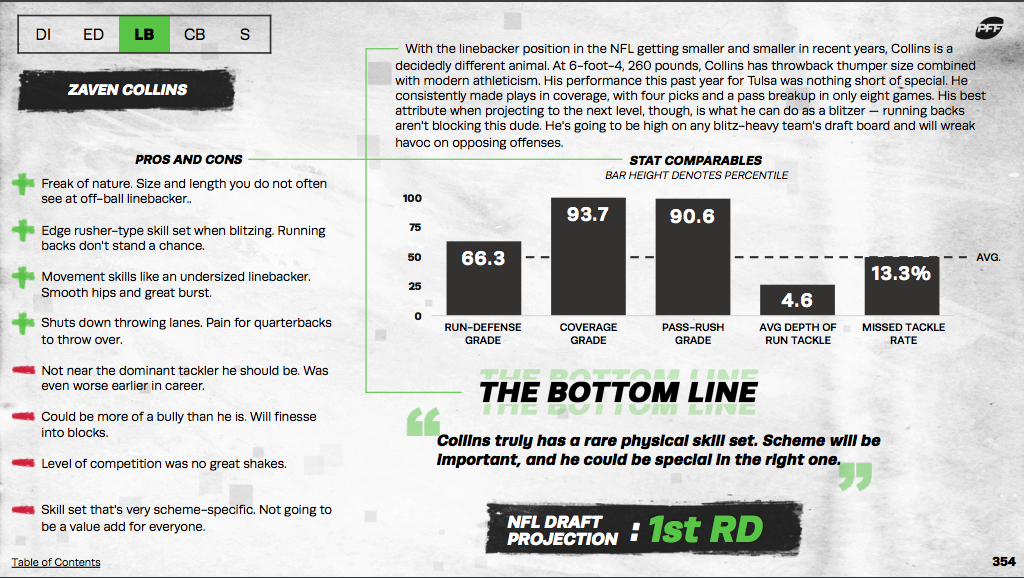 With the linebacker position in the NFL getting smaller and smaller in recent years, Collins is a decidedly different animal. At 6-foot-4, 260 pounds, Collins has throwback thumper size combined with modern athleticism.
His performance this past year for Tulsa was nothing short of special. He consistently made plays in coverage, with four picks and a pass breakup in only eight games. His best attribute when projecting to the next level, though, is what he can do as a blitzer — running backs aren't blocking this dude. He's going to be high on any blitz-heavy team's draft board and will wreak havoc on opposing offenses.
NFL player comparison: A poor man's Brian Urlacher
Biggest strength: Rare size
Biggest weakness: Tackling
Projection: First-round pick
Bottom line: Collins truly has a rare physical skill set. Scheme will be important, and he could be special in the right one.
For advanced stats, pros and cons, passing heatmaps, three-year grades, game-by-game breakdowns and more, download your copy today!
---
Chazz Surratt earned Gatorade North Carolina Player of the Year honors following his senior season at East Lincoln High School. He threw for 3,536 yards and 51 touchdowns and rushed for 1,345 yards and 15 touchdowns that season (2016).
He broke the state record for career total yards (16,593) and touchdowns (229). He was a three-time player of the year in the SD-7 Conference for football and a three-time NC Preps All-State selection in basketball. Not to mention, he earned a 4.5 GPA in his senior season.
Surratt was a three-star dual-threat quarterback recruit with offers from Clemson, UNC and Duke, among others. He eventually stayed in-state and committed to the Tar Heels. He played quarterback for his first two seasons before pivoting to linebacker. His brother, Sage Surratt, was a wide receiver for Wake Forest.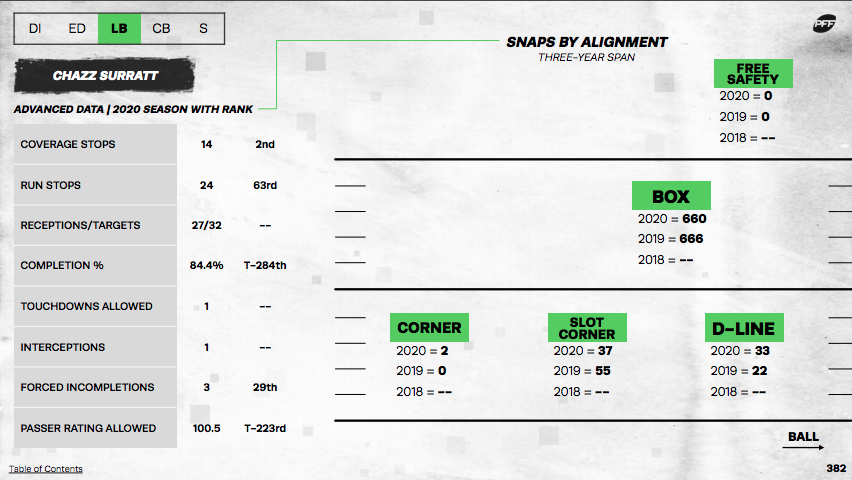 After switching from quarterback — of all positions — to linebacker just a couple of years ago, Surratt made his presence felt quickly in the Tar Heels' defense. He racked up a ridiculous 56 stops in his first season as a starter but had a disastrous missed-tackle problem. That was something that had to get cleaned up in 2020, and he did, with only one miss in his final five games (47 attempts). He's still not the most adept at his run reads and fits between the tackles, but he's a playmaker with modern-linebacker athleticism.
NFL player comparison: Telvin Smith Sr.
Biggest strength: Mentality
Biggest weakness: Taking on blocks in the run game
Projection: Second-round pick
Bottom line: Surratt is a developmental project, but he has a legitimate reason for being behind the curve.
---
Courtesy of PFF's 2021 NFL Draft Guide, find PFF's top draft prospect, biggest riser and wild card to watch at each position here: