PFF's 2021 NFL Draft Guide includes scouting reports and advanced data on 150 draft prospects. So, what better way to celebrate its initial release than to take a look through the PFF lens at the top prospect at each position, along with one prospect to keep an eye on as we navigate through draft season.
PFF's 2021 NFL Draft Guide is live and available to all EDGE and ELITE subscribers. If you're already an EDGE or ELITE subscriber, download your copy here.
A consensus four-star defensive tackle recruit coming out of Philadelphia's Neumann-Goretti High School, Christian Barmore received more than 15 scholarship offers and took official visits to Alabama and Baylor before committing to the Crimson Tide. The then-6-foot-5, 290-pounder earned first-team All-Philadelphia honors and helped his team to an 11-1 record in his senior season.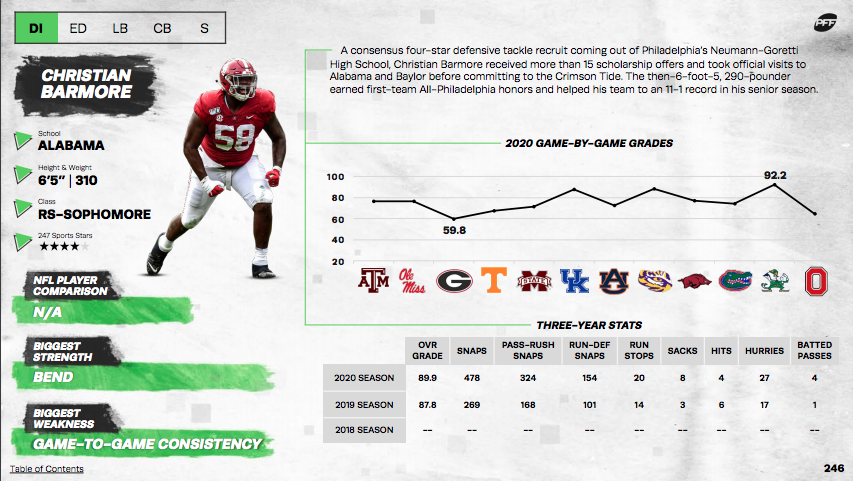 You really don't need much more tape on Barmore than what he showed in the College Football Playoff this year. Those may very well be the two most impressive performances put on tape by anyone in this defensive tackle class. He has an all-around defensive tackle body at 6-foot-5, 310 pounds that can play any alignment between the tackles and create disruption. He may have played just 747 career snaps, but that isn't close to a concern with how impactful he was on them. His slow start in 2020 may give some pause, but if he turns it on when it matters most, is that a bad thing?
NFL player comparison: N/A
Biggest strength: Bend
Biggest weakness: Game-to-game consistency
Projection: First-round pick
Bottom line: Barmore's high-end games are up there with any defensive tackle we've graded. He looks fairly NFL-ready.
For advanced stats, pros and cons, passing heatmaps, three-year grades, game-by-game breakdowns and more, download your copy today!
---
Alim McNeill was a coveted recruit coming out of North Carolina's Sanderson High School in 2018. He made more than 200 tackles playing linebacker on the defensive side of the ball and scored more than 30 offensive touchdowns in his preps career — and he did it at 6-foot-2, 272 pounds. He received more than 25 scholarship offers and ultimately made the decision to stay close to home by signing with NC State over Virginia Tech and Alabama, among others.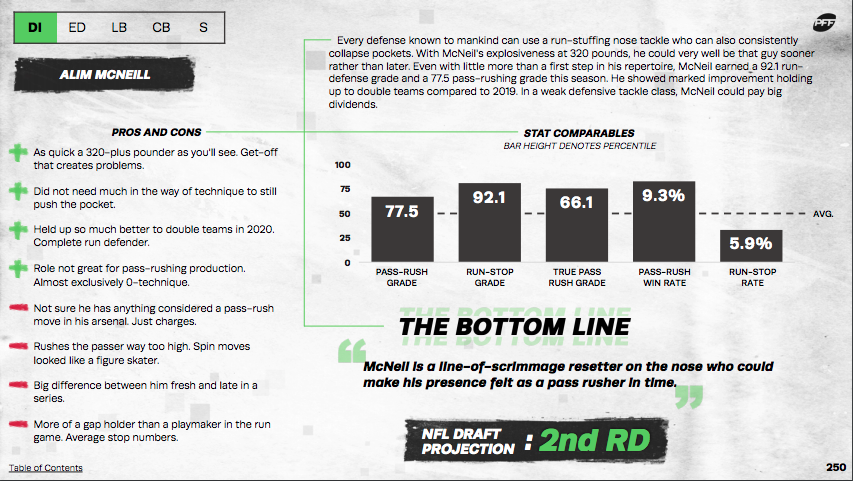 Every defense known to mankind can use a run-stuffing nose tackle who can also consistently collapse pockets. With McNeil's explosiveness at 320 pounds, he could very well be that guy sooner rather than later. Even with little more than a first step in his repertoire, McNeil earned a 92.1 run-defense grade and a 77.5 pass-rushing grade this season. He also showed marked improvement holding up to double teams compared to 2019. In a weak defensive tackle class, McNeil could pay big dividends.
NFL player comparison: Javon Hargrave
Biggest strength: Explosiveness at his size
Biggest weakness: Pass-rushing moves
Projection: Second-round pick
Bottom line: McNeil is a line-of-scrimmage resetter on the nose who could make his presence felt as a pass-rusher in time.
For advanced stats, pros and cons, passing heatmaps, three-year grades, game-by-game breakdowns and more, download your copy today!
---
Levi Onwuzurike played high school football for Texas' vaunted Allen High School. As a junior in 2014, Onwuzurike and the Allen Eagles won the state championship and finished No. 4 in the nation, according to the USA Today poll, with future Heisman Trophy winner and now-starting NFL quarterback Kyler Murray at the helm.
In 2015, Onwuzurike had a dominant senior season that saw him collect 53 tackles and 8.5 sacks en route to being named the Dallas area's Defensive Player of the Year by the Dallas Morning News. His team finished 14- 1, reaching the Class 6A semifinals and ranking No. 20 in the final USA Today poll. Onwuzurike was listed as the No. 101 overall prospect in the country and the No. 12 defensive end in the nation by scout.com. He wanted to leave Texas to play college football and chose the Huskies over Arizona State, Georgia and Michigan as his top out-of-state options.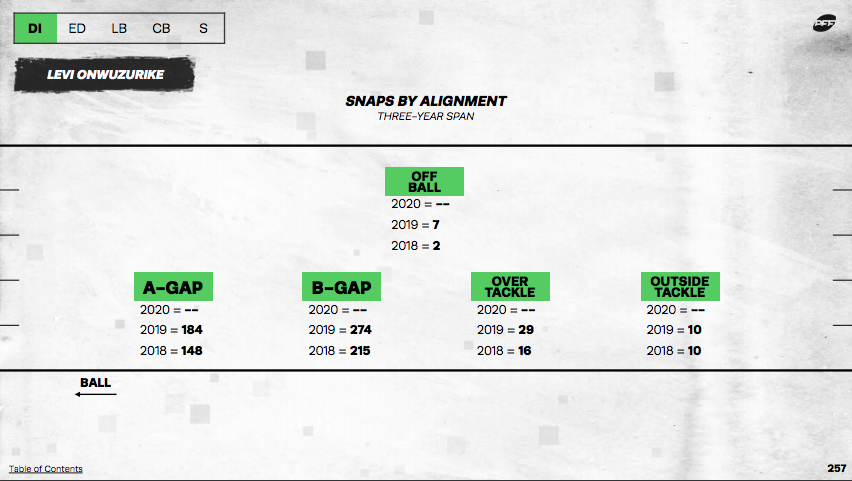 Onwuzurike was one player I was most looking forward to seeing develop in 2020, but unfortunately the world never got the chance to see him. He has the explosiveness necessary to be a difference-maker as a pass-rusher in the NFL. It ran far too hot and cold on his tape in 2019 to get on board with him early, however. Some of that can be chalked up to playing around one-third of his snaps out of position at nose tackle. You can tell he sometimes wasn't comfortable yet with his pass-rushing moves. He's still worth the shot on Day 2, though.
NFL player comparison: Justin Madubuike
Biggest strength: Quick twitch
Biggest weakness: Down-to-down consistency
Projection: Second-round pick
Bottom line: Onwuzurike never put it all together at Washington, but he can
be a quality penetrating 3-technique in the NFL.
---
Courtesy of PFF's 2021 NFL Draft Guide, find PFF's top draft prospect, biggest riser and wild card to watch at each position here: