PFF's 2021 NFL Draft Guide includes scouting reports and advanced data on 150 draft prospects. So, what better way to celebrate its initial release than to take a look through the PFF lens at the top prospect at each position, along with one prospect to keep an eye on as we navigate through draft season.
PFF's 2021 NFL Draft Guide is live and available to all EDGE and ELITE subscribers. If you're already an EDGE or ELITE subscriber, download your copy here.
Trevon Moehrig received more than 15 scholarship offers as a four-star cornerback recruit in 2018, including TCU, Baylor, Arizona and Georgia, among others. He finished his preps career at Texas' Smithson Valley High School with seven career interceptions.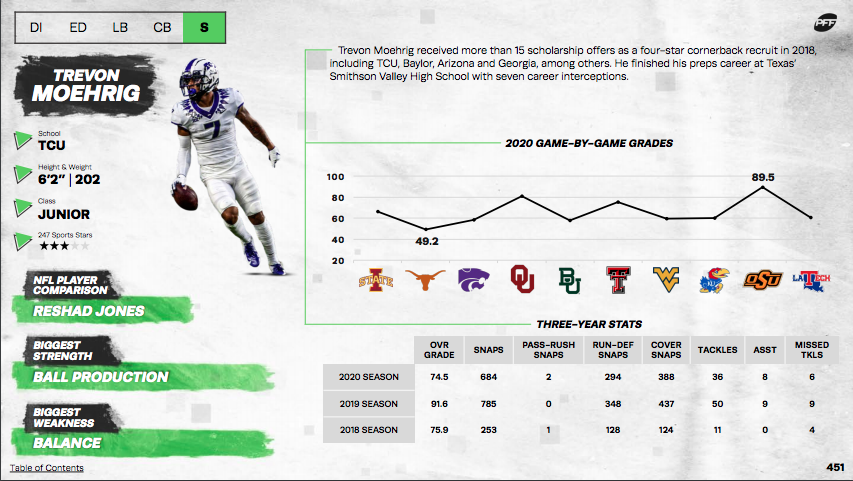 No safety in college football has made more plays on the ball over the past two seasons. Moehrig led all safeties in pass breakups in both 2019 (12) and 2020 (eight). You already see his size (6-foot-2, 202 pounds) and length come into play — he can get all the way to the catch point closing in from behind receivers. He played a ton of split-field coverage in TCU's defense, which often left him manned up on opposing slot receivers, and he excused himself admirably. There's little to dislike about Moehrig.
NFL player comparison: Reshad Jones
Biggest strength: Ball production
Biggest weakness: Balance
Projection: First-round pick
Bottom line: There aren't many holes to poke in Moehrig's game. He's got a skill set that will fit in any scheme in the NFL.
For advanced stats, pros and cons, passing heatmaps, three-year grades, game-by-game breakdowns and more, download your copy today!
---
Grant was a standout football player and track star at Florida's Choctawhatchee Senior High School. Per the Orlando Sentinel, the then-6-foot, 176-pound defensive back posted times of 52.8 seconds in the 400 meters and 11.3 seconds in the 100 meters in his preps career. He also recorded 37 tackles and four interceptions as a senior on the football field before starring at UCF.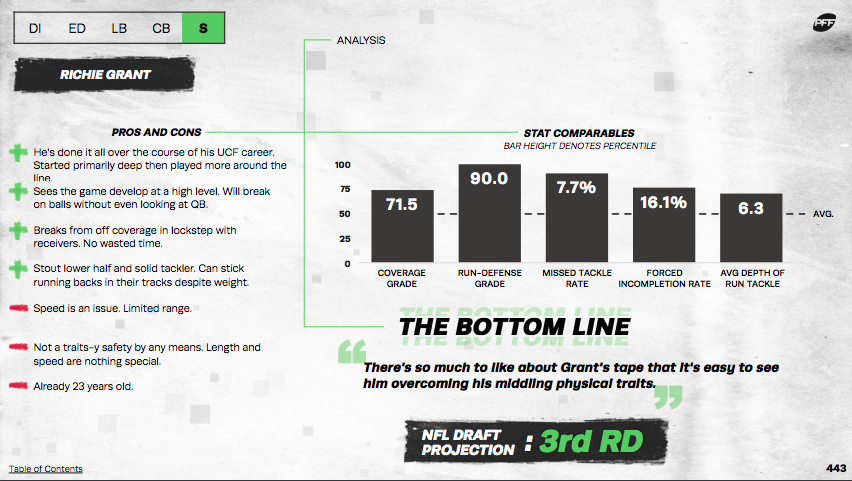 NFL player comparison: N/A
Biggest strength: Processing speed
Biggest weakness: Actual speed
Projection: Third-round pick
Bottom line: There's so much to like about Grant's tape that it's easy to see him overcoming his middling physical traits.
For advanced stats, pros and cons, passing heatmaps, three-year grades, game-by-game breakdowns and more, download your copy today!
---
Ar'Darius Washington received FBS offers from only TCU, LSU and UTSA coming out of Louisiana's Evangel Christian Academy, per 247Sports. While he initially committed to his in-state Tigers, he later flipped to the Horned Frogs. He played offense and defense in his preps career.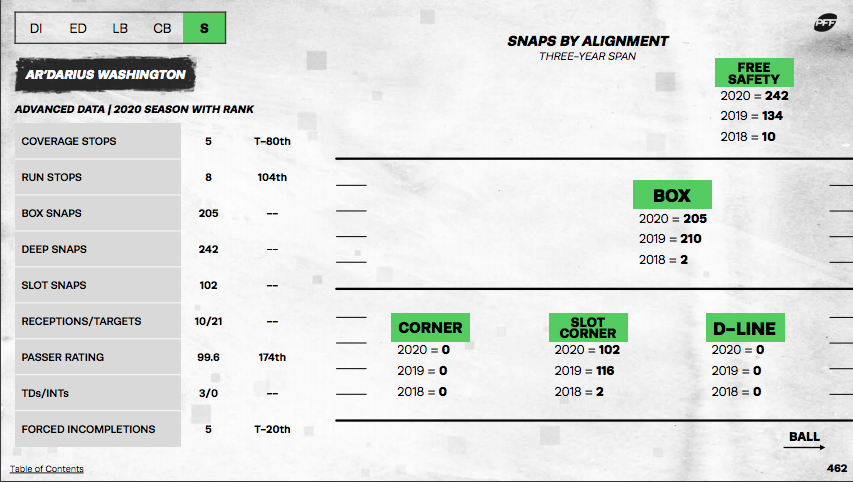 Washington's weaknesses are fairly well defined and revolve almost entirely around his physical stature. You can count the number of NFL defensive backs his size on one hand. Taking on blocks, manning tight ends and contesting jump balls will all be concerns for him in the NFL. That being said, his size was rarely a factor in the college game, and he was as stingy as it gets in Gary Patterson's split-safety-heavy TCU defense. This is the single most instinctual safety in the draft; he is also no slouch athletically and has some tremendous hips. If his size is a major concern for a team, he still has a quality slot-coverage skill set to fall back on.
NFL player comparison: Tyrann Mathieu
Biggest strength: Instincts
Biggest weakness: Size
Projection: Second-round pick
Bottom line: If Washington were 6-foot, 200 pounds, he'd be a top-10 pick. At worst, he's a quality slot option in the league.
---
Courtesy of PFF's 2021 NFL Draft Guide, find PFF's top draft prospect, biggest riser and wild card to watch at each position here: