PFF's 2021 NFL Draft Guide includes scouting reports and advanced data on 150 draft prospects. So, what better way to celebrate its initial release than to take a look through the PFF lens at the top prospect at each position, along with one prospect to keep an eye on as we navigate through draft season.
PFF's 2021 NFL Draft Guide is live and available to all EDGE and ELITE subscribers. If you're already an EDGE or ELITE subscriber, download your copy here.
Per Matt Wenzel of MLive, Kwity Paye was born in a refugee camp in Guinea and migrated to the U.S. with his mother and older brother when he was just six months old. He ran track and field before his parents let him play Pee Wee football in middle school. At Rhode Island's Bishop Hendricken, Paye played running back, quarterback, wide receiver and linebacker. As a senior, he rushed for 651 yards and 13 touchdowns on the offensive end and totaled 65 tackles and 4.5 sacks on defense. Paye received offers from Toledo, Syracuse, Rutgers, Boston College and Michigan. He first verbally committed to Boston College as a three-star recruit in the 2017 class but later flipped to Jim Harbaugh and the Michigan Wolverines.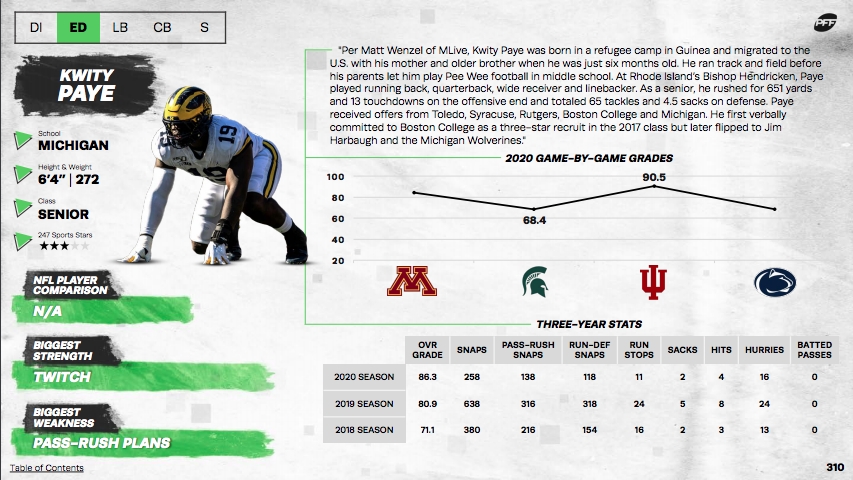 In a class full of freaks off the edge, Paye still stands out for what he's physically capable of. He's a jumbo 6-foot-4, 272-pound edge with ideal inside-outside versatility. Anyone lining up across from him is going to be in for a handful all day. He moves the line of scrimmage with ease in the run game and can flatback tackles in pass protection on contact. His pass-rushing toolbox is still fairly barren, but even so, we've seen it improve by leaps and bounds over the past two seasons. If that progression continues, look out.
NFL player comparison: N/A
Biggest strength: Twitch
Biggest weakness: Pass-rush plan
Projection: First-round pick
Bottom line: It's difficult to see Paye's tools not developing into an impact
edge someday. He's too freaky.
For advanced stats, pros and cons, passing heatmaps, three-year grades, game-by-game breakdowns and more, download your copy today!
---
Phillips was regarded as the No. 1 overall recruit by the 247Sports Composite coming out of Redlands East Valley High School. He combined for 218 tackles and 30.5 sacks and two interceptions in his junior and senior season. The five-star defensive end received 20 offers, according to 247Sports, before selecting the in-state UCLA Bruins over the likes of Alabama and others.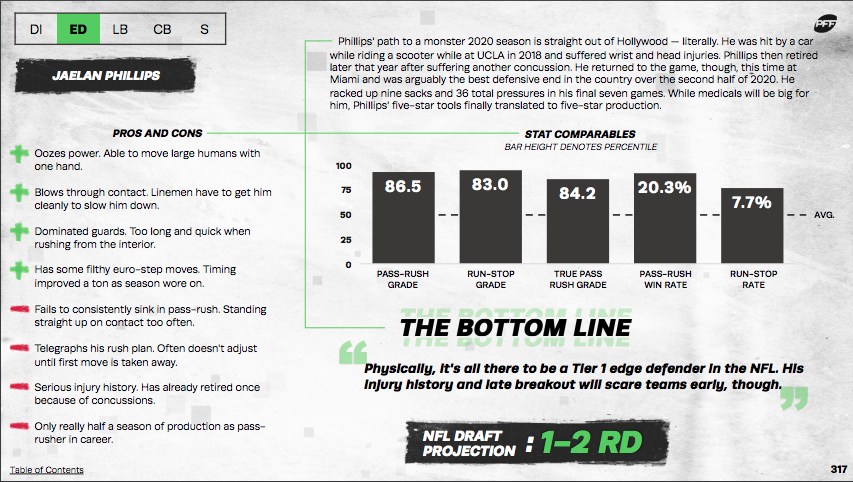 Phillips' path to a monster 2020 season is straight out of Hollywood — literally. He was hit by a car while riding a scooter while at UCLA in 2018 and suffered wrist and head injuries. Phillips then retired later that year after suffering another concussion. He returned to the game, though, this time at Miami and was arguably the best defensive end in the country over the second half of 2020. He racked up nine sacks and 36 total pressures in his final seven games. While medicals will be big for him, Phillips' five-star tools finally translated to five-star production.
NFL player comparison: Frank Clark
Biggest strength: Pop on contact
Biggest weakness: Injury history
Projection: First-round to second-round pick
Bottom line: Physically, it's all there to be a Tier 1 edge defender in the NFL. His injury history and late breakout will scare teams early, though.
For advanced stats, pros and cons, passing heatmaps, three-year grades, game-by-game breakdowns and more, download your copy today!
---
Despite his listed 6-foot-6, 222-pound frame, Gregory Rousseau was tagged as just a three-star recruit by 247Sports. The Hialeah, Florida, native took visits to West Virginia, LSU and Miami (Fla.) before committing to the Hurricanes as part of the 2018 class.
At Champagnat Catholic School, Rousseau led his team to its second Class 2A state title in school history and recorded 80 total tackles and 10 sacks as a senior. He also earned All-State honors at wide receiver in 2016, catching 28 passes for 467 yards and nine touchdowns in the process. He took snaps at wide receiver, tight end, defensive end, outside linebacker and safety throughout his preps career. He played safety primarily in his senior season.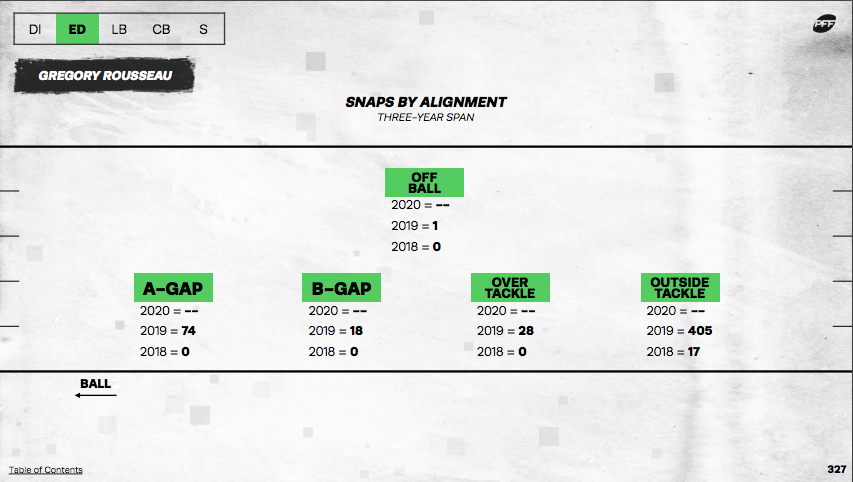 You're far more likely to find a body type like Rousseau's on a basketball court than a football field. He's a stretched-out, 6-foot-6 edge defender who should be able to get the first contact advantage on pretty much any lineman he faces. His 16 sacks as a redshirt freshman in 2019 are eye-popping, but he was far less of a polished product than those numbers suggest. His best reps came inside against guards, and he didn't have much of a moveset against tackles. With one season and 546 career snaps to his name before opting out this year, he's a great deal of physical projection.
NFL player comparison: N/A
Biggest strength: Freakish frame
Biggest weakness: Winning the edge against offensive tackles
Projection: First-round pick
Bottom line: Rousseau can be a moveable chess piece for a defense. As a true edge, though, his 2019 tape showed that he has a lot of work to do.
---
Courtesy of PFF's 2021 NFL Draft Guide, find PFF's top draft prospect, biggest riser and wild card to watch at each position here: