PFF's 2021 NFL Draft Guide includes scouting reports and advanced data on 150 draft prospects. So, what better way to celebrate its initial release than to take a look through the PFF lens at the top prospect at each position, along with one prospect to keep an eye on as we navigate through draft season.
PFF's 2021 NFL Draft Guide is live and available to all EDGE and ELITE subscribers. If you're already an EDGE or ELITE subscriber, download your copy here.
Caleb Farley set the Maiden High School record for rushing yards in a single season (2,574) in his senior campaign. The second-team All-State quarterback also totaled 37 rushing touchdowns, 1,776 passing yards and 21 passing touchdowns. His 58 total touchdowns in a single season ranks third in North Carolina preps history, per Virginia Tech's official site.
Tagged as a four-star recruit (247Sports), Farley received more than five offers throughout his recruitment, including Wake Forest, South Carolina and Virginia Tech, but he committed to the Hokies early in the process. In an interview with SB Nation, Farley said he planned to play offense. He had no plans to play on defense and wanted to be the team's "yards after the catch guy." In the interview, he also said that he recorded a 4.25-second 40-yard dash in high school but told people 4.35 because they didn't believe him.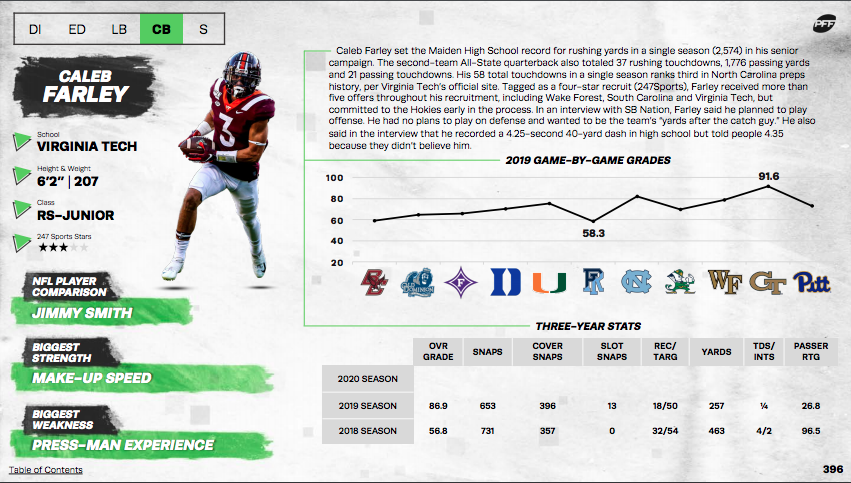 Farley would have been firmly in the mix for CB2 behind Jeffrey Okudah had he declared after last season, but he returned only to be one of the first opt-outs this year. He's a size/speed demon and made up ground on every single receiver who got a step in him in 2019 — even Chase Claypool. The biggest knock on Farley will be his tackling, as he's missed 21 of 80 career attempts. And while Farley has the physical profile for press-man coverage, he's played only 58 such snaps in his college career.
NFL player comparison: Jimmy Smith
Biggest strength: Make-up speed
Biggest weakness: Press-man experience
Projection: First-round pick
Bottom line: Farley has the physical tools necessary to be an elite NFL
corner and he played like one in 2019.
For advanced stats, pros and cons, passing heatmaps, three-year grades, game-by-game breakdowns and more, download your copy today!
---
Ifeatu Melifonwu was born May 1999 in Boston, Massachusetts, per Syracuse's official athletic site. You may recognize the last name because his older brother, Obi, starred at safety for Connecticut from 2013-16 and then was drafted in the second round by the then Oakland Raiders in 2017. At 6-foot-4, 224 pounds, Obi recorded a 4.40s 40-yard dash, 44-inch vertical and an 11-foot-9 broad jump at the 2017 NFL Scouting Combine.
Ifeatu is a rare breed in his own right. The 6-foot-3, 213-pounder is long and athletic like his brother; he played running back, receiver and defensive back for Grafton High School and recorded over 1,876 rushing yards and 25 touchdowns as a senior. He also played basketball, lacrosse and ran track. However, Michigan and Syracuse were the only two Power 5 schools that offered him as a three-star recruit in 2018.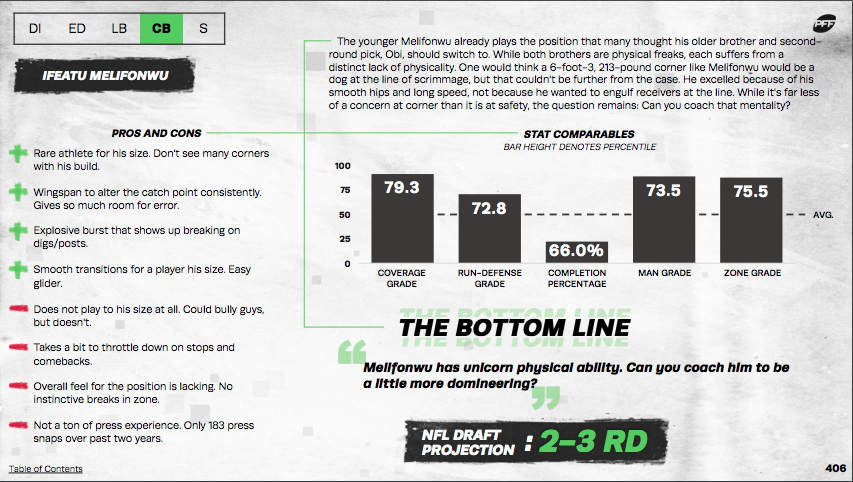 The younger Melifonwu already plays the position that many thought his older brother and second-round pick, Obi, should switch to. While both brothers are physical freaks, each suffers from a distinct lack of physicality. One would think a 6-foot-3, 213-pound corner like Melifonwu would be a dog at the line of scrimmage, but that couldn't be further from the case. He excelled because of his smooth hips and long speed, not because he wanted to engulf receivers at the line. While it's far less of a concern at corner than it is at safety, the question remains: Can you coach that mentality?
NFL player comparison: N/A
Biggest strength: Rare physical tools
Biggest weakness: Playing "physical"
Projection: Second-round to third-round pick
Bottom line: Melifonwu has unicorn physical ability. Can you coach him to be
a little more domineering?
For advanced stats, pros and cons, passing heatmaps, three-year grades, game-by-game breakdowns and more, download your copy today!
---
Tay Gowan was listed as just a two-star recruit coming out of Georgia's Newton High School in 2016. The 6-foot-2, 175-pound defensive back received offers from only Miami (OH.), Coastal Carolina and Samford before committing to the Redhawks. He redshirted his 2016 season and then played in three games for Miami before taking his talents to JUCO. Gowan played in 11 games at Georgia's Butler Community College and was considered a three-star JUCO transfer in 2019.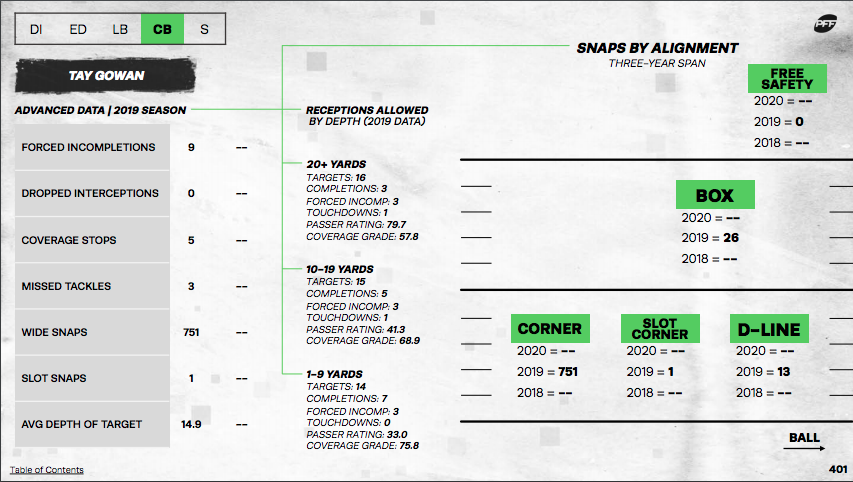 Gowan's profile ticks a lot of boxes. Size, length, speed, production — you name it. The biggest red flag is the fact that we've seen him for only one year against AAC receivers. Even then, he was running a lot of NFL-type coverage concepts, seeing 81 coverage snaps in press man in 2019. It really is a shame he didn't receive a Senior Bowl invite because he could really use the tape against some top competition. There's very little that suggests he wouldn't more than hold his own.
NFL player comparison: L'Jarius Sneed
Biggest strength: Closing burst
Biggest weakness: Experience
Projection: Second-round pick
Bottom line: Gowan is a special mover at his size. He brings an NFL-level starter skill set to the table for a small-school corner.
---
Courtesy of PFF's 2021 NFL Draft Guide, find PFF's top draft prospect, biggest riser and wild card to watch at each position here: