PFF's 2021 NFL Draft Guide includes scouting reports and advanced data on 150 draft prospects. So, what better way to celebrate its initial release than to take a look through the PFF lens at the top prospect at each position along with one prospect to keep an eye on as we navigate through draft season.
PFF's 2021 NFL Draft Guide is live and available to all EDGE and ELITE subscribers. If you're already an EDGE or ELITE subscriber, download your copy here.
Listed as a four-star prospect by ESPN and Rivals and a five-star recruit by LSU coming out of Louisiana's own Archbishop Rummel High School in 2018, Ja'Marr Chase received more than 25 offers and took official visits to LSU, Auburn, Michigan and TCU before committing to the Tigers. Chase was originally set on Ole Miss but wavered amid the penalties handed down to the Rebels by the NCAA. Staying close to home was also important to Chase. He caught 115 passes for 2,152 yards and 30 touchdowns in his preps career and won the 5A state title in the long jump as a junior.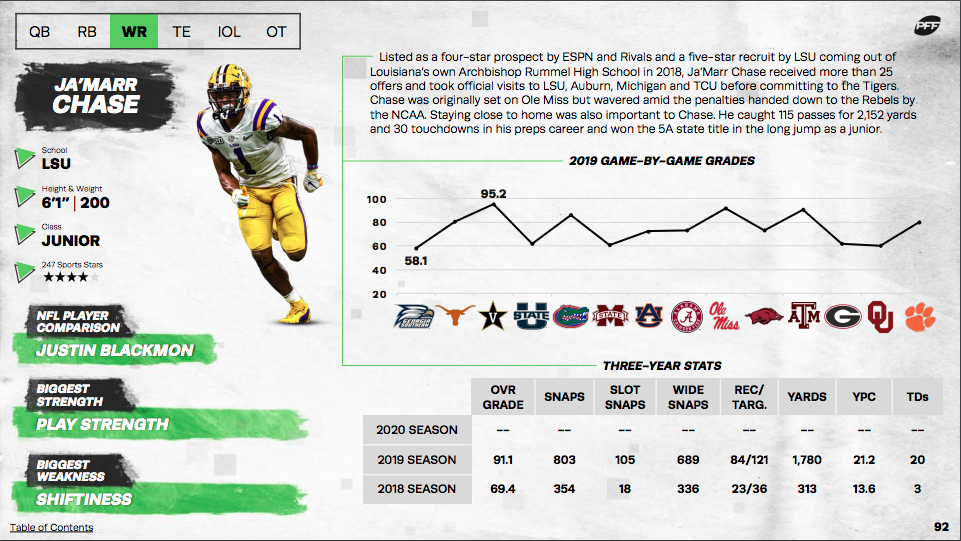 Chase was the most productive wide receiver on a college team that had the most productive rookie wide receiver in NFL history. Oh, and he was only 19 years old when he did it. While he's not a perfect prospect or a freak physical specimen, Chase is a safe bet as a true "X" wide receiver. He beat up the likes of A.J. Terrell and Trevon Diggs during his college career, as well. He can win with strength or speed and then shake off a tackle to take it to the house. His 24 deep catches in 2019 are the most we've seen in a college season.
NFL player comparison: Justin Blackmon
Biggest strength: Playstrength
Biggest weakness: Shiftiness
Projection: Top-10 pick
Bottom line: Chase was a special player already a year and a half ago. It's
scary to think about what his game looks like now.
For advanced stats, pros and cons, passing heatmaps, three-year grades, game-by-game breakdowns and more, download your copy today!
---
Named a 2018 Under Armour All-American, Elijah Moore received 33 offers out of St. Thomas Aquinas High School in Florida. Moore committed to Georgia after Hugh Freeze was dismissed at Ole Miss during Moore's visit, but Moore eventually flipped to Ole Miss when Matt Luke — Moore's primary recruiter throughout the process — was given the head coaching job, per Rivals' Rob Cassidy. Moore was infamously involved in the Egg Bowl touchdown celebration that moved a game-tying extra point back 15 yards and lost Ole Miss the game against Mississippi State.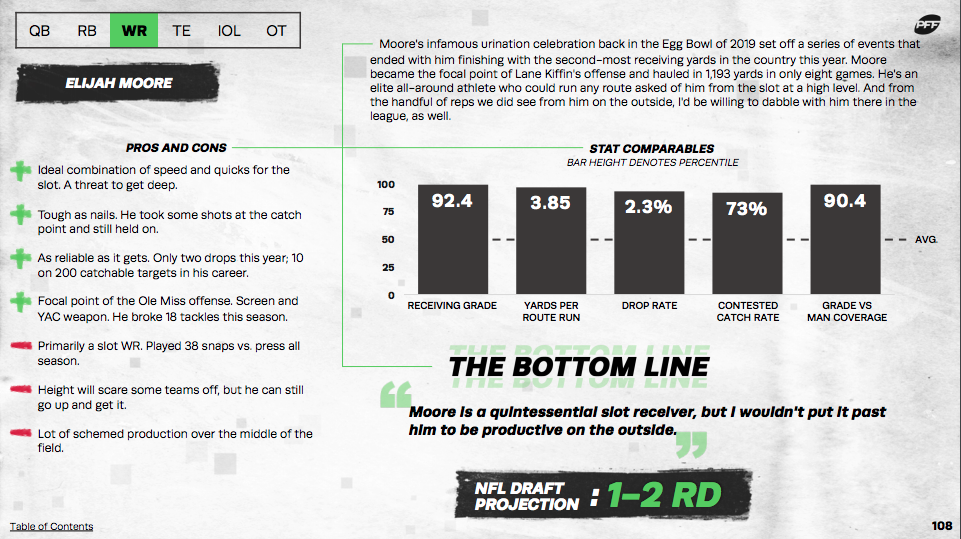 Moore's infamous urination celebration back in the Egg Bowl of 2019 set off a series of events that ended with him finishing with the second-most receiving yards in the country this year. Moore became the focal point of Lane Kiffin's offense and hauled in 1,193 yards in only eight games. He's an elite all-around athlete who could run any route asked of him from the slot at a high level. And from the handful of reps we did see from him on the outside, I'd be willing to dabble with him there in the league, as well.
NFL player comparison: A faster Cole Beasley
Biggest strength: Toughness
Biggest weakness: Height
Projection: First-round to second-round pick
Bottom line: Moore is a quintessential slot receiver, but I wouldn't put it past him to be productive on the outside.
For advanced stats, pros and cons, passing heatmaps, three-year grades, game-by-game breakdowns and more, download your copy today!
---
Coming out of Alabama's Blount High School, Kadarius Toney was tagged as just a three-star recruit by 247Sports but still received offers from Florida, Alabama, Georgia Tech, South Alabama and South Carolina, among others. He was a dual-threat quarterback who passed for 2,894 yards and 32 touchdowns and ran for 894 yards and 15 touchdowns as a senior at Blount. He also passed for 3,604 yards and 37 touchdowns and rushed for 896 yards and 16 touchdowns in the year prior (2015).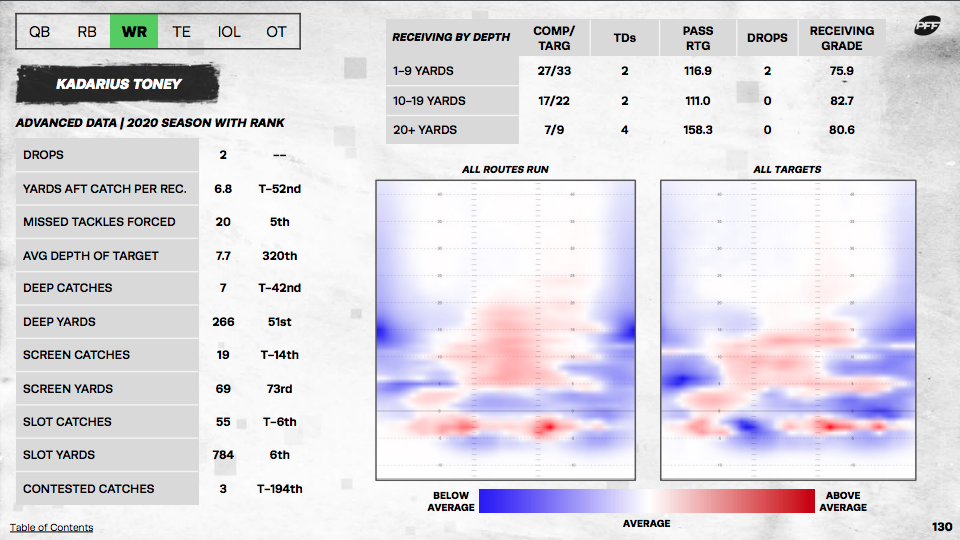 It's players like Toney who make football the greatest game in the world. The way he stops and starts in the blink of an eye is truly amazing to watch. He has the kind of flexibility and explosiveness in his lower half that allows him to break tackles in ways I've truly never seen before; it's why he broke 32 tackles on only 80 catches the past two seasons. More of a gadget player early in his career, Toney finally looked like a true receiver in 2020. He's not a polished route-runner by any means, but he showed all the ability needed to separate consistently in the NFL.
NFL player comparison: A bigger Dante Hall
Biggest strength: After-the-catch ability
Biggest weakness: Lack of polish
Projection: First-round pick
Bottom line: You can't teach what Toney has. While he's raw as a route-runner, his physical tools say you can fix that.
---
Courtesy of PFF's 2021 NFL Draft Guide, find PFF's top draft prospect, biggest riser and wild card to watch at each position here: