PFF's 2021 NFL Draft Guide includes scouting reports and advanced data on 150 draft prospects. So, what better way to celebrate its initial release than by taking a look through the PFF lens at the top prospect at each position along with one prospect to keep an eye on as we navigate through draft season.
PFF's 2021 NFL Draft Guide is live and available to all EDGE and ELITE subscribers. If you're already an EDGE or ELITE subscriber, download your copy here.
Trevor Lawrence was the No. 1 recruit in the country by 247Sports and Rivals and the No. 2 recruit by ESPN in 2018, per Clemson's official site. And the accolades/claims to fame don't stop there. He was also the USA Today National Offensive Player of the Year, U.S. Army Player of the Year as a junior and senior at Georgia's Cartersville High School. He started all four years, won two state titles and finished his preps career with a 52-2 record. At Cartersville, he broke Deshaun Watson's high school records in career passing yards (13.908) and passing touchdowns (161). He ultimately chose Clemson over in-state Georgia among 20-plus other offers.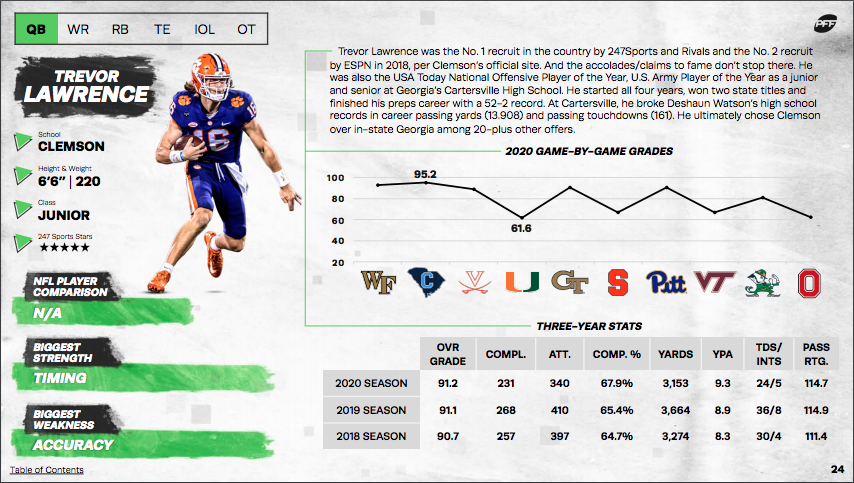 NFL player comparison: N/A
Biggest strength: Timing
Biggest weakness: Accuracy
Projection: Top-five pick
Bottom line: We've seen more accurate QB prospects in seven years of doing this, but we haven't seen a more complete one.
For advanced stats, pros and cons, passing heatmaps, three-year grades, game-by-game breakdowns and more, download your copy today!
---
A Draper, Utah native, Zach Wilson fielded more than 10 offers and took two visits (BYU and Boise State) as a three-star quarterback recruit (247Sports) in 2017. He was an honor roll student, varsity basketball player and threw for over 2,700 yards as Corner Canyon High School's starting quarterback as a junior and senior. He graduated early in 2017 and originally committed to Boise State before decommitting to pivot to the Cougars soon after.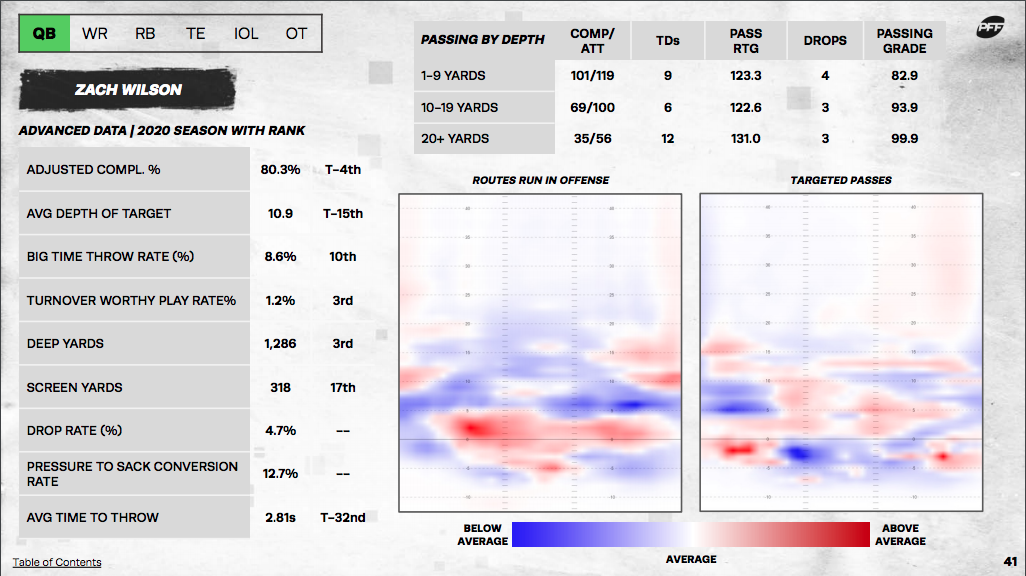 Call him a one-year wonder if you must, but Zach Wilson's ascent isn't near the same as Joe Burrow's a season ago. Wilson was out here earning an 80.5 overall grade as a true freshman in 2018 while leading a team full of adults at BYU. A shoulder injury and hand injury limited him in 2019 before he lit college football on fire this past fall. Blessed with a snappy right arm, Wilson has thrown passes as far as 65 yards through the air this season (against WKU, to be exact) with little more than a flick. He can not only make all the throws, but he can also make them accurately.
NFL player comparison: A more creative Baker Mayfield
Biggest strength: Off-platform arm talent
Biggest weakness: Untested under pressure
Projection: Top-five pick
Bottom line: Wilson's arm is special. He made more NFL throws weekly than any other quarterback in the class.
For advanced stats, pros and cons, passing heatmaps, three-year grades, game-by-game breakdowns and more, download your copy today!
---
Per 247Sports, Trey Lance received just seven scholarship offers coming out of Minnesota's Marshall High School in 2018: Western Michigan, South Dakota State, Northern Illinois, Cornell, Brown, Boise State and North Dakota State. He was a three-year starter at quarterback and safety for Marshall, where he totaled 1,386 passing yards and 14 touchdowns as a senior while rushing for 641 yards and another 10 touchdowns. His father, Carlton, played for Southwest Minnesota State and later in the CFL. Minnesota, Iowa and Iowa State showed interest in Lance, but none were willing to offer him at quarterback.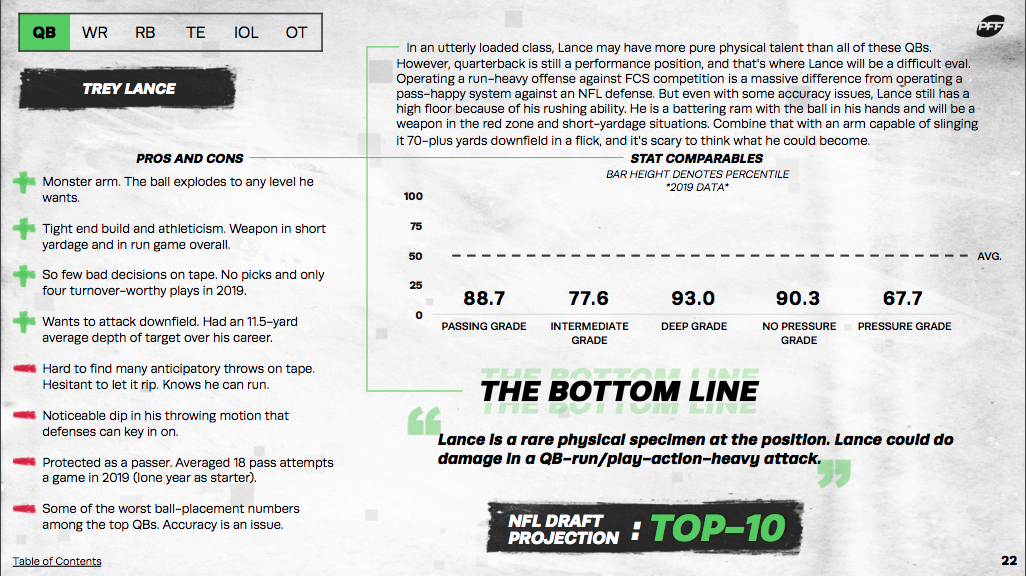 In an utterly loaded class, Lance may have more pure physical talent than all of these QBs. However, quarterback is still a performance position, and that's where Lance will be a difficult eval. Operating a run-heavy offense against FCS competition is a massive difference from operating a pass-happy system against an NFL defense. But even with some accuracy issues, Lance still has a high floor because of his rushing ability. He is a battering ram with the ball in his hands and will be a weapon in the red zone and short-yardage situations. Combine that with an arm capable of slinging it 70-plus yards downfield in a flick, and it's scary to think what he could become
NFL player comparison: Taysom Hill with legitimate arm talent
Biggest strength: Physical tools
Biggest weakness: Accuracy
Projection: Top-10 pick
Bottom line: Lance is a rare physical specimen at the position. He could do damage in a QB-run/play-action-heavy attack
---