Melvin Gordon is really, really good, one of the best at his position in the NFL. In what was a career year for the Los Angeles Chargers veteran, Gordon rushed for 940 yards and 12 touchdowns en route to an 88.7 rushing grade that ranked second among qualifiers in 2018. He also ranked tied for seventh in forced missed tackles per attempt (0.20) and tied for fifth in percentage of carries resulting in a touchdown or first down (26%). Even against loaded boxes with eight-plus defenders, Gordon was the only qualifying back to record a rushing grade above 80.0.
Coming off an astounding breakout campaign, Gordon is smart to ask for more money. His reported interest in a new contract and willingness to sit out the entire regular season if a deal doesn't get done is well warranted. But the fact of the matter is that the position he plays isn't worth top dollar anymore.
Rushing production is far more dependent on scheme, box count, down & distance and the blocking ahead than the talent of the runner himself according to the research PFF's data scientists Eric Eager and George Chahrouri. Adding to the position's replaceability, other research from Eager and Chahrouri has shown that how productive a running back is catching the football is not as stable as a receiver's or tight end's receiving production, making it that much more disadvantageous to allocate significant resource (e.g. cap space, draft capital) into talented pass-catching backs over talented receivers or tight ends.
That's not to say backs like Gordon aren't talented, of course.
"All of these [running backs] are super talented," per Eager. "To play running back in the NFL, you have to be an extraordinary athlete. The difference is that Damien Williams as whatever percentage of the athlete Kareem Hunt is can produce 95% of the output. You can't say the same thing about QBs. You can't say the same things about wide receivers, edge players, cornerbacks. That's really the genesis of running backs don't matter. It's not that they're not talented or we don't appreciate their beauty and their grace playing football; it's that they're replaceable."
Gordon, like all backs in the NFL, can't avoid the fact that his rushing production is largely replaceable and his production as a pass-catcher is volatile. His value is low as a result.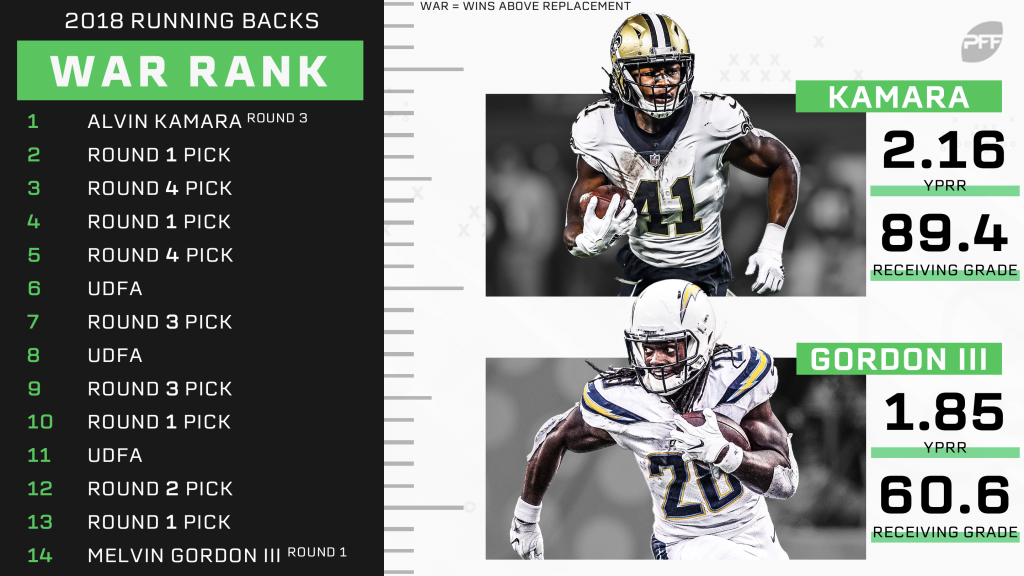 New Orleans Saints' Alvin Kamara, arguably the NFL's most dynamic pass-catching back, led all running backs in PFF's Wins Above Replacement (WAR) metric. He and 12 other backs finished ahead of Gordon in WAR in 2018, including the likes of Day 3 picks (e.g. Tarik Cohen, Chris Carson), a UDFA (Matt Breida) and his own teammate in Austin Ekeler. And that's just comparing him to others at his position. Not even Kamara cracked the top-40 among all NFL players in WAR as the position leader, and Gordon ranked just tied for 185th.
New PFF analyst Kevin Cole, who works side by side with Eager and Chahrouri, is working on projecting WAR using PFF data and shared some of his early findings on Twitter after the Gordon news broke on Thursday. Modeling for prospective WAR without directly matching to comparable players, Gordon's value number came out around $6M per year, a $400K increase from what he is projected to make on his current contract in 2019.
Gordon, of course, is eyeing a much bigger dollar figure than $6M in average annual salary AAS. The NFL's three highest-paid backs (Todd Gurley, Le'Veon Bell, David Johnson) all make $13M-plus in AAS on their respective contracts, and the average AAS for the NFL's 32 highest-paid backs is $5.2M. Gordon is likely interested in getting above $13M in AAS if not resetting the market with an AAS above $15M. And if he is indeed looking for a pay bump along those lines, Los Angeles – or any NFL team, really – would be smart to refrain from cutting him the check.