No cornerback will draw a bigger cap hit in 2019 than Detroit Lions' Darius Slay. The 28-year-old veteran is on the books for $15.9M in Year 3 of the four-year, $48 million contract he signed in July 2016, per Over the Cap. In fact, Slay will make more than the NFL's new highest-paid cornerback Xavien Howard in 2019 and 2020 if the structure of his current contract is maintained.
Slay, however, isn't thrilled with the numbers. Per the Detroit Free Press' Dave Birkett, Slay didn't attend Detroit's voluntary offseason team activities (OTAs) in hopes of landing a new deal with the team. And now he's skipping mandatory minicamp.
Now, should Slay and Detroit's brass have an interest in an extension that goes beyond the 2020 season? Absolutely. But rarely is an aging veteran extended two years in advance of his contract's expiration, and that could play to Slay's benefit if he turns in a 2019 season at the level we've come to expect from him over the years.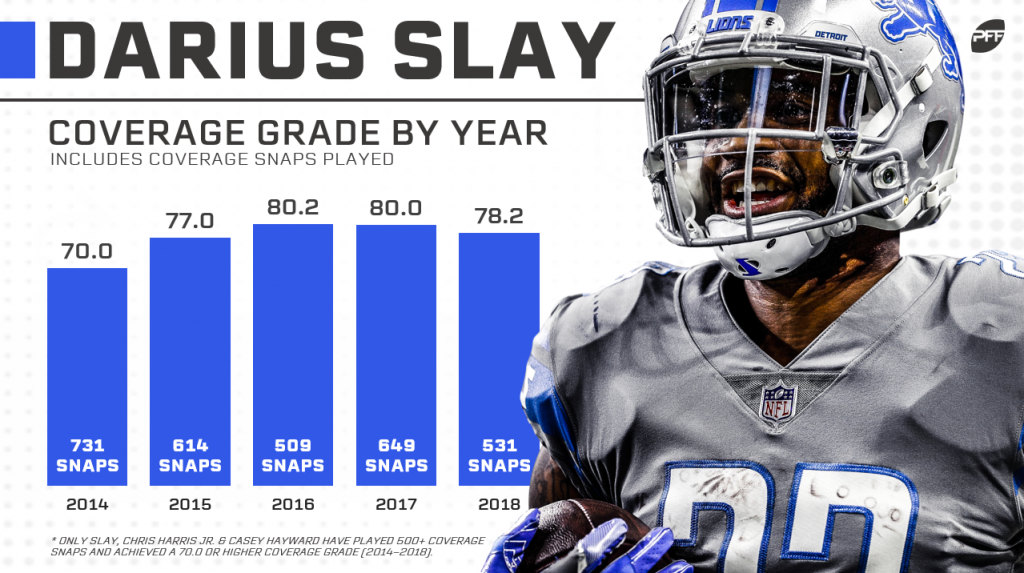 SLAY'S CAREER DOMINANCE
Slay's consistency is underrated. Other names have dominated the very top of the cornerback conversation all throughout his six-year career, but Slay's floor is one of the highest of any defensive back in the NFL.
All while playing at least 500 coverage every year, Slay has earned single-season coverage grades at or above 70.0 in each of the past five seasons (2014-18). Only Slay, Chris Harris Jr. and Casey Hayward Jr. can lay claim to the feat over the five-year span.
Slay's 90.5 five-year coverage grade ranks tied for eighth among the 93 cornerbacks targeted at least 200 times since 2014, and he ranks 11th in forced incompletion percentage (17.2%) and 16th in passer rating allowed among the same group of cornerbacks.
[Editor's Note: Forced incompletion percentage sums up all of a cornerback's interceptions, passes defensed and incompletions forced by tight coverage and divides the sum by a player's total targets in a given sample size.]
Driving his high grades and consistent production has been Slay's ability to make plays on the ball and limit receivers down the field. His 24.6% forced incompletion percentage and 69.4 coverage grade on targets of 10-plus air yards over the past five seasons rank fifth and third, respectively, among the 76 NFL cornerbacks with 100 or more targets of such depths since 2014.
Even looking at just the past three years (2016-18), Slay ranks seventh in forced incompletion percentage (30.0%) and eighth in passer rating allowed (53.6) on targets of 10-plus air yards among qualifiers.
STILL VERY GOOD
Of course, Detroit and its decision-makers are less concerned with what Slay has done over the years and more concerned with what he can do now given looming contract discussions. And while it wasn't his best season to date, Slay's 2018 campaign showed he still can play at a high level in this league.
Though he's surely lost a step or two since entering the NFL in 2013 with 4.36 speed, Slay is very much a fluid athlete that can match and mirror with the best of 'em. He can thrive at and away from the line of scrimmage in both man and zone coverage schemes.
Slay finished the year ranked 14th in coverage grade (78.2) among the 89 cornerbacks with 50 or more targets sent their way a year ago. He also ranked seventh in completion percentage allowed (52.3%) and sixth in forced incompletion percentage (19.8%) among the same group of qualifiers.
What kept Slay from breaching the top-10 in coverage grade and ranking even higher in PFF's advanced metrics was increased usage away from outside cornerback. He played 200 snaps split between slot cornerback and box defender, nearly 100 more than any other year of his career – and the results weren't great.
Slay earned just a 46.0 coverage grade across his 106 coverage snaps away from outside cornerback, allowing receptions on 10-of-18 targets for 125 yards, four first downs and three touchdowns.
His play at outside cornerback was and has always been much, much better.
Only Marlon Humphrey (87.8) and Stephon Gilmore (87.6) earned higher coverage grades at outside cornerback than Slay (85.8) in 2018, and his three-year coverage grade at outside cornerback (90.5) ranks fifth among qualifiers.
FINAL THOUGHTS
Slay is more than capable of playing like a top-10 cornerback throughout the final two years of his contract. And he'll earn top-10 cornerback money over the next two years within the contract's current structure.
Detroit's lack of interest in dishing out a new contract for Slay right now, considering his current price tag and age, is more than fair. However, it will also be more than fair when Slay asks for more money than he might be asking for now when he shows out yet again in 2019.