The No Fly Zone.
The fabled defensive unit that was once feared throughout the league; a team that was bolstered by elite-level talent at both cornerback and safety; a group of players who, from 2014 – 2016, collectively earned the league's second-best coverage grade (91.5), allowed the league's lowest passer rating (82.9), racked up the league's most interceptions (58) and surrendered the fewest yards per reception allowed (11.0). At its peak, it was the driving force behind the Denver Broncos' Super Bowl 50 victory; the foundation that carried Peyton Manning off into the sunset, and even though pieces of the group have fallen off over recent years, there has been one man that has kept that very same No-Fly-Zone-spirit alive — that man has been star cornerback Chris Harris Jr.
While there is little doubt that Harris will be ready to field that same spirit in his ninth NFL season, it could very well be his very last in the Mile High City, as Mike Klis has announced that Harris and the team have ended their recent contract dispute by agreeing to a revised deal that offers a pay rise for the 2019 season but will expire — just as the old deal did — before the start of the 2020 campaign.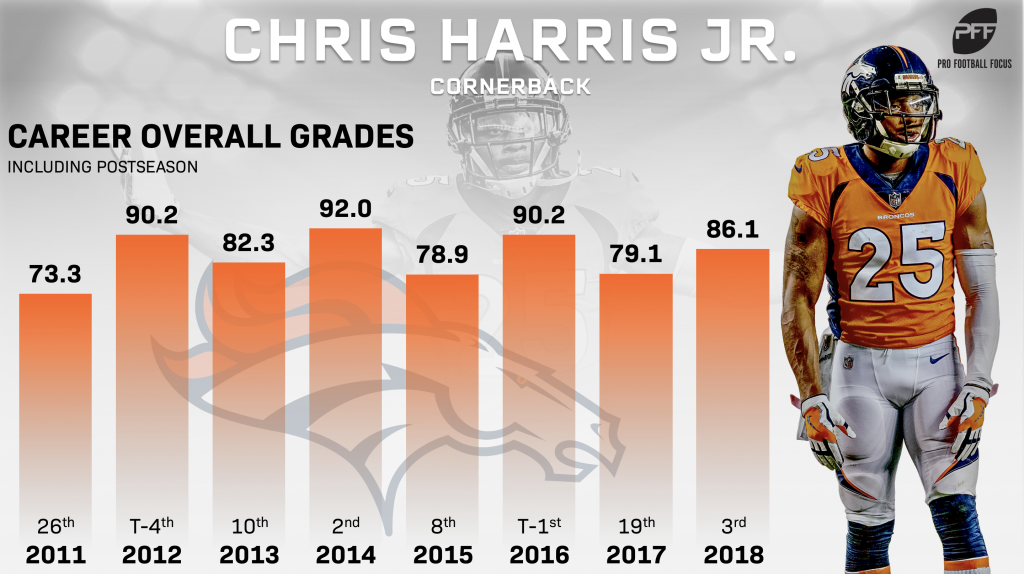 The news comes after weeks of speculation about the soon-to-be 30-year-old cornerback after he chose to holdout of voluntary workouts in the hope of a long-term contract extension. Per OverTheCap.com, Harris' $8.9 million average yearly salary was tied for 24th among cornerbacks (and was a relatively paltry figure given his success on the field), but after weeks of negotiation, the two sides have finally agreed on a pay bump from $8.9 million to $12.05 million that will keep Harris happy in the Mile High City until the 2020 season, but still opens the door for him to test free agency at the conclusion of the year.
Whichever way you slice it, Harris has been among the very best at his position over his eight years in the NFL. He's graded in the top 10 among corners in five of his eight seasons, and he notably finished the 2016 season with an elite 90.2 overall grade that ranked first among his peers. Over his entire career, the former Kansas Jayhawk has allowed 377 catches from 644 targets for 3851 yards, 16 touchdowns and 19 interceptions, and among the 59 cornerbacks who have seen at least 500 career targets within the PFF era (2006 – present), Harris' 71.8 passer rating allowed ranks sixth, his 10.2 yards allowed per reception ranks first, his 0.87 yards allowed per coverage snap ranks second and his 11.73 snaps played per reception allowed ranks 12th.
Harris' performance over his career has been so good in fact, that he's put himself among not only the best players during his time in the league but among the best players to ever take the field during the PFF era. Only Darrelle Revis has earned more 80.0-plus single-season coverage grades over the last 13 seasons, while only Dominique Rodgers-Cromartie (26), Asante Samuel (26), Brent Grimes (28), and Revis (30) have more single-game coverage grades of 80.0 or higher than Harris' mark of 24.
In 116 games, only twice has Harris allowed 100 or more receiving yards into his coverage, and he's ended a whopping 20.7% of his games with a coverage grade of 80.0 or more – only Jabari Greer (20.8%) and Brent Grimes (21.1%) have graded above 80.0 in a higher proportion of their games. His astounding work over the course of his Broncos career to date has even put him in a very lucrative club: he's one of only nine cornerbacks who has seen at least 500 targets, yet logged more career interceptions than the number of touchdowns that he's allowed in coverage.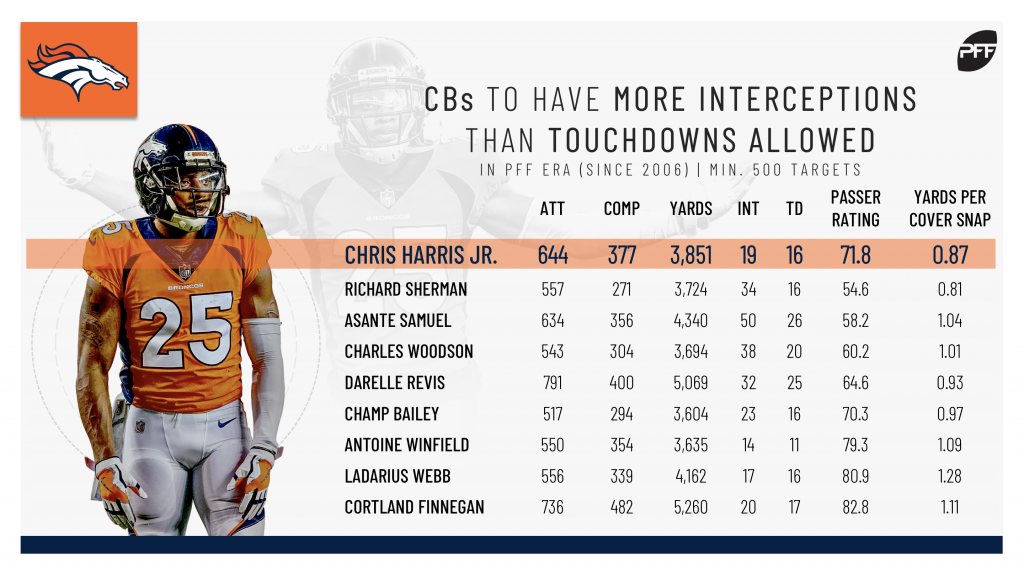 Harris, in a testament to his excellence, is a part of a minuscule group of players who are tasked with manning the outside spot in base and asked to slide into the slot in nickel and dime packages. But he's a part of an even smaller group of players who, in a league where base defense is seldom used, excels in both spots.
Of course, it's impossible to summarize the tremendous work that he's done in coverage without first mentioning his work in the slot. In the modern NFL, where offenses are relying on their best pass-catchers to dominate from the inside more and more, the slot cornerback has become an essential, integral part of the defensive lineup, and it's in this role where Harris has been — and still is — worth his weight in gold.
Since 2011, Harris has earned a 93.6 coverage grade from his work in the slot – the best mark among cornerbacks with at least 500 slot snaps in that span. Among the 66 of those who have seen 75-plus targets, Harris' 0.89 yards allowed per coverage snap rank third, his 11.76 snaps played per reception allowed is tied for third, his 61.2% catch rate ranks fifth and his 74.5 passer rating ranks third.
Last season, 58% of Harris' snaps were spent covering the slot, and he was dominant for most of them, finishing with a league-high 12.7 coverage snaps per reception allowed, all while not allowing a single touchdown. Rounding out an excellent season, Harris finished in the top five among qualifying slot corners in snaps per slot target (8.1), yards allowed per slot coverage snap (0.75) and passer rating allowed (57.3) — which marked the sixth time in eight years that Harris had allowed a passer rating of less than 90.0 on his work from the inside.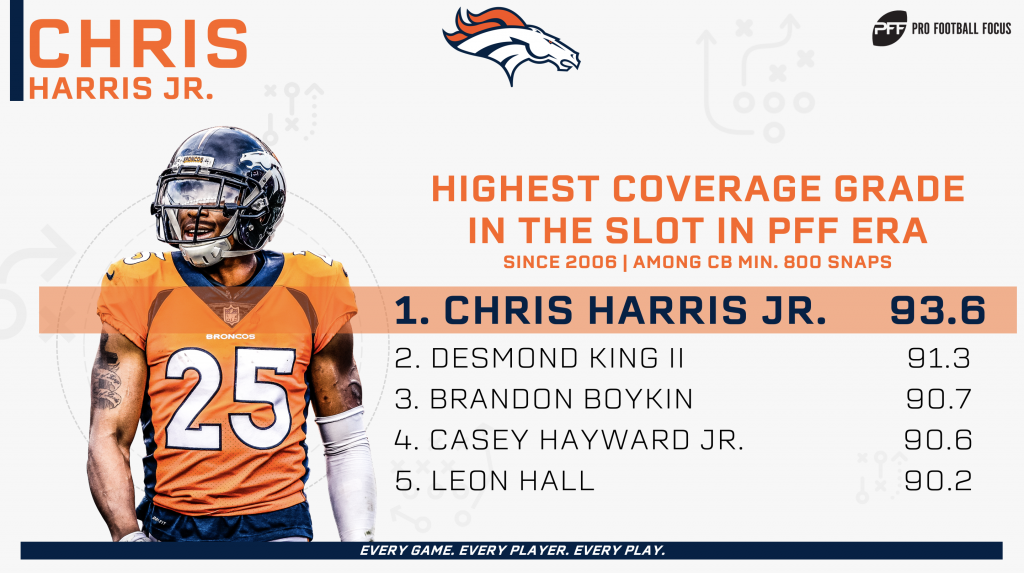 However, to say that Harris' talents lay solely as a slot corner would be a grave injustice to a player who has been stellar not just in the slot, but also on his snaps on the perimeter. And that performance, in particular, is what should strike a terminal blow to the fans who (incorrectly) argue that the 30-year-old cornerback could have been easily replaced with a combination of Bryce Callahan and Kareem Jackson.
Since 2011, Harris has earned an elite coverage grade of 91.6 on his snaps as an outside corner, which ranks behind only Richard Sherman (94.4), Casey Hayward Jr. (92.9) and Dominique Rodgers-Cromartie (92.5) in that span. His grade betters the likes of Patrick Peterson (91.4), Jalen Ramsey (91.1), Darius Slay (90.5), A.J. Bouye (90.2) and Aqib Talib (90.2) — all of whom have made their mark on the game by specializing in outside coverage. For Harris, it's his second job.
Since 2011, from his work on the outside alone, Harris has allowed a passer rating of less than 90.0 in seven of his eight professional seasons — the same number as the perennially stingy Richard Sherman. All together, Harris has allowed just 128 of the 241 targets into his outside coverage to be completed for 1263 yards, five touchdowns and seven interceptions. Among the 85 cornerbacks in the PFF era with at least 200 targets in coverage from the outside cornerback position, Harris' 63.0 passer rating allowed ranks third, his 53.1% catch rate ranks seventh, his 0.85 yards allowed per coverage snap ranks second, but, most impressively, he's the only cornerback in that group to allow less than 10 yards per reception.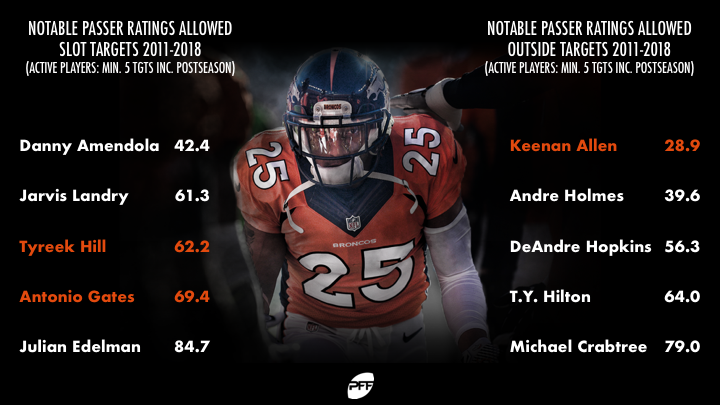 A fierce competitor no matter the opposition, no matter the target, no matter the quarterback and no matter the position in which he's lined up, Harris has been taking it to the best of them since Day 1 in the league. And nowhere is this more evident than in the numbers he's allowed to some of the best pass-catchers to ever play the game — both in the slot and out.
Working inside the slot, Harris has faced 16 different receivers for at least five targets, and he's allowed a passer rating of less than 90.0 to 10 of those players. The lowest ratings allowed have come against Anquan Boldin (0.0), Eddie Royal (5.4) and Seth Roberts (10.4), but the list also includes notable receivers like Jarvis Landry, Danny Amendola and Tyreek Hill, whom, when targeted in Harris' slot coverage, have generated passer ratings of 61.3, 42,4 and 62.2, respectively.
Working from the outside, Harris has faced seven different receivers for at least five targets, and Antonio Brown is the only wide receiver among that group who has generated a passer rating north of 100.0. Among the players who have struggled against Harris in outside coverage are Keenan Allen, DeAndre Hopkins and T.Y. Hilton — some of the very best the position has to offer — who have managed to generate passer ratings of just 28.9, 56.3 and 64.0, respectively.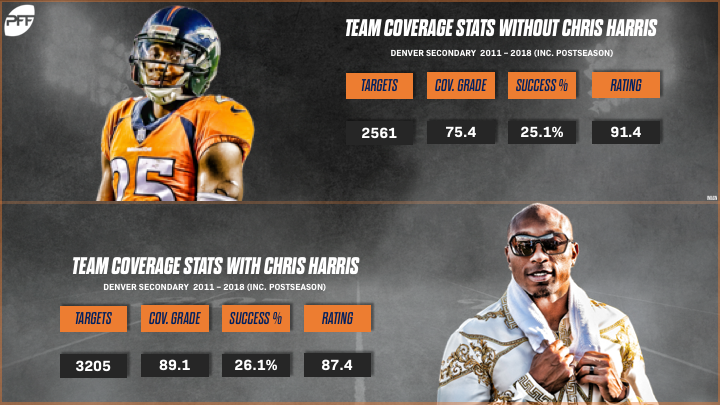 Over Denver's recent unspectacular years, the waning reputation of the No Fly Zone was almost entirely dependent on the solo efforts of the undrafted free agent out of Kansas and an ever-applauding fanbase that demanded that the flickering memories of past glories not be allowed to expire. Now, with Harris' services secured in the Mile High City for at least one more season, the Broncos fans will get one last chance to marvel at not only a player who is arguably the best slot cornerback in the game, but also one of the best all-around players at the position over the past decade. And together with Callahan, Jackson, Will Parks and Justin Simmons on the back end along with Von Miller, Bradley Chubb, Dre'Mont Jones and Shelby Harris on the front end, the Denver Broncos, led by defensive mastermind Vic Fangio, aren't just out to regain accolades that they've previously attained — they're out to better them in what could be Chris Harris Jr.'s last rodeo with the team that he truly made great.