Stephon Gilmore's dominance since joining the New England Patriots is well documented. After earning what was a career-high 87.2 coverage grade in 2017, the 28-year-old South Carolina alumnus turned in a 90.8 coverage grade in 2018 and finished the season as PFF's highest-graded cornerback overall (90.9).
The success of Gilmore's counterpart, however, isn't as well known, leaving one of the NFL's best cornerback tandems to fly under the radar.
Rookie J.C. Jackson took the long road to the Pats' 53-man roster this offseason, going undrafted in 2018 after an April 2015 arrest lost him his scholarship to Florida and sent him to community college for a year (2015) and Maryland for two years (2016-17) after that. But he made the most of his opportunity without question.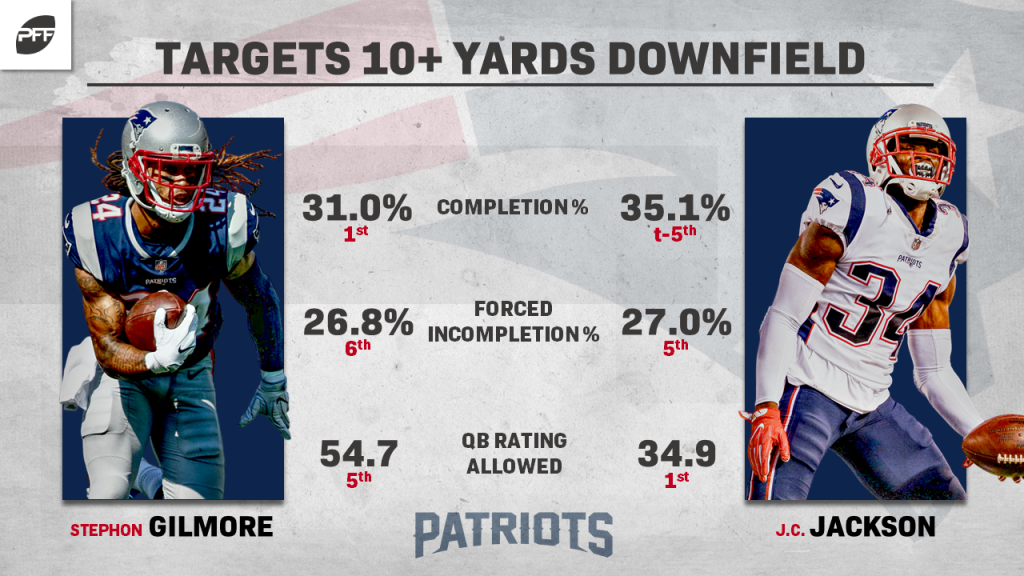 Jackson averaged 39.3 defensive snaps a game from Week 7 through the Super Bowl as the Pats' starting outside cornerback opposite of Gilmore. His 72.4 overall grade on the year (includes postseason) ranked just 29th among the 89 cornerbacks with at least 50 targets, but his efforts on downfield targets largely made up for his struggles against underneath routes. He earned just a 62.4 coverage grade on passes on nine or fewer air yards but turned the second-best coverage grade (74.4) on passes of 10-plus air yards in 2018.
Meanwhile, Gilmore's 91.3 coverage grade on targets of 10-plus air yards led the NFL. He allowed a league-low 31.0% completion percentage and logged the sixth-best FINC percentage (26.8%) on such targets. Jackson ranked fifth on the list in forced incompletion percentage (27.0%), tied for fifth in completion percentage allowed (35.1%) and first in passer rating allowed (34.9).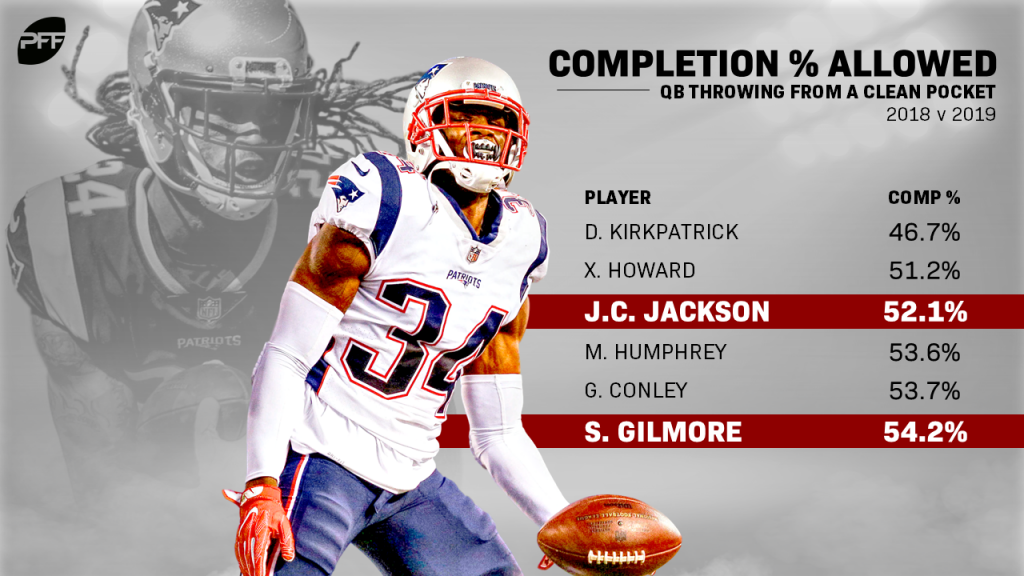 Similarities in the duo's 2018 successes can also be found in their coverage against signal-callers throwing from a clean pocket. Jackson and Gilmore ranked third and sixth in completion percentage allowed on passes where the quarterback was throwing from a clean pocket at 52.1% and 54.2%, respectively. Gilmore tied for fifth in FINC percentage on such passes; Jackson ranked eighth on the list at 20.8% and third in passer rating allowed (63.2) when defending passes thrown from a clean pocket.
Jackson's stellar 2018 campaign also stands tall compared to rookie cornerbacks in the PFF era (2006-Present). Among the 107 rookie cornerbacks with at least 50 targets in their debut season in the NFL, Jackson's 51.6% completion percentage allowed ties for seventh, his 20.3 FINC percentage ranks sixth, and his 60.2 passer rating allowed ranks sixth.
Gilmore's 2018 season was also a historic effort. Among the 1,082 instances where a cornerback was targeted 50 or more times in a single season since 2006, Gilmore's 2018 campaign ranks 12th in completion percentage allowed (44.0%). His 26.6% FINC percentage a year ago ranks seventh on the list – just shy of his 26.8% FINC percentage in 2017.
Gilmore's 84.8 coverage grade in single coverage ranked third among cornerbacks with at least 20 targets in such coverage a year ago. Baltimore Ravens' Marlon Humphrey (90.6) and Chicago Bears' Kyler Fuller (90.0) were the only two corners ahead of Gilmore.
Veteran Jason McCourty, who re-signed with the Patriots on a two-year deal this offseason, also thrived playing mix of outside cornerback (571 defensive snaps) and slot cornerback (313 defensive snaps) in 2018. Earning a career-high 83.3 coverage grade a year ago, McCourty should start opposite of Gilmore and allow New England to continue to develop JC Jackson as a rotational piece.
Jackson, who will enter his sophomore season in the NFL at 23 years old, still has a ways to go before he nears Gilmore's level of dominance in coverage, but his hot start is evidence such accolades are within reach. If he's able to maintain if not improve on his rookie successes in 2019 and Gilmore still plays at Gilmore levels, New England's top cornerback tandem won't be flying under the radar for much longer.