The 2021 NFL Draft is in the books, and we've rightly hyped plenty of rookies heading into 2021 fantasy football. But not all rookies find immediate fantasy success, and it's important to avoid players heading into rough situations. 
More of PFF's 2021 NFL Draft tools here: 
2021 NFL Draft Big Board | 2021 NFL Draft Guide | 2021 NFL Draft Stats Export | NFL Mock Drafts | NFL Mock Draft Simulator
Several players drafted early in last year's NFL draft disappointed to some degree during their first seasons. Consider the likes of Henry Ruggs III, Jalen Reagor, Van Jefferson, K.J. Hamler, Denzel Mims, Bryan Edwards, Devin Duvernay, Ke'Shawn Vaughn and Zack Moss. 
I'm fading the following rookies heading into 2021, though several still maintain long-term dynasty value.
Kadarius Toney has been making headlines the past few days after reports that Urban Meyer was "heartbroken" when the joystick receiver from Florida was unavailable for the Jacksonville Jaguars at pick No. 25. NFL teams are obsessed with Toney's tantalizing abilities, but there's so much gadget and lack of polish to his game that I'm concerned he won't be an immediate contributor. 
The New York Giants were one of the worst landing spots for Toney's fantasy value. Between Kenny Golladay, Sterling Shepard, Evan Engram and Darius Slayton, the rookie will be fighting an uphill battle for fantasy relevance in 2021. 
His prospect profile was already littered with red flags ranging from his late breakout age to lack of overall college production, tell-tale signs to stay away. 
And although I like Daniel Jones as a late-round QB target, it's a stretch to think that he'll support multiple fantasy WRs. 
Toney needs to have offensive plays designed for him in order to be successful. Unfortunately, the Giants didn't show much willingness to get the ball into playmakers' hands last season under offensive coordinator Jason Garrett.
In 2020, Big Blue finished 29th in screens and 30th in passes behind the line of scrimmage. It would make sense for the Giants to create easy passing plays for Jones behind PFF's 32nd-ranked pass-blocking unit, but that was hardly the case. 
In his final season at Florida, Toney finished seventh in the class in receptions on screens and catches behind the line of scrimmage.
I expect Toney's ADP to soar because of his first-round draft capital, but he's hardly worth the investment. I'd much rather roll the dice on other rookies later in drafts like Josh Palmer, Amari Rodgers, Dyami Brown, Amon-Ra St. Brown, Nico Collins and Rondale Moore. 
The Seattle Seahawks used their first pick of the draft (a second-rounder) on 5-foot-9 wide receiver D'Wayne Eskridge to address their need for a No. 3 WR behind Tyler Lockett and D.K. Metcalf. The speedy wideout led the class in yards after the catch per game (81.5) and leads all of college football in yards per route run (3.36) when aligned out wide dating back to 2018.
Such significant draft capital means Eskridge will have a long leash in Seattle, but that's not likely to lead to much fantasy value. This offense is so heavily concentrated between Lockett and Metcalf that I'm not sure Eskridge is ever going to command enough targets to be fantasy-relevant.
The team's duo of No. 3 wide receivers last season (Freddie Swaine, David Moore) combined for only two games with 10-plus fantasy points last season. 
Eskridge didn't break out until his 21-year-old season despite playing easier competition at Western Michigan. Are we going to expect a 24-year-old rookie (older than Metcalf) to step in be a legitimate fantasy asset? 
His main competition for the No. 3 target offense is tight end Gerald Everett, who spent his entire career with new Seahawks offensive coordinator Shane Waldron while playing for the Los Angeles Rams. 
Eskridge's impressive Senior Bowl performance likely inflated his draft stock, so I'm skeptical that he was truly a second-round talent. A ton of Senior Bowl receivers were drafted much higher than anticipated; NFL teams weighed the all-star game highly during a pre-draft process that limited their access to players.
During my pre-draft evaluation process, I had Cade Johnson ranked higher than Eskridge. Johnson signed with Seattle as a UDFA but would have earned a higher draft stock if his school's season wasn't canceled due to COVID-19.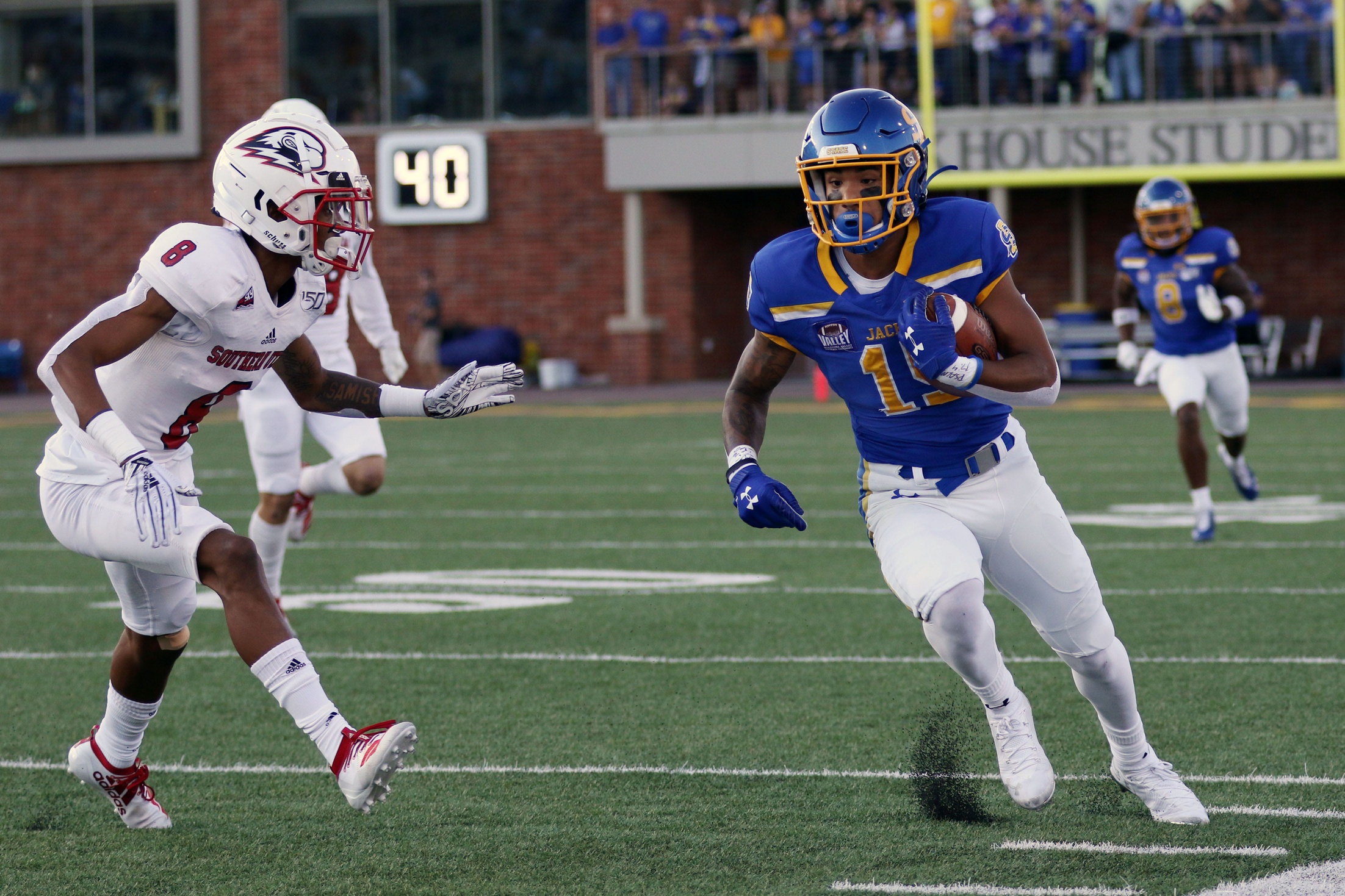 Draft capital dictates opportunity, but I won't be surprised to see Johnson push hard for that No. 3 wide receiver role. Their prospect profiles are much closer than draft capital association would imply. 
I also wouldn't overlook the other UDFA receiver Seattle brought in, Florida State's Tamorrion Terry. At 6-foot-3, he offers a size/speed threat that neither Eskridge nor Johnson can match. 
Puffing about UDFAs versus a second-round pick might seem like a stretch, but if there's one team that overlooks draft capital in favor of the best performer, it's the Seattle Seahawks. 
They drafted Gary Jennings Jr. in the fourth round in 2019 and the receiver never stepped on the field. Seattle selected Rashaad Penny in the first round and he's been playing behind former seventh-rounder Chris Carson ever since. 
A year after the Rams selected Van Jefferson in the second round, the team doubled down on the position by adding Louisville WR Tutu Atwell. The diminutive WR (5-foot-9, 155) will seemingly operate as the team's big-play threat if/when DeSean Jackson goes down with an injury. 
This is appealing with deep-ball quarterback Matthew Stafford under center, but Atwell's lack of size is going to pigeonhole him to the slot, where he played nearly 87% of his snaps in college. 
Considering the Rams love running both Cooper Kupp and Robert Woods out of the slot, I don't like Atwell's chances to win on the outside against much tougher defensive backs. Per PFF's NFL Draft Guide, Atwell faced press on only 18 snaps last season.
As a smaller slot receiver, we should view Atwell in a similar light as ex-Rams receiver Tavon Austin or Denver Broncos wideout K.J. Hamler. We might see a boom game from him on occasion, but it's going to be extremely difficult to project when it's coming. 
There's also the case of Jefferson still lingering as the team's other potential No. 3 receiver.  
I love Terrace's Marshall's longterm potential. He has the legitimate upside to be a team's alpha wide receiver on the outside. But in 2021 he's going to have to compete for targets with the likes of Robby Anderson, D.J. Moore and Christian McCaffrey. 
Marshall will also be playing alongside Sam Darnold, who has shown almost zero ability to support any consistent fantasy WR, let alone three. 
If Marshall is going to rise above his unfortunate circumstances, it's going to be through scoring touchdowns. He is PFF's third-highest-graded draft-eligible receiver (83.6) in the red-zone based on career grades. Marshall also ranks 12th in end-zone targets over the past two seasons, and his PFF receiving grade on those targets ranks fourth-best (93.5).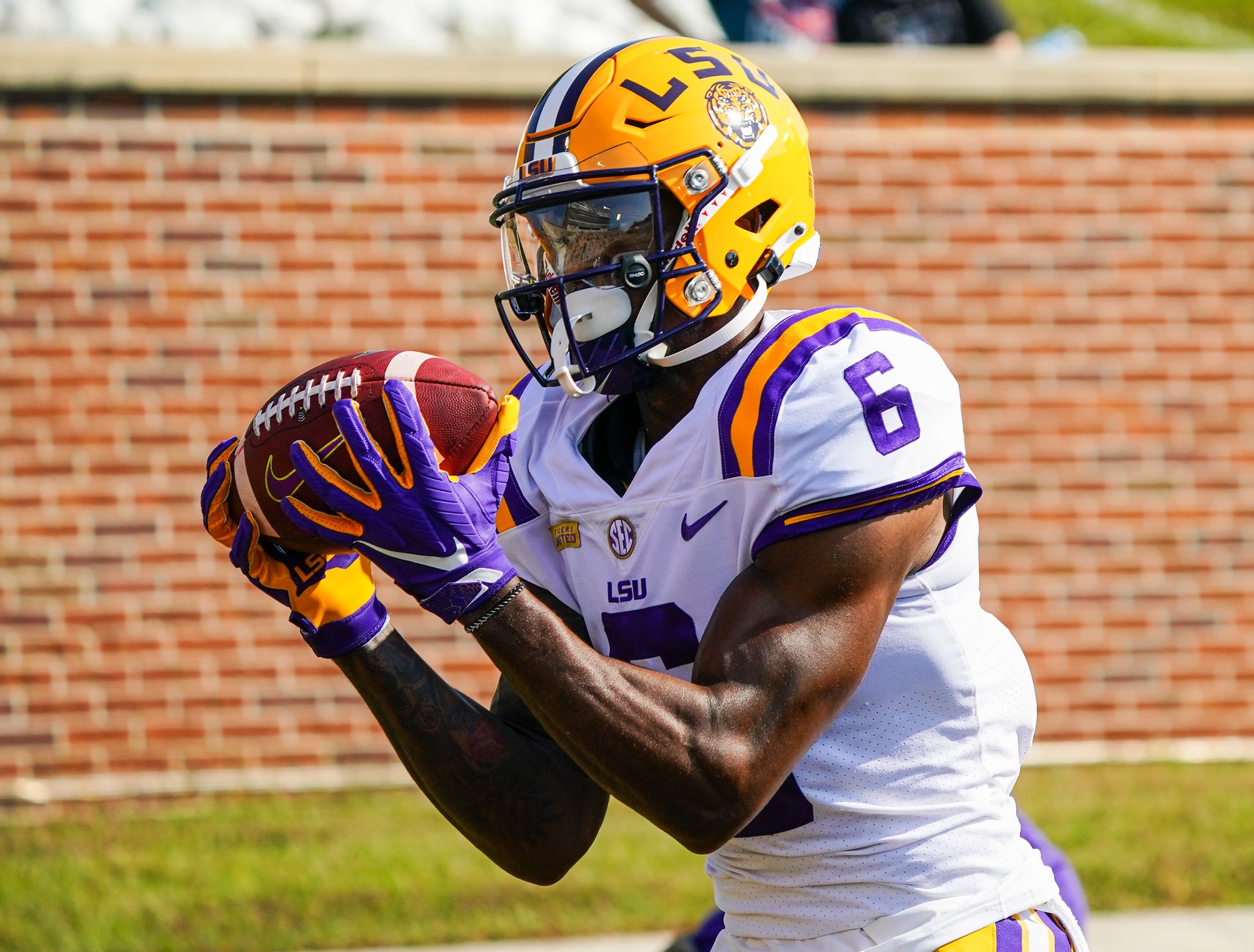 The Panthers offense last season sputtered when targeting the end zone. Anderson and Moore saw a combined 18 end-zone targets and caught exactly zero of them. I'd have to think that his old offensive coordinator at LSU will draw up some plays for Marshall to hit paydirt in 2021. 
Still, chemistry with a coach might not be enough to stop Darnold from nuking his fantasy value. Since entering the league in 2018, Darnold has the league's third-worst passer rating (52.3) when targeting the end zone. 
The Panthers have the sixth-most vacated targets in the league, but that still might not be enough for Marshall to break out in Year 1. 
The Tennesee Titans are doing everything in their power to ensure that A.J. Brown joins Marvin Harrison, Julio Jones and Calvin Johnson as the only receivers in NFL history to command 200 targets in a season. 
Dez Fitzpatrick and Racey McMath are nothing but real-life backup wide receivers. Fitzpatrick couldn't outproduce teammate Tutu Atwell, and his physical gifts — 6-foot-2, 208 pounds — never translated to elite on-field production (22% career dominator rating).
McMath's entire college career stat line at LSU is as follows: 33 catches for 522 yards and four touchdowns. 
Either of these players could have gone undrafted if it weren't for their performances at the Senior Bowl, which has been a boost for nearly every receiver who attended. 
The Titans offense is an extremely attractive landing spot with the second-most vacated targets and air yards up for grabs, but sometimes opportunity isn't enough.
It pains me to write this, as I was a massive fan of Tylan Wallace during the pre-draft process. But there's just not enough projected passing volume to go around in the Ravens offense for Wallace operating behind Mark Andrews, Marquise Brown and Rashod Bateman. Largely lining up outside won't make matters any easier.
Wallace's impact won't likely be felt in Year 1 outside a couple of games. That doesn't mean he won't provide a major boost for Lamar Jackson's fantasy value in spurts, however. Ravens wide receivers posted a meager 32% contested-catch rate (31st) in 2020. Wallace has the second-most contested catches since 2019. 
In 2019, Kenneth Gainwell ranked fourth in PFF receiving grade (85.0), fourth in receptions (51), first in receiving yards (610) and second in missed tackles forced (20) on receptions. His excellent receiving ability is going to be a major headache for Miles Sanders, who already was going to see a downtick in targets with a mobile Jalen Hurts under center.
Gainwell kept Antonio Gibson on the bench in Memphis, so the talent is there for him to carve out a role in the Eagles offense. 
I initially pegged Gainwell as a nice target in the late rounds of drafts for those following a zero-RB strategy, but I need to alter my stance.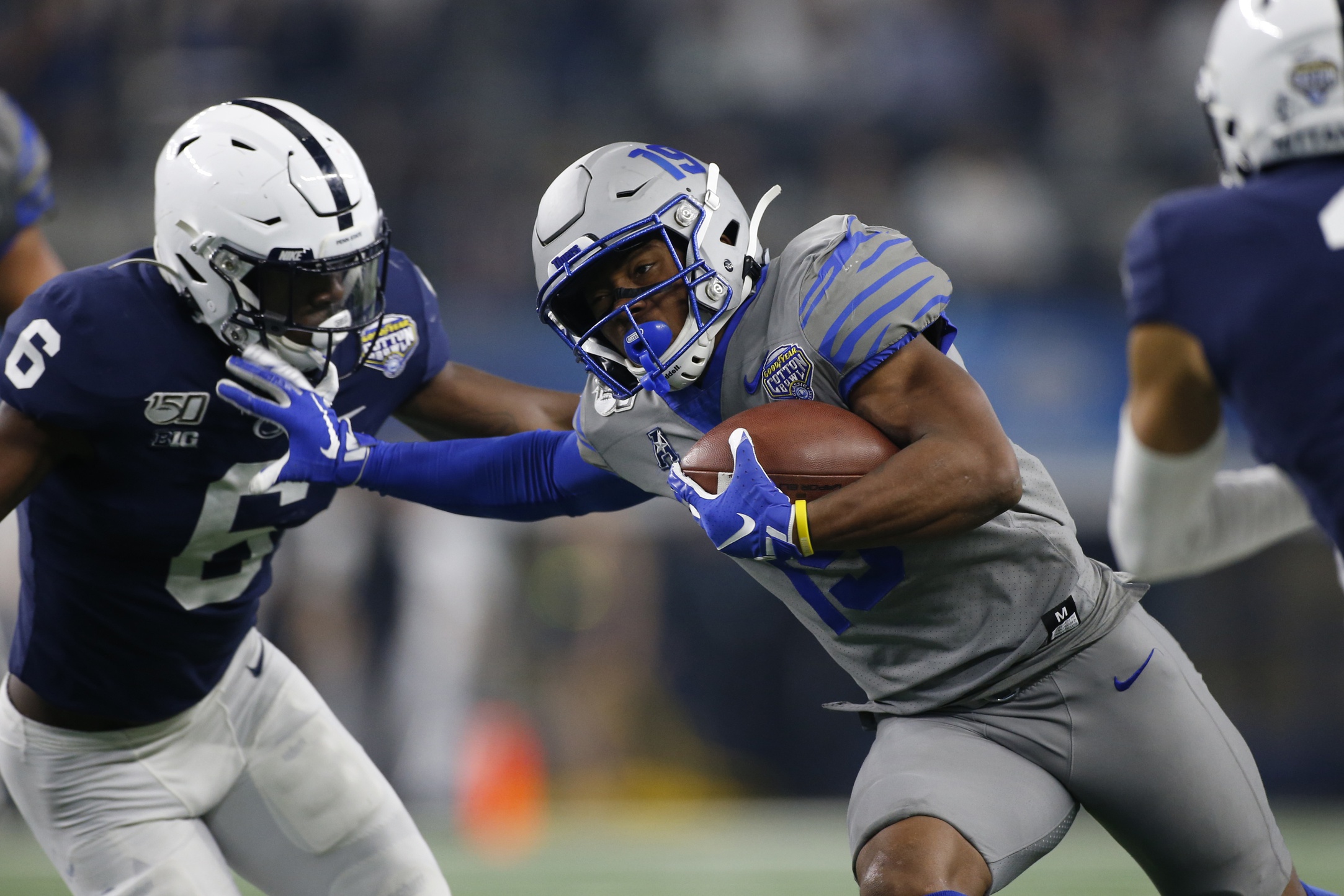 New head coach Nick Sirianni comes from an offense that featured a pass-catching back in Nyheim Hines, and it's easy to envision Gainwell in a similar role. Sirianni even said so himself.
Still, the Hines role is not one to target in fantasy football — it's hard to ever know when to start players like this. Hines the quintessential roster-clogger — too good to cut but so unpredictable. If that's what Kenny G is going to be in the NFL, consider me out. 
The Vikings don't boast much receiver depth behind Adam Thielen and Justin Jefferson, so it's not crazy to imagine Ihmir Smith-Marsette joining the WR3 conversation as soon as 2021. 
But I'm not sure how desirable that role is going to be, considering the offense skews heavily toward the run (sixth-highest run rate in 2020) and utilizes 11 personnel (three wide receiver sets) less than any other offense in the league (27.5% in 2020).
The Chiefs could not have added a less impactful receiver to their offense than Cornell Powell. The super senior from Clemson owns the second-lowest career dominator rating (14%) and sixth-lowest PFF grade (71.3) in the 2021 class.  
Inconsistencies plagued him in college; had it not been for an injury to Justyn Ross, I think Powell would have likely ended up going undrafted. The fact that it took him until age 23 to hit the breakout threshold does not bode well for him to handle the vast jump in competition at the NFL level.
Being part of a Patrick Mahomes-led offense won't save him. Outside of Tyreek Hill and Travis Kelce, we have yet to see Mahomes elevate any other consistent fantasy producer.