Last season, Russell Wilson recorded a perfect passer rating (158.3) when targeting Tyler Lockett. This is the first perfect WR rating we've ever recorded in the PFF era.
This wasn't just a one-year outlier either. Among all wide receivers to see at least 200 targets this past decade, Lockett ranks first overall in WR rating (127.4).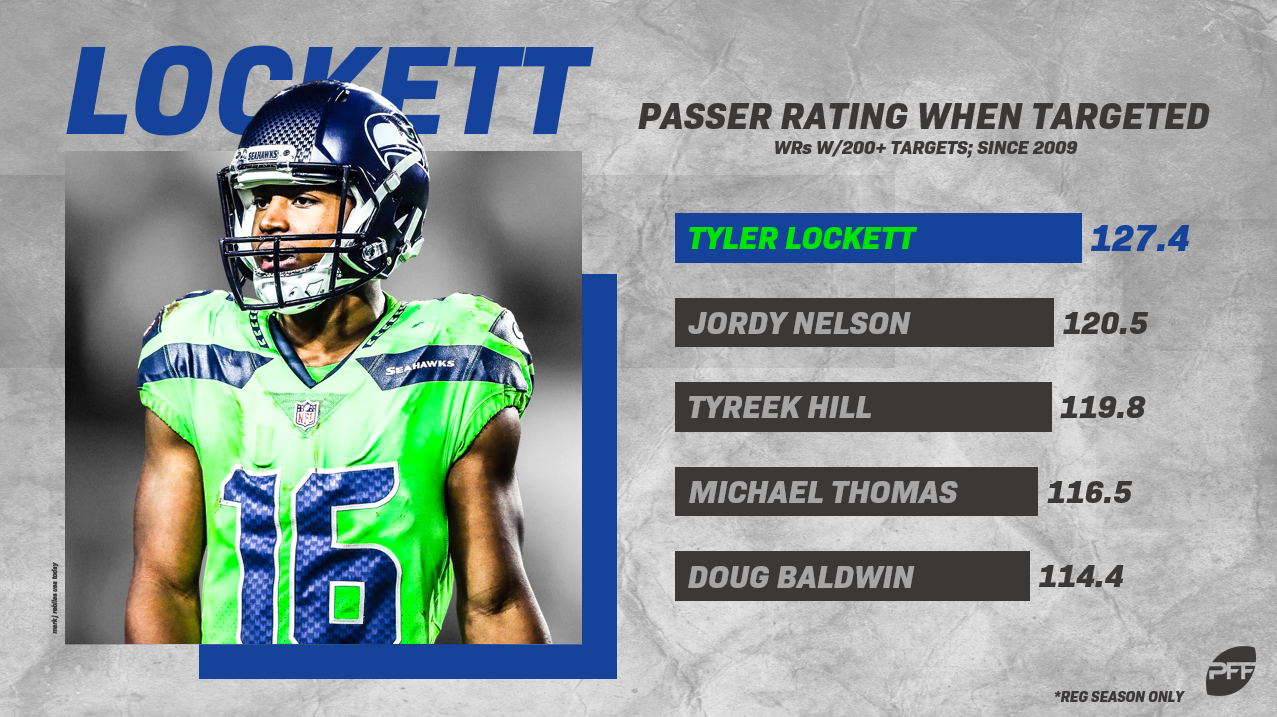 Lockett also went the entire 2018 season without dropping a single pass. Only 10 other times this past decade has a wide receiver seen at least 65 targets and finished the season without a single dropped pass.
Lockett averaged 14.85 yards per target in 2018, which is the most by any wide receiver with at least 25 targets this past decade. Lockett also averaged 3.28 PPR fantasy points per target, which is the most by any wide receiver in any season (of 1,772 qualifying seasons) since targets became a stat in 1992.
I don't think we should have seen this coming, but I do think we should have seen a breakout coming for Lockett (as I had predicted in August). For maybe the first time in his NFL career, Lockett was finally fully healthy, while Doug Baldwin told reporters he wouldn't be close to 100% at any point in the season.
Still, given how efficient Lockett was last season, it's a little surprising this didn't result in more targets. Lockett ranked just 58th in targets but 16th in fantasy points scored. Last season, Seattle was the only team in the league to run more often than they passed, so that played a role, but Lockett's numbers still seem especially low in contrast to Baldwin's numbers. Baldwin played in three fewer games, scored 43.4% fewer fantasy points, and still saw eight more targets than Lockett.
Although elite efficiency numbers typically imply improved volume in the following season, it's still discouraging Seattle seemed so reluctant to get the ball in his hands. With Baldwin likely to be closer to 100% in 2019, volume could also be worse for Lockett this year. Also, though his efficiency numbers were really good, they might be too good. Or, rather, I suspect Lockett is due for a massive efficiency regression.
Here's a list of all wide receivers who averaged at least 2.30 fantasy points per target in any season since targets became a stat (1992). As you can see, Lockett not only ranks first (among 1,772 qualifying seasons), but he ranks first by a wide margin.
All WRs to average at least 2.30 fantasy points (PPR) per target since targets became a stat (1992) and their efficiency in the following season: pic.twitter.com/kJFQBm8Y99

— Scott Barrett (@ScottBarrettDFB) March 25, 2019
While Lockett's ranking here is highly impressive and encouraging to his dynasty stock, it highlights just how important an increase in targets is going to be for Lockett to improve this year. Based on this chart, we can expect about a 39.4% drop in per-target efficiency from Lockett in 2019. If target volume remains the same, that's a difference of 2.7 fantasy points per game, or the difference between Lockett finishing 25th in fantasy points per game and 43rd.
Based on these numbers it seems probably Lockett is going to regress from an efficiency standpoint next year. However, that doesn't necessarily mean his breakout year won't result in more targets for Lockett next season. It's also worth noting that, Baldwin has consistently been one of the league's most productive and efficient wide receivers despite never ranking highly in targets.
Right now, I feel good about my redraft ranking (WR26) and dynasty ranking (WR22) for Lockett. His long-term prospects are more encouraging than his short-term prospects. He could be the next Baldwin, but he'll first need to surpass Baldwin in targets for that to be the case — though maybe that time is now.