NFL training camp is an exciting time of the year for the fantasy football crowd, but it also means the very real potential of injury is on the table for every player in the league. We didn't even make it a full week before one of the bigger names in fantasy football went down, as A.J. Green was carted off of Cincinnati Bengals practice with an injury Saturday.
Initially reported as a low ankle sprain, an MRI showed the injury was much worse, as Green suffered torn ligaments in his ankle. So we went from a day-to-day situation to a much longer timetable with Green now expected back in 6-8 weeks. There are obvious fantasy implications, as that will likely mean we won't see Green on the field in Week 1. To make matters worse, he's far from a lock to return by Week 2.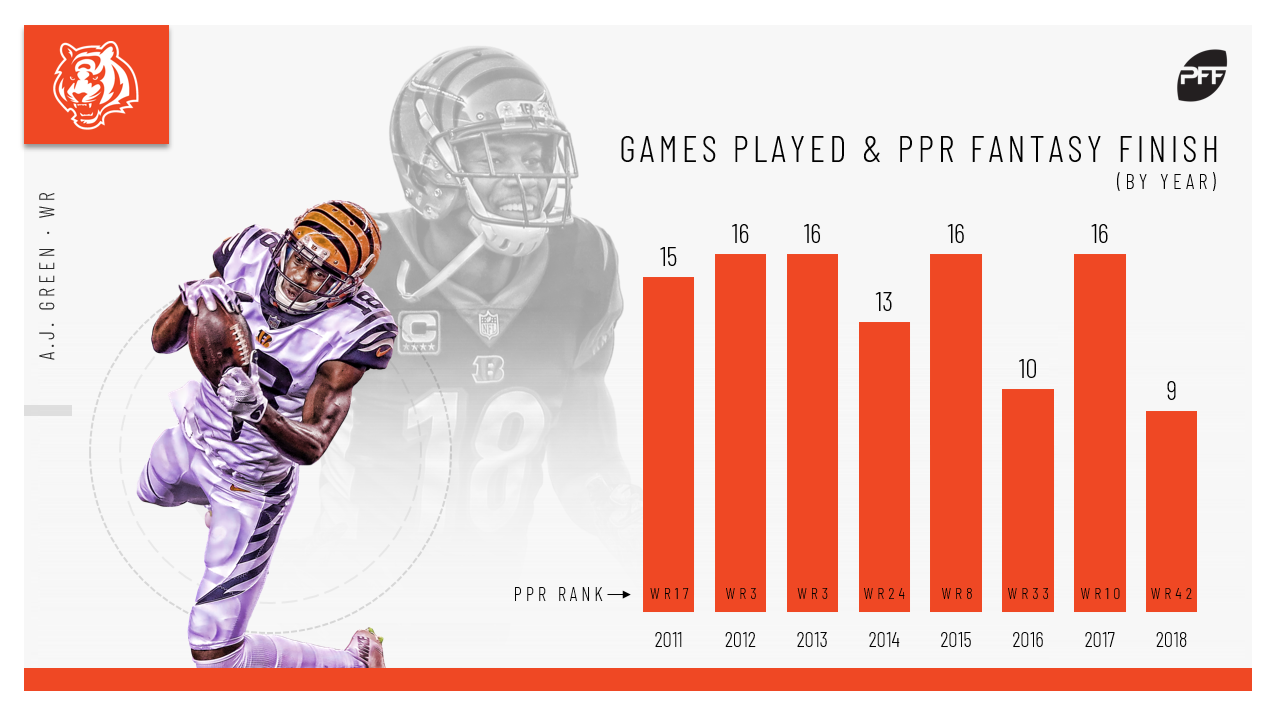 As we noted in the 2019 PFF Fantasy Playbook, Green hasn't been the picture of durability over the last three seasons with a combined 13 missed games over that span. He's also entering his age-31 season, so one has to wonder if this is Father Time catching up with him.
Green was a fantasy football staple earlier in his career. Over his first half-decade in the league, Green rattled off five straight 1,000-yard seasons and topped 10 receiving touchdowns three times. No so coincidentally, he also finished as a top-10 fantasy wideout in each of those three seasons.
Perhaps more importantly, Green was very durable, with just four missed games over those first five seasons. But that all changed in 2016 when he suffered a Grade 3 hamstring tear in Week 11. Then last season, a pulled groin slowed him early in the season. While he didn't miss any time with this injury, a right toe sprain initially cost him three games and then sidelined him again for the final four games of the season when he reaggravated the injury.
While Green's timetable suggests he isn't going to miss much time heading into the season, it's still risky to consider him where many had him before the injury as a borderline WR1. The mounting injury baggage should slide Green down boards. At this point, it's tough to consider him before the first 25 wideouts come off the board, which means we're valuing him in the fifth or sixth round. There's certainly the potential that this injury will be water under the bridge by the time we reach October, but it could also be the tip of the iceberg for Green in 2019.
With Green's fantasy stock trending down, we should also consider bumping up Tyler Boyd just slightly. Boyd's profile as a slot receiver means less upside than a traditional X-receiver like Green, but any time Green misses will almost certainly result in a larger target share for Boyd. He's now worth considering a tick before Green as a back-end WR2 in your fantasy drafts.